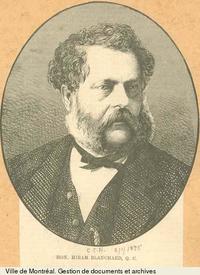 Source: Link
BLANCHARD, HIRAM, lawyer and politician, son of Jonathan Blanchard and Sarah Goggins, b. in West River, N.S., 17 Jan. 1820, brother of Jotham Blanchard* founder and editor of the Colonial Patriot; m. in 1842 Eliza Cantrell of Guysborough, and had one son, who died young, and four daughters; d. in Halifax, 17 Dec. 1874.
Descendant of a New England family, Hiram Blanchard received his education at Pictou Academy, studied law with William Frederick DesBarres in Guysborough, and was admitted to the bar as attorney in November 1841 and as a barrister in April 1843. Soon after his admission to the bar he opened a law office at Port Hood, and he practised on the Cape Breton circuit and also in the courts of Antigonish and Guysborough counties. In a short time he won a lucrative business and also achieved a high reputation; he was respected by judges, other barristers, and juries for his candour and fairness, his clear presentation of facts, and his skill in examining witnesses.
In 1860 he moved to Halifax and formed a partnership with Jonathan McCully, then solicitor general and railway commissioner in Joseph Howe's Reform government. In many courtroom encounters his opponent was James MacDonald*, later federal minister of justice and chief justice of Nova Scotia. An observer of their legal jousting, Charles James Townshend*, also a chief justice, wrote, ". . . it was delightful and instructive to listen to [their] forensic battle. Both were men of high and honourable character, incapable of any unworthy schemes to win their cases." After McCully was appointed to the bench in 1870, Nicholas H. Meagher became Blanchard's partner.
Blanchard refused to become a political candidate until just before William Young* left politics in 1860 to become chief justice of Nova Scotia. The election of 1859 was influenced by quarrels between Protestants and Roman Catholics, but Blanchard, a Presbyterian from Catholic Inverness County, was elected as a Reformer upon his promise of "equal rights to all, proscription of none, favouritism to none." He was re-elected in 1863 and 1867, and in the assembly showed particular concern over the treatment of the insane and the deaf. Although he supported Charles Tupper*'s free school act, Blanchard opposed his idea that the schools be directed by a council of public instruction made up of members of the Executive Council [see Thomas Louis Connolly].
Blanchard became a supporter of confederation, and was sworn in as attorney general of the province and leader of the government on 4 July 1867 in succession to Tupper after Nova Scotia became part of Canada. In the provincial election of September 1867, the question of Nova Scotia's entry into confederation was the dominant issue and the government was swept from office. In the new assembly only Blanchard and Henry Gesner Pineo, representing Cumberland County, supported confederation, and the Blanchard government was replaced on 7 Nov. 1867. The following year Blanchard's personal re-election in Inverness was declared invalid because he had been appointed legal adviser for the federal government in Nova Scotia; he suffered defeat from the anti-confederates in the subsequent by-election. Elected again in 1871, he served as leader of the opposition from 1871 to 1874. On his death the Liberal Morning Chronicle described him as a lawyer of "high reputation . . . a useful legislator, well-informed in public matters and an industrious worker."
[There are scattered references to Blanchard in PAC, MG 24, B29 (Howe papers), 8; MG 26, A (Macdonald papers), 115, pp.130–38; 116, pp.325–31; MG 26, F (Tupper papers), 1. Thomas Miller, Historical and genealogical record of the first settlers of Colchester County (Halifax, 1873), 254–58 contains a complete genealogy of the Blanchard family. A short biographical sketch may be found in John Doull, "Four attorney-generals," N.S. Hist. Soc. Coll., XXVII (1947), 2–4. See also: J. M. Cameron, Political Pictonians; the men of the Legislative Council, Senate, House of Commons, House of Assembly, 1767–1967 (Ottawa, [1967]). J. W. Longley, Sir Charles Tupper (Toronto, 1926). C. J. Townshend, "The Honourable James McDonald," N.S. Hist. Soc. Coll., XX (1921), 139–53. The Morning Chronicle (Halifax), 1859–74, records many of Blanchard's assembly speeches. His obituary notice is to be found in the issue of 18 Dec. 1874. w.b.h.]
© 1972–2021 University of Toronto/Université Laval
Image Gallery

Citations
EN:UNDEF:public_citation_style_default
Information to be used in other citation formats
Permalink: http://www.biographi.ca/en/bio/blanchard_hiram_10E.html
| | |
| --- | --- |
| Author of Article: | William B. Hamilton |
| Title of Article: | BLANCHARD, HIRAM |
| Publication Name: | EN:UNDEF:public_citation_publication, vol. 10 |
| Publication Details: | EN:UNDEF:public_citation_publisher, 1972 |
| Year of publication: | 1972 |
| Year of revision: | 1972 |
| Access Date: | January 23, 2021 |