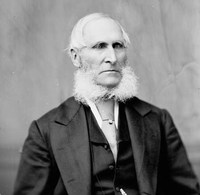 Source: Courtesy of Wikimedia Commons
BOTSFORD, AMOS EDWIN, farmer, militia officer, jp, judge, politician, and businessman; b. 25 Sept. 1804 in Saint John, N.B., second son of William Botsford* and Sarah Lowell Murray, née Hazen; m. September 1864 Mary Arabella Allison, née Cogswell, in Sackville, N.B.; they had no children; d. there 19 March 1894.
In 1808 Amos Edwin Botsford moved with his family to Westcock, N.B., where his grandfather Amos Botsford* had settled in 1790. He received his education at the Westmorland Grammar School and likely did some legal studies with his father. He then took up farming, eventually working hundreds of acres of the lucrative Tantramar marshlands and uplands. In the 1830s he served for several years as a justice of the peace and a senior judge of the Inferior Court of Common Pleas for Westmorland County. His local activities also included the 2nd Battalion of Westmorland County militia; he became a captain in 1823. Nine years later he succeeded his father as lieutenant-colonel of this unit, a command he retained until 1867.
Since his family took an active interest in public affairs, it was perhaps inevitable that Botsford should seek to enter the political arena. In the election of 1830 he was an unsuccessful candidate for Westmorland, a seat formerly held by both his grandfather and his father. Three years later he became a member of the Legislative Council, and he occupied this position until confederation. He was also named to the Executive Council, serving from 1838 to 1840.
As a councillor Botsford represented New Brunswick in several inter-provincial and international discussions. In 1836, for example, he was appointed a commissioner with Edward Barron Chandler* to settle the boundary with Nova Scotia; in 1839 he was a delegate to Quebec to determine the boundary between Lower Canada and New Brunswick, and in the same year he was a commissioner to Washington to discuss a border difficulty. One of his most significant assignments came in 1852 when Lieutenant Governor Sir Edmund Walker Head* chose him, a person of "discretion and intelligence," to represent the province in the reciprocity talks in Washington.
Botsford was a strong supporter of Samuel Leonard Tilley and confederation. He thus opposed his younger brother Bliss*, who represented the anti-confederation position in the House of Assembly. In April 1866 he introduced in the Legislative Council a resolution for a federal union of the provinces, and this motion was carried. When Albert James Smith*'s anti-confederation government fell later that month, Lieutenant Governor Arthur Hamilton Gordon* called upon Botsford to form an administration, but he declined. His efforts on behalf of Tilley in the subsequent election did little good in Westmorland County, where four opponents of confederation, including his brother, were returned. A government headed by Tilley was nevertheless elected and confederation achieved. In May 1867 Botsford was, by royal proclamation, called to the first Canadian Senate. Although not particularly prominent or vocal in the chamber, he sat in the speaker's chair from 3 to 5 June 1872 and again from 16 Feb. to 19 April 1880.
Botsford was an active layman in the Church of England, attending St Ann's in Westcock, which had been built in 1817 on land donated by his father. He joined his father as a warden of the church and until his death assisted in the upkeep of Anglican churches in the immediate area. His adherence to the Church of England led in March 1845 to a confrontation with Humphrey Pickard*, principal of the Wesleyan Academy in Sackville. Reports that the academy's chaplain, Albert Des Brisay*, was "resorting to a most extraordinary mode of bringing over the students to the Methodist faith, by working upon fears and passions of the youth," caused Botsford to advise in council against a grant of £300 intended for the academy. Although Pickard angrily denied "any tampering with the religious principles of youth whose families are connected with other Christian Denominations," Botsford did not back down from his claims. There was no proof that Des Brisay was attempting to recruit students for Methodism, however, and the government continued to make grants to the academy.
Botsford's agricultural pursuits extended beyond his large farm. An active member of the Sackville and Westmorland Agricultural Society, he represented Westmorland County on the provincial Board of Agriculture, established by the government in 1859, and for a time served as its president. In closely supervising public grants to local agricultural societies, the board encouraged increased cultivation, the importation of breeding stock, and the growing of practical root crops. With Botsford as a member of the planning committee, it also introduced an annual provincial exhibition, the first being held on 1 Oct. 1861.
In the second half of the 19th century business opportunities increased dramatically in New Brunswick, particularly after the introduction of Sir John A. Macdonald's National Policy in 1879. All that was needed for growth was the ambition and capital of local entrepreneurs, and Botsford was one of those who responded. He centred his activities in Moncton, investing substantially in the Moncton Gas Light and Water Company, the Moncton Cotton Manufacturing Company, and the Acadia Sugar Refinery. He also held shares in the Sackville Electric Light and Telephone Company. The most important project in which Botsford became involved was the New Brunswick and Prince Edward Island railway. Prince Edward Island had been promised some means of "continuous communication" with the mainland on entering confederation in 1873, and the following year a number of Sackville's most prominent citizens banded together to plan a branch line of the Intercolonial from Sackville to Cape Tormentine, the closest mainland point to the Island. Botsford joined wealthy Sackville businessman Josiah Wood* and several others in providing capital for the undertaking, and the New Brunswick and Prince Edward Railway Company was incorporated in April 1874. Botsford subsequently became president. Competition from Amherst, N.S., a growing industrial centre ten miles from Sackville and almost an equal distance from the cape, threatened the company's plans, particularly after Amherst's federal representative, Charles Tupper*, became minister of railways and canals in 1879. It took a decade of struggle before Wood, the major political proponent of the railway, secured federal support for the venture. The line was opened on 20 Nov. 1886.
Amos Edwin Botsford's support of Conservative politics, agricultural interests, regional development, and the Church of England is reminiscent of the concerns of his father and grandfather. Unlike them, however, he experienced a new economic age of railways and manufacturing enterprises. He died in his 90th year at Sackville of complications arising from a heart ailment and acute bronchitis. He was buried in the Rural Cemetery at Saint John.
NA, MG 24, A20, 3, Head to A. E. Botsford, 7 April 1852; G24; MG 26, A, 139, A. E. Botsford and Josiah Wood to Charles Tupper, March 1882; MG 27, I, D15, A. E. Botsford to George Kerr, n.d.; RG 31, C1, 1861, Sackville. PANB, MC 1156, X: 28, 51; RG 7, RS74, 1895, A. E. Botsford. Borderer, and Westmorland and Cumberland Advertiser (Sackville, N.B.), 13 Jan. 1865. Chignecto Post and Borderer (Sackville), 2 June 1870; 22, 29 March 1894. New-Brunswick Courier, 29 March, 12 April 1845. CPC, 1881, 1891. D. R. Facey-Crowther, "The New Brunswick militia: 1784–1871" (ma thesis, Univ. of N.B., Fredericton, 1965). D. [W.] Jobb, "Josiah Wood [1843–1927]: 'A cultured and honoured gentleman of the old school'" (ba thesis, Mount Allison Univ., Sackville, 1980). MacNutt, New Brunswick. D. [W.] Jobb, "The politics of the New Brunswick and Prince Edward Island Railway, 1872–1886," Acadiensis (Fredericton), 13 (1983–84), no.2: 69–90.
© 1990–2023 University of Toronto/Université Laval
Cite This Article
Lorna Milton Oulton, "BOTSFORD, AMOS EDWIN," in Dictionary of Canadian Biography, vol. 12, University of Toronto/Université Laval, 2003–, accessed September 21, 2023, http://www.biographi.ca/en/bio/botsford_amos_edwin_12E.html.
The citation above shows the format for footnotes and endnotes according to the Chicago manual of style (16th edition). Information to be used in other citation formats:
| | |
| --- | --- |
| Permalink: | http://www.biographi.ca/en/bio/botsford_amos_edwin_12E.html |
| Author of Article: | Lorna Milton Oulton |
| Title of Article: | BOTSFORD, AMOS EDWIN |
| Publication Name: | Dictionary of Canadian Biography, vol. 12 |
| Publisher: | University of Toronto/Université Laval |
| Year of publication: | 1990 |
| Year of revision: | 1990 |
| Access Date: | September 21, 2023 |