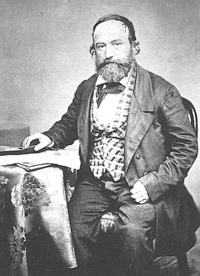 Source: Link
BOURGEAUX (Bourgeau), EUGÈNE, botanical collector; b. 20 April 1813 at Brizon, France (department of Hautes-Alpes), son of Jacques Bourgeaux and Françoise Missilier; d. in February 1877 in Paris.
Nothing precise is known about Eugène Bourgeaux's youth, except that he acquired a liking for botany while tending his father's herds. He seems to have received little education, to judge by his correspondence. Nicolas-Charles Seringe and Alex Jordan, of Lyons, taught him the rudiments of the science of botany. In 1843 Bourgeaux went to Paris where Philip Barker Webb employed him to assist in the conservation of his herbarium. For this purpose, in 1845 and 1846 Bourgeaux travelled over all the Canary Islands. In the following year the Association Botanique Française d'Exploration appointed Bourgeaux a botanical collector. In this capacity he travelled until 1856, for the association or for other scientists, throughout Spain, the south of France, the Canary Islands, and Algeria.
In 1857, at the request of Sir William Jackson Hooker, who had known him in the French botanical association and who considered him "the prince of botanical collectors," Bourgeaux took part as a collector in the expedition led by John Palliser*. This expedition, financed by the British government, was to explore British territory between latitudes 45° and 50°N and longitudes 100° and 115°W, with a view to assessing the possibilities of settling the region. Thus its members were expected to provide impartial and complete scientific information on the topography, routes, soil, and climate of the prairies. Bourgeaux was engaged by John Ball, under-secretary of state for the colonies, and was to receive £150 per season. On 16 May 1857, together with Palliser and two other members of the expedition, he sailed for New York, and on 10 June the explorers set off on their first stage, to Fort William (Thunder Bay, Ont.).
"My botanical illusions have diminished a lot since arriving in these vast regions," he wrote to Hooker in typically misspelt French. "The forests and prairies are magnificent, and so is the vegetation, but one of my first observations is that the same plants occupy a large geographical territory, and the number of species is not related to the vastness of the country." This discovery in no way prevented Bourgeaux from gathering specimens in the vicinity of Lake Superior, Red River, and Lake Winnipeg, in the valley of the Saskatchewan River, around Canton House (near Prince Albert, Sask.) and Edmonton, then in the Rockies. After that, according to his correspondence with Hooker, he followed the Bow River from old Fort Kananaskis to the head-waters – Bow Lakes, to the northeast of the present Yoho Park (British Columbia). In the Rockies he collected several examples of about 229 species. All the plants and seeds had to be carefully dried so that they would not mildew, and Palliser helped him in this task.
The leader of the expedition admired the collector's tenacity and courage. James Hector, one of the members of the team, emphasized that Bourgeaux was everybody's friend: he was jovial, and quick to assist anybody who sought his aid. In particular he helped Thomas Wright Blakiston, who was responsible for astronomical and meteorological readings. Bourgeaux, who knew no English, was popular with the Métis because of his language and personal qualities, and he became a friend of Father Albert Lacombe*. It was with regret that the expedition parted company with Bourgeaux in the spring of 1859. He had to leave them to discharge a previous commitment.
He went to the Royal Botanic Gardens at Kew in London, and there for some weeks he sorted his specimens. These were subsequently identified and classified by the Royal Botanic Gardens. He had collected altogether about 1,200 species, in 10–12 duplicates. Unfortunately his habitat notes were not retranscribed for each specimen. All that was done was to print a label: "Palliser's Brit. N. Am. Expl. Expedition. Saskatchewan. Coll. E. Bourgeau 1858–59." Yet the majority of the specimens did not come from Saskatchewan. Consequently Bourgeaux's North American collections can scarcely be utilized. This is a pity, the more because all the plants classified by Bourgeaux up to then were remarkable for the quality of the labels. However, the carices he had gathered on the prairies have been identified by the famous Francis Boott, and some are quoted in his classic work Illustrations of the Genus Carex.
This great North American expedition did not exhaust Bourgeaux. He had barely finished his task of classifying in London when Edmond Boissier, the Swiss botanist, commissioned him to explore Lycia so that he could complete his documentation on Asia Minor, whose flora he was engaged in describing. Bourgeaux devoted the year 1860 to this task, then he explored the county of Nice, and the following year Boissier sent him back to Asia Minor to explore the Pontic Alps (Turkey). On his return, Bourgeaux continued his botanical excursions, this time in Spain (1863–64). In 1865, on the proposal of the Muséum National d'Histoire Naturelle in Paris, Bourgeaux was attached to the scientific mission that was to explore Mexico in the wake of the French armies. There he spent the years 1865 and 1866. Asa Gray and Sereno Watson were often to speak in their publications of certain of Bourgeaux's Mexican collections. Some herbarium specimens indicate that Bourgeaux was on the Island of Rhodes in 1870, but his activities after his return from Mexico in 1867 until his death cannot be reconstructed.
In 1877 Édouard André paid tribute to Bourgeaux: "[He] was one of the most remarkable collectors of dry plants in this period. He embarked upon journeys that took in France, Spain, Asia Minor, the Canaries, the Rocky Mountains, and finally Mexico, which he explored as part of the French scientific commission, and the results of these have enriched all the herbariums in Europe. M. Bourgeau, who had been named knight of the Légion d'Honneur after the last campaign, was occupied with the sorting of his collections at the Muséum d'Histoire Naturelle when death overtook him last February."
All in all, Eugène Bourgeaux classified for botanists more than 15,000 species, which were identified by authorities of his day such as Boissier, Webb, Cosson, Boott, and Hooker. Ernest Cosson dedicated to him a genus of compositae, the Bourgaea; in botanical literature occur, among others, Astragalus bourgovii Gray, Statice bourgiaei Webb, and Saxifraga bourgaeana Boissier and Reut. His contribution to the botanical exploration of western North America is noted by the Rosa bourgeauiana [François] Crépin, and his name deserves an honourable place in Canadian history among the great explorers of the last century.
The practical knowledge that Bourgeaux acquired of the Canadian prairies enabled him to draw the attention of the British government "to the eventual advantages of setting up agricultural centres in the vast plains of Rupert's Land, and particularly in Saskatchewan in the vicinity of Fort Canton. [For] this region is much more suitable for the [large-scale] farming done in temperate climates (wheat, rye, barley, oats, Indian corn, etc.) than one would be inclined to believe." In his opinion, the prairies would, moreover, be ideal for stock-breeding, and would provide all the materials necessary for the establishment of a settlement. Through its produce, the latter would ensure "the subsistence of the Indians, whose sources of food, provided exclusively by hunting, tend to diminish daily." The only real difficulty the settlers would encounter would be "the immense distance to be covered in lands at present devoid of roads and almost uninhabited."
Although the Savoyard Bourgeaux signed no written work, he was such a keen and prolific collector, in so many diverse countries, that he is remembered in the history of botanical exploration. A mountain peak in the Banff area bears his name.
Palliser papers (Spry). Édouard André, "Nécrologie," L'illustration horticole (Ghent), XXIV (1877), 71–72. Ernest Cosson, "Notice sur les voyages et collections botaniques de M. Eugène Bourgeau," Bulletin de la Société botanique de France, XIII (1866), l–lvii. W. J. Hooker, "Statice bourgiaei, Bourgeau's Statice, Tab-5153," Curtis's Botanical Magazine (London), LXXXV (1859). Marcel Raymond, "Bourgeau en Amérique du Nord," Les botanistes français en Amérique du Nord avant 1850 (Colloques internationaux du Centre national de la recherche scientifique, LXIII, Paris, 1957), 189–92.
© 1972–2023 University of Toronto/Université Laval
Image Gallery

Cite This Article
Marcel Raymond, "BOURGEAUX, EUGÈNE," in Dictionary of Canadian Biography, vol. 10, University of Toronto/Université Laval, 2003–, accessed October 2, 2023, http://www.biographi.ca/en/bio/bourgeaux_eugene_10E.html.
The citation above shows the format for footnotes and endnotes according to the Chicago manual of style (16th edition). Information to be used in other citation formats:
| | |
| --- | --- |
| Permalink: | http://www.biographi.ca/en/bio/bourgeaux_eugene_10E.html |
| Author of Article: | Marcel Raymond |
| Title of Article: | BOURGEAUX, EUGÈNE |
| Publication Name: | Dictionary of Canadian Biography, vol. 10 |
| Publisher: | University of Toronto/Université Laval |
| Year of publication: | 1972 |
| Year of revision: | 1972 |
| Access Date: | October 2, 2023 |