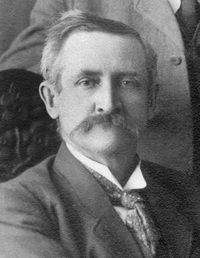 Source: Link
BOWER, JAMES, farmer, businessman, and agrarian leader; b. 26 Jan. 1860 in Mono Township, Upper Canada, son of James Bower and Dorothea Laverty; m. 21 Feb. 1883 Catherine Elizabeth McLean (d. 1931) in Mono Township, Ont., and they had seven sons and two daughters; d. 16 May 1921 near Red Deer, Alta.
James Bower's mother and father were born in Ireland and became part of the surging wave of British immigration that began washing over Upper Canada after the Napoleonic Wars. His father carried on his trade of blacksmith north of Toronto and farmed, first near Georgian Bay and then in Mono Township, not far from Orangeville. Both Anglicans, his parents had been married by Bishop John Strachan* – that rigid and powerful patriarch of the colonial political elite – but the less formal and democratic James Bower became a Methodist. The youngest of seven children, Bower proved energetic and ambitious: he operated a farm, a planing mill, a sash and door factory, and an electric light utility, and he acted as a building contractor in the Orangeville area.
After two accidents struck his businesses, Bower, like growing numbers of restless fellow Ontarians, sought a new frontier of opportunity in "the last, best west." The bushy-moustached pioneer intended to look for land north of Red Deer, but during a stop at the village in 1899 he missed his train and bought property nearby. He soon accumulated more land and produced the brick for a district school and his commodious house, which he built in 1905. A prosperous and progressive farmer, Bower raised Percheron horses, imported from France, and registered Shorthorn cattle, and in 1907 he purchased the first International Harvester gasoline tractor in western Canada.
Like many successful agriculturalists, Bower became a leading light in the farm movement. In 1908 he was active in the Central Alberta Stock Growers' Association and the Alberta Farmers' Association. In the same year he was appointed to a government commission that heard evidence about the pork industry. The commission recommended in 1909 that the province construct and operate a processing plant once producers had signed contracts to supply 50,000 hogs per year. To Bower's chagrin, farmers failed to pledge enough animals, and the plant was never built.
In 1909 the AFA amalgamated with the Canadian Society of Equity, a rival farm organization, to form the United Farmers of Alberta. Bower's stature was such that he was elected the first president of the UFA and continued to be elected until he stepped down in 1912. Shortly after becoming president, he sought to gain access to British Columbia markets for Alberta farm products, and to this end he proposed municipally owned abattoirs, which would compete with the meat-trade monopoly, and lower railway rates. A conference of Alberta and British Columbia business interests held in Vancouver in 1910, which Bower organized and chaired, endorsed these suggestions, and in 1910–11 he worked with the Vancouver Board of Trade in a vain attempt to end freight-rate discrimination against the west. In 1909 Bower had helped to found and was president of the Red Deer Co-operative Association, the first UFA cooperative. It did an impressive business in its initial year, selling livestock, hay, and grain, and served as a model for other UFA cooperatives. Bower worked tirelessly for national cooperative legislation.
Like most prairie farmers, Bower was an ardent believer in freer trade. When Prime Minister Sir Wilfrid Laurier* toured the Canadian west in 1910, Bower greeted him at Red Deer on 10 August and at Lethbridge on 1 September, and along with other UFA leaders he made an impassioned plea for lower tariffs and other measures. As vice-president of the Canadian Council of Agriculture and president of the UFA, Bower was one of some 800 farmers' representatives who on 16 Dec. 1910 descended upon the nation's capital in the great "siege of Ottawa" in order to address the government [see James Speakman*]. Following up a paper that he had left with Laurier in Alberta, Bower requested that railway companies be held liable for livestock killed by trains, a campaign that he had spearheaded and would fight without ceasing.
To the delight of Bower and farmers across the country, in early 1911 the Laurier government struck a reciprocity agreement with the United States, which promised to open the American market for Canadian natural products. By this time Bower had become a figure of national importance. Elected president of the CCA for 1911–12, he lobbied federal politicians to support reciprocity, a federal export system for chilled meat, a bill that would reform the grain industry, and federally owned and operated grain terminals. In the run-up to the federal election in September he exhorted UFA members to vote for pro-reciprocity candidates, which effectively meant Liberal candidates. He suggested that the agreement would not only increase prices of agricultural products, but by expanding north-south trade would force the railway companies to lower freight charges. To his bitter disappointment and that of most Canadian farmers, Robert Laird Borden*'s Conservatives won the election and scrapped the reciprocity deal. Bower was, however, able to take some satisfaction in the new government's construction of terminal elevators in 1913–16. His efforts to improve the provincial country elevator system also bore fruit. Although he had originally echoed most farmers' wish for a government-owned line of elevators, he and the rest of the UFA elevator committee were unimpressed with Manitoba's experiment with public elevators, and in 1912 they steered the UFA to agitate for a government-financed, farmer-controlled cooperative scheme. As a result, in 1913 the Alberta Farmers Co-operative Elevator Company Limited was created [see Edwin Carswell*]. In 1917 it would merge with the Grain Growers' Grain Company to become United Grain Growers Limited.
Unable to carry on for health reasons, in early 1912 Bower had retired as UFA president and had been succeeded by William John Tregillus*. The following year he, his wife, and his youngest children moved to Vancouver, while his older sons remained in Red Deer. Always interested in politics, in the Alberta provincial election campaign of 1913 Bower publicly endorsed the Liberal government of Arthur Lewis Watkins Sifton, approving of its hail-insurance program, its provision for direct legislation, and its support for the Alberta Farmers Co-operative Elevator Company. In 1916 Bower and his family returned to the Red Deer farm, where he remained until his death in 1921 at age 61. Having faithfully shepherded the UFA in its first three years, Bower died only two months before the UFA under President Henry Wise Wood* won the 1921 provincial election and formed a majority government with Herbert Greenfield* as premier.
The author would like to thank Ted Bower of Calgary (subject's grandson) and Dorothy and Ruth Bower of Red Deer, Alta (subject's granddaughters) for consenting to interviews and for allowing him access to documents and letters in their possession.
GA, BR UFA, minutes and reports of annual conventions, 1910–12. Grain Growers' Guide (Winnipeg), March 1909; 9 March, 6 April, 1, 22 June, 24, 31 Aug., 21 Sept., 21, 28 Dec. 1910; 15 Feb., 1, 15, 29 March, 12 July, 16 Aug., 20 Sept., 4 Oct. 1911; 25 May 1921. Red Deer Advocate, 20 May 1921. Canadian annual rev., 1910, 1913. D. G. Embree, "The rise of the United Farmers of Alberta" (ma thesis, Univ. of Alta, Edmonton, 1956). Farm and Ranch Rev. ([Calgary]), 4 (1908), no.1. Red Deer East Hist. Soc., Mingling memories (Red Deer, 1979). B. J. Rennie, The rise of agrarian democracy: the United Farmers and Farm Women of Alberta, 1909–1921 (Toronto, 2000).
© 2005–2023 University of Toronto/Université Laval
Image Gallery

Cite This Article
Bradford J. Rennie, "BOWER, JAMES," in Dictionary of Canadian Biography, vol. 15, University of Toronto/Université Laval, 2003–, accessed November 28, 2023, http://www.biographi.ca/en/bio/bower_james_15E.html.
The citation above shows the format for footnotes and endnotes according to the Chicago manual of style (16th edition). Information to be used in other citation formats:
| | |
| --- | --- |
| Permalink: | http://www.biographi.ca/en/bio/bower_james_15E.html |
| Author of Article: | Bradford J. Rennie |
| Title of Article: | BOWER, JAMES |
| Publication Name: | Dictionary of Canadian Biography, vol. 15 |
| Publisher: | University of Toronto/Université Laval |
| Year of publication: | 2005 |
| Year of revision: | 2005 |
| Access Date: | November 28, 2023 |