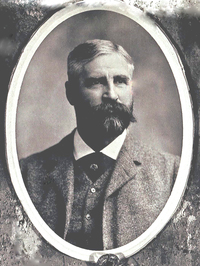 Source: Link
BOYD, MOSSOM MARTIN, businessman and breeder; b. 19 Jan. 1855 in Bobcaygeon, Upper Canada, son of Mossom Boyd and Caroline Dunsford; m. 5 Sept. 1883 Ida Lillian DeGrassi (d. 1942) in Lindsay, Ont., and they had four sons and three daughters; d. 8 June 1914 in Philadelphia and was buried in Peterborough, Ont.
The Boyds were a Scots-Irish family with roots in County Donegal (Republic of Ireland), where family tradition involved military service in India and naming sons Mossom. Mossom Sr was about to be sent back to India, the land of his birth, when he decided to follow an acquaintance to the Kawartha Lakes north of Peterborough in 1834. He fell in with a number of gentlemen farmers, including members of the Need, Langton, and Dunsford families, who provided financial support to Boyd's entrepreneurial energy. He took over the management of Thomas Need*'s sawmill and store in Bobcaygeon in 1844, married Caroline Dunsford the same year, and formed a short-lived partnership with John Langton* and James Wicks Dunsford in 1849. Langton described Boyd, when rafting logs to Quebec, as "a restless being who can keep himself and everything that comes in contact with him in a state of excitement for two or three months at a time. . . . He may want a curb at other times but there you may give him the reins." Boyd subsequently cut square timber and sawlogs throughout the Trent River watershed, built grist and sawmills at Bobcaygeon in the 1850s, and signed a lucrative deal in 1869 to cut lumber on lands of the Canadian Land and Emigration Company in the Haliburton region.
Mossom Martin Boyd joined his father in business in 1871 at the age of 16, after attending Trinity College School in Port Hope. The Boyds dealt directly with British agents in the timber trade and in the 1870s they gained access to the New York and Albany lumber markets through Boyd, Smith and Company of Peterborough and Irwin and Boyd of Port Hope, the latter run by Mossom Martin's brother Gardiner and brother-in-law and cousin James Moore Irwin. They maintained their presence in the United States through Getman, Boyd and Company, Oswego; Talcott, Boyd and Company, West Troy; and Boyd and Company, Albany, which was run by another brother-in-law, John Macdonald.
Upon the death of Mossom Sr in 1883, Mossom Boyd and Company was formed as a partnership between Mossom Jr, his half-brother William Thornton Cust Boyd, and John Macdonald. In 1883–84 they produced nearly 16 million feet of sawlogs and in 1885 they shipped over 6 million feet of lumber by rail and canal to wholesale outlets in Albany. The high point of their operations in Ontario occurred in 1888–89, when 23 million feet were produced. Although the 1880s saw lumbering around Bobcaygeon reduced and Boyd timber limits in the Ottawa valley sold, new fields were purchased in the Muskoka, Lake Nipissing, Sudbury, and Algoma areas. On the last day of 1888, M. M. Boyd estimated his worth, including inventories of lumber, limits, mills, steamers, equipment, and lands, at $694,837.62. He speculated too in land in southern Ontario, held mortgages on properties in Toronto, and maintained a residence there as well as in Bobcaygeon.
Being heavy users of the Trent, St Lawrence, Oswego, and Erie canals, the Boyds vigorously supported canal navigation. They sought a charter for the Huron Trent Valley Canal Company, formed in 1874, and promoted the completion of the Trent Canal through the Trent Valley Canal Association, an endeavour that almost drew a reluctant Mossom Martin into federal politics as a Conservative in the 1890s. The Boyds embarked as well on their own navigation and railway companies. The Trent Valley Navigation Company was begun in 1883, initially to link the Kawartha Lakes with the Grand Trunk Railway at Lindsay and the Boyds' lumberyards. Never a profitable enterprise, the navigation company was later aimed at the tourist market and local development. When it ceased operations in 1915, the deforested Trent valley was being transformed into recreational lands. Another Boyd promotion, the Lindsay, Bobcaygeon and Pontypool Railway, received its charter in 1890. As its first president, Mossom handled the protracted negotiations for dominion and municipal subsidies; construction began in 1903, when a 99-year lease was signed with the Canadian Pacific Railway. The LBPR joined the main Ontario line of the CPR at Burketon Station in Durham County, but it never had the stability to achieve much beyond Bobcaygeon, where it had access to the Trent Canal.
By the 1890s major changes were under way in the forest-products industry in Ontario. The Trent watershed, like many other regions, was largely depleted of merchantable timber. Boyd adapted by shifting eastward and westward and initiating further diversification. He sent expert timber cruiser Nelson Vannier to scout British Columbia in 1891. In 1893, a year after the death of John Macdonald, the company was reorganized as Mossom Boyd Company. It ceased its Albany operations, auctioned off timber limits in Haliburton and on Lake Huron, the French River, and Lake Nipissing, and bought 620 square miles of limits on the north shore of the St Lawrence River between Baie-Trinité and Rivière aux Rochers, Que. These limits were never developed, however.
On the Pacific coast, the Boyds helped extend the long arm of Ontario lumbering interests to Vancouver Island. There the company acquired limits on the Nitinat River in 1893, bought the Hughett and McIntyre mill at Cowichan in 1895, and chartered the Cowichan Lumber Company Limited in 1897. As well, it operated the Georgia Lumbering Company and a sawmill at Genoa Bay. Other island interests included limits in the Comiaken, Helmcken Island, Port Renfrew, Sahtlam, and Shawnigan districts; on the mainland the company held limits on Gambier Island in Howe Sound, Port Moody harbour, upper Lillooet Lake, the Fraser River near Port Haney, and Homfray Channel. Its enterprises included an interest in promoting the Cowichan Valley Railway and the Cowichan River Improvement Company. In July 1899 Boyd commented that there was "lots of competition and sharks and alligators in human form looking to devour the innocent," but he perceived that British Columbia would be the best place for his sons to make their fortunes. Two of them, in fact, Gardiner Cust and Laurence Chadwick, would run the Cowichan Lumber Company after Boyd's death. Boyd interests extended across the country, with timber limits in Manitoba and Saskatchewan as well as on the Atlantic and Pacific coasts. In 1904 the Boyds closed their mill at Bobcaygeon.
While the Boyd lumbering empire grew and absorbed the interests of extended family, Mossom developed a passion for stockbreeding, as did several other barons of industry, such as Walter Edward Hart Massey* and Sir William Cornelius Van Horne. In 1883 he acquired a 1,200-acre island in Pigeon Lake near Bobcaygeon, where he started the Big Island Stock Farm; he later added the Red Deer Hill Stock Farm near Prince Albert (Sask.). Boyd bred horses, cattle, and sheep for show and sale in Canada, the United States, and Great Britain. He specialized in Aberdeen Angus and Hereford cattle, Clydesdale, Percheron, hackney, English Shire, and Suffolk Punch horses, and Oxford Down and Persian sheep. He experimented with and created a variety of cattle known as Double Standard Polled Herefords, and in the early 1890s he began breeding cataloes, a cross of cattle and prairie buffalo. His intense interest in breeding caused him to flirt with eugenics when he published "A system of numbering individuals of the human family" in the American Breeders Magazine (Washington) in 1911.
Boyd was dedicated to his family and provided his children with experience in private schools and English universities. An Anglican by religion, in later life he travelled considerably and maintained interests in exploring, rare books, art, music, and such recreational activities as yachting, riding, and driving. He was a member of the Union Club of Victoria, the Toronto Board of Trade, and various stockbreeders' and forestry associations. Obsessed with money and its careful, regulated handling, he was a meticulous keeper of accounts and papers, including records of daily expenditures on tips, laundry, and church tithes. Boyd's corporate holdings evolved under the same scrutiny and became increasingly complex. Before his death, he evidently contemplated a "corporate reorganization" under the legal direction of Zebulon Aiton Lash of Toronto. Boyd died on 8 June 1914 of an anaemic condition in a nursing home in Philadelphia, where he had gone for treatment. Mossom Boyd Sr had carved his niche in the forests of the Trent watershed, but it was Mossom Martin Boyd who expanded the empire from coast to coast. The empire, however, did not long survive him. By 1917 the Saskatchewan farm had been wound up, and many limits in British Columbia were sold off in the 1920s.
AO, RG 80-5-0-121, no.11993. NA, MG 28, III 1; MG 31, A10, 35–36. Trent Univ. Arch. (Peterborough, Ont.), Boyd family coll. Canada Lumberman Weekly Edition (Toronto), 6 Nov. 1895. Watchman-Warder (Lindsay, Ont.), 11, 18 June 1914. J. T. Angus, A respectable ditch: a history of the Trent-Severn Waterway, 1833–1920 (Kingston, Ont., and Montreal, 1988). G. E. J. Barker, Tales of the Buffalo (Fenelon Falls, Ont., 1992; copy in Bobcaygeon Public Library, Bobcaygeon, Ont.). E. M. Chadwick, Ontarian families: genealogies of United-Empire-Loyalist and other pioneer families of Upper Canada (2v., Toronto, 1894–98; repr. 2v. in 1, Lambertville, N.J., [1970]). H. R. Cummings, Early days in Haliburton (Toronto, 1963). C. D. Howe and J. H. White, Trent watershed survey: a reconnaissance, intro. B. E. Fernow (Ottawa, 1913). John Langton, Early days in Upper Canada: letters of John Langton from the backwoods of Upper Canada and the Audit Office of the Province of Canada, ed. W. A. Langton (Toronto, 1926). R. [S.] Tatley, Steamboating on the Trent-Severn (Belleville, Ont., 1978). W. D. Thomas, Bobcaygeon: the hub of the Kawarthas; a history of the village and its surroundings ([Bobcaygeon?], 1980). D. J. Wurtele, "Mossom Boyd: lumber king of the Trent valley," OH, 50 (1958): 177–89.
© 1998–2023 University of Toronto/Université Laval
Image Gallery

Cite This Article
Larry Turner, "BOYD, MOSSOM MARTIN," in Dictionary of Canadian Biography, vol. 14, University of Toronto/Université Laval, 2003–, accessed October 2, 2023, http://www.biographi.ca/en/bio/boyd_mossom_martin_14E.html.
The citation above shows the format for footnotes and endnotes according to the Chicago manual of style (16th edition). Information to be used in other citation formats:
| | |
| --- | --- |
| Permalink: | http://www.biographi.ca/en/bio/boyd_mossom_martin_14E.html |
| Author of Article: | Larry Turner |
| Title of Article: | BOYD, MOSSOM MARTIN |
| Publication Name: | Dictionary of Canadian Biography, vol. 14 |
| Publisher: | University of Toronto/Université Laval |
| Year of publication: | 1998 |
| Year of revision: | 1998 |
| Access Date: | October 2, 2023 |