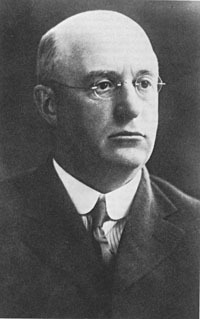 Source: Courtesy of Wikimedia Commons
BREWSTER, HARLAN CAREY, salmon canner and politician; b. 10 Nov. 1870 in Harvey, Albert County, N.B., son of Gilbert Brewster and Amelia Wells; nephew of James Edward Wells*; m. 19 Dec. 1892 Annie Lucinda Downie of Harvey Bank, N.B., and they had one son and three daughters; d. 1 March 1918 in Calgary.
Harlan Carey Brewster learned the "sailor's craft" in his father's shipyard. He was also a printer's apprentice with the Harvey Weekly Observer in the 1880s, and he spent three years at the Boston Herald. When eye trouble forced him out of printing, he moved to Victoria, B.C., where by 1899 he had become purser on a coastal steamer. Later he managed Thomas Earle's trading posts and, briefly, a Skeena River salmon cannery before he moved to Clayoquot, on Meares Island, as postmaster and keeper of the general store belonging to the Clayoquot Fishing and Trading Company Limited. In 1902 he joined in organizing the Clayoquot Sound Canning Company Limited and became manager and part owner.
Well known and respected along Vancouver Island's west coast, Brewster was elected Liberal member of the Legislative Assembly for Alberni in February 1907 and was the only "straight Liberal" returned in 1909. As a new mla, Brewster had concentrated on constituency concerns; as "leader of the Liberal party of one," he participated in most legislative debates. In March 1912 a Liberal convention unanimously selected him as provincial president and leader, but in the general election a few weeks later Richard McBride's Conservatives overwhelmed the party, including Brewster. After a Liberal convention in 1913 reconfirmed his leadership, he energetically toured the province, attacked Conservative maladministration, and called for such reforms as the nationalization of railways, encouragement to agriculture, a halt to Japanese immigration, an end to the squandering of provincial resources, and a land policy that would favour settlers rather than speculators.
Campaigning successfully in a by-election of 4 March 1916 in Victoria, a contest caused by McBride's resignation, Brewster promised more reforms, including improved workers' compensation and labour laws, direct legislation, women's suffrage, and the abandonment of machine politics and civil service patronage. In the assembly once more, he attacked the Conservatives especially for unauthorized payments to the contractors of the Pacific Great Eastern Railway and for keeping the legislature in session after its term had apparently expired. By seeking a judicial inquiry into the legality of acts passed after 14 March 1916, he embarrassed himself by casting doubt on the legality of a legislature in which he continued to sit and on the validity of laws which, as matters turned out, he would have to administer.
During the general election campaign of that summer, Brewster added little to his platform or his attacks on the government but, in a dramatic reversal, the Liberals won 50 per cent of the popular vote and 36 of the 45 seats. While waiting for the official results of the soldiers' vote and the resignation of Premier William John Bowser*, Brewster had federal civil service commissioner Adam Shortt* advise on the creation of a provincial commission, had an accounting firm review provincial finances, warned of reduced expenditures and higher taxes, and invited women to help purify political life. As premier from 23 November, he saw himself as a "managing director" of government and shunned departmental detail. He had a strong cabinet. Three members – John Oliver*, John Duncan MacLean*, and Thomas Dufferin Pattullo* – later became premiers themselves. Unfortunately, by choosing Malcolm Archibald Macdonald, who had been accused of irregularities in a February by-election, as attorney general, he incensed the "purity squad," or self-styled political reformers, of Vancouver Liberals. By the time a royal commission had exonerated Macdonald, a Liberal back-bencher from Vancouver had charged that Macdonald accepted funds from the Canadian Northern Railway during the same by-election. Macdonald denied the accusation but resigned to save Brewster further embarrassment. Yet the Vancouver Liberal Association remained badly split.
After finance minister Ralph Smith died on 12 Feb. 1917, Brewster took over his portfolio. To balance the budget, he made major cuts in departmental allocations, raised existing taxes, and imposed new ones. The press commended the businesslike plan of obtaining revenue by taxes not loans; taxpayers complained. Fulfilling promises made in opposition, the Brewster government passed legislation to promote agriculture and to tax speculators in timberlands, and created a department of labour to improve relations between capital and labour and ameliorate conditions for workers. Brewster also sought administrative economies such as replacing the auditor general with a controller general.
Major reforms resulted from two referendums held at the time of the general election. After the legislature enfranchised women on 5 April 1917, Brewster brought in the Equal Guardianship of Infants Act and named a few women to government posts, including Helen Emma Gregory* MacGill, who became a judge of the juvenile court. Investigations of irregularities in the soldiers' vote delayed action on prohibition, but after the charges were proved, a special legislative session in August passed the prohibition law that had been approved by civilian electors and long favoured by Brewster.
All told, about 80 bills had been brought in by the fall. Some were hurriedly drafted and debated but Brewster's government honoured many promises made in the throne speech. Yet there were problems. Dissent in caucus and cabinet, election scandals, and continuing investigations of the previous government's relations with the financially troubled Pacific Great Eastern were distractions. The railway remained in poor condition despite Brewster's enthusiasm for its northern extension after a summer tour of the Peace River district. Moreover, nothing had been done to develop the mining industry; despite the adoption of legislation regarding the civil service, no commissioner had been appointed and patronage still reigned, though some Liberals were disappointed that more Tory incumbents were not replaced; the old land legislation remained in effect; and the cabinet seemed uncertain about the new taxes. The public was unhappy. In four by-elections during January 1918 the Liberals could claim only one partial victory, that of Mary Ellen Smith [Spear*], Ralph Smith's widow, who ran in Vancouver as an independent with Liberal endorsement. Before the second session met, Brewster circulated a draft bill to eliminate election corruption, but the throne speech of February 1918 got a mixed response.
Although provincial affairs kept him busy, Brewster could not ignore national debates about Canada's part in World War I. He demanded conscription of both manpower and wealth and he endorsed the resolution of the Western Liberal convention at Winnipeg in August 1917, which he believed meant "conscription – if necessary." None the less he seemed reluctant to participate in the Win-the-War campaign. His apparent vacillation and anxiety to avoid precipitating trouble contributed to an image of poor leadership. Brewster played a relatively minor role in federal Liberal politics. Although he admired Sir Wilfrid Laurier and disagreed with him only on conscription, he wanted to enter the Union cabinet of Sir Robert Laird Borden*. Western Conservatives, however, objected to his inclusion. He spent little energy in the Union government's election campaign late in 1917, but his inactivity may be explained as much by illness as by his disappointment at being excluded from the cabinet.
During the formation of the Union government Brewster had visited Ottawa, and he went twice more to discuss the war effort and postwar plans with Borden and other premiers. On all three occasions he also pressed provincial interests. While returning from the third meeting, he developed lobar pneumonia and was taken from the train to hospital at Calgary where he died.
Brewster kept his family life private. He and his wife had been active in First (Calvary) Baptist Church. She died in 1912, three weeks after giving birth to their fourth child, and Brewster was reportedly inconsolable. When he died, their son was serving overseas, one daughter was at college in Toronto, and two others were at home. His estate, valued at $22,775, consisted mainly of the family home and shares in the canning company.
Brewster, whose bald head and portly figure inspired cartoonists, is one of British Columbia's least-known premiers. Historian Margaret A. Ormsby's remark that for "his integrity and his fair-mindedness, [he] commanded universal respect," reflects the sentiments of obituaries which kindly noted his premiership "was too short to allow him to develop the policies he had in mind." Contemporaries described him as a "faithful friend" and "a type of quiet-living, easy-going and upright business man." His greatest contribution to British Columbia history was in crystallizing opposition to the McBride–Bowser government. As premier, he lacked the will, skills, and stamina to assert himself, and his term was marked by accusations of weak leadership, persistent unrest in the cabinet, caucus, and constituencies, especially in Vancouver, and rumours that one or another colleague was about to take over. Yet even a newspaper as unfriendly as the Kamloops Standard-Sentinel could not find "the slightest taint to his name" in his private life, business relations, and public career. Given the times, his fractious colleagues, and the scandals around provincial politics, that was high praise.
[There is no biography of Brewster and he is scarcely mentioned in general histories. Some official correspondence survives in the premiers' papers at BCARS, GR 441, but there are no private Brewster papers. Thus, it is necessary to examine his career through the records of other politicians, notably Sir Richard McBride, Sir Wilfrid Laurier, and Sir Robert Borden. The McBride papers are at BCARS, Add. mss 347, and the Laurier and Borden papers in NA, MG 26, G and H respectively.
Brewster's early political career in British Columbia is recorded in the Port Alberni newspapers; see, for example, the Alberni Pioneer News, its successor the Port Alberni News, and the Alberni Advocate. Once he became prominent, his name also began appearing in metropolitan papers. The press, however, was politically biased. The Victoria Daily Times and the Vancouver Daily Sun were Liberal; the Victoria Daily Colonist was strongly Conservative – its Liberal rivals referred to it as "the McBride organ" – and the Vancouver Daily Province was independent but sympathetic to the Conservatives. p.e.r.]
© 1998–2023 University of Toronto/Université Laval
Image Gallery

Cite This Article
Patricia E. Roy, "BREWSTER, HARLAN CAREY," in Dictionary of Canadian Biography, vol. 14, University of Toronto/Université Laval, 2003–, accessed December 2, 2023, http://www.biographi.ca/en/bio/brewster_harlan_carey_14E.html.
The citation above shows the format for footnotes and endnotes according to the Chicago manual of style (16th edition). Information to be used in other citation formats:
| | |
| --- | --- |
| Permalink: | http://www.biographi.ca/en/bio/brewster_harlan_carey_14E.html |
| Author of Article: | Patricia E. Roy |
| Title of Article: | BREWSTER, HARLAN CAREY |
| Publication Name: | Dictionary of Canadian Biography, vol. 14 |
| Publisher: | University of Toronto/Université Laval |
| Year of publication: | 1998 |
| Year of revision: | 1998 |
| Access Date: | December 2, 2023 |