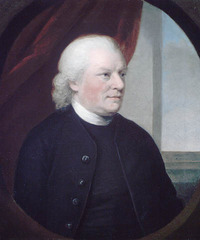 BROOKE, JOHN, Church of England clergyman; b. c. 1709 probably in Norfolk, England; d. 21 Jan. 1789 at Colney, Norfolk.

Nothing is known with certainty of John Brooke's early life and education. He was ordained priest on 17 June 1733 and between 1733 and 1746 became rector or perpetual curate of five parishes in and around Norwich, England, all but one of which he held until his death. In 1756 he married Frances Moore, already a prominent literary figure; they were to have a son and probably a daughter. Brooke was appointed acting chaplain in the British army in February 1757 and arrived in North America later that year. He was deputy chaplain in the 22nd Foot for one year and garrison chaplain at Louisbourg, Cape Breton Island, from August 1758 to July 1760, when he came to Quebec. In December Governor Murray, who was a personal friend of 20 years, unofficially appointed him minister of the town, served until then by Jean-Michel Houdin*, and chaplain to the garrison. He was formally commissioned garrison chaplain on 28 Oct. 1761, by which time he was also chaplain to the Royal Americans (60th Foot). In August 1761 about 100 civil officers and merchants in Quebec had petitioned the Society for the Propagation of the Gospel to appoint Brooke its missionary at Quebec with a French-language assistant.

After Brooke became unofficial minister for the town, Church of England services, which had been celebrated in the Ursuline chapel from September 1759 until the summer of 1760, were held in the Recollet church following the Roman Catholic service. Neither Brooke nor the Roman Catholic Church appreciated the arrangement; Brooke, in fact, considered it a humiliation for the state religion. Brooke's social role as minister prompted him to promote the establishment of Protestant education and the introduction of smallpox vaccination. In January 1764 he was chosen by the absentee auditor general, Robert Cholmondeley, as his deputy at Quebec. Murray reported to London in October the presence of 144 Protestant householders, Church of England and dissenters, in the town; the following month about 80 people repeated the petition of 1761 to the SPG. Murray officially supported the petition, but unofficially he began to criticize Brooke. To the SPG he regretted that Brooke did not understand French. To Cholmondeley he complained that Brooke "cannot govern his tongue and will perpetually interfere with things that do not concern him . . . ; Brookes certainly is an honest man and a man of parts, he is very well informed too and when passion does not interfere is a most agreeable companion [but] his sprightly imagination makes him . . . frequently forget that he wears Black. . . ."
Although Brooke, as garrison chaplain and unofficial minister of the town, was expected by Murray to be a peacemaker in the agitated relations between civilians and the military in the colony [see Thomas Walker; Pierre Du Calvet], his meddlesome and prickly nature and his good relations with the merchants, the military's most persistent critics, so provoked the garrison as to limit his value as a chaplain. Particularly galling was his appearance on behalf of the merchant George Allsopp*, who, charged with failure to carry a light after dark as required by law, had brought a suit for brutality against the two soldiers responsible for his arrest. Murray himself was probably angered most by Brooke's friendship with Allsopp, the governor's obstreperous political opponent. Indeed in July 1765 Murray identified Brooke to the Earl of Hillsborough, secretary of state for the American Colonies, as a member of a cabal seeking to have him replaced; it was composed mainly of merchants who, unlike the more patient governor, sought the colony's rapid anglicization and protestantization in order to facilitate integration into Britain's political and economic empire.
Murray was succeeded in July 1766 by Guy Carleton*, who tended at first to sympathize with the merchants. Brooke became friendly with the new lieutenant governor and with his Huguenot attorney general, Francis Maseres*. Maseres to begin with found Brooke "a very sensible and agreeable companion," but shortly after wrote that, although Brooke was a fine minister, he was also "rather too warm in his Temper which hurries him now and then into indiscreet Expressions." Adam Mabane of the French party, which opposed the merchants' aspirations, was considerably more critical than Maseres of Brooke's conduct as minister: "The Church is . . . made instrumental in the good Cause," he complained, "Brookes in his sermons declaims in the praise of ye Lt. Governor & C. Justice [William Hey], (who by ye by are always present). . . ." Carleton and Maseres soon parted ways as the former came to realize the necessity of Murray's policy of conciliation with the Roman Catholic Church while Maseres, strongly anti-Catholic, allied himself with the merchants. Brooke was caught in the middle when in the summer of 1767 Leger-Jean-Baptiste-Noël Veyssière, a Recollet and parish priest converted to Protestantism, presented himself to the garrison chaplain to take the oath of abjuration, his first step towards the ministry. Maseres supported Veyssière, but Carleton was unwilling to see the convert become a minister in the colony. Maseres broke off all relations with Brooke when he learned that "in a low and foolish piece of flattery to General Carleton" the chaplain had refused to administer the oath to Veyssière, although before he became aware of Carleton's fears "he used to wish and intend that this convert should officiate. . . ."
But if Veyssière had been temporarily hindered by Brooke, it was the latter whose future was cloudier. The two petitions in favour of Brooke's appointment as an SPG missionary at Quebec were never granted, the SPG alleging insufficient funds. Brooke continued his unofficial ministry until 1768, even travelling back and forth between Montreal and Quebec for six months in 1766 until the arrival of David Chabrand Delisle as Protestant chaplain in Montreal. In July 1768 he auctioned off the household belongings. Some of these indicate that he and his wife Frances, who had come to Quebec in 1763, lived comfortably; their home, a former Jesuit mission house at Mount Pleasant in Sillery, had been sublet to them by George Allsopp's father-in-law, the merchant John Taylor Bondfield. In August 1768 the Brookes left for England, a couple of months after the arrival of David-François De Montmollin* as the French-language assistant requested by Quebec's Protestants since 1761.

Carleton took advantage of Brooke's departure to send with him a letter explaining the lieutenant governor's ecclesiastical policy to Richard Terrick, bishop of London, who was responsible for the church in the colonies. Brooke was personally to give the bishop "very ample Information on the State of Religion in this Country." Carleton recommended the chaplain to Terrick, and regretted that, after serving eight years as minister at Quebec without any allowance, Brooke should find himself "dispossessed." Brooke, however, despite his absence from Quebec, drew full pay as garrison chaplain until his death.
Little is known of Brooke after his return to England, although he seems to have resumed his Norfolk posts. When George Allsopp was in London on business in 1785 he met the Brookes there. In 1769, a year after their return, Frances published in London The history of Emily Montague . . . , an epistolary novel, much of which was set in Canada. Émile Castonguay has speculated that John Brooke actually wrote the letters of one of the novel's characters, Sir William Fermor. Frances' dedication of the novel to Carleton, her husband's patron, as well as John's vocation and longer experience in the colony, would make it reasonable to speculate that, at the very least, John contributed substantially to the comments on religion, politics, and the character of the Canadians which predominated in Fermor's letters.
John Brooke died at Colney on 21 Jan. 1789. His eight years in Quebec left no lasting impression, and he is now all but forgotten. He represents, however, that group of clergy, all chaplains, who served as a stopgap while the Church of England pondered the best pastoral approach to a colonial population almost entirely French speaking and Roman Catholic, but onto which had been grafted a minuscule, religiously diverse, and fractious band of British and French Protestant merchants, office-holders, and soldiers. Although his own unclerically febrile temperament and Murray's well-placed censures no doubt hurt Brooke's chances of remaining in Canada, it was the church's decision that a French-language clergy would best serve its cause which ultimately displaced Brooke and other British chaplains.
AUQ, Journal, 2, avril-mai, août-sept. 1767; Livre des entrées et sorties des pensionnaires, 1766. Lambeth Palace Library (London), Fulham papers, 1, ff.108–12, 165–67. Norfolk and Norwich Record Office (Norwich, Eng.), VSC/8 Bk.20; VSC/9. PAC, MG 23, A4, 14, p.26; 16, pp.106, 117–18; GIII, 1, 2, pp.45–46, 182, 184–85, 226–27; 3, p.243; RG 1, L3L, pp.24733–37; RG 68, 93, pp.8–9, 12–24; 190, p.57. PRO, CO 42/25, ff.195–96. QDA, 82 (D–1), 1 Sept. 1761, [1 Nov. 1764]. USPG, C/CAN/Que, I, 29 Aug., 1 Sept. 1761, 1 Nov. 1764; Journal of SPG, 15, pp.164–65; 16, pp.280–82 (copies at PAC). Gentleman's Magazine, 1789, 90. Maseres, Maseres letters (Wallace), 25, 46, 57, 80. [Frances Moore (Brooke)], The history of Emily Montague, by the author of Lady Julia Mandeville, intro. L. J. Burpee (Ottawa, 1931). Quebec Gazette, 9 April 1765, 22 Sept. 1766, 7, 14 July 1768. Alumni Cantabrigienses . . . , comp. John and J. A. Venn (2 pts. in 10 v., Cambridge, Eng., 1922–54), pt.i, I, 226. Kelley, "Church and state papers," ANQ Rapport, 1948–49, 301–16. André Bernier, Le Vieux-Sillery ([Québec], 1977), 21–22. Bernard Dufebvre [Émile Castonguay], Cinq femmes et nous (Québec, 1950), 30. H. C. Stuart, The Church of England in Canada, 1759–1793; from the conquest to the establishment of the see of Quebec (Montreal, 1893), 8–9, 12, 16–20, 25. C. S. Blue, "Canada's first novelist," Canadian Magazine (Toronto), LVIII (1921–22), 3–12. A. H. Young, "Lord Dorchester and the Church of England," CHA Report, 1926, 60–65.
© 1979–2023 University of Toronto/Université Laval
Image Gallery

Cite This Article
James H. Lambert, "BROOKE, JOHN," in Dictionary of Canadian Biography, vol. 4, University of Toronto/Université Laval, 2003–, accessed September 21, 2023, http://www.biographi.ca/en/bio/brooke_john_4E.html.
The citation above shows the format for footnotes and endnotes according to the Chicago manual of style (16th edition). Information to be used in other citation formats:
| | |
| --- | --- |
| Permalink: | http://www.biographi.ca/en/bio/brooke_john_4E.html |
| Author of Article: | James H. Lambert |
| Title of Article: | BROOKE, JOHN |
| Publication Name: | Dictionary of Canadian Biography, vol. 4 |
| Publisher: | University of Toronto/Université Laval |
| Year of publication: | 1979 |
| Year of revision: | 1979 |
| Access Date: | September 21, 2023 |