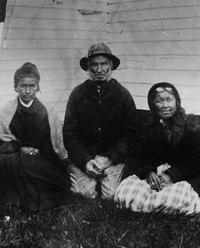 Source: Link
BROOKS, LYDIA (Blake; Campbell), diarist; b. 1 Nov. 1818 at Hamilton Inlet, Labrador, one of three children of Ambrose Brooks, an Englishman, and his Inuit wife, Susan; m. first c. 1834 William Blake in Rigolet, Labrador, and they had five children; m. secondly Daniel Campbell, and they had eight children; d. April 1905 in Mulligan River, Labrador.
In 1894 a Newfoundland clergyman, Arthur Charles Waghorne, submitted for publication to the St John's Evening Herald the autobiography of Lydia Campbell, "an old Labrador woman of Grosswater Bay of whom I had some knowledge." The previous year he had sent her "an exercise book, and begged her to be kind enough to write me some account of Labrador life and ways." Written as a diary at her home at Mulligan River, Lydia Campbell's memorable "Sketches of Labrador life" appeared in the Evening Herald in 13 instalments between 3 Dec. 1894 and 17 May 1895.
The only schooling Lydia had apparently received was from her father, a Hudson's Bay Company trapper, who, in her words, "had no school book to teach us in, nothing but a family bible and a Common Prayer to teach us in. So we learned a little in that way." Nevertheless, in old age, she emerged as an observant, poetic, and witty writer whose accounts of a long life in 19th-century Labrador give a vivid picture of her childhood, her family, and the hardships and triumphs of seasonal migrations to the headlands for the summer fishery and the return in September to the sheltered, wooded bays for the winter hunting. "So pretty it looks in the fall when we come home from our summer quarters, above 70 miles from here. When we are sailing up in our large boat, to see the ducks in our bay when we are nearing the river, and when we get ashore to the pretty river banks and walking up the path under our large trees, some 50, and some 60 or more feet high, we often meet with a flock of partridges flying up to the trees. Before we get to the house, so pretty, then is the scramble among the young ones who will see the first turnips and potatoes, and sure enough, all around the house is green with turnip tops, and between them and the wall of the house is hanging red with moss-berries, some falls."
As well as her personal reminiscences – many of them painful – Lydia Campbell's writings contain a good deal of Labrador folklore, both light and dark, and significant glimpses of the native inhabitants. "The first time that my dear old father came from England there was not many white people hear. . . . It was lovely he said often about here, no one to see for miles but Esquimaux and mountainnears [Montagnais] and they was plentyful, he said that dozzens of canoes of mountainnears would come down out of the big bay. . . . Well I know it is a pretty sight to see a lot of birch canoes shining red in the sunshine. I have seen them paddling along I have, men steering the women paddling, the children singing or chatting, where are [they] now, hardly ever see a family now except in winter."
The Reverend Arminius Young spent the years 1903–5 in Labrador as a Methodist missionary and later wrote accounts of several visits to Lydia Campbell. It is clear from his descriptions that this "quaint old lady" was held in high regard as a notable matriarch and transmitter of Labrador memories.
Many Labradorians claim descent from Lydia Campbell. In Happy Valley the building housing Them Days, a magazine edited by her great-great-granddaughter Doris Saunders, is named in her memory.
[Some details concerning Lydia Campbell were given to the author by Doris Saunders of Happy Valley, Labrador, in telephone interviews in December 1989 and September 1990. a.h.]
An abridged version in chap-book form of the Evening Herald text, edited by Saunders, was published by Them Days as Sketches of Labrador life ([Happy Valley], 1980); it reproduces several photographs of Lydia and other family members held at the magazine's office. A number of extracts from Lydia's diary have also been published: "A bit about my life," [ed. Doris Saunders], Them Days, 2 (1976–77), no.3: 51–57; "Excerpts from Lydia Campbell's diary," ed. Elizabeth Goudie, Them Days, 2, no.4: 46–48; "Lydia Campbell," ed. Jean Ball, Remarkable women of Newfoundland and Labrador (St John's, 1976), 10–16; "Sketches of a Labrador life," ed. Anne Hart, Canadian Women's Studies (Scarborough [Toronto]), 3 (1981–82), no.1: 4–9; and "Sketches of Labrador life," From this place: a selection of writing by women of Newfoundland and Labrador, ed. Bernice Morgan et al. (St John's, 1977), 44–47.
Centre for Newfoundland Studies, Memorial Univ. of Nfld (St John's), G. M. Sider, "House and history at the margins of life: an alternative interpretation of the 'invention of tradition'" (typescript, 1986) [discusses the autobiographical writings of Lydia Campbell and Elizabeth Goudie]. Roberta Buchanan, "Autobiography as popular culture: autobiographies of Labrador women" (paper delivered at the Popular Culture Assoc. conference, Atlanta, Ga, 1986; copy in Centre for Newfoundland Studies). Arminius Young, A Methodist missionary in Labrador (Toronto, 1916); One hundred years of mission work in the wilds of Labrador (London, [1931]).
© 1994–2023 University of Toronto/Université Laval
Image Gallery

Cite This Article
Anne Hart, "BROOKS, LYDIA," in Dictionary of Canadian Biography, vol. 13, University of Toronto/Université Laval, 2003–, accessed September 29, 2023, http://www.biographi.ca/en/bio/brooks_lydia_13E.html.
The citation above shows the format for footnotes and endnotes according to the Chicago manual of style (16th edition). Information to be used in other citation formats:
| | |
| --- | --- |
| Permalink: | http://www.biographi.ca/en/bio/brooks_lydia_13E.html |
| Author of Article: | Anne Hart |
| Title of Article: | BROOKS, LYDIA |
| Publication Name: | Dictionary of Canadian Biography, vol. 13 |
| Publisher: | University of Toronto/Université Laval |
| Year of publication: | 1994 |
| Year of revision: | 1994 |
| Access Date: | September 29, 2023 |