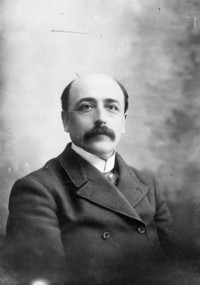 BUREAU, JACQUES (baptized Marie-Joseph-Jacques-Napoléon), lawyer, office holder, journalist, and politician; b. 9 July 1860 in Trois-Rivières, Lower Canada, son of Joseph-Napoléon Bureau, a lawyer, and Sophie Gingras; m. 15 July 1884 Ida Béliveau in Winnipeg, and they had three children, two of whom lived to adulthood; d. 23 Jan. 1933 in Montreal.
The Bureau family had been part of the political scene in the Trois-Rivières region since 1819 [see Pierre Bureau*]. Jacques's father, Joseph-Napoléon, was a well-known figure. A lawyer, journalist, polemicist, and freethinker, he was politically a Rouge, like Sir Antoine-Aimé* and Jean-Baptiste-Éric* Dorion, the famous sons of his cousin Geneviève Bureau. The first president of the Institut Canadien des Trois-Rivières, he was a tough opponent of the local Conservatives and their powerful ally, the ultramontane Bishop Louis-François Laflèche*. Following the example of his brother Jacques-Olivier, the Rouge member for the riding of Napierville in the Legislative Assembly of the Province of Canada, he tried his hand at politics. He was elected mayor of Trois-Rivières during the 1870s and was an unsuccessful Liberal candidate in the federal election of 1874.
Jacques Bureau, then, was born into a privileged and highly politicized environment. In 1872 he entered the Séminaire de Nicolet. His father probably hoped that by sending him to this institution, rather than the Collège des Trois-Rivières, he would protect his son from the influence of the local clergy. Having completed his classical studies, in 1878 Jacques began to study law at the Université Laval in Quebec City. After obtaining his bachelor's degree, he was called to the Quebec bar in January 1882. The excessive number of lawyers in Trois-Rivières may have been the reason for his move to Winnipeg in western Canada. He became corresponding secretary in the provincial secretary's office and was called to the Manitoba bar in 1885. Around 1890 he left for Superior, Wis., where he is said to have practised law. He was also the editor of the short-lived Courrier de Duluth in Minnesota, and is thought to have worked for the Democrats during the 1896 presidential campaign. In 1897 he returned to Trois-Rivières to keep vigil over his ailing father, who died shortly after.
Bureau then decided to settle permanently in his native city and to follow in his father's footsteps, both professionally – he took over his law practice, with which he remained associated for the rest of his life – and politically. He had considerable advantages that stemmed from his family background and from the experience he had gained during his stay in the west: he was bilingual, he had a broad view of the current political issues in Canada and the United States, and he had become familiar with the techniques of organizing an election.
In 1900 circumstances favoured the Liberals in Trois-Rivières. Bishop Laflèche was dead, the Conservatives were divided, and Sir Wilfrid Laurier* was prime minister of Canada and enjoyed great popularity in Quebec. As the Liberal candidate in the federal election of November 1900, Bureau defeated the two Conservative candidates and took the Bleu stronghold of Trois-Rivières and Saint-Maurice. A clever strategist, the new mp worked in the following years to establish his authority over the city and to help his allies win key positions. He became a municipal councillor in Trois-Rivières in January 1901 and he rose to become chairman of the city hall committee, an office that gave him, among other things, full control over hiring and supervision of staff. In this way he recruited the Liberal lawyer Joseph-Adolphe Tessier* as city solicitor and brought another Liberal lawyer, François-Siméon Tourigny, into the municipal council. He left city hall in 1904.
In less than six years, Bureau, who would represent his riding in the House of Commons from his election in 1900 until he entered the Senate in 1925, became the most powerful and influential political figure in Trois-Rivières and remained so until the 1920s. This success he owed largely to his colourful personality. An enthusiastic bon vivant with a good sense of humour and ready repartee, he knew how to win everyone's esteem. The powerful respected him, the humble appreciated his familiarity. These qualities made him a very popular member in the commons, highly thought of by both his allies and his opponents, French- and English-speaking alike. These same qualities also enabled him to build a network of connections across Canada that would help him advance in his career.
Bureau was thus in a position to play a decisive role as a promoter of his region, which was then experiencing an industrial boom based on the production of hydroelectric energy, the exploitation of forest resources, and the manufacture of pulp and paper. New industrial firms flourished; their energy was supplied by the powerful Shawinigan Water and Power Company, which would, moreover, become a client of Bureau's law firm. The Liberal mp was also legal counsel to and a shareholder in the St Maurice River Boom and Driving Company, an enterprise founded in 1909 that drove logs from the vast forests of Mauricie to the sawmills downriver.
Bureau rose in rank to become a pillar of the federal Liberal Party's Quebec wing. The political master of Trois-Rivières, a confidant of Laurier's, and a fine orator, he made a name for himself as a political organizer. In 1907 Laurier appointed him solicitor general, a relatively minor office within the government, which he retained until 1911. Bureau's star faded, however, in 1910. As co-organizer of the Liberal campaign for the by-election in the riding of Drummond and Arthabaska, he was held partly responsible for the humiliating defeat of his party's candidate by the Conservative Nationalistes.
During the conscription crisis of 1917, Bureau was one of the most powerful voices in the province of Quebec. On every platform he accused Sir Robert Laird Borden's French Canadian ministers of treason, singling out Postmaster General Pierre-Édouard Blondin* for the neighbouring riding of Champlain. Bureau's anti-conscription fervour and his unshakeable loyalty to Laurier helped him regain some of the prestige he had lost in 1910.
Laurier's death in 1919 left a gaping hole in the Liberal Party. Like most of the Liberal mps from Quebec, Bureau supported William Lyon Mackenzie King*'s bid to lead the party against that of rival William Stevens Fielding*. King won, thanks to the support of the Quebec wing. As a unilingual anglophone, however, he needed a Quebec lieutenant who could lay claim to the heritage of Laurier. Bureau favoured his close friend Ernest Lapointe*, whose first steps in federal politics he had guided, rather than Sir Lomer Gouin*. Once again, he made the right choice.
When the Liberals returned to power in 1921, King appointed Bureau minister of customs and excise. For the first time in his career, he was in the cabinet. His time in the department, which was marked by the customs scandal, proved difficult and turbulent. Prohibition of the production and sale of alcohol in the United States, enacted in 1919, led to the creation of a highly organized network for smuggling between Canada and her neighbour to the south. In 1924 it was rumoured that leading members of the Department of Customs and Excise were not only doing nothing about this illicit trade, but in some cases were actively involved in it. The Canadian government was losing a great deal of money in unpaid customs duties and fines, and manufacturers were suffering from the competition of contraband goods received from the Americans in exchange for alcohol.
Sensing the threat that this affair posed for his government, King in September 1925 forced Bureau to give up his cabinet post in exchange for a seat in the Senate before the crisis broke. Certain passages in the prime minister's diary reveal the extent of Bureau's decline and the disorder rampant in his department. On 17 Aug. 1925 he noted: "Bureau I was saddened & shocked to hear is on another drunken spree. Poor fellow. He is killing himself rapidly, cannot overcome his condition." Two days later he added: "Outrageous & disgraceful the manner in which Customs Dept. being run."
A general election was held in October of that year. The Conservative Party elected the largest number of mps, but the Liberals, thanks to the support of the Progressive Party and the skilful manoeuvring of Lapointe, managed to stay in power. In February 1926 the Conservative mp Henry Herbert Stevens* got the house to pass a motion establishing a special committee to investigate the administration of the Department of Customs and Excise. The inquiry, set up to shed light on the corruption said to be rife in the department, showed that some employees were involved in smuggling operations. As minister, Bureau was alleged to have shielded certain individuals and to have benefited personally from the bounty of the system. He had reportedly arranged to receive confiscated cases of contraband liquor, and his chauffeur was said to have obtained a smuggled vehicle with the aid of a corrupt department employee. The committee submitted its report to the members of the House of Commons on 18 June 1926. It was severely critical of the former minister: "Apparently the Hon. Jacques Bureau, then Minister of Customs, failed to appreciate and properly discharge the responsibilities of his office and as a result there was a lack of efficient, continuous and vigorous control of subordinates by the Headquarters Staff at Ottawa." Following these revelations, the Conservatives introduced an amendment to the motion on the report – an action that was, in effect, a motion of censure against the government. This series of events was the origin of the famous King–Byng affair [see Julian Hedworth George Byng; William Lyon Mackenzie King]. To add to Bureau's misfortunes, there were allegations, which would prove false, that he, along with Lapointe, had indulged in debauchery aboard the Margaret, a Canadian navy vessel. Overwhelmed by these scandals and in poor health, the jovial mp from Trois-Rivières bowed out, resentful and utterly disgraced.
It was not only in Ottawa that Bureau experienced difficult times. Although he himself had been cleared of suspicion, his reputation was tarnished by the corrupt dealings within the municipal administration of Trois-Rivières, as revealed by the inquiry headed by judge Louis-Joseph-Alfred Désy in 1920–21 [see Joseph-Adolphe Tessier*]. He was also involved in a struggle with ambitious pretenders, both Liberal and Conservative, to his title as the political master of the city, and was challenged more and more openly in his own bailiwick of Trois-Rivières. With the election of his Liberal rival Arthur Bettez as mayor of Trois-Rivières in 1923 and as mp in 1925, followed by the election of the Conservative Maurice Le Noblet Duplessis* to the Quebec Legislative Assembly in 1927, Bureau's hold on the region would soon be nothing but a memory.
Jacques Bureau died in 1933, leaving his wife, Ida, his daughter, Blanche, and his son, Édouard, the husband of Étiennette Duplessis and brother-in-law of Maurice; the Bureaus had earlier lost a son, Jacques-Napoléon, who died at the age of 12. Jacques was also mourned by mps and senators of all stripes, who held the man in high regard.
Arch. de la Ville de Trois-Rivières, Québec, Procès-verbaux du conseil municipal, 1900–1. Arch. du Séminaire Saint-Joseph de Trois-Rivières, 0013; 0211. BANQ-MCQ, CE401-S48, 11 juill. 1860. LAC, MG 26, J13, 21 Jan., 3 March, 17, 19 Aug. 1925; 6–7 May, 20 June 1926. Man., Dept. of Healthy Living, Seniors and Consumer Affairs, Consumer and Corporate Affairs, Vital statistics agency (Winnipeg), no.1884-001194. L'Action catholique (Québec), 9 août 1926. Le Devoir, 24–25 janv. 1933. BCF, 1927: 345. Paul Bernier, Ernest Lapointe, député de Kamouraska, 1904–1919 (La Pocatière, Québec, 1979). L.‑R. Betcherman, "The customs scandal of 1926," Beaver, 81 (2001–2), no.2: 14–19; Ernest Lapointe: Mackenzie King's great Quebec lieutenant (Toronto, 2002). Conrad Black, Duplessis (2v., Montreal, 1977). Can., House of Commons, Debates, 18 June 1926; Special committee investigating the administration of the Dept. of Customs and Excise …, Minutes of proc. [and evidence] (2v., Ottawa, 1926). Canadian directory of parl. (Johnson). CPG, 1901–33. R. MacG. Dawson and H. B. Neatby, William Lyon Mackenzie King: a political biography (3v., Toronto, 1958–76), 2. National encyclopedia of Canadian biography, ed. J. E. Middleton and W. S. Downs (2v., Toronto, 1935–37). François Roy, "Le crépuscule d'un rouge: J.‑A. Tessier, maire de Trois-Rivières, et l'enquête Désy de 1920" (mémoire de ma, univ. du Québec à Trois-Rivières, 1988). Robert Rumilly, Hist. de la prov. de Québec, vols.13, 15–16, 18, 22, 24–25, 28; Maurice Duplessis et son temps (2v., Montréal, 1973). Standard dict. of Canadian biog. (Roberts and Tunnell).
© 2013–2023 University of Toronto/Université Laval
Cite This Article
In collaboration with François Roy, "BUREAU, JACQUES (baptized Marie-Joseph-Jacques-Napoléon)," in Dictionary of Canadian Biography, vol. 16, University of Toronto/Université Laval, 2003–, accessed June 8, 2023, http://www.biographi.ca/en/bio/bureau_jacques_16E.html.
The citation above shows the format for footnotes and endnotes according to the Chicago manual of style (16th edition). Information to be used in other citation formats:
| | |
| --- | --- |
| Permalink: | http://www.biographi.ca/en/bio/bureau_jacques_16E.html |
| Author of Article: | In collaboration with François Roy |
| Title of Article: | BUREAU, JACQUES (baptized Marie-Joseph-Jacques-Napoléon) |
| Publication Name: | Dictionary of Canadian Biography, vol. 16 |
| Publisher: | University of Toronto/Université Laval |
| Year of publication: | 2013 |
| Year of revision: | 2013 |
| Access Date: | June 8, 2023 |