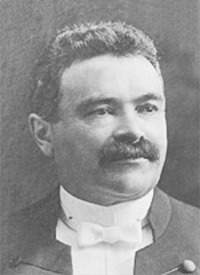 Source: Link
TESSIER, JOSEPH-ADOLPHE, lawyer, politician, militia officer, and office holder; b. 17 Dec. 1861 in Sainte-Anne-de-la-Pérade, Lower Canada, son of Louis-Gonzague Tessier, a farmer, and Rose de Lima Laquerre; m. 14 Aug. 1888 Marie-Louise-Elmire Guillet in Trois-Rivières, Que., and they had five children, two of whom died in infancy; d. there 4 Nov. 1928.
Born in the old agricultural region of Sainte-Anne-de-la-Pérade, noted for producing public figures, Joseph-Adolphe Tessier began his schooling at the Académie Saint-Cyr in his village. He went on to the Séminaire Saint-Joseph in Trois-Rivières (1876–81), the Université Laval in Montreal, where he studied law (1882–84), and the infantry school at Saint-Jean. Called to the bar on 26 Jan. 1885, he moved to Trois-Rivières, where he practised law, was active in the 86th Infantry Battalion, and associated with the supporters of Honoré Mercier*, a minority group in a city dominated by Bishop Louis-François Laflèche* and his conservative bourgeois allies.
As the 19th century drew to a close, Tessier came under the influence of Jacques Bureau*, a prominent Liberal with whom he would work closely for some 20 years. Carried along by the popularity of Sir Wilfrid Laurier* and inspired by the leadership of Bureau, who was elected mp for Trois-Rivières in 1900, the Liberals in this riding took over power locally at all levels. Tessier now became a key figure, piling up success, honours, and responsibilities: city solicitor (1896–98 and 1901–5), deputy public prosecutor for the judicial district of Trois-Rivières (1900–4), member of the Legislative Assembly for Trois-Rivières (1904–21), lieutenant-colonel of the 86th Regiment (1906–12), and mayor of Trois-Rivières (1913–21).
Entering on his career as an mla at Quebec on 25 Nov. 1904, Tessier joined erstwhile colleague Lomer Gouin, and backed him in his fight to take over control of the government led by Liberal Simon-Napoléon Parent*. In Gouin's administration, which held power from 23 March 1905 to 9 July 1920, Tessier served as chair of the private bills committee (1908–12), deputy speaker of the house (1912–14), and minister of highways from 1914. The roads system was one of the premier's priorities and he created the ministry in 1912 because, as he had explained on 10 January, he wanted "to do for the highways, for the roads used by motor vehicles, what was done in the past for the railways." At first, highways were the responsibility of the minister of agriculture but an autonomous department was put in place when Tessier was appointed minister. He would retain this office in the government of Louis-Alexandre Taschereau* from July 1920 until September 1921. At the time of his appointment there were some 10,000 vehicles in the province. When he left seven years later there were six times as many and it was estimated that the ministry had invested $30 million to make 3,500 miles of highway suitable for vehicles. Premier Taschereau, who succeeded Gouin, thought he had inherited "the best highway system in Canada."
While he was in the cabinet, Tessier continued to serve as mayor of Trois-Rivières, which was in the throes of development. His term came at a time of profound change that would transform the Mauricie region from a rural and forested area into a great industrial valley thriving in the era of electricity, pulp, and paper. Tessier thus faced the challenge of turning the old market town of Trois-Rivières into a modern industrial city attuned to the new social and economic realities. The industrial giants that began production there between 1908 and 1921 included the Wabasso Cotton Company Limited [see Charles Ross Whitehead*], the Canada Iron Corporation Limited, the Wayagamack Pulp and Paper Company, the Three Rivers Shipyard Company, and the International Power and Paper Company. This tremendous industrial surge was supported by the municipal council, which passed measures favourable to investors: tax credits, loans to companies, the purchase of an industrial development centre, the opening of an "Office for publicity and industry." The industrial expansion brought in its wake a rapid increase in population. From 1909 to 1913 three new parishes were created and three more would be added shortly afterwards. The population doubled in less than 20 years, and these new workers, day-labourers, and small shopkeepers would be faithful to the Liberal party. They would give overwhelming majorities to Tessier in his dual capacity as mayor and member of the assembly, as well as to the Liberal "big boss," the mp Jacques Bureau.
There were tensions between the two parliamentarians, however. Observers of the municipal scene, including the newspaper Le Bien public, noted Bureau's grip on the Trois-Rivières city council, where it was clear that Mayor Tessier was having difficulty leading his colleagues. Several shady deals turned into scandals. A company belonging to one alderman declared bankruptcy after receiving a loan from the city. Another alderman accepted a commission in a big real estate transaction in which the city had an interest. The same person, who was also the treasurer of Bureau's organization, awarded a contract for a large bond issue to a firm that contributed to the coffers of the Liberals in Trois-Rivières. Late in 1919 a request for an inquiry was submitted to the Superior Court. The judge conducting the inquiry, Louis-Joseph-Alfred Désy, was a former Conservative activist who had clashed with Tessier in the past. He now had an opportunity to dismantle, bit by bit, the foundations of "Rouge power" in Trois-Rivières. Carried out in 1920, his inquiry dealt with eleven different issues involving Mayor Tessier, three sitting aldermen, four former aldermen, and other individuals, including Jacques Bureau. Its report, published in January 1921, drew conclusions damning to the city council, though nothing was proved against the mayor himself. The judge acknowledged that Tessier had been lacking in "circumspection" and had put the city's credit at risk, but that he had in the main acted in good faith. At the age of 59, Tessier now decided to leave active politics. In November 1921 he was appointed chair of the Quebec Streams Commission, a governmental body created in 1910 primarily to regulate the flow of rivers, mainly by constructing dams.
In Trois-Rivières the political battle went on without Tessier. The "populist" Liberal Arthur Bettez would rise to prominence, against the wishes of the old leader Jacques Bureau, and a young Conservative lawyer named Maurice Le Noblet Duplessis* would benefit from the dissension among the Liberals and the discredit brought on them by the Désy inquiry.
Joseph-Adolphe Tessier died in office in 1928. He is regarded as one of the architects of the modern province of Quebec, especially in his native region of Mauricie. He would be remembered in Trois-Rivières for having been effective as a developer, but also for not having managed to put his administration above individual interests.
ANQ-MBF, CE401-S21, 18 déc. 1861; CE401-S48, 14 août 1888. Arch. de la Ville de Trois-Rivières, Qué., Procès-verbaux du conseil municipal, 1913–21; Rapport de l'honorable juge Désy (texte dactylographié, 1921). Le Bien public (Trois-Rivières), 1910–21. L'Éveil (Trois-Rivières), 1918–19. Le Journal des Trois-Rivières, 1890–91. Le Nouveau Trois-Rivières, 1908–14. Le Nouvelliste (Trois-Rivières), 1920–28. La Paix (Trois-Rivières), 1888. St. Maurice Valley Chronicle (Trois-Rivières), 1919. Le Bottin parlementaire du Québec ([Montréal], 1962). Alain Gamelin et al., Trois-Rivières illustrée (Trois-Rivières, 1984). François Roy, "Le crépuscule d'un rouge: J.-A. Tessier, maire de Trois-Rivières, et l'enquête Désy de 1920" (mémoire de ma, univ. du Québec à Trois-Rivières, 1988). RPQ. Robert Rumilly, Hist. de la prov. de Québec, vols.12–17; Maurice Duplessis et son temps (2v., Montréal, 1973).
© 2005–2023 University of Toronto/Université Laval
Image Gallery

Cite This Article
François Roy, "TESSIER, JOSEPH-ADOLPHE," in Dictionary of Canadian Biography, vol. 15, University of Toronto/Université Laval, 2003–, accessed September 30, 2023, http://www.biographi.ca/en/bio/tessier_joseph_adolphe_15E.html.
The citation above shows the format for footnotes and endnotes according to the Chicago manual of style (16th edition). Information to be used in other citation formats:
| | |
| --- | --- |
| Permalink: | http://www.biographi.ca/en/bio/tessier_joseph_adolphe_15E.html |
| Author of Article: | François Roy |
| Title of Article: | TESSIER, JOSEPH-ADOLPHE |
| Publication Name: | Dictionary of Canadian Biography, vol. 15 |
| Publisher: | University of Toronto/Université Laval |
| Year of publication: | 2005 |
| Year of revision: | 2005 |
| Access Date: | September 30, 2023 |