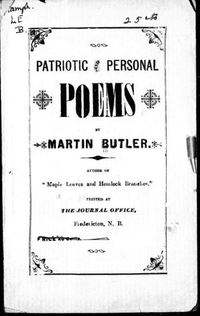 Source: Link
BUTLER, MARTIN, a self-described "poet, printer, peddler, patriot, workman, editor"; b. 1 Sept. 1857 in Norton, N.B., son of Sarah White and Benjamin Burlock Betts Butler; m. 5 June 1895 Margaret McLean in Fredericton; d. there 24 Aug. 1915.
Martin Butler's early boyhood was spent on the Salmon River in Kent County, N.B., where his father had taken up land in 1859. His memories of "that pleasant forest glade" were mixed, and in one account he described himself as "born in a wretched hovel, cradled in penury, denied all the joys and amusements of childhood." His father was a rural labourer of loyalist and Irish origins, who made a hard living cutting wood and working farms. Butler recalled him as "a severe and unreasoning parent." At the age of 11 Butler began work as a storekeeper's helper at Kingsclear, where he also learned to set type, but mostly his youth was consumed in "grinding, unremumerative and uncongenial toil." His mother, the daughter of a shoemaker from the north of England who came to New Brunswick around 1819, was well read in religious matters and provided constant instruction and some solace for her son, the youngest of her 11 children, only 5 of whom lived beyond infancy. In 1871 the family removed to Maine, where Butler worked in the lumber camps and then joined the F. Shaw Brothers tannery operations at Grand Lake Stream. In a harrowing industrial accident in 1876 his right arm was mangled in the bark-grinding machinery and subsequently amputated. Butler appealed to company headquarters in Boston but received no compensation. To support himself he later turned to work as a pedlar in rural communities along the Maine-New Brunswick border.
Although he had had little formal schooling, as a youth Butler had spent a good part of his wages on reading material and memorized much of Longfellow. He began as early as 1873 to contribute correspondence and poetry to local newspapers. His writings detail the bleak social landscape of the rural industrial environment, where "the withered and broken hearts of the largest portion of humanity" were mocked by the "mystic grandeur" of the surrounding forest. In 1889 Butler published in Fredericton, where he had settled that year, his first collection of verse, Maple leaves and hemlock branches . . . , a volume that portrays people and scenes of the New Brunswick and Maine borderlands. Among the poems was "The peddler's story; or how I lost my arm," a dramatic personal history and "an attempt to describe the kindness and hospitality of the average country household, as experienced in the course of my travels." In "A Canadian's song" Butler also proclaimed his "republican politics":
The day will come when foreign lords,
Who neither spin nor toil,
Who get the best the land affords,
And fatten on the spoil,
And hang, a weight around the neck
Of struggling Liberty,
Shall pack their trunks and find their way
To climes beyond the sea.
Butler returned to similar themes in a second volume, Patriotic and personal poems (Fredericton, 1898?).
Butler's principal achievement was the publication for 25 years of an independent monthly newspaper. Established in Fredericton in 1890, Butler's Journal was to advertise itself as "devoted to national independence, literature, current notes and social gossip," a description later modified to "home literature and social reform." He found his patronage "almost wholly among the honest, large hearted working men and farmers" of Fredericton and the surrounding countryside, and by 1894 he claimed more than 900 subscribers. In addition to writing much of the material and setting his own type, Butler took in job-printing, acted as a sales agent for out-of-town publications, and circulated the countryside collecting stories, advertisements, and subscriptions; when times were hard, he also worked at the local mills and took on casual employment. The fortunes of Butler's Journal in part depended on prevailing political conditions. At the time of the South African War in 1899–1901, Butler's anti-imperialist ideas were out of fashion; he reduced the size of the Journal to eight pages and published a supplement, the Canadian Democrat, containing his more radical political views. After 1901 Butler's Journal devoted considerable space to reports on the progress of socialism at home and abroad, a decision that reflected his own conversion to socialist ideas.
Butler's radical democratic views were apparent throughout the 1890s and included support for the cause of the poor, the rights of labour, public ownership, an elected senate, a Canadian flag, and Canadian independence. Butler's interest in socialism was encouraged by the articulate young teacher Henry Harvey Stuart*, who wrote frequently for the Journal and became an influential spokesman for socialist ideas in the Maritimes. Like Stuart, who was a Methodist, Butler, who was a Catholic, considered socialism to be a necessary extension of Christian ethics and political democracy, although he confessed privately to Stuart that "I am a lover of freedom first and a Catholic afterwards." In 1898 Butler published the Declaration of Principles of the Socialist Labor party, "to which we give our unhesitating and unqualified approval." In July 1902 he and Stuart established a local branch of the Canadian Socialist League, and in April 1905 they formed a local of the new Socialist Party of Canada, with Butler as recording secretary. On occasion Butler pondered the possibilities of "active propaganda work" in a "wider field" such as Cape Breton or Saint John, but always conscious of his poverty, disability, and family responsibilities, he did not feel adequately equipped for such a move.
By the time Butler settled in Fredericton in 1889 he aspired to the comfort and security of family life. His mother joined him there for the last years of her life before her death in 1895. Later that year Butler married Margaret McLean, the mother of a ten-year-old daughter, Lilian. A son, Albert Martin, was born on 26 May 1897, joyous compensation in Butler's view "for the hard lot inflicted on me." Following a long bout of typhoid fever, the boy died at eight years of age in 1906, a tragedy from which Butler never recovered.
In his later years Butler remained a familiar figure in the streets of Fredericton, a large bearded man in a long coat pulling his cart through the streets with his newspapers, the friend and protector of small boys throughout the city. He continued to peddle copies of his books, which carried testimonials describing him as "an honest, industrious, temperate and law-abiding citizen" and a worthy subject for "sympathetic, humane and Christian consideration." Shortly after the outbreak of World War I, in an editorial entitled "The failure of Christianity," Butler again voiced his faith in socialism: "The only thoroughly unselfish organization that practices as well as preaches freedom, justice, brotherly love, grace, mercy, and peace, is the Socialist organization." A few months later Butler's Journal ceased publication, and Butler entered the Victoria Public Hospital. "His condition was found to be serious," one newspaper later reported, "and he decided against undergoing an operation which might have prolonged his life." News of his death on 24 Aug. 1915 was "received on all sides with expressions of regret." The most heartfelt lament came in the Chatham World, probably written by his long-time friend Stuart: "Martin was a poet, without the necessary culture; a philanthropist, without money to bestow; a political and social reformer who raged against his environment and was helpless to effect any change. . . . Poor Martin! His age is given as fifty-seven in the announcement of his death, but he looked many years older – worn out, feeble, despondent."
In a life broken by personal tragedy, Butler achieved a local reputation in the 1870s and 1880s as a voice of the rural labouring classes in the Maine–New Brunswick borderlands, one of the neglected chroniclers who contributed commentary and entertainment to the vigorous local cultures of the late 19th and early 20th centuries. Established as a publisher in Fredericton in 1890, he single-handedly maintained an independent literary and political publication for 25 years. In Butler's Journal he mixed "choice home-crafted fare" with advanced democratic, nationalist, and socialist views that contradict the stereotypes of backwoods conservatism and imperial loyalty in the Maritimes. Butler's populist philosophy and socialist politics emerged from personal experience and intellectual conviction, educating his readers to the social issues of the day and establishing his reputation as one of the "prophets of radicalism" in New Brunswick.
The main source for Martin Butler's life is Butler's Journal (Fredericton), 1890–1915. Some of the autobiographical material which appears there has been reissued as "Early recollections," intro. William Bauer, Journal of Canadian Fiction (Montreal), 2 (1973), no.3: 180–90.
Univ. of N.B. Library, Arch. and Special Coll. Dept. (Fredericton), MG H25 (H. H. Stuart papers). Daily Gleaner (Fredericton), 24 Aug. 1915. Daily Mail (Fredericton), 24, 26–27 Aug. 1915 (the final issue reprints the Chatham World obituary). G. H. Allaby, "New Brunswick prophets of radicalism: 1890–1914" (ma thesis, Univ. of N.B., Fredericton, 1972). David Frank and Nolan Reilly, "The emergence of the socialist movement in the Maritimes, 1899–1916," Labour (Halifax), 4 (1979): 85–113.
© 1998–2023 University of Toronto/Université Laval
Image Gallery

Cite This Article
David Frank, "BUTLER, MARTIN," in Dictionary of Canadian Biography, vol. 14, University of Toronto/Université Laval, 2003–, accessed October 1, 2023, http://www.biographi.ca/en/bio/butler_martin_14E.html.
The citation above shows the format for footnotes and endnotes according to the Chicago manual of style (16th edition). Information to be used in other citation formats:
| | |
| --- | --- |
| Permalink: | http://www.biographi.ca/en/bio/butler_martin_14E.html |
| Author of Article: | David Frank |
| Title of Article: | BUTLER, MARTIN |
| Publication Name: | Dictionary of Canadian Biography, vol. 14 |
| Publisher: | University of Toronto/Université Laval |
| Year of publication: | 1998 |
| Year of revision: | 1998 |
| Access Date: | October 1, 2023 |