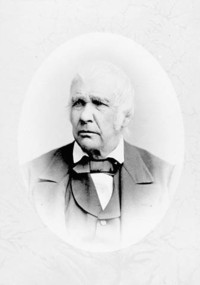 CALVIN, DILENO (Deleno) DEXTER, lumber merchant, forwarder, businessman, and politician; b. 15 May 1798 at Clarendon, near Rutland, Vt, the fourth of five children of Sandford Jenks Calvin and Abigail Chipman; m. first in 1831 Harriet Webb (d. 1843); m. secondly in 1844 Marion Maria Breck (d. 1861); m. thirdly in 1861 Catherine Wilkinson (d. 1911); there were six children of each of the first two marriages and two children of the third, but only six of the fourteen survived to adulthood; d. 18 May 1884 at Garden Island, Ont.
Dileno Dexter Calvin's father, an unsuccessful lawyer before becoming a farmer, died when Dileno was eight; he had provided little for his son in the way of education or inheritance. In 1818 Dileno left Vermont and settled at Rodman, N.Y., where he was a labourer for three years. An ambitious man, he became a pioneer farmer and lumberman near La Fargeville, N.Y. On his first serious lumbering operation in 1825, he and a neighbour squared some timber which they transported by raft down the St Lawrence for sale at the timber coves near Quebec City. Calvin eventually decided he should concentrate on lumbering and in 1835 moved to nearby Clayton; the core of his business was rafting timber for delivery at Quebec City, where it was trans-shipped to British markets.
Clayton proved to be an inadequate base and in 1844 Calvin relocated on land rented at the eastern end of Garden Island, two miles south of Kingston, Canada West, where he could operate within the British trading system. His new base was at the foot of the Great Lakes navigation system at a point on the river where, until into the 20th century, it was convenient and economic to form into rafts the timber arriving by ship from the Great Lakes basin. The island provided Calvin with a sheltered bay for easy access by sailing craft and for building rafts. It was thus crucial in the development of Calvin's operations.
Calvin had actually become active on the island even before he left Clayton. In 1836, with partners John Counter* and an American, Hiram Cook, he formed the Kingston Stave Forwarding Company which rented land on Garden Island. The company became Calvin, Cook and Counter in 1838 (afterwards, Calvin and Cook) and Quebec City merchant James Bell Forsyth*, who was later to profit from the company's success, assisted in its establishment. After the island became its base in 1844, Calvin controlled the company, usually with at least one partner. It established a branch in Hamilton (which lasted until 1854), in addition to the one already set up in Quebec City, and also agencies in a variety of places including Liverpool, Glasgow, and Sault Ste Marie. The company maintained 12 to 15 ships to deliver square timber and staves, chiefly oak and pine, to Garden Island from as far afield as Michigan and Indiana. Although Calvin purchased some timber for resale and on occasion financed independent timber producers, the bulk of the wood delivered at Quebec City by his firm did not belong to it but to various timber entrepreneurs. The timber was carried the 350 miles to Quebec City for a fee. Calvin was therefore shielded from some market vicissitudes, because he charged his fee regardless of his customers' profit margins. In order to maximize profits and maintain a permanent and stable work-force (during peak periods it numbered 700), Calvin sought business opportunities apart from the lumber trade; he and his partners operated as general merchants, manufacturers, forwarders, common carriers, wharfingers, warehousemen, and shipbuilders. The partnership also operated a lucrative government-subsidized tugboat service on the St Lawrence above Montreal from 1858 to 1874. The firm's assets increased from $216,000 in 1854 to $460,000 in 1871; in 1880 it had $75,000 invested in its towing and wrecking business alone. Apart from his involvement in the firm Calvin had large holdings of land in the United States and served as director of the Kingston and Pembroke Railway. In 1865 the firm was one of the biggest dealing in timber in Canada and controlled the largest single timber operation at the coves of Quebec City. At his death, Calvin owned over 92 per cent of his company (known as Calvin and Son after 1880) and left an estate conservatively valued at more than $324,000.
Perhaps the most interesting aspect of Calvin's career is his role as a benevolent patriarch. In 1848 Calvin and Cook purchased 15 acres at the foot of Garden Island and by 1862 owned the entire island; in 1880 Calvin bought his partner's share. Referred to by his employees as "the Governor," Calvin dominated the little society that developed on Garden Island. From 1860 to 1885, the years of the company's greatest prosperity, as many as 750 people lived and worked there. Most were company employees. It was an entirely self-contained community, which had its own school subsidized by the firm, a mechanics' institute with an excellent library, its own post office, and several fraternal societies. Despite the divergent origins of its inhabitants, French Canadian, Scottish, English, Irish, American, and Indian from the Caughnawaga Reserve near Montreal, the island avoided ethnic or religious conflict. Visitors described it as "a simple well-ordered village" and found it "fascinating"; modern studies confirm that the firm sought the welfare of the island's inhabitants. Calvin's paternalistic approach to his workers had several consequences. During the recession following the panic of 1873 he had to cut wages but refused to lay off workers; he also raised wages when he could, and allowed senior workers to purchase small portions of the business. He did, however, maintain strong opposition to organized labour. After sailors on his ships had been organized by the Seamen's Union in the late 1870s and early 1880s, he went to great lengths to break the union (he imported sailors from Glasgow) and eventually fired most of its members. By converting schooners into barges for towing on Lake Ontario, he reduced his need for sailors.
Calvin was also a leader in public life. He was commissioned a magistrate in 1845 soon after he became a naturalized Canadian. By 1865 he was reeve of Wolfe Island and the surrounding islands, and served as the first warden of Frontenac County after it was separated from the county of Lennox and Addington in 1863. Three years later Garden Island was incorporated as a village and Calvin was routinely acclaimed reeve for the remainder of his life. He was a perennial member of the Frontenac County Council and served as county warden four times. In 1870 Sir John A. Macdonald* appointed Calvin, along with Hugh Allan and Casimir Stanislaus Gzowski*, to a canal commission, which urged the improvement of the St Lawrence canals; Calvin, no doubt thinking of his forwarding business based in the Kingston area, opposed making the river navigable for ocean shipping.
In 1868 Calvin entered provincial politics, running as the Conservative candidate, with the reluctant support of Macdonald, in the by-election for Frontenac necessitated by the death of Sir Henry Smith*. He won an easy victory over Byron Moffatt Britton. In 1871 he was acclaimed. Although he lost the nomination for Frontenac in 1875, he easily re-entered the house in 1877, after the death of the sitting Conservative member, Peter Graham. Calvin repeated his success in the general election of 1879 but did not stand in 1883. He had enjoyed the benefit of almost all the votes from Garden Island since he owned the land and employed virtually all the inhabitants; as his grandson noted: "the men . . . wisely voted . . . Conservative."
Although not a major politician, Calvin was an active member and presented his views with vigour. He worked hard to obtain patronage appointments for his constituents. He was passionately interested in tax reforms, disagreeing with the principle of exemption for holdings such as stocks or wild lands. Curiously enough, he sided with agriculture against lumber when their interests clashed; he advocated vesting timber rights with landowners and opposed granting extensive timber limits which might retard the settlement necessary for the development of the country. As well, Calvin favoured minor reforms in the electoral and judicial systems. He enforced prohibition, a lifelong passion about which he regularly spoke, on the residents of Garden Island. Seventy years old at the time he entered provincial politics, Calvin was regarded as "one of the eccentrics of the early days of the Ontario Parliament"; he gave up provincial politics only a year before his death. His eccentricities, in fact, were numerous; his grandson notes that he was suspicious of men who bit their finger nails, disliked short men "for no better reason than because they were short," and had an abiding contempt for dogs and their owners. When "a man's poor," noted the elder Calvin, "he gets a dog, if he's very poor he gets two."
He was never to lose his affection for his American home. During the winter of 1842–43, when he was living in Clayton, N.Y., he became involved in a religious revival and was baptized as a Baptist in 1844 after the death of his first wife. He was to remain a devout member of the church. Although he had become a British subject and a monarchist (commenting to Macdonald on one occasion, "I can holler for the Queen as loud as you can"), he maintained the Calvin homestead at La Fargeville and was buried at Clayton beside his mother and first wife.
Calvin family papers are in the possession of Meg and John d'Esterre (Garden Island, Ont.), and this collection includes valuable scrapbooks of newspaper clippings and other items.
AO, MU 500–15. Ont., Legislative Library, Newspaper Hansard, 1868–82 (mfm. at AO). PAC, MG 26, A. QUA, Calvin Company records; Calvin legal papers. By-laws of Elysian Lodge, no.212, A.F.A.M., Garden Island, Ontario (Hamilton, Ont., 1872). Ottawa Daily Citizen, 12 June 1880, 19 May 1881. Catalogue of books contained in the library of the Garden Island Mechanics' Institute (Kingston, Ont., 1883). CPC, 1872; 1874; 1877; 1878; 1881; 1883. Kingston directory (Kingston), 1857–58, 1865, 1867, 1885–86. M. C. Boyd, The story of Garden Island, ed. M. A. Boyd (Kingston, 1973). A. A. Calvin, "Timber trading in Canada, 1812–1849: special emphasis on forwarding, 1836–1849" (ba thesis, Queen's Univ., Kingston, 1930). D. D. Calvin, "Rafting on the St. Lawrence," Patterns of Canada, ed. W. J. Megill (Toronto, 1966), 119–25; A saga of the St. Lawrence: timber & shipping through three generations (Toronto, 1945). Beverley Doherty, "Real wage changes as revealed in the manuscripts of the shipyard of the Calvin Company: selected years, 1848–1884" (ba thesis, Queen's Univ., 1973). Sarah Edinborough, "Garden Island: a unique community seen through its social institutions" (unpublished paper, Queen's Univ., 1978). T. R. Glover and D. D. Calvin, A corner of empire: the old Ontario strand (Toronto and Cambridge, Eng., 1937). A. R. M. Lower, Great Britain's woodyard: British America and the timber trade, 1763–1867 (Montreal and London, 1973). Christian Norman, "A company community: Garden Island, Upper Canada at mid-century," Canadian papers in rural history, ed. D. H. Akenson (2v. to date, Gananoque, Ont., 1979– ), II: 113–34. Adam Shortt, "Down the St. Lawrence on a timber raft," Queen's Quarterly, 10 (1902–3): 16–34. Donald Swainson, "Benevolent patriarch ruled an island and an industry," Whig-Standard (Kingston), 28 April 1979: 9; "Garden Island and the Calvin Company," Historic Kingston, no.28 (1980): 35–56.
© 1982–2023 University of Toronto/Université Laval
Image Gallery

Cite This Article
Donald Swainson, "CALVIN, DILENO DEXTER," in Dictionary of Canadian Biography, vol. 11, University of Toronto/Université Laval, 2003–, accessed June 7, 2023, http://www.biographi.ca/en/bio/calvin_dileno_dexter_11E.html.
The citation above shows the format for footnotes and endnotes according to the Chicago manual of style (16th edition). Information to be used in other citation formats:
| | |
| --- | --- |
| Permalink: | http://www.biographi.ca/en/bio/calvin_dileno_dexter_11E.html |
| Author of Article: | Donald Swainson |
| Title of Article: | CALVIN, DILENO DEXTER |
| Publication Name: | Dictionary of Canadian Biography, vol. 11 |
| Publisher: | University of Toronto/Université Laval |
| Year of publication: | 1982 |
| Year of revision: | 1982 |
| Access Date: | June 7, 2023 |