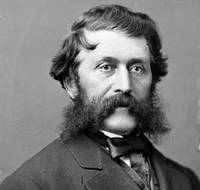 Source: Courtesy of Wikimedia Commons
SHIBLEY, SCHUYLER, farmer, businessman, and politician; b. 19 March 1820 in Portland Township, Upper Canada, son of Henry Shibley; m. in 1854 Mary Ann Greer, and they had at least three children; d. 18 Dec. 1890 at Kingston, Ont.
Schuyler Shibley, of German and uel origin and of the Methodist faith, attended the Waterloo Academy near Kingston, Upper Canada. After completing his education in 1851–52 with a European tour, from which he returned "one of the best informed farmers of the province," he settled at Murvale, Portland Township, combining farming with business. With David Roblin* he "speculated extensively in U.E.L. scrip, became possessed of very large tracts of real estate, good, bad and indifferent, and was at times reputed to be very wealthy." Some of his holdings were rented to tenant farmers.
Shibley, described by one observer as "a rather fast gent," had a "paramour," Kate Davis, "a rather good looking person," who lived in Brooke Township, Lambton County, where he owned 400 acres. The liaison resulted in a child. These details became public knowledge in early September 1866 when they were arrested and charged with murdering this child, Kate Shibley, then three years old. On the grounds that he had been absent when the child died, Shibley was released from prison without having to stand trial. Evidence at the coroner's inquest, and later at Kate Davis' trial, however, revealed his involvement in a sordid and vicious affair. According to a newspaper account, the mother testified that he "had been there some ten days before [the child's death] and had given the child a most unmerciful beating for not saying its prayers, and ordered her to do the same whenever it refused." When the child would not say her prayers on 3 September, she was, according to another account, "whipped . . . with rawhide." She died during the night. A friend of the mother also testified to Shibley's physical brutality towards the child, who had been neglected ("the entire absence of food had . . . something to do with the result"), and was reported to have suffered internal injuries. Kate Davis, tried for manslaughter, was acquitted. The presiding judge "could not refrain from giving strong expression to his surprise and disappointment at the verdict, as well as at the conduct of both the prisoner and her paramour." Sarnia, where Shibley had been imprisoned, was well known to John A. Macdonald*, attorney general for Canada West, who was kept informed of his situation by Thomas W. Johnston, the prison doctor; he passed along a piece of intelligence that Shibley "seems to have been infatuated with the girl Davis and actually had his wife write her a letter of Condolence. [His] eyes poor fellow are now open. [If] he tries another, it will not be Miss Davis."
The public revelation of Shibley's sordid private life had no appreciable effect on his public career. He had already served as reeve of Portland. In 1867 he ran in Addington for the House of Commons, polling 991 votes to 1,120 for James Noxon Lapum. In view of the fact that he ran as a Conservative factionalist against an official Conservative (there was no Liberal candidate), he did well. He began his political career in earnest in 1868 by winning the wardenship of Frontenac County; he won again in 1869 and 1872. In the general election of 1872 he contested Addington, still as an independent Conservative, against Lapum, the official candidate. This time Shibley won an easy victory, 1,495 to 849. Although he had defeated a ministerial incumbent, he described himself in the Canadian parliamentary companion in 1873 as "A Conservative." He was re-elected in 1874, but the election was voided because several of his supporters, including his 15-year-old son, had bribed voters. He won the subsequent by-election held in the same year During these years he had several business connections of importance: along with other civic and political leaders, such as Alexander Campbell*, Richard John Cartwright*, and Dileno Dexter Calvin, he served during the 1870s as a director of the Kingston and Pembroke Railway as well as the Royal Mutual Life Assurance Company.
Shibley's political manœuvrings from 1872 to 1874 are interesting for their context. His chief concern was patronage. Prior to 1872 he had had no success in several attempts to influence appointments. After that date the Conservative leaders recognized his electoral victory, and he was given control over his riding's patronage. Shibley's factionalist background, however, made him a logical target for Liberal wooing during the political crisis occasioned by the Pacific Scandal. During 1873 Alexander Mackenzie*, Edward Blake*, and Cartwright made a concerted attempt to win him over to their side. At the same time the Conservative leaders worked in desperation to maintain the support of wavering members of parliament such as Shibley. Although he was not required to vote against Macdonald's party in the House of Commons, he did defect to the Liberals before the government fell on 5 Nov. 1873. He remained a supporter of the Liberals until he was defeated in the Conservative sweep of 1878. He was, however, one of the few Ontario Conservative members to desert during the crisis; in doing so, he was still concerned with patronage not principle. Shibley's six years in the Commons were undistinguished; his voice was raised only about problems that related directly to his riding.
The career of Shibley reveals something about the 19th-century Canadian public, rural in this case, and the leaders of both political parties; they could, apparently with ease, accommodate a man known to be personally debauched and a candidate possessed of only the loosest political principles.
AO, MU 500–15. PAC, MG 24, B40, 8–9; MG 26, A. Can., House of Commons, Debates, 1875–78. "Parl. debates" (CLA mfm. project of parl. debates, 1846–74), 1873–74. Daily News (Kingston, [Ont.]), 1866. Globe, 1866, 1872, 1874, 1878, 1890. Sarnia Observer, and Lambton Advertiser (Sarnia, [Ont. ]), 14 Sept. 1866. CPC, 1873–75; 1879. W. S. Herrington, History of the county of Lennox and Addington (Toronto, 1913; repr. Belleville, Ont., 1972). Donald Swainson, "Richard Cartwright joins the Liberal party," Queen's Quarterly, 75 (1968): 124–34; "Schuyler Shibley and the underside of Victorian Ontario," OH, 65 (1973): 51–60.
© 1982–2023 University of Toronto/Université Laval
Cite This Article
Donald Swainson, "SHIBLEY, SCHUYLER," in Dictionary of Canadian Biography, vol. 11, University of Toronto/Université Laval, 2003–, accessed June 9, 2023, http://www.biographi.ca/en/bio/shibley_schuyler_11E.html.
The citation above shows the format for footnotes and endnotes according to the Chicago manual of style (16th edition). Information to be used in other citation formats:
| | |
| --- | --- |
| Permalink: | http://www.biographi.ca/en/bio/shibley_schuyler_11E.html |
| Author of Article: | Donald Swainson |
| Title of Article: | SHIBLEY, SCHUYLER |
| Publication Name: | Dictionary of Canadian Biography, vol. 11 |
| Publisher: | University of Toronto/Université Laval |
| Year of publication: | 1982 |
| Year of revision: | 1982 |
| Access Date: | June 9, 2023 |