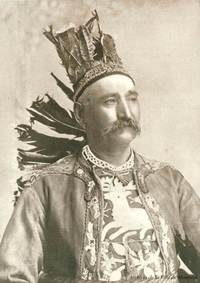 Source: Link
CANADIEN, JEAN-BAPTISTE, called Big John Canadien (Raientonni, Aiontonnis, meaning "he works with wood"; baptized Jean-Baptiste Raientonni, he was mostly known as Jean-Baptiste Canadien), Mohawk raftsman, pilot, voyageur, and lacrosse player; b. 16 Dec. 1840 in Caughnawaga (Kahnawake), Lower Canada, son of Ignace Oriwakennhen and Louise Kanonwehon; m. there 16 Feb. 1863 Malvina Maccomber, daughter of Gervase (Gervais) Maccomber (McComber, Macomber), an Indian affairs agent in Caughnawaga, and they had 13 children, of whom seven sons and one daughter survived him; d. there 16 Feb. 1919.
The Mohawk name of "Sawatis," as Jean-Baptiste was pronounced, was Raientonni, later spelled Aiontonnis. One branch of his family came from Lac des Deux Montagnes, where his great-grandfather Simon Onwakennhen had married in 1783. His grandfather Charles Tehostoseroton was given the nickname Canadien, which Jean-Baptiste was to adopt as his surname in the mid 1880s.
Young Raientonni cultivated the traditional values of courage and daring attributed to his ancestors and he sought out occupations befitting these virtues. Voyageur, guide, warrior, raftsman, and pilot were the callings most highly regarded by Mohawk youth. Raientonni's knowledge of difficult waterways, and especially the Lachine rapids which flowed past his village, made him an excellent raftsman for bringing down the cribs of timber, and one of the most famous steamboat pilots employed by various shipping companies on the St Lawrence between Montreal and Ontario. Like many other Mohawk he also worked on the construction of steel bridges.
British officers often turned to the Caughnawaga Mohawk because of their skill as voyageurs and guides. In 1870 Mohawk were among the voyageurs whom Colonel Garnet Joseph Wolseley used in his expedition to the Red River (Man.) at the time of the first Métis uprising under Louis Riel*. Big John reportedly was one of the leading canoeists. Pleased with the voyageurs' performance, Wolseley adopted the same approach in 1884 in an attempt to free Major-General Charles George Gordon, who was being besieged in Khartoum, Sudan, by the Mahdists [see Frederick Charles Denison*]. The Canadian crew came mainly from Winnipeg, Ottawa, Trois-Rivières, and Caughnawaga. The Caughnawaga contingent, which included Big John, was led by Captain Louis Jackson, a Mohawk. The voyageurs transported some of the British reinforcements in whaleboats through the cataracts of the Nile, but except for that exploit the operation proved vain: Gordon was overcome before help arrived. The group from Caughnawaga had left Canada in September 1884 and members were back by March 1885.
Big John's circle of friends included politicians and businessmen. He called them "brothers" and occasionally wore traditional native dress. He was sometimes invited to speak in public and he enthralled audiences with his colourful speech and quick-wittedness. Only a little older than Wilfrid Laurier, whom he first met on 24 June 1884 at Saint-Jean-Baptiste day celebrations, he reportedly said in reference to their age: "When I die, then you can be afraid." As it happened, Laurier's death would follow his by only a day. This coincidence led to the legend that Big John had predicted they would die at the same time.
Big John is remembered as a man of daring deeds. In the late fall of 1859 he skated across Lac Saint-Louis and Lac des Deux Montagnes, from Caughnawaga to Oka (Kanesatake) and back. He excelled at lacrosse, the traditional sport of the Mohawk. In 1876, the year he was presented to Queen Victoria, and again in 1888 he was captain of the Caughnawaga lacrosse team, which in both years toured England with the Montreal Shamrocks, playing exhibition matches. He organized trips to shoot the Lachine rapids (on three occasions on New Year's Day) in a wooden boat he had built himself. He would take with him two Mohawk and two other passengers eager for the adventure. In recognition of his exploits, one of the Lachine rapids has been named Big John.
Although not a chief, Jean-Baptiste Canadien must be considered a leader in Caughnawaga. He exemplified both the traditional and the contemporary models of behaviour which the Mohawk of his time could emulate.
Various newspaper articles give contradictory details concerning Jean-Baptiste Canadien and the events in which he participated: Gazette (Montreal), 23, 31 May, 8, 21, 27 June, 12, 14 July 1876; 2 Jan. 1878; 6 Feb. 1915; 17 Feb. 1919; 3 Sept., 31 Dec. 1945; 25 Sept. 1948; 5 Feb. 1949; 1 Jan. 1954; 31 Dec. 1960; 22 Dec. 1984; Montreal Daily Herald, 3 July 1906, continued as Montreal Herald and the Daily Telegraph, 17 Feb. 1919; Montreal Daily Star, 13 May, 24 Dec. 1915; La Presse, 17, 19 févr. 1919.
ANQ-M, CE1-25, 16 déc. 1840, 16 févr. 1863. NA, RG 10, 3165, file 9566, pt.O. Le Devoir, 15 juill. 1993. Johnny Beauvais, Kahnawake; a Mohawk look at Canada; adventures of Big John Canadian (rev. ed., Kahnawake, Que., [1985]). Denis Gravel, Histoire du Village des Rapides: un quartier de La Salle (Montréal, [1992]). Louis Jackson, Our Caughnawagas in Egypt: a narrative of what was seen and accomplished by the contingent of North American Indian voyageurs . . . (Montreal, 1885). G. F. G. Stanley, Toil & trouble: military expeditions to Red River (Toronto, 1989).
© 1998–2023 University of Toronto/Université Laval
Cite This Article
Maurice Ratelle, "CANADIEN, JEAN-BAPTISTE, Big John Canadien," in Dictionary of Canadian Biography, vol. 14, University of Toronto/Université Laval, 2003–, accessed September 30, 2023, http://www.biographi.ca/en/bio/canadien_jean_baptiste_14E.html.
The citation above shows the format for footnotes and endnotes according to the Chicago manual of style (16th edition). Information to be used in other citation formats:
| | |
| --- | --- |
| Permalink: | http://www.biographi.ca/en/bio/canadien_jean_baptiste_14E.html |
| Author of Article: | Maurice Ratelle |
| Title of Article: | CANADIEN, JEAN-BAPTISTE, Big John Canadien |
| Publication Name: | Dictionary of Canadian Biography, vol. 14 |
| Publisher: | University of Toronto/Université Laval |
| Year of publication: | 1998 |
| Year of revision: | 1998 |
| Access Date: | September 30, 2023 |