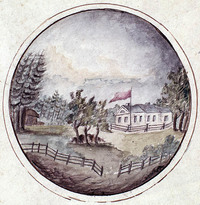 Source: Link
CANNON, MARY (Polly), estate manager; b. some time after 1751; d. 7 Oct. 1827 at her residence, Castle Frederick, in Falmouth, N.S.
Available evidence indicates that Mary Cannon came from one of the obscure Cannon families resident in Halifax during the 1750s. In 1764 she met Joseph Frederick Wallet DesBarres, an army officer who was then just beginning an ambitious survey of the coast of Nova Scotia. By "great attention and . . . great persuasion" DesBarres induced Mary to become his housekeeper at Castle Frederick. Between 1764 and 1774 he "treated her . . . with great Affection and Tenderness and always placed the most unbounded Confidence" in her judgement. He also instructed Mary in the management of his extensive Nova Scotian properties, promising that they would ultimately become hers. In 1774 DesBarres returned to England, where he remained until his appointment in 1784 as lieutenant governor of Cape Breton. Mary continued to live in Falmouth, and she saw DesBarres perhaps twice more before his death in 1824. Five daughters and a son were born of their relationship.
In 1776 DesBarres appointed Mary his agent and attorney, with "full Power and Authority" over all his colonial properties, comprising nearly 80,000 acres in Falmouth, Tatamagouche, Minudie, Maccan-Nappan, and the Memramcook–Petitcodiac area of present-day New Brunswick. The legal document was vague, but his personal instructions to her were explicit and benevolent. Mary was to visit each estate regularly, noting the progress of settlement, the number of livestock, and the extent of agricultural improvements; she was also to arrange tenants' leases, collect rents, and forward all details to DesBarres. At first the arrangement worked well. In addition to her other duties, Mary paid many of DesBarres's bills, shipped commodities to him during the period 1784–87 when he was lieutenant governor of Cape Breton, and, with the assistance of Richard John Uniacke (1753–1830), fought his land-hungry creditors in the courts. Her requests for reimbursement were fair and few.
After DesBarres left Cape Breton for England in 1787, he became increasingly eccentric concerning his colonial properties. He rarely answered letters, failed to forward necessary legal papers, and provided little instruction or advice. Meanwhile, pressure from his creditors forced the attachment of various estates, the value of which declined as crops failed and tenants ignored leases and rents. In 1794 DesBarres appointed John MacDonald* of Glenaladale to investigate the condition of the estates. MacDonald reported that, although the tenants respected "Mrs. Cannon," her management was lax; he cited in particular her leasing arrangements and the loss of livestock to creditors. He also noted that Mary, claiming to have been cast off by DesBarres, was openly involved with an Irish labourer. Fearing that she would sue DesBarres out of spite, MacDonald urged an immediate legal settlement with Mary.
Most of the responsibility for DesBarres's properties was subsequently shifted to sub-agents, one of whom was Amelia DesBarres, a daughter by Mary. In 1809 – four years after his return to British North America as lieutenant governor of Prince Edward Island – DesBarres sued Mary and sub-agent Wellwood Waugh in Nova Scotia's Court of Chancery, charging general mismanagement and collusion over a lease at Tatamagouche. DesBarres claimed that because of her repeated failure to advise him of leases he had lost his most valuable tracts of land to tenants who paid little or nothing. The legal difficulty lay in whether Mary's power of attorney even permitted her to make leases. The court never reached a decision.
DesBarres showed peculiar logic and lack of foresight in granting Mary control over his properties in an age when women were ill educated for such duties. His perversity in failing to assist her and his later rancour against her merely add to the enigma of a distasteful personality. For her part, Mary was faced with a difficult task for a colonial woman and, as Helen MacDonald* of Glenaladale had done in similar but less demanding circumstances, she performed it with ability, determination, and loyalty. Although she reported meticulously to DesBarres at first, her actions became increasingly independent when he persisted in showing total indifference to the fate of his properties. Her partial failure resulted from the enormity of her responsibilities, the vagaries of colonial agriculture, and her tendency to be easily deceived. The ultimate survival of DesBarres's landholdings, virtually intact but financially crippled, was her great achievement.
Mary had little to show for her efforts, since DesBarres refused financial assistance to her and their children. In her last extant letter to him, written in 1806, she implored, "The thread of life is only brittle at best and neither you nor I may long be permitted to settle our long standing affairs. I have had a hard life and would wish peace on just terms for what remains." In 1819 DesBarres finally deeded the Castle Frederick estate to their four surviving children, but it had declined to a mere subsistence farm where the family resided in genteel poverty. Mary's final comment concerning the near-centenarian DesBarres in 1820 was that he was still "like Pharaoh of old, hardened to every request."
Since her death, Mary Cannon has been remembered only as DesBarres's mistress; her extraordinary responsibilities, unusual talents, and powerful position, all marking her as a distinctly different woman for her time, have been entirely forgotten. As she once said, "I think my treatment but indifferent."
Manuscript sources used in the preparation of this biography include the J. F. W. DesBarres papers (PAC, MG 23, F1), the Court of Chancery papers in PANS, RG 36, and the records of the courts of probate and registries of deeds for the following counties, all of which are available on microfilm at PANS: Cumberland (Amherst, N.S.), Halifax (Halifax), and Hants (Windsor, N.S.).
Acadian Recorder, 13 Oct. 1827. G. N. D. Evans, Uncommon obdurate: the several public careers of J. F. W. DesBarres (Toronto and Salem, Mass., 1969). J. C. Webster, The life of Joseph Frederick Wallet Des Barres (Shediac, N.B., 1933). Lois Kernaghan, "A man and his mistress: J. F. W. DesBarres and Mary Cannon," Acadiensis (Fredericton), 11 (1981–82), no.1: 23–42.
© 1987–2023 University of Toronto/Université Laval
Image Gallery

Cite This Article
Lois Kernaghan, "CANNON, MARY," in Dictionary of Canadian Biography, vol. 6, University of Toronto/Université Laval, 2003–, accessed October 2, 2023, http://www.biographi.ca/en/bio/cannon_mary_6E.html.
The citation above shows the format for footnotes and endnotes according to the Chicago manual of style (16th edition). Information to be used in other citation formats:
| | |
| --- | --- |
| Permalink: | http://www.biographi.ca/en/bio/cannon_mary_6E.html |
| Author of Article: | Lois Kernaghan |
| Title of Article: | CANNON, MARY |
| Publication Name: | Dictionary of Canadian Biography, vol. 6 |
| Publisher: | University of Toronto/Université Laval |
| Year of publication: | 1987 |
| Year of revision: | 1987 |
| Access Date: | October 2, 2023 |