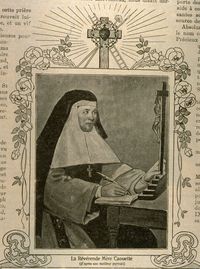 Source: Courtesy of Bibliothèque et Archives Nationales du Québec / 52327/2071448
CAOUETTE, AURÉLIE, named Catherine-Aurélie du Précieux-Sang, founder and superior of the Sisters Adorers of the Precious Blood; b. 11 July 1833 in Saint-Hyacinthe, Lower Canada, daughter of Joseph Caouette, a blacksmith, and Marguerite Olivier; d. there 6 July 1905.
Aurélie Caouette attended school in her native village until she was 12. Good-natured, attractive, and very gifted, she made friends easily. She was extremely pious from an early age and passionately devoted to the precious blood of Christ, a veneration of which only her parents were aware. She entered a boarding-school run by the Congregation of Notre-Dame at Saint-Hyacinthe in 1845. In her studies she received spiritual guidance from Joseph-Sabin Raymond*. During the ensuing 40 years Raymond was to be an attentive witness to the Lord's work in Aurélie's elect soul, and to support her in all the difficult stages that would culminate in her founding of a religious community.
Aurélie Caouette left the boarding-school in 1850 and returned to her family home. Although she was manifestly called to religious life, she could not find the way forward. The first bishop of Saint-Hyacinthe, Jean-Charles Prince*, suggested that she join a teaching or nursing community, but she did not feel that was where her calling lay. She led a virtually cloistered life, spent in prayer and physical suffering that had no obvious cause. From time to time she gave help to the poor. Her devotion to the precious blood became deeper and more compelling, and she abandoned herself to it, not knowing where it would lead. Since early childhood she had shown a marked inclination to suffer for Jesus Christ, upon whom she meditated in solitude. Outward signs accompanied her devotion – strange illnesses, sudden changes in the colour of clothes she wore, objects unexpectedly red hot in her hands. She also seems to have had repeated visions of Christ covered with blood from the crown of thorns.
Aurélie's way of life left little room for worldly concerns. She pronounced her vow of chastity before Abbé Raymond and added the name Catherine to her own out of admiration for that young martyr of Alexandria. She then took the vow of obedience while continuing to live in the world. It was not clear what lay ahead for her. In 1849 Pope Plus IX instituted a liturgical feast on 1 July to honour the blood of Christ. From that time on, devotion to the precious blood intensified. Confraternities were organized in various places. Bishop Prince, who shared Caouette's chosen veneration, created a brotherhood in his diocese on 23 March 1858.
In 1859 she met Ignace Bourget*, the bishop of Montreal. He listened attentively to the young mystic and, prophetically, told her, "If I were the bishop of Saint-Hyacinthe, I would say to you: 'Go to a small, isolated house in the country and found a community of women to adore the Precious Blood.'" For Aurélie Caouette, the way forward was clear at last. Bishop Prince supported the idea at once. However, his death on 5 May 1860 delayed the undertaking.
The new bishop of Saint-Hyacinthe, Joseph La Rocque*, was hesitant to approve the establishment of the new community. His close friend Abbé Raymond succeeded in persuading him. Finally, the congregation of the Sisters Adorers of the Precious Blood was born on 14 Sept. 1861. The four members of Canada's first contemplative community initially stayed in the Caouette house. On 14 Sept. 1863 the nuns moved into their own convent. That very day Aurélie Caouette pronounced her vows and became superior as Mother Catherine-Aurélie du Précieux-Sang.
The community, dedicated to meditation and prayer, grew quickly. By 1866 there were eighteen professed sisters and nine novices, and construction had begun on a new convent in Saint-Hyacinthe. Convents were later founded in Toronto (1869), Montreal (1874), Ottawa (1887), Trois-Rivières (1889), Brooklyn (New York City) (1890), Portland, Ore. (1892), Sherbrooke (1895), Nicolet (1896), Manchester, N.H. (1898), and Havana, Cuba (1902). Mother Catherine-Aurélie du Précieux-Sang presided at the inauguration of all these convents. In addition to being superior at Saint-Hyacinthe, she was also appointed superior general of the community, for life, by a papal privilege obtained through the bishop of Saint-Hyacinthe, Louis-Zéphirin Moreau.
Mother Catherine-Aurélie du Précieux-Sang died on 6 July 1905 at the community's convent in Saint-Hyacinthe. Her death did not go unnoticed, because the many mystical phenomena she experienced had brought her to the attention of her contemporaries. Her reputation for holiness has continued to spread ever since. On 20 Nov. 1984 the cause of her beatification was opened in the diocese of Saint-Hyacinthe. Perhaps one day she will figure in the calendar of saints.
ANQ-M, CE2-5, 11 juill. 1833. Arch. du Séminaire de Saint-Hyacinthe, Qué., Fg-47 (fonds Aurélie Caouette). La Semaine religieuse de Montréal, 24 juill. 1905. La Semaine religieuse de Québec, 15 juill. 1905. É.-J.[-A.] Auclair, Histoire de mère Catherine-Aurélie du Précieux-Sang . . . (Saint-Hyacinthe, 1923). Marguerite Jean, Évolution des communautés religieuses de femmes au Canada de 1639 à nos jours (Montréal, 1977). Le Jeune, Dictionnaire. Gérard Mercier, Aurélie Caouette, femme au charisme bouleversant (5v., Montréal, 1982–85).
© 1994–2023 University of Toronto/Université Laval
Image Gallery

Cite This Article
Marguerite Jean, "CAOUETTE, AURÉLIE, Catherine-Aurélie du Précieux-Sang," in Dictionary of Canadian Biography, vol. 13, University of Toronto/Université Laval, 2003–, accessed June 7, 2023, http://www.biographi.ca/en/bio/caouette_aurelie_13E.html.
The citation above shows the format for footnotes and endnotes according to the Chicago manual of style (16th edition). Information to be used in other citation formats:
| | |
| --- | --- |
| Permalink: | http://www.biographi.ca/en/bio/caouette_aurelie_13E.html |
| Author of Article: | Marguerite Jean |
| Title of Article: | CAOUETTE, AURÉLIE, Catherine-Aurélie du Précieux-Sang |
| Publication Name: | Dictionary of Canadian Biography, vol. 13 |
| Publisher: | University of Toronto/Université Laval |
| Year of publication: | 1994 |
| Year of revision: | 1994 |
| Access Date: | June 7, 2023 |