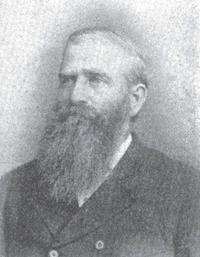 Source: Courtesy of Wikimedia Commons
CARD, CHARLES ORA, colonizer and leader in the Church of Jesus Christ of Latter-day Saints (Mormon church); b. 5 Nov. 1839 in Livingston (near Ossian), N.Y., son of Cyrus Williams Card and Sarah Ann Tuttle, farmers; m. 4 Oct. 1867 in Salt Lake City, Utah, Sarah Jane Birdneau, who divorced him on 24 March 1884; m. there secondly 17 Oct. 1876 Sarah Jane Painter; m. thirdly 17 June 1884 in Logan, Utah, Zina Presendia Williams, née Young, daughter of Brigham Young; m. fourthly 2 Dec. 1885 Lavinia Clark Rigby; d. 9 Sept. 1906 in Logan, and was survived by three wives and 16 children.
Born in upstate New York, Charles Ora Card moved with his parents to Michigan and then back to New York. In 1856 the family joined the Mormon church and crossed the plains by wagon to Salt Lake City, where they arrived in September. Card moved to Logan in 1860. He and his father farmed and ran a sawmill, but he also became skilled in road and canal building. From 1864 to 1866 he attended business school in Ogden and he subsequently taught school in Logan. Active in church work and community affairs, Card superintended the building of two important structures, the Logan Tabernacle and the Logan Temple. From 1884 to 1890 he served as president of the Cache Valley Stake (an ecclesiastical region similar to a diocese).
During the 1880s the American government passed harsh laws against polygamy, which had been introduced by the Mormons in 1852 along with a number of other theological and social innovations. The new laws imposed heavy fines on polygamists, declared the children of such unions illegitimate, sent 1,300 Mormons to jail, and dissolved the church as a corporate entity. Card was arrested in July 1886. He escaped custody and went to see church president John Taylor, who had been born in Britain and had lived in Ontario until his conversion to Mormonism. Taylor directed Card, who was preparing to flee to Mexico, to go north to Canada to find "British justice." In the fall Card and two companions scouted British Columbia and the southern part of the Alberta district, eventually choosing southwestern Alberta as their new home. The region had good land, water for irrigation, and accessible timber and coal, and was near the Blood Indian Reserve, where they hoped to do missionary work. He returned to Utah to report and barely escaped being arrested again.
At first Canada was viewed by the Mormons as a temporary refuge from persecution. When Card considered the impending move, he was struck by its irony. Writing on New Year's Day 1887, he remarked, "It seems strange to think that my grandsires fought to establish religious liberty and in that great struggle . . . stained our fair land with a deluge of blood . . . [and] now, it seems their grandchildren should be obliged to gather into the domains of that government that is ruled by the Queen." In the spring he left with a small group for Canada and on 26 April chose the present site of Cardston for their settlement. He organized the Cardston Ward of the Cache Valley Stake in 1888. By 1891, with new arrivals from Utah, there were 359 Mormons in Cardston and the surrounding area. As much as possible the traditional Mormon pattern of settling in villages and working the surrounding fields was maintained, although Canadian land regulations were inimical to such arrangements and caused some families to establish themselves on remote homesteads.
When they first arrived, Card and the early Mormon settlers met opposition from the press and many politicians. Public views had been shaped by the prolonged conflict between the American government and the church. The Calgary Herald called the Mormons "the most infamous conspiracy of modern times against morals and loyalty" and urged that an end be put to "the Mormon scheme of over-running and taking possession of southern Alberta." But Canadian government officials and local boosters were glad to have farmers who were skilled in irrigation techniques take up land in an area known for its dryness. The inspector of surveys for the Department of the Interior wrote in the spring of 1888, "I have never seen any new settlement where so much has been accomplished in the same length of time." Government opposition to polygamy, however, was clear. When Card and other Mormon leaders travelled to Ottawa in November 1888 to seek help for settlers and ask permission to bring their existing plural families to Canada, it quickly moved to outlaw polygamy. The Mormons were welcome but plural wives could not be tolerated. The issue largely died down after 1890, when the church officially abandoned polygamy.
Card continually reassured sceptical police and other officials that Mormons were not practising polygamy in Canada. His personal contacts with prominent civil servants, businessmen, and politicians who wanted to encourage settlement in western Canada helped ease acceptance of the newcomers. William Pearce*, the senior officer of the Department of the Interior in the west, saw irrigation as essential to the opening of the semi-arid region and defended the Mormons as ideal immigrants because of their experience. In August 1890 church leaders asked Card to remain indefinitely in Canada as head of what was called "the Canadian Mission." The settlements were now looked on by the Mormons as permanent communities, rather than as temporary havens. Card was released from his religious duties in Cache Valley to take over responsibility for southern Alberta. When the Alberta Stake was created in 1895, he was made its president.
Card's role in the settlements was partially that of spiritual adviser, but he was also the head of the colonizing venture, concerned with financial, commercial, and agricultural matters. His Sunday sermons gave advice in all these areas. Beginning in 1891 the Cardston Company Limited, a joint-stock enterprise organized by Card and some close associates, mobilized capital for community projects including a flour-mill, cheese factory, steam threshing outfit, and sawmill. Some of the capital came from Card's wife Zina. A former college teacher and an advocate of women's suffrage, she was the wife who had been chosen to accompany him to Canada. In addition to these concerns Card was involved in developing the first irrigation project in Cardston in 1893.
A second wave of Mormon immigrants came to southern Alberta beginning in the late 1890s as part of a much larger irrigation scheme. The undertaking emerged from an agreement between the church and the Galt coalmining interests in Lethbridge [see Elliott Torrance Galt*], which owned sizeable tracts of land south of the town. The Galt interests formed a close partnership with Card, who visualized a major colonization opportunity for land-hungry Mormon farmers in the United States. In 1898, with Card serving as an important go-between, the Alberta Irrigation Company signed a contract with the church to build an irrigation system which would bring water from the St Mary River at a point near the American border and carry it through the dry lands east of the river to the vicinity of Lethbridge. Subcontractors, labourers, and teamsters were Mormon farmers, many of whom intended to settle in southern Alberta. Consequently many took part of their payment in land. Card was made responsible by the church for carrying out its part of the agreement, and he made frequent trips to Utah to discuss details of the contract with church officials. He was also responsible for persuading prospective settlers to come to southern Alberta. On Card's suggestion, when the pace of construction lagged, the church began calling missionary settlers to go to Canada as colonizers in fulfilment of their religious duty. By 1900 the 115 miles of canal were completed, and the project was officially opened by Governor General Lord Minto [Elliot*].
Card was a capable and practical leader who knew how to delegate work and authority. He was able to bring the resources of Mormons and non-Mormons together for mutual benefit. In the absence of public lodging during the first years of settlement, the Cards' home, a four-room log building, was used to entertain prominent visitors to the community, including members of parliament and railway and other business officials. In addition to his activities on behalf of the church and the community, Card acted as a land agent for the dominion government and sold land for the Alberta Railway and Coal Company and the Alberta Irrigation Company. Reflecting his growing, though modest, wealth was the substantial two-storey brick home in Cardston that he and Zina Card built in 1900.
During the late 1890s and early 1900s the continuing influx from the United States and the natural increase of the local population prompted Mormons, under the religious and economic leadership of Card, to move outward from Cardston. Several new towns were founded, including Magrath, Stirling, and Raymond. Mormon settlers were still flooding in when in 1902 Card, because of poor health, was released by the church from his administrative duties. He returned to Logan, where he died in 1906.
By 1911 Mormons in southern Alberta had established 18 communities. Ten thousand members of the church, mostly farmers and their families, lived in the region. Under the guidance of Card, irrigation, a village settlement pattern, cooperative economic enterprise, and a web of cultural, social, and religious activities – all elements of a unique way of life – were transferred and adapted from the American Great Basin. A distinctive Mormon country in southern Alberta is the legacy of Charles Ora Card and the early immigrants.
A diary kept by Charles Ora Card, edited by Donald G. Godfrey and Melva R. Whitbeck, has been privately published by Godfrey as The journal of Charles Ora Card, September 14, 1886, to July 7, 1903 (n.p., 1981).
Brigham Young Univ. Library (Provo, Utah), Div. of Arch. and mss, C. O. Card coll.; Zina Young Williams Card coll. GA, Glenbow Archives Irrigation Research Project, file 234. Calgary Herald, 6 Aug. 1890. B. Y. Card, "Charles Ora Card and the founding of Mormon settlements in southwestern Alberta, North-West Territories," The Mormon presence in Canada, ed. B. Y. Card et al. (Edmonton, 1990), 77–107; "Charles Ora Card, Zina Y. Card," Chief Mountain country: a history of Cardston and district, ed. Keith Shaw and Beryl Bectell (2v., Cardston, Alta, and Calgary, 1978–87), 2. Church of Jesus Christ of Latter-day Saints, Lethbridge Stake, A history of the Mormon church in Canada, ed. M. S. Tagg et al. (Lethbridge, Alta, 1968). J. O. Hicken, "Events leading to the settlement of the communities of Cardston, Magrath, Stirling and Raymond, Alberta" (m.sc. thesis, Utah State Univ., Logan, 1968). A. J. Hudson, Charles Ora Card, pioneer and colonizer (Cardston, 1963). A. A. den Otter, Civilizing the west: the Galts and the development of western Canada (Edmonton, 1982). Howard Palmer with Tamara [Jeppson] Palmer, Alberta: a new history (Edmonton, 1990).
© 1994–2023 University of Toronto/Université Laval
Cite This Article
Howard Palmer, "CARD, CHARLES ORA," in Dictionary of Canadian Biography, vol. 13, University of Toronto/Université Laval, 2003–, accessed June 4, 2023, http://www.biographi.ca/en/bio/card_charles_ora_13E.html.
The citation above shows the format for footnotes and endnotes according to the Chicago manual of style (16th edition). Information to be used in other citation formats:
| | |
| --- | --- |
| Permalink: | http://www.biographi.ca/en/bio/card_charles_ora_13E.html |
| Author of Article: | Howard Palmer |
| Title of Article: | CARD, CHARLES ORA |
| Publication Name: | Dictionary of Canadian Biography, vol. 13 |
| Publisher: | University of Toronto/Université Laval |
| Year of publication: | 1994 |
| Year of revision: | 1994 |
| Access Date: | June 4, 2023 |