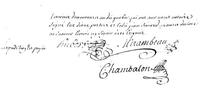 Source: Link
CHAMBALON, LOUIS, merchant and royal notary; baptized 12 March 1663 in the parish of Notre-Dame in Mirebeau, France, son of Louis Chambalon, a carpenter, and Marie Prieur; d. 14 June 1716 and was buried the following day in the Notre-Dame de Québec church.
Chambalon arrived in Canada in 1688 or shortly before. He was first a clerk with Messrs Hazeur, Quebec City merchants. On 2 Oct. 1689, in return for a salary of 1,000 livres a year and the right to do a little fur-trading on his own account, he promised Nicolas Perrot that he would accompany him into the Ottawa country as his assistant business agent. He left for the pays d'en haut in March 1690 and probably returned in the spring of 1691. On 12 June of that year, in Quebec City, he married Marie-Anne Pinguet, the widow of his former employer, Léonard Hazeur Des Ormeaux. From that time on Chambalon's public role was that of a merchant, importing all sorts of products from France and supplying the voyageurs engaged in the fur trade. It was perhaps with an eye to his business that he sought the grant of an arriere-fief measuring three leagues by six in the seigneury of Ristigouche (on Baie des Chaleurs), which Pierre Rey Gaillard granted him on 17 June 1698.
After the notary Gilles Rageot*'s death at the beginning of 1692, Chambalon the merchant had received from Champigny [Bochart] a commission as royal notary, which was confirmed by Louis XIV on 10 April 1694. Chambalon practised until his death and was the busiest notary of his time. His registry contains nearly 4,000 minutes. Being related through Marie-Anne to the colony's bourgeoisie, he had as his clients the élite of Quebec society, and his services were often sought by governors and intendants. He did not, however, try to hold several offices at the same time, and he never appeared before the Conseil Souverain as a legal practitioner.
To all appearances Chambalon was less impecunious than his colleagues, but it is not certain that this was the case in reality. He was, for example, one of the shareholders in the Compagnie de la Colonie, having subscribed 4,000 livres; but a memorandum of the period affirms that he had no money and many debts. In truth, that was the sad fate of nearly all business men in New France; they retained from the fur trade a very small portion of the profits, almost all of which were pocketed by the suppliers and shipowners of the mother country. Chambalon's situation was to become still worse. Suffering terribly from gout and violent chest pains, so much so that he was helpless two months out of three, he had to give up his business activities, probably around 1706. In 1707, because of Chambalon's reduced activities, the intendant appointed Jean-Étienne Dubreuil notary at Quebec City. Two years later Chambalon sought from the king a pension, which he does not appear to have received. In 1710, in an effort to keep up his practice, which was still impressive, he took on a clerk, René-Claude Barolet*, who was appointed notary in 1728.
Having lost his first wife in April 1694, Chambalon married Geneviève Roussel on 9 August that year. By his first marriage he had two children who died shortly after birth, and none by the second. He did, however, look after his first wife's son, Charles Hazeur, who was ordained a priest in 1706, and Catherine-Madeleine Renaud Des Méloizes, who lived in his home and later became an Ursuline. In 1699 he also sheltered a cousin, François Aubert, who caused him serious difficulties. Indeed, Aubert raped one of Chambalon's servants in Chambalon's own house. The servant became pregnant, the matter was brought before the courts, and as for Chambalon, he was sentenced to advance Aubert 50 livres to meet the child's most pressing needs. That his servant had suffered such an experience was a humiliation for the notary, whose piety, it was said, "was edifying to the whole town of Quebec," and who was furthermore, around this period, one of the directors of the Hôpital Général. In truth, Chambalon was not the most culpable party, no more than he had in the Mareuil* affair or in the 1694 prie-dieu affair, in which, despite himself, he had been involved in his role of notary.
Geneviève Roussel survived her husband and lived until October 1738.
AJQ, Greffe de Gilles Rageot, 11 juin 1691; Greffe de Guillaume Roger, 8 août 1694. AQ, NF, Ins. de la Prév. de Québec, I, 760; III, 121; IV, 333. "Correspondance de Vaudreuil," APQ Rapport, 1942–43, 424; 1946–47, 445. Jug. et délib. "Lettre de M. de Lamothe Cadillac, 28 sept. 1694," APQ Rapport, 1923–24, 81, 84. Ord. comm. (P.-G. Roy), II, 235f. P.-G. Roy, Inv. concessions, IV, 54. "Liste générale des intéressés en la compagnie de la colonie du Canada, et des actions qu'ils y ont prises," BRH, XL (1934), 498. Tanguay, Dictionnaire, I, 112. J.-E. Roy, Histoire du notariat, I. P.-G. Roy, La ville de Québec, II, 498. Les Ursulines de Québec (1863–66), II, 216.
Bibliography for the revised version:
Arch. Départementales, Deux-Sèvres et Vienne (Niort et Poitiers, France), "État civil," Mirebeau (Notre-Dame), 12 mars 1663: archives-deux-sevres-vienne.fr (consulted 22 March 2023); Bibliothèque et Arch. Nationales du Québec, Centre d'arch. de Québec, CE301-S1, 15 juin 1716.
© 1969–2023 University of Toronto/Université Laval
Image Gallery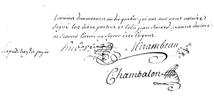 Cite This Article
André Vachon, "CHAMBALON, LOUIS," in Dictionary of Canadian Biography, vol. 2, University of Toronto/Université Laval, 2003–, accessed December 4, 2023, http://www.biographi.ca/en/bio/chambalon_louis_2E.html.
The citation above shows the format for footnotes and endnotes according to the Chicago manual of style (16th edition). Information to be used in other citation formats:
| | |
| --- | --- |
| Permalink: | http://www.biographi.ca/en/bio/chambalon_louis_2E.html |
| Author of Article: | André Vachon |
| Title of Article: | CHAMBALON, LOUIS |
| Publication Name: | Dictionary of Canadian Biography, vol. 2 |
| Publisher: | University of Toronto/Université Laval |
| Year of publication: | 1969 |
| Year of revision: | 2023 |
| Access Date: | December 4, 2023 |