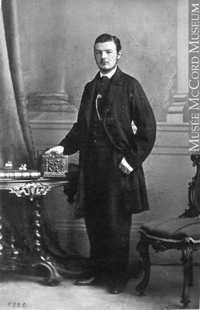 Source: Link
CHAPUT, CHARLES (baptized Charles-Benjamin-Léandre), businessman; b. 14 Nov. 1841 in Montreal, son of Léandre Chaput and Hélène Saint-Denis; m. there first 23 Aug. 1865 Roseanne (Rose Anne) Smith (d. 1883), and they had five children; m. there secondly 21 Jan. 1885 Clara Turgeon, née Chevallier (d. 1893); m. there thirdly 26 Sept. 1894 Léda Patoine, widow of Adolphe Hamel, a merchant; d. 1 Feb. 1926 in Montreal.
Charles Chaput's father was originally from L'Assomption in Lower Canada; he settled in Montreal around 1832. In 1841 or 1842 he opened a retail grocery that initially also housed a tavern. The store was then situated in the West Ward on Rue des Commissaires, opposite the Sainte-Anne market. The tavern closed around 1850. About the same time, Léandre went into partnership with his brother-in-law Édouard Saint-Denis.
Charles did commercial studies in Montreal and received further instruction from a tutor in French, Pierre Garnot. In 1857, at the age of 16, he joined his father's firm as a clerk. He became a partner in 1862 and the business was renamed L. Chaput, Fils et Compagnie. When Léandre retired in 1876, Charles became head of it, with Édouard Saint-Denis. By 1896 he was in sole charge. Over the years the company had moved into wholesale business and from the 1890s this would be its only sphere of activity. At that time, food merchandising in Montreal was being spurred by improvements in rail transport, expansion in the food industry, and the rapid growth of the city's population. Several other food wholesalers set up in Montreal in the same period but L. Chaput, Fils et Compagnie Limitée (the name under which the firm was incorporated in 1912) would remain one of the leading enterprises of this kind in the city until the mid 1920s.
For many years the sale of wine and spirits constituted a substantial part of the company's business and revenues, as it also was for its major competitors. When the Quebec Liquor Commission was set up in 1921, this source of income disappeared. Despite the loss, the firm's annual turnover amounted to $5 million in 1924, and its inventory was estimated at $1 million. Specializing in the importation of tea and coffee, as well as in the sale of popular pharmaceutical products, it had some 200 employees at this time, including 35 sales representatives who travelled all over Quebec and Ontario. Its products were also marketed in the Maritimes. According to Le Devoir, the firm had a fleet of 15 trucks that delivered goods within a 50-mile radius of Montreal. It also had a large warehouse in the north of the city on Rue Atlantic, and from 1889 a store with five storeys on Rue de Brésoles. Some of the products were packaged at the latter, a number of its own brands having been launched. It appears that it was one of the first wholesalers in the province of Quebec to adopt this practice, as well as one of the first companies to use bilingual labels.
In addition to losing the revenue from the sale of wine and spirits, the firm had to contend with the economic downturn that followed World War I. Canadian food wholesalers had trouble retaining their share of the market: business practices were changing and in the marketing of products they increasingly found that they were vying with the manufacturers themselves. Competition became fierce, and, as a result, many firms went under and there was a series of important mergers. Thus in 1926, a few weeks before the death of Charles Chaput, L. Chaput, Fils et Compagnie Limitée merged with one of its major competitors, Hudon, Hébert et Compagnie Limitée whose president was Zéphirin Hébert, the son of Charles-Polycarpe Hébert*, to form Hudon, Hébert et Chaput Limitée.
Up to this point Chaput's company had always been run by members of the family, along with several partners chosen from among former employees. The latter included Louis-Élie Geoffrion, an important member of the firm from 1884 to 1912, and Ferdinand Prud'homme, a partner from 1896 and for many years the company's secretary-treasurer, a post he continued to hold in 1926. At the time of the merger, Charles Chaput was still president; his son Armand, who had been a partner since 1899, was vice-president and general manager; another son, Émile, a partner since 1909, was one of the directors. The share capital, estimated at $1 million in 1924, was also held by the Chaput family and its employees.
Success in the grocery business enabled Léandre Chaput and his son Charles to ascend the social ladder. The marriages contracted by some of the latter's children show that the family belonged to the elite in Montreal and indeed in Canada. Charles's eldest daughter, Rose-Anna, became the wife of Gabriel Marchand, a lawyer and son of Félix-Gabriel Marchand*, the premier of Quebec from 1897 to 1900; his son Émile married Rosalie Loranger, the daughter of a judge, Louis-Onésime Loranger*. Furthermore, the dignitaries present at Charles Chaput's funeral included Charles Duquette, the mayor of Montreal, senators Charles-Philippe Beaubien*, Frédéric-Ligori Béïque*, and Raoul Dandurand*, as well as Janvier-Arthur Vaillancourt, the president of the Banque Canadienne Nationale.
Although he never stood for election as the candidate of a political party, Charles Chaput nevertheless took an active part in municipal politics. He was one of the leaders of the Committee of Citizens in Montreal, which was formed in 1908 and was associated with the reform movement. Moreover, his business career was not confined to running the family firm. He was president of the Montreal Wholesale Grocers' Association, a member of the board of the Chambre de Commerce du District de Montréal (around 1894-96), a director and vice-president of the Montreal Board of Trade, and a director of the International Mercantile Agency. He served on the board of Ogilvie Flour Mills Company Limited from 1911 until his death, as well as on that of the Canada Life Assurance Company. He also took an interest in the financial sector, and was a director of the Banque d'Hochelaga from 1890 until 1900. Within these circles, Chaput became known as a person of integrity, "a man who spoke little and preferred to reflect," according to the newspaper La Presse. On his death, Le Canada (Montréal) referred to him as "one of the leading figures in the business world of the city."
ANQ-M, CE601-S1, 23 août 1865, 21 janv. 1885; CE601-S6, 26 sept. 1894; CE601-S51, 15 avril 1839, 14 nov. 1841; TP11, S2, SS20, SSS48, vol.2 et 3-o, 19 févr. 1867, no.3880; vol.6-o, 11 mars 1876, nos.831-32; vol.11-o, 1er févr. 1884, no.227; vol.19-o, 1er févr. 1896, nos.11-12; vol.21-o, 1er févr. 1899, no.17, 23 août 1899, no.506; vol.29-o, 1er févr. 1909, no.237; vol.33-o, 1er févr. 1912, nos.119-20. Le Canada (Montréal), 2, 4 févr. 1926. Le Devoir, 23 août 1924; 2, 4 févr. 1926. La Presse, 1er févr. 1926. W. H. Atherton, Montreal, 1534-1914 (3v., Montreal, 1914), 3: 656-60. Gilles Couvrette, "L'épiciers en gros de Montréal," L'Actualité économique ([Montréal]), 16 (1940-41): 118-37. Directory, Montreal, 1842-1926. Linteau, Hist. de Montréal. David Monod, Store wars: shopkeepers and the culture of mass marketing, 1890-1939 (Toronto, 1996).
© 2005–2023 University of Toronto/Université Laval
Cite This Article
Sylvie Taschereau, "CHAPUT, CHARLES," in Dictionary of Canadian Biography, vol. 15, University of Toronto/Université Laval, 2003–, accessed December 9, 2023, http://www.biographi.ca/en/bio/chaput_charles_15E.html.
The citation above shows the format for footnotes and endnotes according to the Chicago manual of style (16th edition). Information to be used in other citation formats:
| | |
| --- | --- |
| Permalink: | http://www.biographi.ca/en/bio/chaput_charles_15E.html |
| Author of Article: | Sylvie Taschereau |
| Title of Article: | CHAPUT, CHARLES |
| Publication Name: | Dictionary of Canadian Biography, vol. 15 |
| Publisher: | University of Toronto/Université Laval |
| Year of publication: | 2005 |
| Year of revision: | 2005 |
| Access Date: | December 9, 2023 |