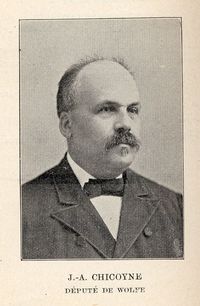 Source: Courtesy of Bibliothèque et Archives Nationales du Québec / 52327/1958179
CHICOYNE (Chicoine), JÉRÔME-ADOLPHE, lawyer, office holder, businessman, journalist, publisher, and politician; b. 22 Aug. 1844 in Saint-Pie, Lower Canada, son of Jérôme Chicoine, a farmer and blacksmith, and Dorothée Deslandes, dit Champigny; m. 7 Jan. 1868 Marie-Rose-Caroline Perrault in Saint-Hyacinthe, Que.; d. 30 Sept. 1910 in La Providence (Saint-Hyacinthe).
At the age of three Jérôme-Adolphe Chicoyne was adopted by his godfather Joseph Charbonneau. He received his elementary education in Saint-Damase and entered the Séminaire de Saint-Hyacinthe in 1855. It took him 11 years to complete his classical studies, since he interrupted them for a while to work in the factories of New England, and again to spend a short time at the noviciate of the Oblates of Mary Immaculate in Montreal.
When he had finished his sixth year (Rhetoric), Chicoyne began studying law on a part-time basis. He was called to the bar in 1868 and moved to Saint-Hyacinthe, but did not find the practice of his profession entirely satisfying. He accepted the position of secretary-treasurer of the Société de Colonization de Saint-Hyacinthe, and then the office of provincial immigration agent in 1872. As an agent, he gave lectures, located the best lands for settlement purposes, and checked on colonization companies.
In 1873 the provincial government appointed Chicoyne immigration agent for Montreal, "to work towards the repatriation of Canadians who have emigrated." It was preparing a program to encourage their return. Under the terms of an act passed in February 1875, partly cleared, 100-acre lots, with a house, were offered to French Canadians who had moved to the United States [see Ferdinand Gagnon*]. Chicoyne took on the task of supervising the application of this law. He himself bought a parcel of land in the "repatriation colony" (La Patrie) and moved there with his family in December 1875. At the time, he was toying with the ambitious project of setting up a number of industries in La Patrie, but he was unable to attract investors. After two years the government decided that, given the cost and the limited success achieved, the repatriation policy would be terminated and his appointment would not be renewed. Chicoyne moved to Sherbrooke.
Once again, the practice of law apparently did not satisfy this tireless man. During a visit to Europe in 1880, Chicoyne made contact with a group of prominent citizens of Nantes, in France, who agreed to work with him in setting up the Compagnie de Colonisation et de Crédit des Cantons de l'Est. He was named its acting general manager and returned to Sherbrooke with the task of founding a colony at Channay (Woburn), south of Lac Mégantic. The next four years were trying ones for him. Brimming with energy, he got a large sawmill built and went into the lumber business. He was also responsible for agricultural development and the recruitment of settlers and, moreover, he had agreed to become the editor of Le Pionnier de Sherbrooke. He needed solid support in his colonizing work, but Eugène and Louis Bécigneul, the two young men from Nantes who were with him, were only a source of anxiety, and their uncle, the Oblate priest Eugène-Marie Peigné, worried constantly. Chicoyne had to go to Europe to straighten matters out in 1881, 1883, and 1885. Shortly before his last trip he complained of extreme fatigue. At Nantes he had to face accusations of fraud, which apparently originated with the Bécigneul family. On his return he discovered that Father Peigné had assigned a third nephew, Adolphe, to take over the company. In July 1885 Chicoyne resigned and retired to his villa at Mégantic (Lac-Mégantic) "in a state of prostration" that lasted a month.
Determined to make a fresh start, Chicoyne assumed control and editorship of Le Pionnier, with which he would be associated for the next 16 years. From 1886 to 1896 he was also editor of La Colonisation (Sherbrooke), a magazine subsidized by Ottawa and intended to make Canada better known in the French-speaking countries of Europe. In addition, he carried out various missions for the federal government.
There was a connection between Chicoyne's political views and his links with Ottawa. A supporter of the Conservative party since 1863, he had taken an active part in election campaigns since 1867. He served as mayor of La Patrie and then as municipal councillor and mayor of Mégantic. In 1890 he became mayor of Sherbrooke. He had a hand in all the activities of the Conservative party and was chairman of the Club Cartier of Sherbrooke from 1879 to 1891. He failed to win nomination as the party's candidate for Compton in 1890, but two years later a delegation led by the incumbent asked him to run for the provincial seat in Wolfe.
Chicoyne was elected on 8 March 1892 and proved an energetic member in the Quebec Legislative Assembly. He took an interest not only in colonization, but also in municipal affairs, the system of taxation, civil law, and the reform of political Institutions. In June 1892 he moved that a special committee be set up to study the population shift from rural areas to urban centres. He himself chaired it and wrote its report. In the spring of 1895 he considered giving up his seat, but Louis-Olivier Taillon*, Louis Beaubien*, and Louis-Philippe Pelletier* persuaded him to stay on, and he served two further terms that were even more productive. The role of opposition member and a more relaxed party discipline apparently suited him better.
Chicoyne was by then one of the most respected members in the assembly. During his second term he took a particular interest in mutual benefit insurance. He was worried about the growing influence of American mutual benefit societies and supported the idea of a federation of Quebec societies. From mutual benefit insurance, he went on to the cooperative movement. His bill dealing with rural credit unions died on the order paper in 1900. In 1901 he introduced a new and more comprehensive bill which would have allowed the formation of any kind of cooperative, but he was not able to get it passed before the end of the session. In 1902 he came back with a compromise solution that succeeded. His new bill allowed farmers to set up all types of cooperative associations. This Quebec Agricultural Syndicates' Act paved the way for the 1906 Quebec Syndicates' Act, which gave legal recognition to the caisses populaires promoted by Alphonse Desjardins*.
While Chicoyne was drafting, revising, and defending his bills at Quebec, Le Pionnier was encountering serious problems. He tried to give it a fresh direction, to lease it out, and to set up a new publishing company with Henri Bourassa*, but his efforts were in vain. In 1904 he moved to Le Nationaliste (Montreal), which acquired the lists of Le Pionnier. Chicoyne, who was living in Saint-Hyacinthe, left political life at the end of his third term, but he was not to enjoy his retirement. In February 1905 he suffered a stroke that left him partially paralysed and without speech or hearing. With the help of his wife and his only daughter, he continued to publish newspaper articles, the last appearing in La Patrie (Montréal) on 17 Sept. 1910.
While he was a sitting member at Quebec, Jérôme-Adolphe Chicoyne was nicknamed "the sage of the legislature." He was a cultured man, respected for his opinions, "one of the most soundly organized minds that our province has ever produced," according to Omer Héroux*. He was a man of principle, conservative in his thinking, an ally of the French royalists of bygone days, yet he devoted his life to studying and seeking solutions to the social and economic problems of his fellow citizens. The role that he played in promoting mutual benefit insurance and cooperatives at the turn of the century entitles him to a place among the pioneers of the cooperative movement in Quebec.
Jérôme-Adolphe Chicoyne is the author of Causeries agricoles: une visite chez le capitaine B***** (Montréal, 1874), published under the pseudonym Jean Bellevue. In addition, the "Mémoires de Jérôme-Adolphe Chicoyne" appeared in Le Courrier de Saint-Hyacinthe (Saint-Hyacinthe, Qué.), 7 avril–9 juin 1982.
Arch. du Séminaire de Saint-Hyacinthe, Fg-7 (fonds J.-A. Chicoyne); Fg-41 (fonds P.-A. Saint-Pierre). AUL, P217. Le Pionnier de Sherbrooke (Sherbrooke, Qué.), 1875–1902. É.-J.[-A.] Auclair, Figures canadiennes; deuxième série; quelques figures marquantes de nos hommes de la politique, de l'éloquence et des lettres (Montréal, 1933). C.-E. Chartier, "La colonie du rapatriement," Rev. canadienne, 59 (Janvier–juin 1914): 410–12. Amédée Denault, "L'élite catholique; quelques modèles: ix – Jérôme-Adolphe Chicoyne (1844–1910)," La Vie nouvelle (Québec), 10 (1927): 227–32. Gaston Deschênes, "Associations coopératives et institutions similaires au XIXe siècle," RHAF, 29 (1975–76): 539–54; "Jérôme-Adolphe Chicoyne (1844–1910)," Coopératives et développement (Montréal), 15 (1982–83), no.2: 153–66; 16 (1983–84), no.1: 159–68; no.2: 95–108. J. I. Little, "Les investisseurs français et le nationalisme canadien-français: la Compagnie de colonisation et de crédit des Cantons de l'Est, 1881–1893," RHAF, 32 (1978–79): 19–39; "La Patrie: Quebec's repatriation colony, 1875–1880," CHA Hist. papers, 1977: 67–85. Qué., Assemblée Législative, Débats, 1893–1904.
© 1994–2023 University of Toronto/Université Laval
Cite This Article
Gaston Deschênes, "CHICOYNE, JÉRÔME-ADOLPHE," in Dictionary of Canadian Biography, vol. 13, University of Toronto/Université Laval, 2003–, accessed December 2, 2023, http://www.biographi.ca/en/bio/chicoyne_jerome_adolphe_13E.html.
The citation above shows the format for footnotes and endnotes according to the Chicago manual of style (16th edition). Information to be used in other citation formats:
| | |
| --- | --- |
| Permalink: | http://www.biographi.ca/en/bio/chicoyne_jerome_adolphe_13E.html |
| Author of Article: | Gaston Deschênes |
| Title of Article: | CHICOYNE, JÉRÔME-ADOLPHE |
| Publication Name: | Dictionary of Canadian Biography, vol. 13 |
| Publisher: | University of Toronto/Université Laval |
| Year of publication: | 1994 |
| Year of revision: | 1994 |
| Access Date: | December 2, 2023 |