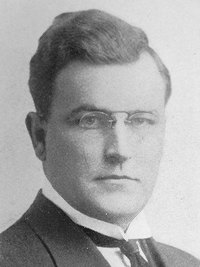 Source: Courtesy of Wikimedia Commons
CHIPMAN, GEORGE FISHER, educator, journalist, editor, social and political activist, and horticulturist; b. 18 Jan. 1882 in Nictaux West, N.S., son of Frederick Miles Chipman and Annie Sibella Fisher; m. 23 July 1907 Emily Raymond Christie (d. 1952) in River Hebert, N.S., and they had a son and a daughter; d. 26 Dec. 1935 in Charleswood (Winnipeg) and was buried in Winnipeg's Elmwood Cemetery.
George Fisher Chipman was born on his family's fruit farm in Nova Scotia's Annapolis valley. His father was a leader in the cooperative movement among local fruit farmers. He attended high school in Middleton and was an active amateur athlete. After graduating from the Normal School in Truro, around the age of 17 he became a teacher. He served as principal of a high school at River Hebert for three years. In August 1903 he went to the North-West Territories as part of a harvesters' excursion. He subsequently taught at Cardston (Alta) for a few months and then in the Leduc area.
Tired of harsh living conditions and his low teacher's pay, Chipman relocated to Winnipeg in 1905 and began freelancing for the Manitoba Free Press. He later became a salaried reporter on the police beat, eventually covering the provincial legislature. He also contributed to John Bayne Maclean*'s Busy Man's Magazine (Toronto) and other periodicals. The disillusionment Chipman had experienced while teaching in the North-West Territories would influence his views about educating the growing number of non-anglophone immigrants to western Canada. He supported a non-denominational school system in which English was the sole language of instruction. This approach was crucial, in his opinion, to the melting-pot process, which he promoted in the September 1909 edition of the Canadian Magazine as a means of developing the "new Canadian."
That same year members of the Manitoba Grain Growers' Association asked Chipman to assist farm leader Roderick McKenzie in publishing the Grain Growers' Guide (Winnipeg), a weekly journal. Chipman was soon appointed managing editor and in 1910 took over as editor-in-chief. He would hold the post until his death, setting the publication's editorial agenda for close to a quarter century. As the official organ of producer associations in the three prairie provinces, the Grain Growers' Guide offered advice on animal husbandry and cropping practices, and, under Chipman, also espoused such causes as the Social Gospel, Prohibition, and women's suffrage. In 1911 it cost five cents a copy, or one dollar for an annual subscription. Contributors included Salem Goldworth Bland*, James Shaver Woodsworth*, William Charles Good*, William Irvine*, and Mary Irene Parlby [Marryat*], among many others. In 1912 Chipman invited feminist Francis Marion Beynon* to become the women's editor; they would later clash over his support of conscription during the First World War. Chipman was one of the few male members of the Political Equality League, founded that same year by Nellie McClung [Mooney*] and others. The league lobbied for women's suffrage in Manitoba, which would be granted at the provincial level in 1916.

During the early years of his editorship of the Grain Growers' Guide, Chipman was a staunch advocate of the economic – and later ethical – benefits of cooperative action, especially in relation to the marketing of grain through the Grain Growers' Grain Company, which in 1917 joined the United Farmers of Alberta to form the United Grain Growers (UGG). Chipman agreed with western farmers that free trade with the United States was vital to the success of the prairie wheat industry, and their advice to Prime Minister Sir Wilfrid Laurier* influenced his decision to negotiate a reciprocity agreement with the United States in November 1910. The following month Chipman helped organize a delegation of about 800 western farmers to travel to Ottawa to make their case before parliament [see James Speakman*]. After the Liberals fell in the general election of 1911, however, Robert Laird Borden's incoming Conservative government withdrew from the trade deal.

Along with the Canadian Council of Agriculture (CCA), founded in 1909, Chipman lobbied at the national level on behalf of farmers for terminals (terminal elevators to receive grain), weighing standards, the government ownership of elevators, and the creation of a board of commissioners with authority on matters relating to the grain trade. Advocating a coalition between farmers and labourers, he initially encouraged his readers to look favourably on the 1919 Winnipeg General Strike [see Mike Sokolowiski*], but his views changed as the strike worsened. In the aftermath of "Bloody Saturday" he expressed gratitude in the 2 July edition of the Grain Growers' Guide that "law and order" had prevailed.
In 1916 Chipman had helped draw up the CCA's national farmers' platform, which became the basis for that of the agrarian and populist federal Progressive Party when it was founded by Thomas Alexander Crerar* and others in early 1920. That same year the Manitoba Grain Growers' Association changed its name to the United Farmers of Manitoba (UFM) and presented candidates in the provincial general election. Chipman participated in the group's campaign, and they won 12 out of 55 seats. In the Manitoba election of June 1922, the UFM won the most seats. Chipman was one of eight UFM candidates in a pool of 43 seeking one of the ten seats allocated to Winnipeg. He was their de facto leader, and many felt he could have become the premier of Manitoba had he not been defeated. Instead, the UFM recruited John Bracken*, principal of the Manitoba Agricultural College. Bracken and his followers subsequently adopted the Progressive label, and he would remain premier for more than two decades.
In the 1920s, Chipman's political activities waned, although he served on Manitoba's royal commission on education in 1923 and 1924 [see Bracken]. His attention turned increasingly to horticulture and reversing the declining fortunes of the Grain Growers' Guide. Under his editorship, the circulation had risen from about 33,000 in 1914 to about 75,000 in 1919, after which subscriptions stagnated for a couple of years. The journal was gradually transformed from an agent of political reform into a family-oriented information source, and in April 1928 it was rebranded as the magazine Country Guide, continuing to be published in Winnipeg. According to his obituary in the Winnipeg Free Press (27 Dec. 1935), Chipman built up circulation to 130,000.
During the 1920s Chipman had begun a plant-breeding program on a property he purchased in Charleswood, on the southwest outskirts of Winnipeg. On his experimental farm, which he would expand from 4 to 17 acres, Chipman developed varieties of fruits and vegetables – especially apples and plums, but also gooseberries, strawberries, raspberries, and rhubarb – that were better adapted to the prairie climate. He drew upon the work of William Saunders*, who directed the Dominion Experimental Farms system from 1886 to 1911. One of Chipman's unfulfilled dreams was to create what he called the "million dollar apple," a hardy variety that would thrive in the hot, dry summer and survive the intensely cold winter. He wrote about horticultural methods in the pages of his publication and in many pamphlets and special bulletins. A widely acknowledged expert on prairie fruit growing, he distributed seedlings to hundreds of western farmers and was consulted by plant breeders from across Canada and the United States.
Throughout the 1920s and early 1930s, Chipman, his wife, Emily, and their family lived in the prosperous middle-class suburbs of Winnipeg. He was a long-time member of the First Baptist Church and the Manitoba Club. On 26 Dec. 1935, while hunting for rabbits that threatened his cherished orchard trees, Chipman stumbled on a snow-covered stump and his firearm discharged. He was shot in the head and died instantly. His wife continued his experimental horticultural work after his death. In posthumous recognition of his contributions to prairie agriculture, in 1938 he was awarded the Stevenson Memorial Gold Medal by the Manitoba Horticultural Association.
George Fisher Chipman is the author of "Winnipeg: the melting pot," Canadian Magazine, 33 (May–October 1909): 409–16.
AM, ATG 0025A (Winnipeg estate files), GR4297, file 24131, George Fisher Chipman, Q 2. LAC, R233-37-6, N.S., dist. Annapolis (26), subdist. Nictau (W): 9; R233-114-9, Man., dist. Winnipeg South (40), subdist. Winnipeg (43): 2. Winnipeg Free Press, 27, 28 Dec. 1935; 22 July 1952; 21 Nov. 1978. Ramsay Cook, "Francis Marion Beynon and the crisis of Christian reformism," in The west and the nation: essays in honour of W. L. Morton, ed. Carl Berger and Ramsay Cook (Toronto, 1976), 187–208. Directory, Winnipeg, 1905–35. "Four Nova Scotia families: Hennigar, Elliott, Harvey, Chipman": www.hhennigar.ca/index.php (consulted 23 May 2018). "George Chipman passes," Country Guide (Winnipeg), January 1936: 2. Grain Growers' Guide (Winnipeg), 1909–11. Debbie Hathaway, "The Political Equality League of Manitoba," Manitoba Hist. (Winnipeg), no.3 (1982): 8–10. Elaine Kisiow, "George F. Chipman – a prairie cooperator: an analysis of editorials written from 1911 to 1916 in relation to the cooperative movement in western Canada by George F. Chipman, editor-in-chief of The Grain Growers' Guide, 1911 to 1935" (ma thesis, Univ. of Winnipeg, 1983). Ian MacPherson, "George Chipman and the institutionalization of a reform movement," Man., Hist. and Scientific Soc., Papers (Winnipeg), 3rd ser., no.32 (1975–76): 53–65.

© 2023– University of Toronto/Université Laval
Image Gallery

Cite This Article
Gordon Goldsborough, "CHIPMAN, GEORGE FISHER," in Dictionary of Canadian Biography, vol. 16, University of Toronto/Université Laval, 2003–, accessed December 4, 2023, http://www.biographi.ca/en/bio/chipman_george_fisher_16E.html.
The citation above shows the format for footnotes and endnotes according to the Chicago manual of style (16th edition). Information to be used in other citation formats:
| | |
| --- | --- |
| Permalink: | http://www.biographi.ca/en/bio/chipman_george_fisher_16E.html |
| Author of Article: | Gordon Goldsborough |
| Title of Article: | CHIPMAN, GEORGE FISHER |
| Publication Name: | Dictionary of Canadian Biography, vol. 16 |
| Publisher: | University of Toronto/Université Laval |
| Year of publication: | 2023 |
| Year of revision: | 2023 |
| Access Date: | December 4, 2023 |