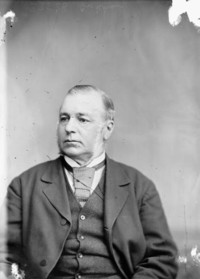 COCKBURN, JAMES, lawyer, businessman, and politician; b. 13 Feb. 1819 at Berwick upon Tweed, England, son of James Cockburn, a merchant, and Sarah Turnbull; m. 14 Dec. 1854 Isabella Susan Patterson (d. 1862), and they had three children; d. 14 Aug. 1883 at Ottawa, Ont.
James Cockburn's family was of Scottish Presbyterian origin although Cockburn himself was a member of the Church of England by the 1860s. He received his early education at a grammar school in Berwick upon Tweed. In 1832 he came with his family, which seems to have had some financial resources, to Montreal, Lower Canada, where his father died of cholera in the same year. Sarah Cockburn then moved her family to York (Toronto), Upper Canada, and in 1832–33 James continued his education at Upper Canada College.
Cockburn began to study law in 1841 and was admitted to the bar in 1846. He then moved to Cobourg and in July of that year began to practise in partnership with D'Arcy Edward Boulton. Cockburn was also involved in other business activities in Cobourg and the surrounding area. In 1856 he was employing men for the construction of a dam, slide, booms, and piers at Campbellford on the Trent River and he was also the Cobourg agent for the Colonial Life Assurance Company. From 1864 to 1870 he acted as mortgage and land agent for Richard John Cartwright*.
Meanwhile Cockburn's legal practice was declining. In 1863 he had been appointed a qc and the following year was elected a bencher of the Law Society of Upper Canada. By then, however, he was involved in politics and these accolades were probably more political than professional honours; he was not a prominent lawyer. His business affairs also ran into difficulties. In 1864 he tried to borrow money on the security of his Cobourg properties but land values had fallen sharply. By 1866 he was virtually bankrupt and he was never able to restore his financial position. In 1869, admitting that his legal career was in jeopardy, he explained his plight to Cartwright: "I have come to grief and have been made to feel very poor and very penniless. . . . I am trying to work up my professional practice again, but it needs time, and time though it may heal will also kill."
Cockburn was more successful in politics. He served on the Cobourg Town Council in 1855–56 and in 1859. In 1861 he successfully contested Northumberland West against Sidney Smith, postmaster general in the government of George-Étienne Cartier* and John A. Macdonald*. Cockburn was described by Macdonald in 1861 as "a Tory of the old school. In fact, [you] might say he belonged to the old fossil party – a Tory of the old Family Compact . . . ." Promising in the campaign that "If elected my vote shall be given unhesitatingly against [the ministry] on every question involving want of confidence," Cockburn endorsed representation by population and sought unity of political opinion in Canada West in order to accomplish for it "the objectives we frequently desire." Although he voted in favour of the government's militia bill, on which the Cartier–Macdonald ministry was defeated in May 1862, he explained that this support was not an expression of "his confidence" in Macdonald. He endorsed portions of the policy of the new administration formed by John Sandfield Macdonald* and Louis-Victor Sicotte but never committed himself to the Reform ministry. After his election by acclamation in 1863 he emerged as a supporter of John A. Macdonald and remained a Liberal-Conservative for the rest of his career. On 30 March 1864 he was appointed solicitor general in the government of Étienne-Paschal Taché* and John A. Macdonald.
Cockburn was not a distinguished parliamentarian nor was he an important regional politician. He administered his portfolio in a routine manner, and attended to the patronage problems of his constituents. With the instability of union politics, which meant frequent change in cabinets, men such as Cockburn who would otherwise have remained obscure rose to ministerial rank. Cockburn had the good fortune to be in office when the "Great Coalition" was formed in 1864 [see George Brown*] and as a minister of the government became a delegate to the Quebec conference. His contributions to the proceedings and to the subsequent debates on confederation in the Legislative Assembly were negligible. Nevertheless, "an inferior man," as Alexander Mackenzie* privately called him, is remembered as a father of confederation.
Cockburn was elected by acclamation to the first federal parliament in 1867. There was no place for him in the cabinet; as compensation he was chosen speaker of the House of Commons. Leading Liberals held the first speaker in low regard and his inability to speak French was resented by some members from Quebec. In 1873, however, he was re-elected to the post. His fortunes declined rapidly after the fall of the Macdonald government in November 1873. He lost Northumberland West in 1874 and was unsuccessful in Northumberland East in a by-election later that year. He moved his family to Ottawa to re-establish himself as a lawyer. The Toronto Daily Mail claimed that he built "a good practice in the Supreme Court," but he remained destitute. In 1878 he secured the Conservative nomination in Northumberland West after a bitter struggle and won a narrow victory in the general election of that year. However, his political career was virtually over. Cockburn was seriously ill after 1878; his major interest was in securing a patronage post to obtain financial security for himself and his children. In 1871 he had tried to persuade Macdonald to appoint him lieutenant governor of British Columbia. He asked for the speakership again in 1878 and was refused. In 1881 Macdonald finally employed the sick and worried man on the consolidation of the statutes. Cockburn pursued the task informally until ill health forced him to resign his seat on 15 Nov. 1881. He was immediately appointed to the commission for the codification of dominion statutory law. By 1882 Cockburn was too ill to leave his lodgings, but he continued to press Macdonald for patronage until his death.
AO, MU 132, P. L. Climo, "The Honourable James Cockburn . . ." (typescript); MU 506–7. PAC, MG 26, A. QUA, Alexander Mackenzie papers. Can., House of Commons, Debates, 1875–81. "Parl. debates" (CLA mfm. project of parl. debates, 1846–74), 1861–74. Globe, 11 Nov. 1874, 15 Aug. 1883. Ottawa Daily Citizen, 15 Aug. 1883. Toronto Daily Mail, 15 Aug. 1883. Canadian directory of parl. (J. K. Johnson), 128. CPC, 1862, 1864, 1871, 1873, 1879. Notman and Taylor, Portraits of British Americans, III. W. F. Dawson, Procedure in the Canadian House of Commons (Toronto, 1962). Donald Swainson, "'Forgotten men' revisited – some notes on the career of Hon. James Cockburn, a deservedly neglected father of confederation," OH, 72 (1980): 230–42; "Personnel of politics."
© 1982–2023 University of Toronto/Université Laval
Cite This Article
Donald Swainson, "COCKBURN, JAMES," in Dictionary of Canadian Biography, vol. 11, University of Toronto/Université Laval, 2003–, accessed October 3, 2023, http://www.biographi.ca/en/bio/cockburn_james_11E.html.
The citation above shows the format for footnotes and endnotes according to the Chicago manual of style (16th edition). Information to be used in other citation formats:
| | |
| --- | --- |
| Permalink: | http://www.biographi.ca/en/bio/cockburn_james_11E.html |
| Author of Article: | Donald Swainson |
| Title of Article: | COCKBURN, JAMES |
| Publication Name: | Dictionary of Canadian Biography, vol. 11 |
| Publisher: | University of Toronto/Université Laval |
| Year of publication: | 1982 |
| Year of revision: | 1982 |
| Access Date: | October 3, 2023 |