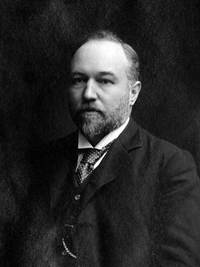 Source: Link
COLDWELL, GEORGE ROBSON, lawyer and politician; b. 4 July 1858 in Darlington Township, Upper Canada, son of William Edward Coldwell and Mary Robson, both originally from Yorkshire, England; m. Annie Anderson of Brampton, Ont.; d. 24 Jan. 1924 in Brandon, Man.
George Coldwell attended grammar school in Clinton, Ont., and then went to Trinity College School in Port Hope. From there he entered Trinity College, Toronto, where he earned a ba in 1880. He subsequently studied law, in Seaforth, in Toronto, and, after moving to Manitoba in February 1882, in Winnipeg. He was called to the Manitoba bar in November 1882.
Early in 1883 Coldwell settled in Brandon and began to practise there. He was joined by Thomas Mayne Daly*, who was called to the bar the following year. Their successful general partnership lasted until 1892, when Daly moved to Winnipeg. Coldwell afterwards established other partnerships. He would be named a kc in 1903. From about 1887 to 1907 he served on the Brandon City Council, during which time he became widely known and admired. After the death on 4 Nov. 1907 of Brandon's representative in the Legislative Assembly, Stanley William McInnis*, Conservative premier Rodmond Palen Roblin* invited Coldwell to enter his cabinet as provincial secretary and municipal commissioner. Coldwell was sworn in on 14 November and four days later he was elected by acclamation at a by-election in Brandon.
On 5 March 1908 Coldwell was appointed Manitoba's first minister of education, the post for which he would be remembered (eight months later he resigned as provincial secretary). He was re-elected easily in the general election of 11 July 1910. In the spring of 1912 he introduced and guided through the assembly a series of changes to the Manitoba Public Schools Act of 1897 which became known as the Coldwell amendments. The story behind them is tortuous, if instructive.
For many years, and particularly after the creation of Saskatchewan and Alberta in 1905, Manitoba had been clamouring for extension of its boundaries northward. In 1911 the time seemed propitious. Roblin's government had given important and dependable support to the federal Conservative party in the first decade of the 20th century. Now there appeared to be a real chance of victory in the federal election. The Manitoba Conservative party and its electoral machine took full part in the federal campaign and, despite the popularity of reciprocity on the prairies, Roblin delivered eight of the province's ten seats to Conservative leader Robert Laird Borden*, who became prime minister on 10 Oct. 1911. Among Borden's promises was a commitment to extend Manitoba's boundaries to Hudson Bay. The territory that would be included in the enlarged province, much of the District of Keewatin, would be subject to Manitoba's school legislation, however, and therein lay the rub.
Catholics, especially those in Winnipeg and Brandon, were not likely to applaud the extension of school legislation that taxed them to support public schools and denied any public funds to Catholic parochial schools. In much of the rest of the province there was local religious and linguistic homogeneity, so the Roblin government practised an easy political tolerance. In the French-speaking communities up the Red River from Winnipeg, for example, the local public schools were, in practice, Catholic schools. There were no such arrangements in the urban areas, however, where Catholics were very much a minority.
In addition to the unhappy Manitoba Catholics there were other obstacles to the extension of the province's boundaries. A group of French Canadian Conservative Nationalistes allied with Borden's government and led by backbencher Paul-Émile Lamarche strongly opposed the federal bill to extend the boundaries because it provided no guarantees for Catholic schools in the district to be annexed. Despite verbal assurances by Robert Rogers*, the federal minister of the interior and a close friend of Roblin's, that the Manitoba premier would deal fairly with the district's Catholics, Lamarche and six of his colleagues voted against the legislation, which passed on 12 March. Other Conservative Nationalistes, such as Frederick Debartzch Monk*, remained loyal to Borden's government. The federal Conservatives' cohesion was badly damaged. The Coldwell amendments, it was hoped, would help to heal the breach.
In mid March Archbishop Adélard Langevin* of St Boniface was asked by a Conservative friend to open negotiations with Rogers and the Roblin government over changes to the Public Schools Act. Langevin accepted and thought he had obtained major improvements. The measures introduced into the Manitoba assembly by Coldwell on 1 April were declaratory rather than substantive. The Laurier-Greenway compromise of 1896 [see Thomas Greenway*] had provided that in rural schools with 25 Catholic pupils, or urban schools with 40, a qualified teacher of that faith would be provided if their parents requested one. This provision also applied to Protestants in heavily Catholic areas. Coldwell's amendments proposed that any reference to school be interpreted to mean "any and every school building [and] school room." If applied to individual classrooms, the legislation could have the effect of allowing public aid to parochial schools in the cities.
To the extent that they mollified the Nationalistes in Borden's government, the Coldwell amendments may have been successful. The Catholics of Winnipeg and Brandon, however, won no benefit from them. The Roblin government neglected or chose not to take the necessary step to make the amendments effective. They did not repeal another section of the Public Schools Act which levied heavy penalties on any school trustee who permitted the segregation of children by religion during the school day. Urban Catholics were dismayed, and the Manitoba Free Press could say smugly a year later that the Coldwell amendments "have not to date changed by a hair's breadth the status of the Public School in Manitoba."
Although Coldwell's entry into provincial politics had been auspicious, his departure was inglorious. In 1915 he was linked to the scandal over construction of the new parliament building that caused Roblin's government to resign in May. Both the contractor and the Conservative party were the financial beneficiaries of massive overpayment by the government. A royal commission chaired by Chief Justice Thomas Graham Mathers reported on 24 Aug. 1915 that Roblin, Coldwell, and two other cabinet ministers, Walter Humphries Montague and James Henry Howden, had entered into a fraudulent conspiracy. The four men were brought to trial on 24 July 1916; it resulted in a hung jury on 28 August and a new trial was ordered. The following year the crown stayed proceedings. The ostensible reason was the ill health of Roblin and Howden (Montague had since died), but this hardly explains why the charges against Coldwell were dropped. By then Coldwell had returned to his law practice; he continued to work until his death in 1924.
AM, MG 13, G1; MG 14, B36; RG 18, A4, boxes 10-11. LAC, RG 31, C1, 1871, Hullett Township, Ont., div.1: 2. Univ. of Man. Libraries, Dept. of Arch. and Special Coll. (Winnipeg), J. W. Dafoe fonds. Manitoba Free Press, 25 Jan. 1924. Réal Bélanger, Paul-Émile Lamarche: le pays avant le parti (1904–1918) (Sainte-Foy, Qué., 1984). Canadian annual rev., 1912. Canadian men and women of the time (Morgan; 1912). G. R. Cook, "Church, schools, and politics in Manitoba, 1903–12," CHR, 39 (1958): 1-23. CPG, 1908–15. "Documents inédits: correspondance Langevin–Audet," RHAF, 1 (1947-48): 271–77. A. I. Inglis, "Some political factors in the demise of the Roblin government: 1915" (ma thesis, Univ. of Man., 1968). J. A. Jackson, The centennial history of Manitoba ([Toronto], 1970). W. L. Morton, Manitoba: a history (Toronto, 1957).
© 2005–2023 University of Toronto/Université Laval
Image Gallery

Cite This Article
J. E. Rea, "COLDWELL, GEORGE ROBSON," in Dictionary of Canadian Biography, vol. 15, University of Toronto/Université Laval, 2003–, accessed December 5, 2023, http://www.biographi.ca/en/bio/coldwell_george_robson_15E.html.
The citation above shows the format for footnotes and endnotes according to the Chicago manual of style (16th edition). Information to be used in other citation formats:
| | |
| --- | --- |
| Permalink: | http://www.biographi.ca/en/bio/coldwell_george_robson_15E.html |
| Author of Article: | J. E. Rea |
| Title of Article: | COLDWELL, GEORGE ROBSON |
| Publication Name: | Dictionary of Canadian Biography, vol. 15 |
| Publisher: | University of Toronto/Université Laval |
| Year of publication: | 2005 |
| Year of revision: | 2005 |
| Access Date: | December 5, 2023 |