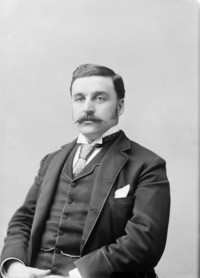 DALY, THOMAS MAYNE, lawyer, politician, office holder, and judge; b. 16 Aug. 1852 in Stratford, Upper Canada, second son of Thomas Mayne Daly* and Helen McLaren Ferguson; m. there 4 June 1879 Margaret Annabella Jarvis, and they had two sons; d. 24 June 1911 in Winnipeg.
Thomas Mayne Daly's paternal grandfather, John Corry Wilson Daly*, was the first mayor of Stratford and his father was also active in politics, serving as mayor of Stratford and representing Perth in the Legislative Assembly of the Province of Canada and Perth North in the House of Commons and the Ontario legislature. Daly, therefore, grew up in a household where politics were the primary topic of conversation and the obligations of citizenship were taken for granted. He was educated at Upper Canada College, Toronto, and was called to the Ontario bar in 1876. From 1877 to 1881 he practised law in Stratford, where he gained his initial political experience as a town councillor and as chairman of the public school board.
In July 1881 Daly left for western Canada and was among the first to settle in Brandon, Man. After being called to the Manitoba bar in 1884, he practised in Brandon until 1892, when he moved to Winnipeg. In keeping with family tradition, he quickly took a prominent position in public life. He was elected Brandon's first mayor in 1882 and he served again in 1884. Over the years he was also chairman of the western judicial district, a member of the Board of Education of Manitoba, president of the Brandon Liberal-Conservative Association, and a bencher of the Law Society of Manitoba. He was created a qc by the governor general, Lord Stanley*, in 1890.
In 1887, running as a Conservative, Daly was elected to the House of Commons for Selkirk, a seat he would hold until the general election of 1896, when he declined nomination. As a government back-bencher, he was a good public speaker with a quick, aggressive manner rooted in careful preparation and he soon become a major spokesman on behalf of Manitoba and the northwest. During his first parliament he was at pains to explain, explore, and defend government policy affecting the west, particularly the National Policy, as well as the government's controversial immigration schemes. He did not, however, follow his party's platform unthinkingly. He had entered federal politics a firm opponent of the monopoly clause of the Canadian Pacific Railway and in June 1887 he voted against his government's policy of disallowing Manitoba's railway legislation [see John Norquay*]. Over the next five years, he spoke regularly on matters concerning the west and proved himself at home in the roughest cut-and-thrust of debate.
It was not surprising, therefore, that Prime Minister Sir John Joseph Caldwell Abbott* appointed him minister of the interior and superintendent general of Indian affairs on 17 Oct. 1892. He held the portfolio until the retirement of the administration of Sir Mackenzie Bowell in April 1896. Daly's appointment was welcomed in the west, where he was seen as the first minister of the interior to understand the region and to view its problems from a broad perspective. His tenure of three and a half years was marked by the weeding out of the obdurate and parsimonious deputy superintendent general, Lawrence Vankoughnet, his replacement by Hayter Reed*, a long overdue reorganization of the department, and a concerted effort to revivify the government's immigration policies. In the house, he lost none of his ready assurance, but his independence of mind was now less apparent.
Three issues dominated Daly's years as a minister. The first was the Manitoba school question [see Thomas Greenway*]. Although a devout Protestant and an opponent of separate schools, Daly did not hesitate to defend stoutly the government's position that the Roman Catholic minority, in fact any minority, had a right under the law to protect its interests and to have those interests protected. He asked for tolerance for the Catholic minority in Manitoba, for the Protestants in Quebec, and for the Catholics in Ontario. In the months before leaving office, he spoke repeatedly in the house in defence of the remedial legislation proposed by Bowell's government.
Daly was also preoccupied with two departmental issues – immigration and government policy towards native peoples. He was a long-time advocate of improved immigration, but he often found himself on the defensive, explaining government policy and countering criticism. Although he did his best to ensure for Canada a steady stream of immigration, he could neither staunch the flow of emigrants from Canada to the United States, where the economy was more attractive, nor divert prospective British emigrants from the American to the Canadian west. As for government policy concerning the native peoples, he simply accepted the assumption that they were improvident and in need of discipline. He defended the system of reserves, firmly believing that the natives were "untutored savages" and that it was the duty of the government "to bring them up, as far as possible, to the standard of their white neighbours." He was convinced that the natives' future lay not with the older generation but with the children. It was necessary to train the young to become "useful citizens." The residential schools were essential to that task, since religion and education should go hand in hand. Daly was no different from the majority of his peers in holding these cultural assumptions. As minister, he provided no opportunity for the development of new perspectives, adhering as he did to the status quo and to the stonewalling of criticism.
Daly chose not to seek re-election in 1896. After a brief sojourn in England and France in connection with a plan to reorganize the Canadian immigration system, he moved to Rossland, B.C., where he practised law for six years before again settling in Winnipeg in 1902 and becoming a partner in the law firm of Daly, Crichton, McClure, and Cohen. Over the next eight years he played a prominent role in Winnipeg. He was appointed a police magistrate in 1904 and was instrumental in persuading provincial attorney general Colin H. Campbell to establish in Winnipeg the first juvenile court in Canada. He became the court's first judge on 5 Feb. 1909.
After his return to Winnipeg Daly took a keen interest in the work of the Children's Hospital, the Margaret Scott Nursing Mission, the Young Men's Christian Association, the Salvation Army, and St Luke's Anglican Church, and during these relatively settled years he was finally able to indulge his passionate interest in cricket, becoming vice-president of the Canadian Cricket Association. Similarly, as an enthusiastic advocate of imperial federation, he now spoke out whenever he could on behalf of that cause. In the general election of 1908 he made a final foray into the political arena, contesting Brandon for the Conservatives, but he lost by 69 votes to Clifford Sifton*. He also found time to write an important contribution to Canadian legal studies entitled Canadian criminal procedure, as the same relates to summary, convictions and summary trials. Published in Toronto in 1911, it went through several editions. Daly died on 24 June 1911 and was buried in Stratford.
Daly made a significant contribution at the federal level in guiding the reorganization of the Department of the Interior and in laying the groundwork for Sifton's immigration policies, while in the provincial and municipal spheres he was noted for his willingness to assume civic responsibilities and for his quiet, kindly, and continuous support of embryonic social service agencies.
NA, MG 27, I, D6. PAM, GR 1662; MG 12, E; MG 14, C14. Manitoba Free Press, 1887–1911. Stratford Beacon-Herald (Stratford, Ont.), 15 Sept. 1938. Winnipeg Telegram, 1887–1911. Winnipeg Tribune, 1887–1911. George Bryce, A history of Manitoba; its resources and people (Toronto and Montreal, 1906). Can., House of Commons, Debates, 1887–96. D. J. Hall, Clifford Sifton (2v., Vancouver and London, 1981–85), 1. Manitoba Culture, Heritage and Recreation, Hist. resources branch, Thomas Mayne Daly ([Winnipeg], 1982). R. St G. Stubbs, "The first juvenile court judge: the Honourable Thomas Mayne Daly, k.c.," Man., Hist. and Scientific Soc., Papers (Winnipeg), 3rd ser., nos.34/35 (1977–79): 49–66. L. H. Thomas, The struggle for responsible government in the North-West Territories, 1870–97 (Toronto, 1956). E. B. Titley, A narrow vision: Duncan Campbell Scott and the administration of Indian Affairs in Canada (Vancouver, 1986).
© 1998–2023 University of Toronto/Université Laval
Cite This Article
John Kendle, "DALY, THOMAS MAYNE (1852-1911)," in Dictionary of Canadian Biography, vol. 14, University of Toronto/Université Laval, 2003–, accessed December 5, 2023, http://www.biographi.ca/en/bio/daly_thomas_mayne_1852_1911_14E.html.
The citation above shows the format for footnotes and endnotes according to the Chicago manual of style (16th edition). Information to be used in other citation formats:
| | |
| --- | --- |
| Permalink: | http://www.biographi.ca/en/bio/daly_thomas_mayne_1852_1911_14E.html |
| Author of Article: | John Kendle |
| Title of Article: | DALY, THOMAS MAYNE (1852-1911) |
| Publication Name: | Dictionary of Canadian Biography, vol. 14 |
| Publisher: | University of Toronto/Université Laval |
| Year of publication: | 1998 |
| Year of revision: | 1998 |
| Access Date: | December 5, 2023 |