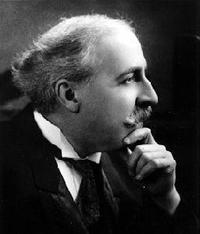 Source: Courtesy of Wikimedia Commons
CONTANT, ALEXIS (baptized Pierre-Alexis-Théophile), musician, composer, and teacher; b. 13 Nov. 1858 in Montreal, son of Pierre Contant and Malvina David; m. 26 Oct. 1881 Marie-Étudienne Durand in L'Assomption, Que., and they had eight children; d. 28 Nov. 1918 in Montreal.
Alexis Contant's father was a prosperous accountant who played the violin and his mother had studied piano with young Louise-Cécile-Emma Lajeunesse* (Emma Albani). His family lived in a comfortable, middle-class neighbourhood of Montreal and as a youth he was exposed to the stimulation of a cultured milieu. At age three and a half, he started piano lessons with his mother and he progressed so quickly that his parents sent him to study with Joseph A. Fowler, the organist at St Patrick's Church in Montreal. In 1873 he became a student at the Collège Sainte-Marie, run by the Jesuits. Two years later he started lessons in harmony and piano with Calixa Lavallée* and in harmony with Frantz Jehin-Prume*. His sight-reading technique improved rapidly because of the numerous occasions on which he accompanied Jehin-Prume, a violinist, in recital. His first composition, "La lyre enchantée," for piano, was published in Montreal in 1876.
In 1879 Contant began giving private lessons in organ, piano, and harmony, an activity which he would continue until his death. At the time he was assistant organist for the Congrégation des Hommes de Ville-Marie and that year he acquired a harmonium from the Dominion Organ and Piano Company for their chapel, Notre-Dame-des-Anges. In September 1880 he was appointed professor of music at the Collège de L'Assomption and organist at the parish church, for which he composed several pieces of liturgical vocal music as part of his duties. He left both positions in February 1881 and later the same year married Marie-Étudienne Durand. They took up residence with Fowler in Montreal.
By May 1882 Contant had started to teach himself composition and he visited Boston between January and June of 1883 to further his studies with Lavallée, who was at the Carlyle Petersilea Music Academy. Since Lavallée was frequently ill, Contant replaced him for many recitals, but still managed to absorb much of the cultural life which Boston had to offer. In September he began teaching music at the Petit Séminaire de Montréal, where he stayed until 1890. He stopped giving public piano recitals in order to devote himself to organ playing, teaching, and composing.
In 1885 Contant had assumed the duties of organist at Saint-Jean-Baptiste church, a post he would hold for the rest of his life. On 21 June 1911 a new organ by Casavant Frères, based on his specifications, would be inaugurated at the church. In 1887 he was teaching at the convent of the Sisters of the Holy Names of Jesus and Mary in Hochelaga (Montreal), to whom he dedicated some pieces of religious music.
Contant's family increased rapidly. Four boys and four girls were born between 1882 and 1892, but a son and a daughter died within a year of their births. The eldest daughter would marry painter Georges Delfosse*, who executed portraits of various members of the family. The fourth daughter and youngest child, Flora (Fleurette), would become a singer of some renown in Montreal. Meanwhile, Contant had continued to compose. By 1884 the first of four full-length masses was complete. From February to June 1889 he studied composition with Guillaume Couture. The following year he dedicated his song "Les craintes maternelles," perhaps inspired by the loss of one of his children, to Emma Albani, with whom he had been in correspondence.
Contant began to teach music at the Collège du Mont-Saint-Louis in 1900 and he continued to do so until his death. In the fall of 1905 he joined the staff of the Conservatoire National de Musique et d'Élocution, founded by Alphonse Lavallée-Smith, and he taught there until 1917.
The Monument National had opened in Montreal in 1894 and on its stage Contant held many public concerts of his works during the last decade of the 19th century and the first of the 20th. His oratorio Caïn premièred there on 12 Nov. 1905 under the patronage of Sir Wilfrid Laurier and Lady Laurier. His second oratorio, Les deux âmes, premièred at the Princess Theatre on 16 Nov. 1913. He had been contemplating the composition of an opera for some time, and in 1914 he began work on a piece based on the play Veronica by Louis Fréchette*. Unfortunately, he suffered a heart attack in 1916 which forced him to curtail his activities. He never fully recovered and died two years later. He was buried in Mount Royal Cemetery on 2 Dec. 1918.
Alexis Contant was a musician almost entirely educated in Montreal. Most of his career was spent in his native city. The important musical influences of his life, such as the late–19th-century German romantic repertoire and the French impressionists, were absorbed through reading musical scores and attending the few performances of such music given in Montreal during his lifetime. His music displays an awareness of contemporary trends and a desire to create vast works in the most up-to-date styles, an ambition which was not always adequately fulfilled. None the less, his music has been frequently performed throughout the 20th century, being played across Canada and on CBC Radio, and it is important for the study of the development of Canadian music and for the comprehension of contemporary music in Quebec.
Alexis Contant produced over 100 musical compositions, described in S. C. Willis, Alexis Contant: catalogue (exhibition catalogue, National Library of Canada, Ottawa, 1982); these include oratorios, a symphonic poem, four masses, and numerous secular and sacred vocal pieces. Various piano and vocal works by Contant were published, mainly during his lifetime.
ANQ-M, CE1-51, 14 nov. 1858; CE5-14, 26 oct. 1881. National Library of Canada, Music div., ms coll., 1971–2. Gustave Comte, "Silhouettes musicales: M. Alexis Contant," Le Passe-Temps (Montréal), 10 juill. 1897: 204. Eugène Lapierre, "Alexis Contant," L'Action musicale (Saint-Jérôme, Qué.), 17 sept. 1932. Catalogue of Canadian composers, ed. Helmut Kallmann (2nd ed., Toronto, 1952; repr. St Clair Shores, Mich., 1972). J.-Y. Contant, "Un pionnier de la musique canadienne," CAMMAC Journal (Outremont, Que.), no.19 (spring 1964): 4–8. Dictionnaire biographique des musiciens canadiens (2e éd., Lachine, Qué., 1935). Encyclopedia of music in Canada (Kallmann et al.). Clifford Ford, Canada's music: an historical survey (Agincourt [Toronto], 1982), 61–66. Romain Gour, "Alexis Contant: pianiste-compositeur (1858–1918)," Qui? (Montréal), 5 (1953–54): 25–40. Helmut Kallmann, A history of music in Canada, 1534–1914 (Toronto and London, 1960; repr. [Toronto], 1987). Larousse de la musique, sous la direction de Norbert Dufourcq et al. (2v. et 2 disques, Paris, [1957]). The musical red book of Montreal . . . , ed. B. K. Sandwell (Montreal, 1907). The new Grove dictionary of music and musicians, ed. Stanley Sadie (6th ed., 20v., London, 1980), 4: 679. Frédéric Pelletier, "Les musiciens du passé: Alexis Contant," Entre-Nous (Montréal), 2 (1930–31): 85. Maurice St-Jacques, "Alexis Contant," M.S.L. ([Montréal]), 8 (1938): 261–62.
© 1998–2023 University of Toronto/Université Laval
Cite This Article
Stephen C. Willis, "CONTANT, ALEXIS," in Dictionary of Canadian Biography, vol. 14, University of Toronto/Université Laval, 2003–, accessed December 3, 2023, http://www.biographi.ca/en/bio/contant_alexis_14E.html.
The citation above shows the format for footnotes and endnotes according to the Chicago manual of style (16th edition). Information to be used in other citation formats:
| | |
| --- | --- |
| Permalink: | http://www.biographi.ca/en/bio/contant_alexis_14E.html |
| Author of Article: | Stephen C. Willis |
| Title of Article: | CONTANT, ALEXIS |
| Publication Name: | Dictionary of Canadian Biography, vol. 14 |
| Publisher: | University of Toronto/Université Laval |
| Year of publication: | 1998 |
| Year of revision: | 1998 |
| Access Date: | December 3, 2023 |