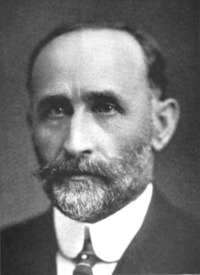 Source: Link
COSTE, EUGENE MARIUS ANTOINE, geologist, civil servant, and businessman; b. 8 July 1859 in Amherstburg, Upper Canada, son of Napoleon Alexandre Coste and Mathilde Robidoux; m. 5 Oct. 1887 Louisa Catherine Tims (1855–1938) in Ottawa, and they had two daughters and three sons, of whom two predeceased him; d. 23 Jan. 1940 in Toronto.
Born in France, Eugene Coste's father studied engineering before emigrating to Upper Canada, where he settled in Amherstburg and married the daughter of a local farmer. Eugene was the third of their six children. In 1863 the family moved to Egypt, where Napoleon was involved in the construction of the Suez Canal. The children were sent to Grenoble, France, to be educated. Eugene then attended the Académie de Paris (bsc 1876) and the École Nationale Supérieure des Mines de Paris, from which he graduated as a mining engineer in 1883. That year he returned to Canada and took up residence in Ottawa, where he began working as a mining geologist for the Geological Survey of Canada (GSC), then headed by Alfred Richard Cecil Selwyn*. On 1 July 1887 Coste was made a mining engineer, a promotion that boosted his modest annual salary (the GSC was notorious for its low pay) from $1,150 to $1,800. His social and political connections were enhanced when he married Louisa Tims, whose father, Thomas Dillon Tims, was the financial inspector for the Dominion of Canada. The families would be further linked in 1890 when Eugene's younger brother Denis Alexandre married Louisa's sister Harriet Jane.
In 1889 Coste left the GSC and went into private practice as a mining engineer. His departure was not without controversy. Historian Morris Zaslow notes that Coste was suspected of using his connection to John Graham Haggart*, postmaster general in the cabinet of Sir John A. Macdonald*, to move into a job with a company on whose board Haggart sat. A potential conflict of interest had forced geologist Henry George Vennor* to resign in 1881, and after Coste's departure GSC officers were forbidden to buy crown lands, carry out research for private interests, or participate in private mining activities that overlapped with their public duties.
Coste was particularly interested in exploring for natural gas. His enthusiasm was unusual, because oil, which entrepreneurs had begun to exploit in the 1850s [see James Miller Williams*], was then regarded as the true prize, and gas, when it was found, was often wastefully burned off. Coste recognized that the growing use of natural gas for industrial, civic, and household purposes would greatly increase its market value. In 1888 he had formed the Provincial Natural Gas and Fuel Company of Ontario Limited, of which he was manager and engineer. With financing from his father, he sought and struck gas in Essex County in early 1889. His was the first well in Ontario to produce commercial quantities, which Coste initially sold to local customers and then sent, much later, to Windsor, Detroit, and Toledo, Ohio. Later that year Eugene and brother Denis found gas in Welland County, which they sold locally and, beginning in 1891, piped to Buffalo, N.Y. These shipments to Buffalo were the first exports of Canadian natural gas. Other ventures followed, the most important being the development, beginning in 1906, of the rich gas field near Tilbury, Kent County. That year Eugene and Denis established the Volcanic Oil and Gas Company Limited, which would be amalgamated in 1911 with two other concerns to form the Union Natural Gas Company of Canada Limited. Under Denis Coste's management, Union Gas, as it became known, emerged as the dominant supplier of natural gas in southwestern Ontario.
The name Volcanic Oil and Gas referred to Eugene's conviction, apparently based on his studies in France, that petroleum (liquid hydrocarbons that can be processed into oil, diesel oil, or other fuels) and natural gas (hydrocarbon gases that naturally occur underground) originate in igneous rock and move into sedimentary formations. For the rest of his life he would promote this theory, known as vulcanism, even though it directly contradicted the almost universally held belief in North America and Great Britain that petroleum and natural gas had biological origins. Coste's unorthodox views were noted by others in the business, but he was not seen as a crank, perhaps because his success at locating these resources mitigated criticism. Certainly, he had a sound reputation, as is evidenced by his presidency of the Canadian Mining Institute from 1903 to 1905.
In February 1906 the Canadian Pacific Railway (CPR) retained Eugene to search for oil on its extensive landholdings in western Canada. He received a salary and expenses, and was to be given a $25,000 bonus if he made a significant find. Three years later his driller, Walter Randall (Frosty) Martin, discovered an immense gas field at Bow Island, Alta, about 37 miles west of Medicine Hat. Sir Thomas George Shaughnessy*, the CPR's president, was more interested in finding oil, but Coste successfully argued that gas could profitably be piped to Lethbridge and Calgary, and he reached a deal with the railway that would establish a precedent for its resource-development projects for the next 40 years. The CPR, which wanted Coste to assume the risk of the venture, gave him the right to extract and sell gas from Bow Island and other properties. In exchange, the railway retained overall control of the resource and received preferential treatment, including discounted prices and $200,000 of fully paid stock in his Prairie Fuel Gas Company, organized in 1909.
Coste bought two gas-distribution franchises in Calgary, one of which had an exclusive right to supply the city, and raised capital in Britain for Prairie Fuel, which was reincorporated on 19 July 1911 as the Canadian Western Natural Gas, Light, Heat and Power Company. By mid 1912 Calgary, Lethbridge, and other places had been connected with Bow Island by a 170-mile line, one of the longest in North America. Overnight, Coste became a leading figure in Calgary; a year later he built a lavish 28-room mansion in the elite neighbourhood of Mount Royal.
By the early 1920s Coste had interests in other natural-gas companies in Saskatchewan and Alberta, but Canadian Western had fallen seriously into debt because of declining revenues. Coste's direct association with the firm had ceased by January 1922, around which time he set up Eugene Coste and Company, a geological consultancy business in Toronto; he would later operate this profitable firm with his son Eugene Francis. Coste continued to serve as a director of Union Gas until the late 1930s. He died of a sudden illness on 23 Jan. 1940, leaving an estate valued at $434,364.
The success of Eugene Coste, the "Father of the Canadian Natural Gas Industry," was the product of his sound education, his family's support, and his natural talent. One of his drillers, Albert Parker (Tiny) Phillips, said of him:
He had the common touch. He would come into a rig and look around and want to know everything. He asked questions to the point of annoyance to the crew. He was also quick-tempered and could get into a quarrel mighty fast. But he was admired and respected by the workers in the field. If he came out and had to stay overnight and no extra cots were available he would roll up in a blanket and sleep on the floor of the tent. He was a good man to be around as every project he touched made money.
Coste had the foresight and initiative to capitalize on an emerging demand for natural gas to meet Canada's energy needs. His role in Calgary's history would remain visible in several ways: the Eugene Coste School was built in 1959; a park was dedicated in his honour in 1975; and he was inducted into the Canadian Petroleum Hall of Fame in 2002. His mansion, Coste House, was still standing in the early 21st century.
Eugene Marius Antoine Coste is the author of Report on the gold mines of the Lake of the Woods (Montreal, 1884) and a contributor to several other studies produced by the Geological Survey of Can. between 1884 and 1888. His various published articles and speeches, most of which relate to the theory of vulcanism, include Natural gas in Ontario (Toronto, 1901); "Volcanic origin of natural gas and petroleum," Canadian Mining Instit., Journal (Montreal), 6 (1903): 73–128; "Volcanic origin of oil," Franklin Instit., Journal (Philadelphia), 157 (January–June 1904): 443–54; "Presidential address," Canadian Mining Instit., Journal, 7 (1904): 26–36; 8 (1905): 13–18; and Petroleums and coals compared in their nature, mode of occurrence and origin (Montreal, 1909). A bibliography of Coste's works is provided in J. A. Allan, "Memorial to Eugene Coste," Geological Soc. of America, Proc. (New York), 1941: 185–89. The GA holds a small collection of printed materials and photographs in the Eugene Coste family fonds, as well as digitized photographs of Coste (NA-1446-24, NA-4547-1, NA-4547-2, PA-3648-1) and his Calgary residence (NA-1735-1).
Globe and Mail, 24 Jan. 1940. D. H. Breen, "The CPR and western petroleum, 1904–24," in The CPR west: the iron road and the making of a nation, ed. H. A. Dempsey (Vancouver and Toronto, 1984), 229–44. Aubrey Kerr, "Eugene Coste," Journal of Canadian Petroleum Technology (Montreal, etc.), 33 (1994), no.4: 11. Victor Lauriston, Blue flame of service: a history of Union Gas Company and the natural gas industry in southwestern Ontario, ed. Ted Karry (Chatham, Ont., 1961). John Schmidt, Growing up in the oil patch (Toronto, 1989). Morris Zaslow, Reading the rocks: the story of the Geological Survey of Canada, 1842–1972 (Toronto and Ottawa, 1975).
© 2021–2023 University of Toronto/Université Laval
Image Gallery

Cite This Article
Donald G. Wetherell, "COSTE, EUGENE MARIUS ANTOINE," in Dictionary of Canadian Biography, vol. 16, University of Toronto/Université Laval, 2003–, accessed September 27, 2023, http://www.biographi.ca/en/bio/coste_eugene_marius_antoine_16E.html.
The citation above shows the format for footnotes and endnotes according to the Chicago manual of style (16th edition). Information to be used in other citation formats:
| | |
| --- | --- |
| Permalink: | http://www.biographi.ca/en/bio/coste_eugene_marius_antoine_16E.html |
| Author of Article: | Donald G. Wetherell |
| Title of Article: | COSTE, EUGENE MARIUS ANTOINE |
| Publication Name: | Dictionary of Canadian Biography, vol. 16 |
| Publisher: | University of Toronto/Université Laval |
| Year of publication: | 2021 |
| Year of revision: | 2021 |
| Access Date: | September 27, 2023 |