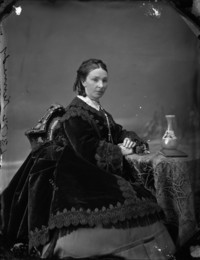 CRIPPS, ELEANOR ELIZA (Kennedy), lay missionary, musician, businesswoman, and author; b. 2 Nov. 1825 in Finchley (London), England, daughter of William Cripps and Hannah —; m. 29 Nov. 1859 William Kennedy* in London, and they had a son and a daughter; d. 4 Oct. 1913 in Virden, Man.
Eleanor Cripps was born into an upper-class family and received a good education. Fluent in French and able to converse in German, she also evinced an unusual aptitude for music, sewing, and embroidery and an interest in literature. She sympathized deeply with American abolitionists and frequently spoke of being introduced to several escaped slaves, including the prototype for the Eliza immortalized in Harriet Elizabeth Beecher Stowe's Uncle Tom's cabin.
In 1861, two years after her marriage to William Kennedy, a retired Hudson's Bay Company trader and Arctic explorer, and in spite of his evident rheumatism, the devoutly religious couple decided to engage in missionary work for the Church of England in the HBC territories. They left England that year, after having raised funds for equipment and supplies, and travelled to St Paul, Minn., en route to Upper Fort Garry (Winnipeg). In St Paul they were detained for a month because of flooding in the Red River valley. Finally, after a difficult journey by stagecoach and small boats (pressed into service when bridges had been washed out), they embarked at Georgetown on a steamer for the final leg of their journey to the Red River settlement (Man.). Eleanor recounts these travels in unpublished reminiscences written in 1905, "Our Journey to Red River."
The Kennedys stayed at St Andrews, in the Red River settlement, for three months, resting and waiting for the birth of their first child, William Theodore Ballentine. They then moved to Fairford on Lake Manitoba. Their missionary activities included teaching the natives not only the gospel but also "the simpler arts of civilization," for which they had brought out "all kinds of tools for carpentering, blacksmith's work, ploughs, harrows, etc."
Unfortunately, William's rheumatism became increasingly debilitating and in 1862 the family decided to return to England. The Sioux uprisings in Minnesota [see Tatanka-najin*], however, prevented their passage through that area and they returned to the Red River settlement. In 1863 she gave birth to a daughter, Mary Louisa. That same year, on the death of Kennedy's Cree mother, Aggathas, William and Eleanor acquired her property, lot 63 in St Andrew's parish. Within a few years they had constructed a "highly fashionable" stone house, christened Maple Grove.
They imported a piano – the second in Red River – and entertained with musical evenings which frequently featured Eleanor's playing and singing. Her musical talents were much admired and she served as choir director and organist at St Andrew's Church. Canon John Grisdale, later Anglican bishop of Qu'Appelle, referred to her as "our only prima donna." Described as "a tall, big woman" of "remarkable beauty," she was often referred to as "The Duchess" because of her "aristocratic" bearing.
Eleanor was unremitting in her work for the community, whether it was in arranging concerts or in sewing for the needy. During the severe grasshopper plagues of the late 1860s she organized a highly successful "clothing club and bazaar" together with other Red River women to aid those in desperate want. It was said that "the first efforts towards a hospital owed their origins to these ladies."
At the time of the unrest of 1869–70, the Kennedys attempted to intercede with Métis leader Louis Riel* on behalf of the men he had interned, pleading for an end to bloodshed. Eleanor personally delivered to Riel a letter written by her husband. Shortly after the Métis leader's disappearance and rumoured imprisonment, gossip spread that she had petitioned for his life. A later version added that she had also insisted in 1870 on the murder of Thomas Scott*, one of the men who had been imprisoned by Riel's forces. Eleanor was greatly upset. Tracing the rumours to a remark made by her parish priest, the Reverend Joseph Phelps Gardiner, she refused to take communion from him and threatened to withdraw from the church. Finally, she appealed to Robert Machray*, the bishop of Rupert's Land. Machray counselled her not to abstain from communion; he obtained an apology from Gardiner and admonished her to forgive the offence and to resume her activities in the church. The incident distressed Eleanor very much, perhaps even more so because she had recently suffered the miscarriage of a child she intensely desired.
During the early 1870s William's rheumatism forced him to remain in bed for days on end. Although Eleanor was already teaching music at the school run by Matilda Davis, now, with the aid of friends in England, she established a small business, importing twice yearly millinery and "exclusive and dainty" women's and children's wear from London and Paris. She also sold British foods of various kinds. Customers came from all over the countryside and prosperity seemed in sight. Then William began stocking inferior products, accepting land deeds and scrip in payment. Business declined and eventually the store was given up. Although William owned approximately 17,000 acres of land as a result of the venture, much of it was worthless at the end of Manitoba's land boom in the mid 1880s.
Eleanor returned to England only once, to visit her family in 1887–88. It was a sad time, marred by the tragic deaths of a niece and a nephew, and the illness of a sister whom she nursed until the invalid's death. On 25 Jan. 1890 William died. The following year Eleanor sold Maple Grove and moved with her daughter to Virden, where her son served as registrar of land titles. A talented artist, she loved to paint landscapes and plants, and she continued to do so while in Virden. In addition, she wrote poetry and reminiscences, and occasionally she played the organ at St Mary's Church or performed on the piano at local concerts. She was named an honorary member of the Women's Canadian Club of Winnipeg.
As she grew older Eleanor too began suffering from rheumatism. Eleven weeks before she died she was crippled by a fall from which she never recovered. Her funeral was held in Virden, and she was buried in St Andrews. Local newspapers noted that a "special train of electric cars has been arranged [from Winnipeg to St Andrews] for the convenience of those wishing to attend the funeral." After a brief service conducted by the Reverend John William Matheson, Eleanor Eliza Kennedy was buried beside her husband.
The correspondence of Eleanor Eliza Cripps Kennedy and her manuscript "Our Journey to Red River" are held in her papers at PAM, MG 2, C2. The PAM also possesses two unpublished poems by her in the Mary Louisa Kennedy papers (MG 14, C1). An album entitled "A book of flower paintings; water colors of English and Manitoba wild flowers painted between 1842 and 1854 by the late Mrs William Kennedy . . . of St Andrews and Virden, Manitoba," in the Rare Book Room of the Manitoba Museum of Man and Nature Library, Winnipeg, appears to be her only surviving work of art.
Man., Legislative Library (Winnipeg), Vert. file, Kennedy family. PAM, MG 1, D16; P 2342; P 2343; P 2348. Manitoba Free Press, 27 Jan. 1890, 25 July 1908, 22 Jan. 1912, 6 Oct. 1913, 17 Feb. 1923. Virden Empire-Advance, 9 Oct. 1913. Winnipeg Free Press, 21 Oct. 1970. Winnipeg Tribune, 16 Feb. 1942, 7 Sept. 1960, 14 Nov. 1968. W. J. Healy, Women of Red River: being a book written from the recollections of women surviving from the Red River era (Winnipeg, 1923). Manitoba Culture, Heritage and Recreation, Hist. resources branch, Captain William Kennedy ([Winnipeg], 1985). Pioneers of Man. (Morley et al.).
© 1998–2023 University of Toronto/Université Laval
Cite This Article
Vera K. Fast, "CRIPPS, ELEANOR ELIZA," in Dictionary of Canadian Biography, vol. 14, University of Toronto/Université Laval, 2003–, accessed November 29, 2023, http://www.biographi.ca/en/bio/cripps_eleanor_eliza_14E.html.
The citation above shows the format for footnotes and endnotes according to the Chicago manual of style (16th edition). Information to be used in other citation formats:
| | |
| --- | --- |
| Permalink: | http://www.biographi.ca/en/bio/cripps_eleanor_eliza_14E.html |
| Author of Article: | Vera K. Fast |
| Title of Article: | CRIPPS, ELEANOR ELIZA |
| Publication Name: | Dictionary of Canadian Biography, vol. 14 |
| Publisher: | University of Toronto/Université Laval |
| Year of publication: | 1998 |
| Year of revision: | 1998 |
| Access Date: | November 29, 2023 |