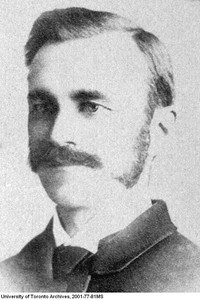 Source: Link
DALE, WILLIAM, educator and farmer; b. 1 Oct. 1848 in Kearby, near Wetherby, England, son of William Dale and Frances Stephenson (Stevenson); m. 10 April 1901 Florence Frederika Ryckman in Brockville, Ont., and they had three daughters and one son; d. 16 Feb. 1921 in St Marys, Ont.
William Dale was educated at St Marys Grammar School, near the family farm in Perth County, Upper Canada. At Upper Canada College in Toronto in 1866–67, he was head boy for a time. He attended the University of Toronto, where he received a ba with first-class honours in classics, mathematics, and general proficiency in 1871 and an ma in 1873. In these years Dale began writing a journal. He was not impressed with his education. Sounding a nationalist note, he thought that many professors were "second or third rate men from the Universities of Britain [who] . . . do as little as possible to point the way to the higher paths of knowledge." Dale began teaching in 1871 as headmaster of Uxbridge High School and in 1875–76 he was principal at St Marys High School. There, one of his pupils was the future novelist Charles William Gordon*, who remembered him as a "clumsily dressed, farmerlike man." Gordon credited Dale with instilling an appreciation of the classics and a sense of the "beauty of human speech."
In 1876 Dale was appointed rector of Quebec High School. He never developed close ties with French Canada, where he felt his isolation keenly; he was convinced that English-speaking Canadians were destined to "complete ostracism" there. He publicly criticized the power of the Roman Catholic hierarchy and, according to his journal, his comments on Canadian history raised "a nest of hornets." Critical of French Canadian nationalism, which stressed "the oppression suffered at the hands of the English," Dale argued that everything progressive in French Canada, such as good government, freedom of education, and prosperity, "resulted entirely from the Conquest."
Dale returned to Ontario in 1879. He subsequently served for some time as an examiner for the provincial Department of Education and for the University of Toronto and Trinity College. In 1884 he was appointed tutor in classical literature at University College, where he was also registrar from 1885 to 1887. He did not publish, preferring the classroom and public-lecture forum. His addresses to the university community displayed his catholicity of interests. Echoing the English educator Thomas Arnold, he thought that there were discernible and fixed standards of virtue and truth and that the purpose of teaching was to bring them to light. But he feared that "mankind is in a sort of hopeless despair" because "religion appears to have lost something of its old influence" and science had failed to provide any consoling answers. It was necessary, he argued, to look to the achievements of past civilizations, such as Rome, and especially its poets, for moral and civic guidance.
Dale became lecturer in Latin and Roman history in 1887; in 1892 he would be appointed associate professor of Latin, while retaining his lectureship in history. He became a severe critic of the university federation act of 1887. Vice-Chancellor William Mulock*'s design to build an institution that emphasized science and particularly medicine was a special concern. "It is clearly the intention of the Mulock gang to destroy the Arts Faculty," he confided in his journal. He was alarmed by the increasing amount of funds being steered to the newly reconstituted faculty of medicine and by the generous financial deals that had been struck for the affiliating theological colleges, Victoria and Wycliffe. These resources, Dale thought, should have gone to University College for the purposes of providing students with a general education. A traditionalist, Dale believed that the purpose of university was the cultivation of virtuous citizenship and he was concerned about the growing stress on research and training professionals. He was also critical of the continuing reliance on non-Canadian faculty. In 1890 he wrote a stern letter to the minister of education, George William Ross*, arguing that Canadians should be promoted to the most prestigious chairs at the university. He pointed out that the faculty members professing the core subjects, such as classics, mathematics, and modern languages, were mostly Canadian, had the largest teaching loads, yet were paid significantly less and held less important positions than foreign-born and -trained professors.
Dale's dismissal from the University of Toronto in 1895 was precipitated by the controversies over faculty appointments and free speech that had erupted on campus. Under the university act the hiring of faculty was controlled by the government of Ontario. Suspicions of nepotism arose in the Varsity, the student newspaper, when George MacKinnon Wrong*, son-in-law of Chancellor Edward Blake*, was appointed lecturer in history and then quickly promoted professor. Dale presented the editor of the Globe, John Stephen Willison, with an explosive letter which was printed on the first page of the 9 Feb. 1895 edition. The letter was contemptuous of Wrong's scholarly abilities and suggested that, if current hiring practices endured, "the professoriate of the University will have lost the respect both of students and public, and the results to learning will be most disastrous." Dale recommended that the appointment of professors be made independently of the government. He was promptly dismissed on 14 February. For the students, Dale was a champion of free speech and, led by William Lyon Mackenzie King* and others, they boycotted classes, demanding his reinstatement. But for the university, his letter had been a serious breach of collegiality.
During this controversy James Loudon*, the beleaguered president of the university, argued that Dale's attack had been motivated by jealousy of his more research-oriented and productive colleagues. Dale's bold but naive actions were probably rooted in more complex considerations. He was troubled by the growing specialization of university life and the more intense critical spirit in modern scholarship. He saw little value in the stress on archival research by more empirically oriented historians. "They bury themselves in the mines of original research and . . . the result of their labour is for the most part a mere bibliography, which is worse than useless for real knowledge." The new scholarship had failed, in his view, to produce "readable" essays of "lasting effect."
Dale secured a position as professor of Latin at Queen's College in Kingston from 1895 to 1900 and from 1900 to 1904 he was a special lecturer at McMaster University, then in Toronto. By the time of his marriage in 1901 he had returned to St Marys to operate his family's cattle farm. He served on the town council there and was mayor in 1918 and 1919. At his death in 1921 he was still a member of the senate of the University of Toronto, having been elected continuously since 1893.
Dale's departure from the University of Toronto is the subject of James Crerar Reaney's play The dismissal; or, twisted beards & tangled whiskers ([Erin, Ont.], 1978).
AO, RG 2-29-1-35, Dale to George Ross, 9 Dec. 1890. General Register Office (Southport, Eng.), Reg. of births, Brentford, 14 Sept. 1883. Univ. of Toronto Arch., A73-0026/077(29); B75-0013/001–2. Globe, 5–17 Feb. 1895. St. Marys Journal-Argus (St Marys, Ont.), 24 Feb. 1921. Allan Bowker, "Truly useful men: Maurice Hutton, George Wrong, James Mavor and the University of Toronto, 1880–1927" (phd thesis, Univ. of Toronto, 1975). H. W. Charlesworth, More candid chronicles: further leaves from the note book of a Canadian journalist (Toronto, 1928). Ralph Connor [C. W. Gordon], Postscript to adventure: the autobiography of Ralph Connor (New York, 1938). W. J. Loudon, Sir William Mulock: a short biography (Toronto, 1932); Studies of student life (8v., Toronto, 1923–[4-?]), 5. A. B. McKillop, Matters of mind: the university in Ontario, 1791–1951 (Toronto, 1994). Ont., Royal commission on the discipline in the University of Toronto, Report of the commissioners (Toronto, 1895). The University of Toronto and its colleges, 1827–1906, ed. W. J. A[lexander] (Toronto, 1906).
© 2005–2023 University of Toronto/Université Laval
Image Gallery

Cite This Article
David B. Marshall, "DALE, WILLIAM," in Dictionary of Canadian Biography, vol. 15, University of Toronto/Université Laval, 2003–, accessed October 2, 2023, http://www.biographi.ca/en/bio/dale_william_15E.html.
The citation above shows the format for footnotes and endnotes according to the Chicago manual of style (16th edition). Information to be used in other citation formats:
| | |
| --- | --- |
| Permalink: | http://www.biographi.ca/en/bio/dale_william_15E.html |
| Author of Article: | David B. Marshall |
| Title of Article: | DALE, WILLIAM |
| Publication Name: | Dictionary of Canadian Biography, vol. 15 |
| Publisher: | University of Toronto/Université Laval |
| Year of publication: | 2005 |
| Year of revision: | 2005 |
| Access Date: | October 2, 2023 |