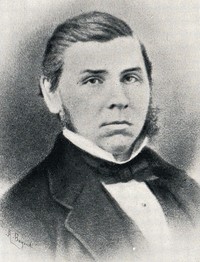 Source: Link
DAOUST (D'Aoust), CHARLES, lawyer, journalist, and politician; b. 23 Jan. 1825 at Beauharnois, Lower Canada, son of Charles Daoust, farmer, and Françoise Dandurand; m. 16 Dec. 1856 Angèle Doutre, and they had one son; d. 27 Feb. 1868 at Montreal.
The year 1825 was an auspicious one for the small town of Beauharnois, for in an interval of two months two children were born there who, through the spoken and written word, would become leaders of the democrat or Rouge party: Charles Daoust and Joseph Doutre* (b. 11 March).
Charles Daoust's childhood was marked by the events of 1837–38, during which his father was imprisoned in Montreal. Young Charles had probably attended one of the two schools established at Beauharnois on 2 May 1830 in conformity with the 1829 primary school act. He had then received a classical education at Chambly, on the Richelieu, at the Collège de Saint-Pierre, founded in 1825 by Abbé Pierre-Marie Mignault; the reputation of this establishment was enhanced by Abbé Charles La Rocque*, its director during 1835–36. Daoust entered the college in 1836, and proved a diligent and talented student. He excelled in Latin, Greek, and English and had a fervent but enlightened devotion to French literature. His favourite author was Chateaubriand; in poetry, Lamartine seems to have been a determining influence on his taste, judging by the romantic alexandrines of his "Douleur amère," a poem dated 1845 and published in Le répertoire national.
In 1844, under the influence of his mother, Daoust began to prepare for the priesthood, but the following year he turned to the study of law at Montreal under Irish lawyer Lewis Thomas Drummond*. He was called to the bar of Lower Canada on 27 Oct. 1847. In the same year, he was one of 13 contributors to L'Avenir, a Montreal newspaper that George Batchelor and Jean-Baptiste-Éric Dorion had just started. Although the paper's articles were anonymous it was not long before the liveliness of Daoust's pen was noticed; he was, according to Laurent-Olivier David*, "an unusual writer." Thus, to attribute to him the little comedy, "La Tuque bleue," which appeared in early August 1848 in L'Avenir and which depicted George-Étienne Cartier* running away at top speed from the battle at Saint-Charles, required only a step, or rather a stride, which took the angry Cartier to the office of L'Avenir, where he furiously berated Daoust. Dorion tried to intervene, but Cartier brushed him aside contemptuously. In the end it was against Joseph Doutre that Cartier agreed to fight with pistols on the slopes of Mount Royal, then, when the police arrived unexpectedly, near Chambly. No blood was shed, but honour was saved!
The lawyer succeeded the journalist. Daoust was at Beauharnois in 1851 and practised law there. That year he lost his mother; two years earlier his only brother, Dr Roger Daoust, had died at sea. In Montreal, however, the brisk, neatly turned articles of the collaborator of L'Avenir had not been forgotten. In 1852 Le Pays, the new Montreal organ of the liberal cause, began publication with Louis-Antoine Dessaulles*, Louis Labrèche-Viger*, and Joseph-Adolphe Hawley as editors successively in its first year. In March 1853 an appeal was made to the practised pen and known dedication of Daoust, who became editor. His youthful petulance had been replaced by a moderate tone that fitted in perfectly with the orders of the owner, printer Jacques-Alexis Plinguet, and the shareholders of the journal, who, according to Edmond Lareau*, had planned to "rally those who had been set at variance by L'Avenir's effrontery and exaggerations." Thus, when the fiery Italian orator Alessandro Gavazzi paid a short visit to Montreal at the beginning of June 1853, Daoust disapproved of his "violent declarations" against Catholicism. "These questions are too thorny, in Canada above all," he commented, "for it to be prudent to raise them."
His enthusiastic yet circumspect editorials certainly played a large part in the success of the democrat candidates during the elections of 1854. He was elected mla for the county of Beauharnois and his election was hailed by Le Moniteur canadien on 3 Aug. 1854 as "one of the finest triumphs of democracy." Even relentless opponents of the liberals, such as Joseph-Charles Taché* and Pierre-Joseph-Olivier Chauveau*, who used the pseudonym Gaspard Le Mage in their diatribe entitled La pléiade rouge, had to soften the sting of their satire in regard to Daoust, a "tall, unpolished, vigorous and not very handsome fellow, who none the less wins the affection and esteem of those who know him." According to them, "M. Daoust, with pen in hand, despite great presumptuousness and lack of refinement, has usually shown more tact and good sense than democracy customarily admits of."
Victory has an intoxicating quality. "The future belongs to democracy," Daoust exclaimed exultantly in a carefully developed editorial of Le Pays, on 29 Aug. 1854. He discerned in "that inviolable law which presides over the formation and development of societies . . . the will of the Creator, of the supreme legislator. . . . In Canada," he concluded, ". . . barely three centuries have passed and absolute government no longer exists except in our memories, and the nobility has completely disappeared; only the democratic element remains, standing on these two ruins, and it grows in spite of or rather because of the obstacles to its growth." One of the obstacles to the progress of Canadian democracy was certainly, in the eyes of Daoust and his friends, the increasingly less discreet opposition of the clergy. In the election campaign in Beauharnois, Daoust had experienced the hostility of two parish priests. This clerical opposition increased during the 1856 session when the democratic mla Joseph Papin made his plea for non-confessional schools. Daoust supported the Papin proposal. During the same session, George Brown* was attacking the separate schools of Upper Canada; it is not surprising then that in 1857, after the Papin motion, the clergy were much more predisposed against the Rouges than in 1854. Hence the 1857–58 elections were somewhat disappointing to the liberals, who lost a number of seats. Papin was defeated in L'Assomption, and Daoust in Beauharnois by Gédéon Ouimet*.
Daoust was to be called to account personally by the highest authority in Montreal diocese, Bishop Ignace Bourget*, in one of three pastoral letters published on 10 March, 30 April, and 31 May 1858 against the Institut Canadien and the liberal press. The letter of 31 May was an unqualified condemnation of liberalism, a condemnation that took its arguments from the encyclical of 15 Aug. 1832, Mirari Vos, which specifically rejected the liberal thesis of the separation of church and state. It happened that on 8 Feb. 1858, at a banquet offered by political friends, Daoust had exclaimed: "Since I have been engaged in public affairs, I have always been of the opinion that the church and the state should have a separate existence, each leading its own life, and should not become identified in a common action." After quoting this "impious language," but without indicating the author and the source, Bishop Bourget added: "you recognize, dearly beloved brethren, the supporters of unbridled liberty, of whom the common Father has just spoken. He, who writes under the divine inspiration of the Holy Spirit, proclaims agreement between empire and priesthood as propitious and salutary."
At that date Daoust was still editor of Le Pays, but he had secured the collaboration of a French emigrant Henri-Émile Chevalier*. Plinguet, the owner of the liberal paper, doubtless alarmed by the effect of the episcopal censures on its circulation, had made over his rights to the Société Dorion et Cie in June 1858. A year later, Daoust in turn retired from Le Pays; Chevalier remained sole editor until November 1859 when young Médéric Lanctot* took over. Daoust went into partnership with his brothers-in-law Joseph and Gonzalve Doutre* and was happy to abandon journalism for the more peaceful life of a lawyer. A member of the Institut Canadien, whose "real qualities of vitality" he had commended in a lecture of December 1853, he was elected its president in 1860. At that time he noted the situation of the group had been "more brilliant." But at least there remained "the strength and glory of the institute": "Here, there are freedom of thought, freedom of discussion, liberalism, tolerance; no exclusion, and no censure."
In January 1864 Daoust returned to journalism, when he succeeded Louis-Antoine Dessaulles, who had been editor of Le Pays from 1 March 1861 to the end of December 1863. He was warm in his praise of Dessaulles, specifying that he would not strike as hard as his predecessor, but his intention was to "strike as accurately." Like all his confrères in the Canadian press, Daoust commented repeatedly on the great question stirring public opinion, the confederation of the provinces of British America. He was not the least scathing of the liberal journalists in his denunciation of a system that would diminish the influence of the Lower Canadian representatives in the central parliament, leave that parliament the important financial matters, and make of the local assembly of Lower Canada "little more than a large municipal council." But the die had been cast. The plan of confederation was approved by the Legislative Assembly of the Province of Canada on the night of 10 March 1865, which, Daoust indignantly asserted, was "the most iniquitous, the most degrading act witnessed by the parliamentary régime since the betrayal of the Irish representatives who sold their country to England for positions, honours, and gold."
Charles Daoust remained editor of Le Pays until the autumn of 1865, when he was replaced by young Alphonse Lusignan. His health undermined by tuberculosis, he passed away at his home in Montreal in February 1868, at age 43. He was survived by his wife and his only son, whose Christian names, Charles-Roger, would keep fresh his own memory and that of his beloved brother.
PAC, MG 30, D62, 9, pp.838–40. L'Avenir, 1847–50. Le Pays, mars 1853–mai 1859, janv. 1864–oct. 1865, 29 févr. 1868. Fauteux, Patriotes, 195–96. Bernard, Les Rouges. L.-O. David, L'Union des deux Canadas, 1841–1867 (Montréal, 1898), 135. Ægidius Fauteux, Le duel au Canada (Montréal, 1934), 273–78. Edmond Lareau, Mélanges historiques et littéraires (Montréal, 1877), 39. Augustin Leduc, Beauharnois, paroisse Saint-Clément, 1819–1919; histoire religieuse, histoire civile, fêtes du centenaire (Ottawa, 1920), 95–96, 158, 168. Gaspard Le Mage [P.-J.-O. Chauveau et J.-C. Taché], La pléiade rouge (Québec, 1854), 10. Le répertoire national, ou recueil de littérature canadienne, James Huston, édit. (2e éd., 4v., Montréal, 1893), III, 212–14. Robert [Philippe] Sylvain, Clerc, garibaldien, prédicant des deux mondes: Alessandro Gavazzi (1809–1889) (2v., Québec, 1962), II, 391; "Libéralisme et ultramontanisme," Shield of Achilles (Morton), 225–26.
© 1976–2023 University of Toronto/Université Laval
Image Gallery

Cite This Article
Philippe Sylvain, "DAOUST, CHARLES," in Dictionary of Canadian Biography, vol. 9, University of Toronto/Université Laval, 2003–, accessed October 4, 2023, http://www.biographi.ca/en/bio/daoust_charles_9E.html.
The citation above shows the format for footnotes and endnotes according to the Chicago manual of style (16th edition). Information to be used in other citation formats:
| | |
| --- | --- |
| Permalink: | http://www.biographi.ca/en/bio/daoust_charles_9E.html |
| Author of Article: | Philippe Sylvain |
| Title of Article: | DAOUST, CHARLES |
| Publication Name: | Dictionary of Canadian Biography, vol. 9 |
| Publisher: | University of Toronto/Université Laval |
| Year of publication: | 1976 |
| Year of revision: | 1976 |
| Access Date: | October 4, 2023 |