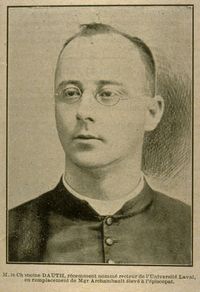 Source: Courtesy of Bibliothèque et Archives Nationales du Québec / 52327/2072031
DAUTH, Gaspard (baptized Jean-Alexandre-Gaspard), teacher, Roman Catholic priest, author, editor and owner of periodicals, school administrator, and office holder; b. 10 Aug. 1863 in Saint-Ignace-du-Coteau-du-Lac (Coteau-du-Lac), Lower Canada, son of Gaspard Dauth, a physician, and Mary Elizabeth Bermingham; d. 23 March 1940 in Montreal and was buried six days later in Saint-Ignace-du-Coteau-du-Lac.
Gaspard Dauth's father settled in the parish of Saint-Ignace-du-Coteau-du-Lac around 1850. He married Mary Elizabeth Bermingham in July 1860. The couple had seven daughters and four sons. Two of the boys would take up their father's vocation, another would become a veterinarian, and Gaspard would enter religious life. In the autumn of 1875 Gaspard left the family home for the Séminaire de Saint-Hyacinthe. A good pupil, awarded numerous prizes in several disciplines, he completed his classical studies there at the beginning of 1883, and then, in September, he began training for the priesthood. Without financial support from his parents, he had to make a living by teaching belles-lettres at the Séminaire de Saint-Hyacinthe while continuing his education. Through the helpful intervention of his uncle Louis-Élie Dauth, the curé of Saint-Guillaume, he was able to pursue his studies at the Grand Séminaire de Montréal from the beginning of his second year. Dauth was ordained priest in August 1886 on his 23rd birthday. He would receive his doctorate in theology from the Université Laval in Montreal in 1908.
At the invitation of Jean-Remi Ouellette, the superior of the Séminaire de Saint-Hyacinthe, Dauth once again became a teacher of belles-lettres there in the autumn of 1886, a post he would hold until 1890. He subsequently embarked on a study tour, which took him to Europe and the Holy Land. He attended the Institut Catholique de Paris for a few months as an auditing student. Upon his return to Montreal in 1892 he worked for about a year as general secretary of the Université Laval in Montreal. During this period, he was curate and then priest in charge of the parish of Saint-Lin. He was also chaplain of the Académie Saint-Antoine in Montreal. In 1893 he was appointed assistant notary at the preliminary hearing for the beatification of Abbé Jean-Jacques Olier. He was called to the archiepiscopate of Montreal and in 1894 served as chaplain of the chapter. Assistant notary of the Concile Provincial in Montreal in 1895, he was named titular canon of the Montreal cathedral and secretary of the chapter three years later. He would receive the title of domestic prelate in 1914.
Abbé Dauth was interested in education, and in 1897 he assumed the post of examiner in the organization that would become the Catholic Central Board of Examiners the following year. He would remain a member of the board for 42 years. In 1897 he was also an ecclesiastical visitor to the educational institutions run by religious communities in the archdiocese of Montreal. From 1898 he took on the task of drafting the curriculum for the Roman Catholic schools of the province of Quebec, a project that would not be completed until 1920 because of the many revisions and critiques. He taught the history of philosophy at the Université Laval in Montreal in 1901, and he was president of the Catholic School Commission in the same city (1905–10). In the spring of 1914 he gave courses in the theory and practice of commercial law at the Association des Femmes d'Affaires de Montréal.
Dauth was elected vice-rector of the Montreal campus of the Université Laval in 1904 and retained the office until 1917. Throughout this period he worked to expand the institution. He kept a tight rein on the university budget and organized various fund-raising campaigns, including that of the "million de piastres" in 1913. Under his leadership the four faculties of the university (theology, law, medicine, and arts) experienced significant growth, notably through the addition of buildings, programs, and courses. Three schools were affiliated with the institution: the Institut Agricole d'Oka (1908), the École d'Enseignement Supérieur pour les Jeunes Filles (1908) [see Marie-Aveline Bengle], and the École des Hautes Études Commerciales de Montréal (1915). In addition, Dauth established the École de Chirurgie Dentaire de l'Université Laval à Montréal (1904) and the École de Pharmacie Laval à Montréal (1906). New fields of study were also developed during this period: architecture, public health, decorative and industrial arts, and education. In 1915 Dauth was the guiding force behind the creation of the military hospital that, in December, was designated No.6 Canadian General Hospital of the Université Laval [see Gustave Archambault]; it would help train young French Canadian doctors during World War I. From 1916 to 1919 he was dean of the faculty of arts. It is thought that, anticipating the independence of the Montreal campus of the Université Laval, he also chose Université de Montréal as the name for the new university.
Writing was an integral part of Dauth's life. In 1893 he edited the Annales de la propagation de la foi pour les provinces de Québec et de Montréal, published in Montreal. In 1895 he became owner, director, and editor of La Semaine religieuse de Montréal. He wrote and published various texts, among them pieces that appeared in the Bulletin du parler français au Canada (1902–18), Le Canada français (from 1918), Corrigeons-nous! (1930), and the Glossaire du parler français au Canada (1930), all published in Quebec City. Le diocèse de Montréal à la fin du dix-neuvième siècle …, which he wrote with Abbé Joseph-Alexandre-Stanislas Perron and which was released in Montreal in 1900, was his principal work. The volume contains information on the parishes, buildings, religious communities, educational establishments, charitable works, and important figures in the archdiocese of Montreal.
In his memoirs Dauth notably confided that it was his habit to pray "in the elegant and gracious manner of the good people of the grand siècle," that is to say, in rhyme. In addition, he admitted his love for Bordeaux wine, Oka sparkling cider, Port du Salut cheese, and chocolate. Furthermore, he enjoyed smoking Benson and Hedges cigars. He mentioned various people who moved in his circle. He also kept up a correspondence with, among others, his friend Archbishop Paul Bruchési. It is said that his personal library, which focused mainly on education, was remarkable.
Dauth had been appointed honorary lieutenant-colonel in the militia in 1912, and at the same time had become an agricultural diocesan missionary. In 1913 he joined the Union Expérimentale des Agriculteurs de Québec, and was, as well, a co-founder and director of the Comptoir Coopératif de Montréal.
A major rupture occurred in 1919 when Dauth withdrew from the archdiocese of Montreal. The archives offer no explanation for his departure, and Dauth drew a veil over it in his memoirs. Little is known of his activities during the last 21 years of his life, other than that he had health problems and that he ended his days at the Retraite Saint-Benoît, Rue Notre-Dame Est.
Relatively unknown at the beginning of the 21st century, Gaspard Dauth was a man of the church, who, through major contributions in the field of education, was engaged in shaping the future of his province. An individual of great intellectual rigour, he found much satisfaction in human relationships, especially within the academic community, which he held in high esteem. In the village where he was born a public park honours his memory.
The author wishes to thank Hector Besner of the Soc. d'Hist. de Coteau-du-Lac for putting her on the track of Gaspard Dauth's personal documents. Thanks are also extended to the Little Daughters of St Joseph for their warm welcome.
The memoirs of Gaspard Dauth were consulted. The first part of the memoirs is held at the Arch. of the Congrégation des Petites Filles de Saint-Joseph (Montréal) and the second at the Dép. des Arch. of the Univers Culturel de Saint-Sulpice (Montréal), P1 (fonds Prêtres de Saint-Sulpice de Montréal), 11 (enseignement), 6 (univ. de Montréal), 95.
Arch. de la Chancellerie de l'Archevêché de Montréal, 421.534 (Gaspard Dauth, dossier personnel), 885-1; 912-4; 919. Arch. of the Congrégation des Petites Filles de Saint-Joseph, Biographies de Mary Birmingham et de Gaspard Dauth, père. BANQ-CAM, CE601-S31, 10 août 1863. Centre d'Hist. de Saint-Hyacinthe, Québec, CH001, ASE010; ASE017. FD, Saint-Ignace (Coteau-du-Lac, Québec), 29 mars 1940. LAC, R10811-0-X. Univers Culturel de Saint-Sulpice, Dép. des arch., P1 (fonds Prêtres de Saint-Sulpice de Montréal), 11 (enseignement), 6 (univ. de Montréal), 56 and 96. Univ. de Montréal, Div. des arch., D35; P5. L'Album universel (Montréal), 1er oct. 1904; 13 mars, 22 sept. 1906. Le Devoir, 23, 26 mars 1940. Le Monde illustré (Montréal), 7 avril 1900. René Bacon et Hélène Doth, Gaspard Dauth à Ste-Anne de la Pérade (1783–1809): regards sur sa descendance au Québec et en Ontario (Montréal, 2005). Isabelle Laperle-Dionne et Hélène Perron, Inventaire analytique du fonds Gaspard-Dauth (P5): supplément (Montréal, 1978). Monique Thériault, Inventaire analytique du fonds Gaspard-Dauth (P5) (Montréal, 1975).
© 2019–2023 University of Toronto/Université Laval
Cite This Article
Nathalie Villeneuve, "DAUTH, GASPARD (baptized Jean-Alexandre-Gaspard)," in Dictionary of Canadian Biography, vol. 16, University of Toronto/Université Laval, 2003–, accessed December 8, 2023, http://www.biographi.ca/en/bio/dauth_gaspard_16E.html.
The citation above shows the format for footnotes and endnotes according to the Chicago manual of style (16th edition). Information to be used in other citation formats:
| | |
| --- | --- |
| Permalink: | http://www.biographi.ca/en/bio/dauth_gaspard_16E.html |
| Author of Article: | Nathalie Villeneuve |
| Title of Article: | DAUTH, GASPARD (baptized Jean-Alexandre-Gaspard) |
| Publication Name: | Dictionary of Canadian Biography, vol. 16 |
| Publisher: | University of Toronto/Université Laval |
| Year of publication: | 2019 |
| Year of revision: | 2019 |
| Access Date: | December 8, 2023 |