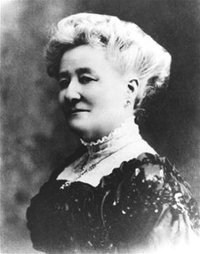 Source: Courtesy of Wikimedia Commons
DESJARDINS, DORIMÈNE (Desjardins) (baptized Marie-Claire-Dorimène), homemaker and associate of a cooperative business; b. 17 Sept. 1858 at Sorel (Sorel-Tracy), Lower Canada, daughter of Joseph Roy, dit Desjardins, a seaman, and Rosalie Malhiot; m. there 2 Sept. 1879 Alphonse Desjardins* (1854–1920), and they had four daughters and six sons; d. 14 June 1932 in Lévis, Que., and was buried there three days later in Mont-Marie cemetery.
Dorimène Desjardins was born on 17 Sept. 1858 into a poor, uneducated family. Her parents, faced with adversity, entrusted her as an infant to her aunt and godmother Clarisse Malhot and Clarisse's husband, Jean-Baptiste Theriault (Terriaut). The couple, who resided in Lévis, were already looking after one of Theriault's nieces. By all accounts Dorimène's foster parents provided a comfortable life and a good education at the convent of Notre-Dame-de-Toutes-Grâces, which was run by the Sisters of Charity of Quebec [see Marie-Anne-Marcelle Mallet*]. Shortly after finishing her studies, Dorimène began a relationship with Alphonse Desjardins, a young journalist who lived nearby. They married in Sorel in 1879 and settled soon afterwards in Lévis. Their marriage produced ten children, three of whom died at a young age.
In 1892 Alphonse Desjardins obtained a position as a French-language stenographer in the House of Commons in Ottawa. The job forced him to live away from his family for the entire duration of parliamentary sessions, about six months of the year. As a result, Dorimène had to attend to the smooth running of the household and her husband's affairs on her own. This would be her daily life until Alphonse retired in 1917.
By the beginning of the 20th century, Alphonse Desjardins already had many years of experience in partnerships and local development in Lévis. In his search for a financial solution to the socio-economic difficulties confronting his fellow citizens, he could count on the unfailing support of Dorimène, who shared his ideals and vision to undertake a socially beneficial project. In promoting a cooperative model, he wanted to eliminate usury, better the lot of the working classes, and help improve economic conditions for French Canadians. After lengthy research he founded the first caisse populaire in Lévis on 6 Dec. 1900.
For the first six years the head office of the Caisse Populaire de Lévis was located in the Desjardins family home. In the absence of her husband, who was working in Ottawa, Dorimène took over from the volunteer directors and acted as the enterprise's unofficial manager from 1903 to 1906. Her husband had delegated his authority, giving her the power to assume extensive financial responsibilities. As a gesture of thanks, she received from the board of directors an annual token compensation of $50. Under her direction, the young cooperative successfully weathered these years of uncertainty, during which it was still not legally recognized. A dedicated administrator, Dorimène had a methodical mind, sound and steady judgement, and an innate business sense, and she succeeded in establishing a lasting relationship of trust with caisse members.
After the Quebec government recognized the caisses populaires in 1906, Dorimène played a more discreet role alongside her husband. Freed from managing the Caisse Populaire de Lévis, she was now able to devote more time to parish work, especially with the Confrérie des Dames de Sainte-Anne, the Société de Tempérance, and the Patronage de Lévis.
In 1914, however, when Alphonse contracted uraemia, an incurable illness, Dorimène assumed responsibility for furthering his work and acted as the intermediary between him and his close associates. In 1918 and 1919 she took part in the deliberations of the committee charged with fine-tuning his plan for the creation of a federation of the caisses populaires and of a central caisse.
On 31 Oct. 1920 Alphonse Desjardins died at the age of 65 without having provided for his succession. During the next four years regional alliances of caisses populaires would take up the torch in Trois-Rivières, Quebec City, Montreal, and Gaspé. As discrepancies appeared in the interpretation of the founder's thinking, however, his widow was often called upon to help out, and she thereby acquired great moral authority. In 1921 she assisted in founding the Union Régionale des Caisses Populaires Desjardins du District de Québec, and in 1923 she became vice-patron of its board of directors, which gave her the status of honorary member.
Dorimène Desjardins's key role in the caisses populaires emerged. Between 1924 and 1926 especially, she took part in several key discussions to ensure that the direction given to local caisses remained consistent with her husband's views. In 1924 she supported the Union Régionale des Caisses Populaires Desjardins du District de Québec in its plan to establish a central caisse, which would serve as its financial arm. True to her husband's vision, she feared that the state, by granting subsidies, would try to interfere in the internal affairs of credit unions. For this reason, in 1925 she criticized a provincial-government bill that would have forced credit unions to submit to an annual inspection supervised by regional organizations. She was also opposed to a government credit scheme for farmers, emphasizing instead the promotion of savings and the expansion of the caisses into rural areas. In 1926 the Union Régionale des Caisses Populaires Desjardins du District de Québec again sought her advice on the future course for local caisses and on the conduct of inspections.
Dorimène Desjardins died on 14 June 1932 at the age of 73. The caisses organized an impressive funeral in Lévis. According to that day's issue of L'Action catholique, her death was a "loss for French Canada" as Dorimène Desjardins had "certainly been one of the better-informed women on economic issue[s] from a social point of view." The Quebec paper also paid her this glowing tribute: "Without her, we must admit, the Caisses Populaires Desjardins would probably not exist." Dorimène Desjardins, as her husband's collaborator, thus became a model of social engagement for all the women who, working in the background, have contributed to the smooth running of the Caisses Populaires Desjardins.
The main source of documentation on Dorimène Desjardins is the Fonds Alphonse-Desjardins, held by the Fédération des Caisses Desjardins du Québec, in Lévis, Que. Her correspondence has been grouped under reference number 0.24: 3a. There are five letters that are essential to understanding her character; also included is the correspondence of her daughters, Albertine and Adrienne, named Sister Marie du Calvaire, in which they gathered their memories and accounts of their mother. In addition, minutes of board meetings at the Lévis caisse, held by that institution, provide much information on the vital role Dorimène Desjardins played there.
Several letters and lectures by Albertine and Adrienne Desjardins were reproduced between the mid 1940s and the end of the 1960s in the Rev. Desjardins … (Québec, etc., 1941–2004), the official organ of the Fédération des Caisses Desjardins du Québec. In these pages, as well as in La Caisse populaire Desjardins … (Lévis, 1935–38; Québec, 1939–40) and Desjardins (Lévis, 2004–15) – the journal's names before 1941 and after 2004 – there are also some historical texts and accounts concerning her role in founding the caisses populaires. As well, there is information on women's historical experience in the Desjardins Group.
All other major references related to Dorimène Desjardins, except for her records of baptism (BANQ-CAM, CE603-S7, 18 sept. 1858), marriage (BANQ-CAM, CE603-S7, 2 sept. 1879), and burial (FD, Notre-Dame-de-la-Victoire (Lévis), 17 juin 1932), appear in the author's publications: Dorimène Desjardins: cofondatrice des Caisses populaires Desjardins, 1858–1932 (Lévis, 2008); Alphonse Desjardins, 1854–1920 (Québec, 2012); and La Caisse populaire de Lévis, 1900–2000: là où tout a commencé (Sainte-Foy [Québec] and Lévis, 2000), written in collaboration with Claude Genest. See also Geneviève Roy's master's thesis, "Méthodologie pour la reconstitution d'un intérieur domestique vers la fin du xixe siècle, interprétation d'une intimité: le cas de la maison d'Alphonse et de Dorimène Desjardins à Lévis" (univ. du Québec à Trois-Rivières, 2002).
© 2023– University of Toronto/Université Laval
Cite This Article
Guy Bélanger, "DESJARDINS, DORIMÈNE (Desjardins) (baptized Marie-Claire-Dorimène)," in Dictionary of Canadian Biography, vol. 16, University of Toronto/Université Laval, 2003–, accessed September 30, 2023, http://www.biographi.ca/en/bio/desjardins_dorimene_16E.html.
The citation above shows the format for footnotes and endnotes according to the Chicago manual of style (16th edition). Information to be used in other citation formats:
| | |
| --- | --- |
| Permalink: | http://www.biographi.ca/en/bio/desjardins_dorimene_16E.html |
| Author of Article: | Guy Bélanger |
| Title of Article: | DESJARDINS, DORIMÈNE (Desjardins) (baptized Marie-Claire-Dorimène) |
| Publication Name: | Dictionary of Canadian Biography, vol. 16 |
| Publisher: | University of Toronto/Université Laval |
| Year of publication: | 2023 |
| Year of revision: | 2023 |
| Access Date: | September 30, 2023 |