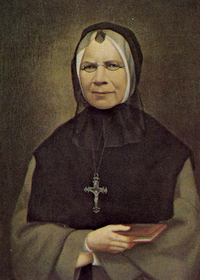 Source: Link
MALLET (Maillet, Maillé), MARIE-ANNE-MARCELLE, professed religious of the Sisters of Charity of the Hôpital Général of Montreal, foundress of the Institute of the Sisters of Charity of Quebec, and superior of that community from 1849 to 1866; b. 26 March 1805 at Montreal, L.C., daughter of Vital Mallet, farmer and tanner, and Marguerite Sarrazin; d. 9 April 1871 at Quebec.
Marie-Anne-Marcelle Mallet's childhood was upset by her father's premature death on 23 April 1810, and by the disruptions that resulted. At the age of 10 she had to leave the village of L'Assomption, where her family had lived since 1806: faced with the problem of her children's education, the mother had resigned herself to giving them up to an aunt and uncle at Lachine. Each year the adolescent girl regretfully took leave of her brother and her adoptive parents and went for some months as a boarder to the sisters of the Congregation of Notre-Dame, probably at Pointe-Claire.
At 16 Marcelle Mallet was already sensitive to the disarray well known to the child without a family and the poor without a home. She therefore decided to join the religious daughters of Mother d'Youville [Dufrost* de Lajemmerais], who had founded the Institute of the Sisters of Charity of the Hôpital Général of Montreal, the earliest religious congregation that was strictly Canadian. Admitted first as a postulant because of her youth, Marcelle Mallet was permitted to enter the noviciate on 6 May 1824. She made her profession in the community on 18 May 1826, and was called upon to perform the most varied tasks, but above all to care for the sick. In 1846 she began the custom of home visiting as a charitable undertaking. In 1847 typhus struck Montreal, and she had an opportunity to display her organizational abilities as much as her zeal, when, in the capacity of assistant superior, she assumed entire responsibility for the hospital.
In the period 1840 to 1850 the community set up a number of foundations. After Saint-Hyacinthe, Saint-Boniface (Manitoba), and Bytown (Ottawa) [see Elisabeth Bruyère], came Quebec. Selected as foundress-superior of this last mission, Sister Mallet left her religious family on 21 Aug. 1849 with five companions. It was an irreversible departure, according to the rule of the foundations of the time. On 22 Aug. 1849 the population of Quebec received its first Sisters of Charity. After two conflagrations and a terrible cholera epidemic, Quebec was then going through one of the most harrowing periods in its history. On their arrival, the sisters set themselves up in the orphanage-school in Rue des Glacis, on the boundary of the parish of Notre-Dame. On 5 November the members of the Société Charitable des Dames Catholiques de Québec entrusted to Mother Mallet an organization which they had founded in 1831 and maintained for 18 years; the ladies of the society remained associates of the Sisters of Charity.
Mother Mallet, who had come with her companions "to look after the sick, the education of needy young girls, and other requirements," concerned herself with answering the most pressing appeals of those in distress. In 1849 she instituted a relief service for poor schoolchildren. Then, in addition to the orphan girls, she took in women boarders in 1855, aged and infirm persons in 1856, and orphan boys in 1861. In 1866 she agreed to set up an out-patient service for the needy, and, during the 17 years that she directed the community, she established in the country, within the confines of the diocese of Quebec, five boarding-schools for girls, which were complementary to the local schools and served as training centres for schoolmistresses.
These charitable activities, which grew and became diversified, took their toll of Mother Mallet. She knew the ordeal of solitude: her early companions had either died soon after the founding of the institute, or, taking advantage of an invitation from the Hôpital Général of Montreal in 1854, had decided to return to Montreal despite their pledge in 1849; the epidemics of typhus in 1851 and of cholera in 1854 had reduced her work force while increasing her duties; on 3 May 1854 a fire had laid waste an orphanage that had just been built; and finally, quite unforeseen conflicts within the community she had started tried her sorely.
In September 1849 Mother Mallet had received four recruits for her charitable undertaking. She had thus established the bases of a new religious family. The Institute of the Sisters of Charity of Quebec received its official consecration in the church on 1 July 1866. On that day Pius IX approved its Règles et constitutions. Mother Mallet and several of her companions would have liked to remain loyal to the spiritual heritage of the Sulpicians bequeathed by Mother d'Youville and the Hôpital Général of Montreal. The foundress had refused a change in the legislation so long as she had been free to do so. But in 1863 Charles-François Baillargeon*, bishop of Quebec, had imposed on her a new rule which was the work of the Jesuit Antoine-Nicolas Braün, and which was essentially derived from the Society of Jesus.
When this new rule was put into force, the community of the Sisters of Charity of Quebec experienced a period of internal crisis. Although there was no conflict of principle between the two rules, all the sisters could not give their allegiance with equal freedom to the reorientation of the community. Mother Mallet herself, accustomed to the old rule, found it difficult to pass from the liberal atmosphere of the Sulpician school, in which her charity had flourished for 40 years, to this Ignatian framework, whose quality had proved itself but in which everything was more measured, more austere, and more rigorous. On the other hand the young nuns formed by Father Braün, the spiritual director of the community from 1856, enlisted boldly under the banner of the robust St Ignatius. Soon conflicting currents of ideas began to be apparent. In this drama of the Règles et constitutions Mother Mallet had the most difficult role. Ever since 1863 her attitude, conciliatory though it was, had been challenged by certain of the sisters. And Father Braün readily fostered this contention. In the 1866 elections the foundress was not re-elected as head of her community; she did not even have a place in the administration.
Mother Mallet then addressed herself to the humble task of a Sister of Charity, and, gently, reached her last days. She died at dawn on Easter Sunday, 9 April 1871. She was remembered as a woman of great activity and energy. Undaunted by time and space, her community in its vitality confirms her faith and justifies her work. Today, a century after her death, the community of the Sisters of Charity of Quebec numbers nearly 1,800 professed religious in the United States, Japan, Paraguay, Argentina, the Congo, and above all in the province of Quebec which gave it its corner-stone. "With no distinction of country, race, or culture" these nuns perpetuate Marcelle Mallet's consecration to childhood, sickness, and old age.
[Sœurs de la Charité de Québec], Actes du chapitre général, première session, juillet-août 1968 (n.d., 1968); Statistiques de la congrégation des sœurs de la Charité de Québec (n.d., 1968); Dans le sillage de la charité (Québec, 1959). Une fondatrice et son œuvre: mère Mallet (1805–1871) et l'Institut des sœurs de la Charité de Québec, fondé en 1849 (Québec, 1939)
© 1972–2023 University of Toronto/Université Laval
Cite This Article
Andrée Désilets, "MALLET, MARIE-ANNE-MARCELLE," in Dictionary of Canadian Biography, vol. 10, University of Toronto/Université Laval, 2003–, accessed December 11, 2023, http://www.biographi.ca/en/bio/mallet_marie_anne_marcelle_10E.html.
The citation above shows the format for footnotes and endnotes according to the Chicago manual of style (16th edition). Information to be used in other citation formats:
| | |
| --- | --- |
| Permalink: | http://www.biographi.ca/en/bio/mallet_marie_anne_marcelle_10E.html |
| Author of Article: | Andrée Désilets |
| Title of Article: | MALLET, MARIE-ANNE-MARCELLE |
| Publication Name: | Dictionary of Canadian Biography, vol. 10 |
| Publisher: | University of Toronto/Université Laval |
| Year of publication: | 1972 |
| Year of revision: | 1972 |
| Access Date: | December 11, 2023 |