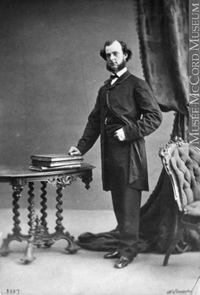 Source: Link
DINNING, HENRY, shipbuilder; b. c. 1830 probably in Ireland, son of James and Isabella Dinning; m. in 1864 Etta Carpenter, and they had at least nine children; d. 15 Feb. 1884 at Quebec City.
Henry Dinning immigrated to Quebec City with his family in 1832 and received his education there. On 1 Sept. 1850 he became a partner in a shipbuilding firm with William Henry Baldwin*, who in the previous year had leased the Anse au Foulon shipyard originally owned by George Black*. Their partnership agreement, signed for an 8-year term, provided that Baldwin would receive a credit of £1,000 for stock, furniture, and accounts receivable, and that he would superintend the shipyard while Dinning concerned himself with the office work. The partners built the 1,034-ton Birmingham in 1851 and the 1,203-ton Countess of Elgin the next year. In 1853 Baldwin and Dinning built four vessels: the 1,294-ton Annie Jane, the 1,237-ton Argonaut, the 476-ton Chance, and the 755-ton Meteor, followed by at least one vessel, the 1,032-ton Ocean Monarch, in 1854. In May 1856, however, the partnership was dissolved and Dinning took over the outstanding accounts and the yard at Anse au Foulon.
In 1858 Dinning formed a partnership with his father and the following year the firm of H. Dinning and Company, "shipbuilders, dock proprietors and repairers," constructed the 1,236-ton Prince Consort. Four years later it produced the 1,236-ton Annie Frost and the 1,154-ton Etta. The shipyard reached a high level of activity in 1866 when it built two ships and a barque, and carried out major repairs on a fourth vessel. H. Dinning and Company was considered one of the busiest shipyards on the St Lawrence River that year, and the credit agents of R. G. Dun and Company estimated its worth at between $25,000 and $50,000; it received a good credit rating.
The Quebec shipbuilding industry, which had weathered financial crises in 1854–55 and 1862–64, encountered yet another during the years 1866 and 1867, and the Dinning firm laid down no vessels in the latter year. The removal of protectionist duties by France from 1864 to 1870 could not compensate for the loss of markets caused by the commercial depression in England and the American tariffs on Canadian-built vessels. High interest rates contributed to the firm's rising production costs, as did a strike by ship's carpenters, who were organizing to seek protection from the competition of non-specialized labour. Together with the growing obsolescence of wooden ships in competition with steam and iron, these factors created numerous difficulties for shipbuilders such as Dinning. Nevertheless, his firm recovered in 1868, building two vessels. In May 1870 he launched the 550-ton barque Lady Young, whose quality workmanship and materials earned it "the highest class that has been given to any colonial vessel" by Lloyd's Register of British and Foreign Shipping, and in August he launched the Guinevere, the first composite ship built at Quebec, with an iron frame instead of the usual wooden one. Dinning continued his innovations the following year by launching what the Morning Chronicle described as "the first iron ship built in Quebec," actually a lightship built in Britain, dismantled, and then reassembled at his yard. The early 1870s were among the most ambitious years of Dinning's career.
He was also heavily involved in salvaging and repairing vessels that had been wrecked in the approaches to the St Lawrence and he travelled as far as Saint-Pierre and Miquelon in search of likely prospects. Sometimes he undertook to salvage vessels for their underwriters but on other occasions he bought the wrecks at auctions, gambling that he could repair them and recover a profit. In these risky ventures Dinning was not always successful; he lost three vessels between 1870 and 1871. By 1877 he was insolvent and legal proceedings were filed by rival groups of creditors who sought to have their various claims recognized. Dinning nevertheless remained in business until his death. He continued to build wooden vessels although, as he explained at a meeting of Quebec City merchants in 1879, their construction involved a loss of 20 to 30 per cent. By 1881 his debts were discharged; however, he never again demonstrated the innovative spirit of his earlier days.
Dinning followed his father's example by becoming involved in various economic, political, and social activities in the city. Both men were among the incorporators of the Quebec Street Railway Company in 1863, a group which also included businessman Guillaume-Eugène Chinic. Like his father, Henry Dinning served on the city council. He represented Champlain Ward as a councillor from 1872 to 1874, during which time he sat on the fire, roads, and bylaws committees, and as alderman from 1874 to 1877, when he served on the finance and aqueduct committees. At a council meeting in 1874, he was suggested as a possible candidate for the mayoralty but received only one vote. A member of the city's board of trade from at least 1865 to 1867, and again from February 1870 until his death, he occasionally sat on its council and its board of arbitration. He was also a member of the Quebec Yacht Club and its vice-commodore in 1868. His funeral cortège was said to have been one of the largest seen in the city.
In collaboration with Kenneth S. Mackenzie
AC, Québec, État civil, Méthodistes, Chalmers Wesley United Church (Quebec), 18 Feb. 1884. ANQ-Q, Fichier protestant, Henry Dinning et famille; Minutiers, J. G. Clapham, 27 March 1851. AVQ, Procès-verbaux du conseil, 1872–77. PAC, RG 4, C1, 395, files 1667, 1734; RG 31, A1, 1871, Quebec City, Montcalm Ward, p.82. Can., Prov. of, Statutes, August–October 1863, c.61. In re Dinning, insolvent, and Samson et al., petitioners (1878), 4 Q.L.R. 26. In re Dinning, insolvent, and Wurtele et al., petitioners (1878), 4 Q.L.R. 37. Watson et al., and Samson, in re Dinning (1878), 4 Q.L.R. 365. Canada Gazette, 23 Aug. 1856. Morning Chronicle (Quebec), 4 Aug., 31 Oct. 1863; 2 May, 15 Aug. 1870; 1 June 1871; 5 May 1876; 16, 19 Feb. 1884. Quebec Official Gazette, 18 Jan., 16 Feb., 15 March 1878; 8 July 1881. Dominion annual register, 1884. Jean Hamelin et al., Répertoire des grèves dans la province de Québec au XIXe siècle (Montréal, 1970), 19. The mercantile agency reference book . . . (Montreal and Toronto), 1866. Quebec directory, 1848–80. Fernand Ouellet, Histoire de la Chambre de commerce de Québec, 1809–1959 (Québec, 1959). Narcisse Rosa, La construction des navires à Québec et ses environs; grèves et naufrages (Québec, 1897; réimpr., Montréal, 1973). F. W. Wallace, Wooden ships and iron men: the story of the square-rigged merchant marine of British North America, the ships, their builders and owners, and the men who sailed them (Boston, 1937; repr. Belleville, Ont., 1973).
© 1982–2023 University of Toronto/Université Laval
Image Gallery

Cite This Article
In collaboration with Kenneth S. Mackenzie, "DINNING, HENRY," in Dictionary of Canadian Biography, vol. 11, University of Toronto/Université Laval, 2003–, accessed October 2, 2023, http://www.biographi.ca/en/bio/dinning_henry_11E.html.
The citation above shows the format for footnotes and endnotes according to the Chicago manual of style (16th edition). Information to be used in other citation formats:
| | |
| --- | --- |
| Permalink: | http://www.biographi.ca/en/bio/dinning_henry_11E.html |
| Author of Article: | In collaboration with Kenneth S. Mackenzie |
| Title of Article: | DINNING, HENRY |
| Publication Name: | Dictionary of Canadian Biography, vol. 11 |
| Publisher: | University of Toronto/Université Laval |
| Year of publication: | 1982 |
| Year of revision: | 1982 |
| Access Date: | October 2, 2023 |