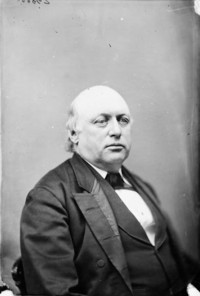 CHINIC, GUILLAUME-EUGÈNE, businessman; b. 26 Oct. 1818 at Quebec City, son of Joseph-Martin Chinic and Julie Measam; d. there 28 April 1889 and was buried 30 April in the Belmont cemetery (now in Sainte-Foy, Que.).
Martin Dechennequi*, who founded the Canadian branch of the family, came from Saint-Pierre in the diocese of Bayonne, France, to Quebec City in 1740 and worked as a ship's captain and pilot. The only son to survive him, Martin Chinic*, went into business; he had a son, Joseph-Martin, a merchant and shipbuilder, who died prematurely leaving two boys, one of whom died when he was eight. The other, Guillaume-Eugène, an orphan from an early age, had to be brought up by his grandparents. According to Pierre-Georges Roy*, Chinic, "while still quite young, became an employee of the Méthot firm" at Quebec probably around 1833 or 1834. François-Xavier Méthot*, having founded the firm in 1808, was at that time at the peak of his business career. He ran a wholesale and retail hardware store on Rue Saint-Pierre, and to increase his profits engaged in what economists call vertical integration. Thus he set up a nailery at Beauport in 1834, known as the Ventadour mill, a mastic factory in 1835, and later a factory for making millstones. These small establishments were still in operation in 1873 but by then belonged to Chinic. Sole heir of a family that was moving up in society, the young clerk of the 1830s, with his business ability and initiative, had succeeded in winning the affection and confidence of Méthot, who had gradually brought him into his firm. It is not known when the partnership of Méthot et Chinic began. According to the Quebec directory it existed in 1847 – the date 1845 is given in a brochure put out by the company – and ended in 1853 with the death of François-Xavier Méthot; Chinic then became the principal partner and head of the firm.
The hardware trade remained the backbone of Chinic's activities until he retired. The firm was not a family one and over the years its name changed with the partners; however, in 1880 his son, Eugène-Philéas-Nowlan, joined the business. Seven years later Chinic relinquished his interests in the company following a transaction the real reasons for which remain a mystery. In the autumn of 1887 the stock of Beaudet et Chinic was sold to English-speaking financiers, who formed a joint stock company capitalized at $100,000 but with a potential of $150,000; the Montreal Herald and Daily Commercial Gazette attributed the move to an increased volume of business, while La Justice, of Quebec, claimed it was due to a bankruptcy. The Chinic Hardware Company Limited (Compagnie Chinic de quincaillerie Limitée) was run by Edwin Jones as president, George Taylor Davie* and Winceslas Méthot as directors, William Shaw as manager, Eugène-Philéas-Nowlan Chinic as assistant manager, and Hector-Edmond Dupré as secretary. The new owners also acquired the nailery at Beauport and a stone-cutting works which used rough-hewn stone imported from France to produce millstones and blocks for flour-milling. According to Le Canadien of 30 Sept. 1887, Chinic intended to start a new business establishment with one of his former employees, but it is not known whether this project ever came to anything.
During the 1840s Chinic firmly secured his position in society. On 1 Feb. 1844, at Montreal, he married Marie-Anne-Claire, the daughter of Joseph Leblond, a merchant, and they were to have 12 children. Repeatedly bereaved by the deaths of six of their children, four in infancy, the Chinics also had their consolations. Through felicitous marriages, their surviving children formed alliances with such well-known families as the Taschereaus, Angers, Wurteles, Navarros, Knights, and Chagnons – clear evidence of the considerable reputation enjoyed by the Chinics. At the outset of his married life Chinic resided in the building that housed the hardware store. Around 1850 he moved to a magnificent residence on the Chemin Sainte-Foy, where he lived until his death. He was already a prominent figure in Quebec City. He had taken part in the founding of the Institut Canadien in 1848, and the next year was one of the citizens who sought the incorporation of the Société Saint-Jean-Baptiste de la Cité de Québec. He was fond of sport, particularly yachting, and in 1869–70 was commodore of the Quebec Yacht Club.
With the wealth he had inherited from his family and the income from the hardware store Chinic was soon in easy circumstances. He was kind and generous by nature and supported philanthropic causes, as is shown by his role in the founding of the Caisse d'Économie de Notre-Dame de Québec [see François Vézina] and his position as its vice-president (1854–56) and director (1857–59, 1872–73, 1875–76). But he was also concerned, as a businessman, with getting a good return on his capital, an endeavour in which he was engaged as early as 1847. That year his name appeared on the act incorporating the District Bank of Quebec. He does not seem to have been very active in this bank, probably being content to treat it as a good investment. Between 1850 and 1880 his financial ventures increased greatly. He associated himself with Francophone businessmen such as François Vézina, Isidore Thibaudeau*, Pierre Garneau*, and Ulric-Joseph Tessier* who were attempting to break into the business world and who were competing with their Anglophone compatriots in the development of Quebec City. The city was entering a difficult period of transition. In the 1850s it suffered the consequences of the building of canals on the St Lawrence and the construction of the Grand Trunk; these reduced its use as a port and benefited Montreal, Toronto, and Portland, Maine. Furthermore, the advent in the 1860s of iron steamships spelled the end of its shipyards, and the declining demand for squared timber in the 1870s meant fewer sailing vessels in port and fewer raftsmen in the coves along the river. Joined together in the Quebec Board of Trade, businessmen strove vainly to protect the city's interests. The majority finally came to see Quebec as the economic centre of a region, with its prosperity hinging on a network of railways to link it to the hinterland and a network of credit institutions to channel savings into the hands of entrepreneurs.
These developments throw light on Chinic's involvement in both railway construction and banking institutions. He invested in the Quebec Building Society, which under François Vézina's management became a powerful credit instrument with dividends of 10 per cent a year. In this society he played an active part, and agreed in 1851 to be one of its directors. He played an even more decisive role in the creation of the Banque Nationale, which opened in April 1860: he had been a member of the founding committee since 1858, and with his friends Vézina and Isidore Thibaudeau, Chinic provided leadership for the enterprise; subsequently he proved one of the most energetic shareholders of the bank, of which he was vice-president from 1860 to 1863 and president from 1864 to 1876. Concurrently with these financial activities Chinic continued to take an interest in railway construction. When the North Shore Railway Company was formed in 1853, to link Quebec to Montreal, Chinic, although not prominent in the company, seemed to be involved; in addition, in 1854 the Quebec directory listed him as one of the Quebec Northern Railway directors. The promoters were planning to build a railway with wooden tracks which in its first phase would link Quebec to the Rivière Sainte-Anne, with its abundant reserves of firewood. But the promoters' enthusiasm failed to persuade investors, who refused to take up 8,000 shares of £10 each. Nevertheless, Chinic remained interested in railways. He was secretary of the North Shore Railway Company in 1857–58 and his name appeared on the act of incorporation of the St Maurice Railway and Navigation Company in 1857; he was a central figure in the negotiations, and probably also in the political moves, that resulted in 1858 in the amalgamation of these two companies to form the North Shore Railway and St Maurice Navigation and Land Company. A visit in 1868 by the American engineer Jerome B. Hulbert, a specialist in wooden track railways, created interest in a scheme for a railway to link Quebec City and Lac Saint-Jean, the first section of which was to follow the route already put forward to join Quebec City and Portneuf County. The Quebec and Gosford Railway was incorporated in 1869 and work began during the summer of 1870; in November the section was opened. Chinic, one of the directors of the company, was jubilant. But disenchantment set in immediately. With use the wooden tracks quickly proved vulnerable to the Quebec thaw. By the spring of 1873 the track was unusable and the shares of the Quebec and Gosford plummeted to 10 cents each. It was the end of wooden track railways, but not of a railway to Lac Saint-Jean. These disappointments, the international economic depression which paralysed Quebec from 1874, and political rivalries combined to delay the project. Chinic did not succumb to discouragement. The Quebec directory listed him as vice-president of the Quebec and Lake St John Railway Company (another name for the Quebec and Gosford Railway which in 1870 had obtained authorization to extend its track to Lac Saint-Jean) in 1875–76 and in 1879–80, a period in which the company obtained a number of grants but did not manage to organize itself on a sound basis or to meet the standards laid down by the province. Moreover the provincial government, which in 1875 undertook the construction of the Quebec, Montreal, Ottawa and Occidental Railway, had only limited funds for the Quebec–Lac Saint-Jean project. Illness prevented Chinic from completing his work. The Quebec and Lake St John Railway Company, which was reorganized in 1882 by Élie Saint-Hilaire, an mla, established the first link between Quebec and Lac Bouchette on 29 Aug. 1887.
Chinic liked politics but did not care much for electoral battles. In contrast to other business friends he never sought election either as an alderman or as an mla. He was a man who worked behind the scenes. He had friends among both the Bleus and the Rouges and he had helped all of them in various ways. In 1875 the Liberals appointed him to the Senate and in January 1876 the Conservatives of Quebec appointed him, together with George Irvine* and Henri-Gédéon Malhiot, a commissioner of the Quebec, Montreal, Ottawa and Occidental Railway. He held these posts only a few years: the provincial cabinet abolished the railway commission in 1878 and illness forced Chinic to resign from the Senate the next year. In these two posts he accomplished nothing noteworthy. It is possible that the recurrent economic crisis of the years 1874–78, one of the most severe in the 19th century, obliged him to concentrate his energies on his hardware business and on the management of La Banque Nationale of which he was president. Both these establishments survived, but Chinic was being slowly worn out by illness. He passed away on 28 April 1889.

Huguette Filteau and Jean Hamelin
The records of the Chinic firm no longer exist for the period before 1940, and Guillaume-Eugène Chinic's biography had to be written mainly from printed sources and studies.
AC, Québec, État civil, Catholiques, Notre-Dame de Québec, 30 avril 1889. ANQ-Q, État civil, Catholiques, Notre-Dame de Québec, 26 oct. 1818. Can., prov. du, Statuts, 1847, c.113; 1848, c.17; 1849, c.148; 1852–53, c.100; 1857, c.149; 1858, c.56; 1859, c.108; 1861, c.85. Qué., Statuts, 1869, c.53; 1875, c.2; 1880, c.46. Le Canadien, 7 nov. 1853; 5, 30 sept. 1887; 29 avril 1889. Le Journal de Québec, 3, 29 sept. 1887. La Justice (Québec), 23 déc. 1887. Montreal Herald and Daily Commercial Gazette, 4 Nov. 1889. Morning Chronicle (Quebec), 30 Jan. 1854, 3 Dec. 1872, 7 May 1879, 24 Dec. 1887. La Patrie, 15 janv. 1889. CPC, 1880. Quebec almanac, 1825–35. Quebec directory, 1847–90. P.-G. Roy, Fils de Québec (4 sér., Lévis, Qué., 1933), IV: 30–31. Auguste Béchard, Histoire de la Banque nationale . . . (Québec, 1878). F.-X. Chouinard et Antonio Drolet, La ville de Québec, histoire municipale (3v., Québec, 1963–67), III: 85. Une page d'histoire de Québec: magnifique essor industriel (Québec, 1958), 40–43. François Vézina, Récit historique de la progression financière de la Caisse d'économie de Notre-Dame de Québec (Québec, 1878). J. H. Bartlett, "The manufacture of iron in Canada," American Institute of Mining Engineers, Trans. (New York), 14 (1885–86): 508–42. "Les Méthot," BRH, 39 (1933): 80–81. Léa Pétrin, "Industrie et commerce à Québec: un morceau du vieux Québec," Le Soleil (Québec), 21 sept. 1947. P.-G. Roy, "La famille Chinic," BRH, 45 (1939): 207–10.
© 1982–2023 University of Toronto/Université Laval
Cite This Article
Huguette Filteau and Jean Hamelin, "CHINIC, GUILLAUME-EUGÈNE," in Dictionary of Canadian Biography, vol. 11, University of Toronto/Université Laval, 2003–, accessed October 1, 2023, http://www.biographi.ca/en/bio/chinic_guillaume_eugene_11E.html.
The citation above shows the format for footnotes and endnotes according to the Chicago manual of style (16th edition). Information to be used in other citation formats:
| | |
| --- | --- |
| Permalink: | http://www.biographi.ca/en/bio/chinic_guillaume_eugene_11E.html |
| Author of Article: | Huguette Filteau and Jean Hamelin |
| Title of Article: | CHINIC, GUILLAUME-EUGÈNE |
| Publication Name: | Dictionary of Canadian Biography, vol. 11 |
| Publisher: | University of Toronto/Université Laval |
| Year of publication: | 1982 |
| Year of revision: | 1982 |
| Access Date: | October 1, 2023 |