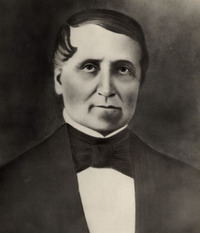 Source: Link
DUMOULIN, PIERRE-BENJAMIN, lawyer, seigneur, politician, justice of the peace, office holder, land speculator, and judge; b. most probably in January 1799 in Trois-Rivières, Lower Canada, son of François Dumoulin and Louise Cressé; m. there 2 May 1825 Hermine Rieutord, only daughter of François Rieutord, a surgeon, and they had 11 children, of whom 6 reached adulthood; d. there 24 Sept. 1856.
Pierre-Benjamin Dumoulin belonged to a typical family of the petite bourgeoisie which was making its presence felt in Lower Canada towards the end of the 18th century. His father, who came from the canton of Bern in Switzerland, declared himself in official documents to be a businessman living in Sainte-Anne-de-Bout-de-l'Île (Sainte-Anne-de-Bellevue), Lower Canada, in 1796. His mother, the sister of Pierre-Michel Cressé*, had inherited one-third of the seigneury of Courval after her father's death in 1764; she and François Dumoulin acquired the remaining two-thirds from Pierre-Michel in 1796. They relinquished the seigneury eight years later. Two brothers of Pierre-Benjamin were based in Trois-Rivières, Jean-Emmanuel as a notary and Louis-François as a merchant. Another brother, Sévère, was to become a missionary in the Red River colony (Man.) with Joseph-Norbert Provencher, and then priest of the parish of Sainte-Anne at Yamachiche in Lower Canada.
Having studied from 1810 to 1815 at the Séminaire de Nicolet, in 1816 Pierre-Benjamin became a clerk in the office of Pierre Vézina, a lawyer in Trois-Rivières. He was called to the bar on 21 July 1821 and decided to practise his profession there. Around the middle of the 1820s Dumoulin acquired part of the seigneury of Grosbois-Est; as a result, from 1825 he derived rents from his censitaires and granted mortgage loans.
In 1826, when he was just 27, Dumoulin went into politics, and ran against Charles Richard Ogden*, the attorney general of Lower Canada, in a by-election in Saint-Maurice for the House of Assembly. Despite the personal support he received from Charles-Elzéar Mondelet* and Ludger Duvernay through L'Argus, the "journal électorique," he was defeated. He stood again the following year for Trois-Rivières and was elected; he retained his seat until his resignation in 1832. According to Thomas Chapais*, Dumoulin apparently distinguished himself when in 1831 he opposed a bill to reduce the powers of priests in administration of parishes, a measure which was defended by Louis-Joseph Papineau* and Louis Bourdages*. Chapais also reports that during the summer of 1837, in the face of the growing radicalism of some members of the Patriote party, Dumoulin spoke out strongly "against the doctrines preached at various protest meetings and against the resolutions passed by them."
On 13 Jan. 1838, shortly after the outbreak of rebellion, Dumoulin was made a qc, and on 16 January he was named a justice of the peace, a commission renewed on 2 July 1839. On 24 April 1839 he was appointed a commissioner of the Court of Requests and on 7 Sept. 1840 a bankruptcy commissioner. His accession to the magistracy underlines the fact that he had found favour with the Special Council. However, the Court of Requests was abolished in December 1841 and Dumoulin returned to practising law. In 1843 he was divested of his qc and relieved of his duties as bankruptcy commissioner on a complaint made against him as a magistrate by Colonel Bartholomew Conrad Augustus Gugy*. He was in disgrace for a decade.
This did not preclude Dumoulin's becoming involved again in public life after an absence of 13 years when Trois-Rivières was incorporated as a municipality in 1845. He was elected its first mayor and was elected again in 1853 to hold office for one year. Meanwhile, it is probable that the advent of ministerial responsibility prompted his return to provincial politics. In the elections of 1848 he ran against Antoine Polette*, a lawyer in the city, for the riding of Trois-Rivières, but was defeated. A year later he joined other members of the bar of the region in denouncing a bill on the administration of justice entailing, among other things, the elimination of the judicial district of Three Rivers. In December 1851 he was elected for Yamaska to the Legislative Assembly of the Province of Canada, where he sat until June 1854. As member for Yamaska, Dumoulin took a stand in 1852 favouring the construction of a railway to link Trois-Rivières with Saint-Christophe-d'Arthabaska (Arthabaska).
He regained the trust of his colleagues and of the authorities in 1853; on 7 May he was appointed bâtonnier of that district, a title he retained until his death. On 5 July 1853 the governor of the Province of Canada, Lord Elgin [Bruce*], reappointed him a qc. Finally, on 6 March 1856, Dumoulin was chosen as chief judge of the Court of Quarter Sessions at Trois-Rivières.
When the property of the Saint-Maurice ironworks was broken up in 1845, Dumoulin seized the opportunity to go beyond making mortgage loans and take up land speculation. In 1846 he divested himself of the seigneury of Grosbois-Est, bought the Saint-Maurice seigneury, and speculated on the resale of the lots it contained. His purchase was roundly denounced by James Dickson, a merchant of Trois-Rivières, who also wanted to buy the seigneury. The transaction put the Dumoulin family on a sounder economic basis.
Pierre-Benjamin Dumoulin died in Trois-Rivières on 24 Sept. 1856 at the age of 57 and was buried three days later in the cathedral. He left a highly respected family, including Sévère, a lawyer, an mla, mayor of Trois-Rivières in 1865, and sheriff of the district of Three Rivers from 1869 to 1882; Jean-Gaspard, a lawyer and protonotary of Arthabaska; Pantaléon-Benjamin, a notary of Trois-Rivières; and Charles, a lawyer and sheriff of Trois-Rivières after Sévère. After Dumoulin's death at least two of his sons, Charles and Pantaléon-Benjamin, followed his lead in land speculation. They were identified with the purchase and sale of lots which accompanied the first wave of urban expansion at Trois-Rivières from 1850 to 1880.
ANQ-M, CE6-11, 23 févr. 1784. ANQ-MBF, CE1-48, 2 mai 1825, 27 sept. 1856; CN1-27, 4 févr. 1853; CN1-56, 1er mai 1825. ASTR, 0368. BE, Trois-Rivières, reg. B, 1, no.17. PAC, RG 31, A1, 1825, 1831, Trois-Rivières; RG 68, General index, 1651–1841: 10, 77, 221, 393, 401, 540; 1841–67: 312, 317. L'Argus (Trois-Rivières, Qué.), 30 août 1826. L'Ère nouvelle, 31 janv., 25 sept. 1856. La Gazette des Trois-Rivières, 28 janv. 1847. Journal des Trois-Rivières, 1849; 6 mars 1852; 7 mai, 9 juill., 6 août 1853. Le Journal des Trois-Rivières, 12 août, 21 oct. 1872; 6, 31 août 1874. F.-J. Audet, Les députés des Trois-Rivières; "Les législateurs du Bas-Canada." Desjardins, Guide parl. La Mauricie et les Bois-Francs: inventaire bibliographique, 1760–1975, René Hardy et al., édit. (Montréal, 1977). P.-G. Roy, Les juges de la prov. de Québec. Raphaël Bellemare, Les bases de l'histoire d'Yamachiche, 1703–1903 . . . (Montréal, 1901), 58, 72–74. Napoléon Caron, Histoire de la paroisse d'Yamachiche (précis historique) (Trois-Rivières, 1892). Chapais, Cours d'hist. du Canada, 3: 252; 4: 150. Douville, Hist. du collège-séminaire de Nicolet, vol.2. Albert Tessier, Les forges Saint-Maurice, 1729–1883 (Trois-Rivières, 1952). Robert Cannon, "Les Trois-Rivières et les familles Dumoulin et Cannon," BRH, 40 (1934): 109–16. "Les disparus," BRH, 31 (1925): 479. Benjamin Sulte, "Anciens journaux des Trois-Rivières," BRH, 7 (1901): 282–84. Albert Tessier, "Un curé missionnaire: l'abbé S.-N. Dumoulin (1793–1853)," Cahiers des Dix, 16 (1951): 117–31.
© 1985–2023 University of Toronto/Université Laval
Image Gallery

Cite This Article
Benoît Gauthier, "DUMOULIN, PIERRE-BENJAMIN," in Dictionary of Canadian Biography, vol. 8, University of Toronto/Université Laval, 2003–, accessed December 7, 2023, http://www.biographi.ca/en/bio/dumoulin_pierre_benjamin_8E.html.
The citation above shows the format for footnotes and endnotes according to the Chicago manual of style (16th edition). Information to be used in other citation formats:
| | |
| --- | --- |
| Permalink: | http://www.biographi.ca/en/bio/dumoulin_pierre_benjamin_8E.html |
| Author of Article: | Benoît Gauthier |
| Title of Article: | DUMOULIN, PIERRE-BENJAMIN |
| Publication Name: | Dictionary of Canadian Biography, vol. 8 |
| Publisher: | University of Toronto/Université Laval |
| Year of publication: | 1985 |
| Year of revision: | 1985 |
| Access Date: | December 7, 2023 |