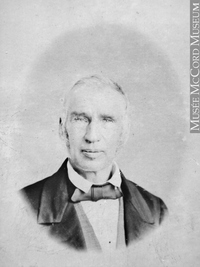 Source: Link
DUNCAN, JAMES D., painter, lithographer, and teacher of drawing; b. in 1806 in Coleraine (Northern Ireland); m. in 1834 Caroline Benedict Power of Sorel, Lower Canada, and they had three sons and two daughters; d. 28 Sept. 1881 in Montreal, Que.
James D. Duncan spent the first 19 years of his life in Ireland. In 1825, after having received some artistic training, he immigrated to Lower Canada, and by 1830 was established in Montreal as a professional artist and teacher of drawing. During the rebellion of 1837 Duncan held a commission as lieutenant in a light infantry regiment.
Numerous views in oil, gouache, and water-colour of Montreal life and scenery, presenting landscape and enlivened with the anecdote of genre painting, established Duncan as a recorder par excellence of that city over several decades. He also painted a few Quebec landscapes and in 1848 travelled to Niagara and London, Canada West, in search of new subject-matter. That Duncan's early water-colours were influenced by the British tradition in water-colours is demonstrated in a series of views of Montreal commissioned by Jacques Viger* in 1831, which range from a purely topographical approach as in "Ruins of Fort Senneville" to a more picturesque rendition in his view of "St. Genevieve."
Duncan met the Victorian demand for picturesque topographical views of known scenes, and this pictorial convention established early in his career remained constant throughout his life. "View of Montreal from St. Helen's Island" (1852) is typical of his work: in the foreground is the island from which the viewer sees the city, with trees as a frame and with an element of genre anecdote. The depiction of the city, in the middle ground, is by detailed rendering of its buildings. In the background, the undulating profile of Mount Royal gives a pleasingly picturesque horizon line.
Numerous studies of genre subjects were part of Duncan's pictorial method. His earliest sketch-book for 1840 to 1845 has scenes of Montreal streets and its markets, hunters, and Indians. Such sketches are the source for the genre anecdotes Duncan always included in his more finished water-colours. He was one of the pioneers among English-speaking Canadian artists in his use of genre, and as such has an artistic link with Cornelius Krieghoff* whose influence upon him is highly probable but still to be worked out in detail.
After the early 1850s Duncan's water-colour views began to demonstrate a growing interest in autumn colouring. Although the subject-matter in such works as "Montreal from the mountain" (1858) is still the detailed depiction of a panoramic Montreal, much of the artist's attention is concentrated on the autumn landscape in the foreground, with subtle handling of the foliage in pure yellows, roses, salmon tans, and greens placed side by side. This ordered, naturalistic rendering of landscape, combined with clear, consistent colouring, is characteristic of Duncan's watercolours during the latter part of his career.
Duncan used many of his water-colours of Montreal life and city views as illustrations in such magazines as the Canadian Illustrated News (Montreal) and the Illustrated London News. He also produced the drawings for Newton Bosworth's Hochelaga depicta, a Montreal guide book published in 1839 and 1846; these illustrations, in which architectural detail is reproduced with great exactness, are significant because they are among the few remaining original sources of Montreal architecture of the time.
In contrast to Duncan's prolific output of watercolour landscapes, only four major landscapes in oil by him are known. The earliest, a "View of Montreal" (c. 1826), shows the influence of classical idealism in the dramatic lighting and careful ordering of the Montreal scenery. This style gives way to a picturesque topographical approach in "Montreal from the mountain" and "Montreal from St. Helen's Island" (1838), where Duncan pictured the most prosperous aspects of the city with great architectural detail. The fourth, a large "View of Montreal from the mountain" (c. 1843), was possibly a trial painting for a projected series of panoramas.
As a portrait painter Duncan was most active prior to the late 1850s. His portraits included oils, miniatures in water-colour and pastel, and silhouettes, and he also took photographs. Their style is uneven and inconsistent, and the few attributions of portraits to him may result from a failure to recognize his erratic mannerisms. The best examples are the series of historical Canadian portraits commissioned by Jacques Viger between 1839 and 1845.
Duncan also painted a number of works based on historical themes. In 1845 Viger commissioned him to illustrate sections of his "Ma Saberdache" in which the artist portrays the "First encounter with the Illinois," "Montreal in 1693," and similar subjects. In addition, Duncan provided the water-colour illustrations for Viger's "Costumes des communautés religieuses de femmes en Canada . . ." presented by Viger to Mgr Cajetan Bedini in memory of the latter's visit to Montreal in 1853. Duncan's other historical works such as "Burning of Hayes House, Montreal" (1852) and "Gavazzi riot" (1853) depict contemporary events.
Duncan was one of Canada's first lithographic draughtsmen; he again looked to both Montreal and Quebec for his subject-matter. In 1847 he published a Panoramic view of Montreal, which was engraved by W. S. Barnard. A set of six views of Montreal was drawn on stone by Duncan and published in 1849 in Montreal. In these works Duncan reveals the same pictorial organization and concerns as in his watercolour views.
Throughout his career Duncan was a part-time teacher of drawing at various Montreal institutions such as the high school of the McGill Normal School and the High School of Montreal. In 1845 he collaborated with M. G. H. Gordon in establishing drawing classes at Place d'Armes, Montreal. Duncan had the reputation of being an accomplished and conscientious teacher, who tried to provide his students with a basic knowledge of drawing and water-colour techniques and to introduce them to the major aesthetic trends current in Europe.
In later life Duncan achieved financial as well as artistic success. In 1864 he became involved in a profitable commercial enterprise, Duncan and Company, "lithographic printers and engravers and draughtsmen." He displayed his work at the Great Exhibition in London, England, in 1851, the provincial exhibitions at Montreal 1863–65, the Art Association of Montreal 1865–79, the Society of Canadian Artists 1867–71, and with the Royal Canadian Academy in 1881. In 1879 he travelled to England and Scotland, evidently to purchase works of art for himself and for such collectors in Montreal as George Alexander Drummond*. Late in 1880 he returned to Montreal where he died the following year.
Recognized as an artist of distinction, in 1847 Duncan had been a founding member, along with Krieghoff, and treasurer of the Montreal Society of Artists, and he was elected a member of the Society of Canadian Artists at Montreal in 1867 and an associate of the Royal Canadian Academy in 1880. In the works he produced for sale Duncan catered to the artistic demands of the rapidly growing middle class. In his career and his works he is the epitome of the successful mid-19th-century Canadian artist.
Over 40 works by Duncan are at McCord Museum, Montreal.
ASQ, Fonds Viger-Verreau, Sér.O, 095–0125. Bibliothèque de la ville de Montréal, Salle Gagnon, Fonds Jacques Viger, "Costumes des communautés religieuses de femmes en Canada . . . en 1853." McGill Univ. Arch., McGill High School arch.; McGill Normal School arch. Royal Ontario Museum (Toronto), Canadiana Dept., Sigmund Samuel coll., James Duncan, Sketchbook. George Alexander Drummond letters in the possession of G. M. Drummond (Montreal) were also consulted. Canadian Illustrated News (Montreal), 5 July 1873. Illustrated London News, 7 Aug. 1852; 19 March, 16 April 1859. La Minerve, 16 oct. 1845, 4 juill. 1854. Montreal Gazette, 1 Nov. 1856. Mary Allodi, Canadian watercolours and drawings in the Royal Ontario Museum (2v., Toronto, 1974), I: 691–726. C. P. de Volpi and P. S. Winkworth, Montréal: a pictorial record . . . 1535–1885 (2v., Montreal, 1963), I: 85, 89–94. J. R. Harper, Everyman's Canada; paintings and drawings from the McCord Museum of McGill University (Ottawa, 1962), 43–44; Painting in Canada, 124, 189. Gérard Morisset, La peinture traditionnelle au Canada français (Ottawa, 1960), 148–50. P. St. G. Splendlove, The face of early Canada: pictures of Canada which have helped to make history (Toronto, 1958), 65–66. Jules Bazin, "L'album de consolation de Jacques Viger," Vie des arts (Montréal), 17 (1959): 26–30. É.-Z. Massicotte, "L'illustrateur du vieux Montréal," BRH, 46 (1940): 139–41.
© 1982–2023 University of Toronto/Université Laval
Cite This Article
Patricia A. Todd, "DUNCAN, JAMES D," in Dictionary of Canadian Biography, vol. 11, University of Toronto/Université Laval, 2003–, accessed November 28, 2023, http://www.biographi.ca/en/bio/duncan_james_d_11E.html.
The citation above shows the format for footnotes and endnotes according to the Chicago manual of style (16th edition). Information to be used in other citation formats:
| | |
| --- | --- |
| Permalink: | http://www.biographi.ca/en/bio/duncan_james_d_11E.html |
| Author of Article: | Patricia A. Todd |
| Title of Article: | DUNCAN, JAMES D |
| Publication Name: | Dictionary of Canadian Biography, vol. 11 |
| Publisher: | University of Toronto/Université Laval |
| Year of publication: | 1982 |
| Year of revision: | 1982 |
| Access Date: | November 28, 2023 |