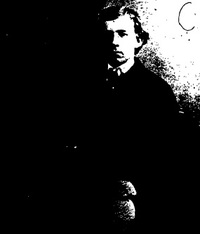 Source: Courtesy of Wikimedia Commons
EDSON, ALLAN AARON, artist; b. 18 Dec. 1846 in Stanbridge Township, Canada East, son of Hiram Edson and Elvira Gilmore; m. in 1871 at Montreal Mary Stewart, and they had four sons; d. 1 May 1888 in Glen Sutton, Que., and was buried 3 May in Mount Royal Cemetery, Montreal.
Allan Aaron Edson moved with his family to Stanbridge village when he was young. His father ran a hotel which was close to the bank of John Carpenter Baker, a patron of the arts who later helped finance Allan's studies abroad and became an important purchaser of his work. A second move in about 1861 took the family to Montreal. Here Allan, who had received a commercial training, worked in several business houses, including, it is said, that of Augustus J. Pell, a well-known picture frame manufacturer and art dealer. At Pell's he would have met professional artists.
According to his obituaries Edson was briefly, in these early years, a pupil of Robert Stuart Duncanson*, and by 1864 he had given up his regular employment and was preparing to go abroad for further art training. When he returned to Montreal about two years later he began at once to make a name for himself. One of his paintings was among the prizes offered in 1866 in an art lottery sponsored by the Art Association of Montreal. His name appeared at this time with those of established artists, including Otto Jacobi and James D. Duncan. Further study in both Great Britain and continental Europe followed. In all, Edson made at least four trips overseas. He went for the last time in the 1880s, and remained in France for five years; during part of this period he was a pupil of Léon-Germain Pelouse, the teacher who had the greatest influence upon him. Though he had considerable success by the 1880s, Edson was never free from financial strains. In a letter written to his wife from Paris in 1881 he spoke of the difficulties of painting with fingers stiff from cold (a fire in his room was too expensive), and of dining on "dish-watery" soup in cheap cafés.
Contemporaries described Edson as unusually modest. He was, none the less, conspicuous in professional organizations: a founding member of the Society of Canadian Artists in 1867, an early member of the Ontario Society of Artists, founded in 1872, and a charter member in 1880 of the Royal Canadian Academy of Arts. At the first academy exhibition in March 1880, Princess Louise*, Marchioness of Lorne, purchased works by Edson for her mother, Queen Victoria, and for herself. The queen lent an Eastern Townships landscape by him to the Colonial and Indian Exhibition in 1886.
From the 1860s until his death Edson exhibited regularly in Canada. His work was also shown at the Royal Academy of Arts in London and the Paris Salon; it was seen at world fairs in Philadelphia (1876) and Antwerp (1885). He taught composition and landscape painting at the Art Association of Montreal, and provided illustrations for publications such as the Canadian Illustrated News and L'Opinion publique.
In his earlier period Edson had traits in common with the Hudson River school of painting; his later style showed strongly the effects of his years in France. He was not, however, a mere product of European training, returning home to portray Canada in a foreign spirit. Edson proved able to adapt what he had learned abroad to the essential ruggedness of the Canadian landscape. Typical of his subjects are the early "Sheep in landscape" (the National Gallery of Canada, Ottawa); "The coming storm over Lake Memphremagog" (Musée du Québec); "A trout brook" (exhibited at Philadelphia in 1876 and owned, at that time, by Augustus J. Pell); "Cow-path in the woods" and "In the mountains, Glen Sutton" (both in his studio at the time of his death). His favourite subjects were found in his native Eastern Townships. All his life he was preoccupied with the effect of sunlight filtering through leaves in the interior of woodlands. How early this theme absorbed his attention is evident from a contemporary account of an 1868 Montreal exhibition: "Edson's latest work . . . and his best . . . shews a woodland where the sunlight steals through the green boughs of opening glades. . . ."
He was successful in both oils and water-colours, but his water-colours generally commanded the highest praise. J. E. Hodgson, ra, a professor at the Royal Academy Schools, who was commissioned by the government of Canada to report on the Canadian art shown at the Colonial and Indian Exhibition in London, declared that "in point of colour" there was nothing finer in the whole collection than Edson's water-colour landscape. Though at the time of his death, Edson was only beginning to realize his full powers, he was described as the best landscape painter Canada had yet produced.
[Works by Allan Aaron Edson are held in a number of public collections including the National Gallery of Canada (Ottawa), the Musée du Québec, the Montreal Museum of Fine Arts, the Art Gallery of Ontario (Toronto), and the Edmonton Art Gallery. Some information concerning Edson was provided by the late T. A. Knowlton of Montreal. Mrs Ruby Moore of Stanbridge East, Que., has Gilmore family papers. e.c.]
McGill Univ. Libraries (Montreal), Blackader Library, H. G. Jones and Edmond Dyonnet, "History of the Royal Academy of Arts" (typed copy, 1934), chapter 5. Montreal Museum of Fine Arts, Reference Library, Album de coupures, 1863–82; Classeur canadien, Dossier A. A. Edson; ms Watts. National Gallery of Canada, A. A. Edson, Acc. nos.131, 1398, 9648, 15379, 17556, 18161. Missisquoi County Hist. Soc., Report (St Johns [Saint-Jean-sur-Richelieu], Que.), 6 (1960): 47–48. Charles Tupper, Report . . . on the Canadian section of the Colonial and Indian Exhibition at South Kensington, 1886 (Ottawa, 1887), 64. Canadian Illustrated News (Montreal), 11 March 1871; 4 May, 10 Oct. 1874; 24 April 1880; 25 June, 2 July 1881. Gazette (Montreal), 13 Nov. 1867, 23 Dec. 1868, 26 June 1873, 26 Nov. 1880, 3 May 1888. Montreal Daily Star, 3, 28 May 1888. Montreal Daily Witness, 2, 19, 25 May 1888. L'Opinion publique, 2 mai 1872. La Patrie, 3 mai 1888. The Colonial and Indian Exhibition, London, 1886: official catalogue of the Canadian section (2nd ed., London, 1886). Harper, Early painters and engravers, 103.
J. H. S. Bugeia and T. C. Moore, In old Missisquoi; with history and reminiscences of Stanbridge Academy (Montreal, 1910), 121–24. W. [G.] Colgate, Canadian art: its origin & development (Toronto, 1943; repr. 1967), 35, 121–24. Harper, Painting in Canada. Gérard Morisset, La peinture traditionnelle au Canada français (Ottawa, 1960), 171–72. "Allan Aaron Edson, R.C.A.," Missisquoi Hist. Soc., Report (St Johns [Saint-Jean-sur-Richelieu]), 7 (1961): 105–9. "Allan Edson – R.C.A. – 1884–1888, Canadian landscape painter," News and Eastern Townships Advocate (St Johns [Saint-Jean-sur-Richelieu]), 28 Jan. 1960. "Art in continental states," Art Journal (London), new ser., 10 (1871): 8. Elizabeth Collard, "Eastern Townships artist: Allan Edson," Canadian Antiques Collector (Willowdale, Ont.), 5 (1970), no.1: 13–15. A. de C. Gilmour, "[Letter to the editor]," News and Eastern Townships Advocate, 11 Feb. 1960. A. J. Graham, "The Ontario Art Society's exhibition," Rose-Belford's Canadian Monthly and National Rev. (Toronto), 5 (1880): 99. John Horn, "Allan Aaron Edson, R.C.A.," Dominion Illustrated (Montreal), 1 (1888): 94.
© 1982–2023 University of Toronto/Université Laval
Cite This Article
Elizabeth Collard, "EDSON, ALLAN AARON," in Dictionary of Canadian Biography, vol. 11, University of Toronto/Université Laval, 2003–, accessed September 27, 2023, http://www.biographi.ca/en/bio/edson_allan_aaron_11E.html.
The citation above shows the format for footnotes and endnotes according to the Chicago manual of style (16th edition). Information to be used in other citation formats:
| | |
| --- | --- |
| Permalink: | http://www.biographi.ca/en/bio/edson_allan_aaron_11E.html |
| Author of Article: | Elizabeth Collard |
| Title of Article: | EDSON, ALLAN AARON |
| Publication Name: | Dictionary of Canadian Biography, vol. 11 |
| Publisher: | University of Toronto/Université Laval |
| Year of publication: | 1982 |
| Year of revision: | 1982 |
| Access Date: | September 27, 2023 |