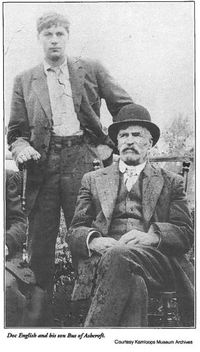 Source: Link
ENGLISH, BENJAMIN FRANKLIN, businessman and rancher; b. 19 March 1841 in St Louis, Mo., son of Benjamin Franklin English and Pauline (Paulina, Perlina, Perlena) Durbin (Dunben); m. first Annie Fontaine (having lived together as man and wife from the mid 1860s, they had their union solemnized on 23 Jan. 1883 in the Barkerville district, B.C.), and they had three sons; m. secondly 14 March 1885 Ellen Martin (d. 1927) in Victoria, and they had three daughters and two sons; d. 6 May 1922 in Ashcroft, B.C.
Ben English, also known as Doc English, was one of the countless Americans who, in the late 1850s and early 1860s, were attracted to the possibilities offered by the Fraser and Cariboo gold rushes in the colony of British Columbia. For English the migration north was merely the latest in a series of journeys. In 1846 his family had travelled from Missouri to Polk County, Oregon Territory, where they eventually settled near the Luckiamute River. During this trek, English later recalled, he and his father eluded a number of hostile natives armed with poisoned arrows, one of which struck and killed young Benjamin's horse. The family would stay on the Luckiamute for 17 years before moving to California, where they lived first in Solano County and then in Lake County. In 1856, at the age of 15, English returned to Missouri to lead a pack train of friends and relatives bound for Oregon. It was during his years in Oregon that he acquired the nickname Doc, which reflected his exceptional ability in handling livestock and what proved to be a lifelong passion for horses, especially racehorses.
Two years after his return to Oregon, English joined a 200-person wagon train that had set out for the Fraser River but was turned back by approximately 800 Indians in the Okanogan valley on the American side of the international boundary. Deterred, the wagoners returned to Oregon, but English retraced his steps in 1860 and eventually arrived in Barkerville. After driving cattle from Oregon to Barkerville for Herman Otto Bowe, English established his own pack train. He then branched out into merchandising and fur trading in a partnership with Orlando Thomas Hance, with whom he established the TH Ranch in the Chilcotin. This association continued until English lost some $3,000 of the ranch's money in a horse race and, in an effort to make good the debt, turned over his portion of the ranch to Hance. English moved on to Deer Park, also in the Chilcotin; in 1873 he pre-empted 320 acres that became the heart of his Deer Park Ranch, which would remain the family home until 1886. After selling this property, the family relocated to the lower Bonaparte River, where they raised cattle and horses. English later moved to the Venables valley. Here the family stayed until 1919, when they resettled in Ashcroft. Throughout his life English repeatedly found success in his numerous ventures and steadfastly refused to retreat in the face of hardship or economic setback.
In April 1864, shortly after he had established himself in Barkerville, British Columbia was thrown into turmoil when 18 road builders and local residents were killed at Bute Inlet by a group of Chilcotin Indians under Chief Klatsassin*. The attack was motivated both by the intrusion of a road being built into the interior by Alfred Penderell Waddington* and by the waves of smallpox that had devastated local aboriginal populations. It is told that English played a central role in the eventual capture of three of the Chilcotin involved but the details of the story reveal it to be an outright fabrication. At best English may have been a member of the 50-man posse led by William George Cox*.
Incidents almost 20 years later reveal the source of the confusion about English's activities. In 1883 he orchestrated the surrender of two Chilcotin men accused of murdering a Chinese miner. Accompanied by a Constable Boswell, English lived amongst the natives where the escapees were believed to be hiding and, after negotiating with aboriginal leaders, managed to capture the accused. Shortly thereafter English was offered $500 by the provincial attorney general's office to organize the capture of two other Chilcotin accused of murder, but he either turned down the offer or was unsuccessful in the attempt.
English's connection with criminal justice continued a few years later when he was involved in the capture of Martin Van Buren Rowlands, the Cariboo bandit. In mid August 1891 a robber held up the British Columbia Express Company stagecoach and made off with $15,000 in gold. Soon afterwards, word of a fabulous gold strike on Scottie Creek began circulating, with Rowlands as the main beneficiary. Suspicions were raised since it was widely accepted that Scottie Creek had been played out, and English and local cattle merchant John Wilson took it upon themselves to investigate. Having followed Rowlands from the creek back into Ashcroft, English and Wilson went to Isaac Lehman, a justice of the peace, and swore out a complaint in support of an arrest warrant. Just as Rowlands was boarding the train to leave, he was arrested by Constable Joseph William Burr and, after further investigation and a trial, was found guilty and sentenced to five years. For their part in the arrest English and Wilson eventually split a $2,000 reward.
Ultimately, English's life symbolizes particular themes of life in late-19th and early-20th-century British Columbia. He is an example of one type of settler who harboured a thinly veiled antipathy towards aboriginal peoples while acquiring a reputation for being adept in dealings with them. Further, he drew upon the tradition of the self-confident and resourceful man of the frontier who engaged in a wide range of activities. Finally, in a number of ways he manifested the pioneer's ability to adjust to the circumstances of a developing society where practical skills provided the means to succeed and prosper.
BCA, GR-0429, box 1, file 12, 118/83, 141/83, 356/83; box 2, file 5, 1354/92; box 3, file 1, 1478/93; GR-2951, no.1922-09-308037 (mfm.); GR-2962, 23 Jan. 1883, no.1883-09-172814; 14 March 1885, no.1885-09-003966 (mfm.). Quesnel Museum and Arch. (Quesnel, B.C.), English Family clipping file. Ashcroft Journal (Ashcroft, B.C.), 12 May 1922. Kamloops Standard-Sentinel (Kamloops, B.C. ), 9 May 1922. Williams Lake Tribune (Williams Lake, B.C.), 31 May 1951. Cecil Clark, B.C. Provincial Police stories (3v., Surrey, B.C., 1986–93). Pat Foster, "Doc English," British Columbia Hist. News (Victoria), 29 (1995–96), no.3: 13–15; "Grandmother and granddaughter: the pioneer spirit," 28 (1994–95), no.2: 2–4. E. S. Hewlett, "The Chilcotin uprising: a study of Indian-white relations in nineteenth century British Columbia" (ma thesis, Univ. of B.C., Vancouver, 1972); "The Chilcotin uprising of 1864," BC Studies (Vancouver), 19 (autumn 1973): 50–72. Mel Rothenburger, The Chilcotin war (Langley, B.C., 1978). E. O. S. Scholefield and F. W. Howay, British Columbia from the earliest times to the present (4v., Vancouver, 1914), 4: 807–8. M. S. Wade, The Cariboo Road, ed. E. A. Eastick (Victoria, 1979). D. R. Williams, ". . . The man for a new country": Sir Matthew Baillie Begbie (Sidney, B.C., 1977). R. T. Wright, Barkerville, Williams Creek, Cariboo: a gold rush experience (rev. ed., Duncan and Barkerville, B.C., 1993).
© 2005–2023 University of Toronto/Université Laval
Image Gallery

Cite This Article
Jonathan Swainger, "ENGLISH, BENJAMIN FRANKLIN," in Dictionary of Canadian Biography, vol. 15, University of Toronto/Université Laval, 2003–, accessed October 2, 2023, http://www.biographi.ca/en/bio/english_benjamin_franklin_15E.html.
The citation above shows the format for footnotes and endnotes according to the Chicago manual of style (16th edition). Information to be used in other citation formats:
| | |
| --- | --- |
| Permalink: | http://www.biographi.ca/en/bio/english_benjamin_franklin_15E.html |
| Author of Article: | Jonathan Swainger |
| Title of Article: | ENGLISH, BENJAMIN FRANKLIN |
| Publication Name: | Dictionary of Canadian Biography, vol. 15 |
| Publisher: | University of Toronto/Université Laval |
| Year of publication: | 2005 |
| Year of revision: | 2005 |
| Access Date: | October 2, 2023 |