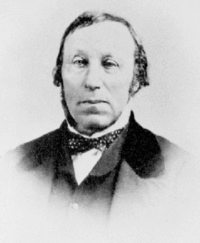 Source: Courtesy of Wikimedia Commons
WADDINGTON, ALFRED PENDERELL, writer and railway promoter; b. at Crescent House, Brompton, London, Eng., 2 Oct. 1801, sixth son of William Waddington, a merchant and banker of London and Paris, and Grace Valentine Sykes, a descendant of the Penderells who concealed Charles II in an oak tree after the battle of Worcester; d. a bachelor, at Ottawa, Ont., on 26 Feb. 1872.
Alfred Penderell Waddington received his early education in England, but after the death of his father in 1818 he joined an elder brother Thomas, who had become head of the French branch of the family, and whose sons were later prominent in public life in France. Alfred attended the École Spéciale du Commerce in Paris and then spent two years in Germany, at the University of Göttingen and in Leipzig. In 1823 he and his brother Thomas formed a company to operate a foundry, but the partnership ended in 1825. This was the first of a series of unsuccessful business ventures; "the whole of my existence for the past 20 years," Alfred wrote in 1841, "has been one continued series of disappointments, and struggles with adversity, and it would appear I am not yet at the end." At that time he was director of an ironworks at Lanvaux, near Auray, in Brittany, a position he held from 1829 until about 1845, when he moved to Épinac, in Burgundy. His favourite brother, Frederick, had helped him repeatedly, and it was he who provided funds when, attracted by the gold rush, Alfred sailed for California in May 1850. By 1854 he was a partner in the wholesale grocery firm of Dulip and Waddington, in San Francisco. The firm prospered and when the gold rush to the Fraser River began in 1858 Waddington came north to Victoria and opened a branch of the business there. At this time he was 5 7 years of age, and he must have been one of the oldest as well as best educated of the men who joined in the rush.
Waddington quickly adopted his new country and was soon championing its resources and involving himself in its future. The first gold discoveries had been shallow placer deposits along the banks of the Fraser in the vicinity of Hope and Yale. These were soon worked out and thousands of disgruntled men began to leave the country. In an effort to check the exodus and re-establish the good name of Vancouver Island and British Columbia, Waddington in November 1858 published The Fraser mines vindicated, or the history of four months (Victoria), the first book, other than official publications, printed on Vancouver Island. He soon became involved in politics, by joining Amor De Cosmos* and others in opposing the authoritarian ways and powers of Governor James Douglas and the Hudson's Bay Company. In 1859 he published anonymously a pamphlet entitled The necessity of reform: a tract for the times: addressed to the colonists of Vancouver Island (Victoria). Early in 1860 he was elected to the House of Assembly as a representative of Victoria District, but he resigned in October 1861 to devote his time to furthering the road-building projects for which he is best remembered. In 1862 he helped draft the charter of the city of Victoria, but he declined to accept nomination as its first mayor.
In 1861 miners who had worked their way up the Fraser discovered the first of the rich gold deposits in the Cariboo country; excitement and activity mounted quickly. The new fields were far inland and the canyons of the Fraser made transportation costly and difficult. Waddington quickly became convinced that they could be reached more easily overland from the head of one of the many inlets along the coast. He had become an ardent partisan of Victoria in its rivalry with New Westminster, and undoubtedly part of the attraction of the plan was that it promised to give Victoria a virtual monopoly of the trade with the new mines.
Little was known about the hinterland of any of the coastal inlets, but Waddington decided that Bute Inlet was probably the best suited for his purpose. In September he visited the inlet and left an exploring party that returned in October with promising reports, based in large part on data gathered from the Indians. Waddington planned to establish a port at the head of Bute Inlet and to build a road from it up the valley of the Homathko River and thence eastward to the Fraser River in the vicinity of Alexandria; the distance would be about 160 miles. After negotiating with Governor Douglas during the winter, he was granted a charter in March 1862 that authorized him to build a bridle path or trail over the route proposed; this was supplemented almost at once by a further agreement authorizing the building of a road instead of the trail. Tolls were to be charged, and Waddington's concession was to be for ten years.
Work crews left for the inlet immediately, and in spite of the formidable obstacles met with in the Homathko canyon, 33 miles of road had been practically completed by the time operations ceased for the season in November. By contrast, the progress made in 1863 was discouraging. Freshets had washed out bridges and done other damage, and no way of getting the road through the rest of the canyon had been found. To make matters worse, time was beginning to run out on Waddington. Douglas had been pushing forward construction on two other roads to the Cariboo, one beginning at the head of Harrison Lake and the other going up the Fraser River from Yale. The former route was open for traffic in the summer of 1863, and it was clear that the other would be ready within a year. Yet Waddington refused to be discouraged, and in the winter of 1863–64 sold his property in Victoria to finance the next season's operations. These came to a tragic halt in April 1864 when his work parties were attacked by the Chilcotin Indians led by their chief Klattsasine*, and 19 men were killed. Frederick Seymour*, who had just succeeded Douglas as governor of British Columbia, took prompt action and the so-called "Chilcotin War" led to the apprehension of the murderers, five of whom were executed. Waddington, who had spent about $50,000 on the road project, asked for compensation, but was refused, and after vainly trying to raise funds he was obliged to abandon his scheme. In June 1865, when badly in need of a livelihood, he was appointed the first superintendent of schools of Vancouver Island, a post he filled competently until the colony was annexed to British Columbia in November 1866.
External events now prompted Waddington to revive and greatly enlarge his project. It seemed certain that a confederation of the eastern provinces of British North America was impending and that ultimately Rupert's Land and British Columbia would be included. Transportation between east and west would be essential. In addition, Waddington was much disturbed by the progress being made in the construction of a railway to California. He feared that it would divert to the United States much of the trade of the Orient, and felt that the British government should counter this by encouraging the development of a transcontinental travel route through British territory. He thought at first in terms of a traction line or tramway along the Bute Inlet-Fraser River route that his wagon road had been intended to follow, but the proposal soon grew into a plan for a railway that would continue on through the Yellowhead Pass to Edmonton and Red River. This he outlined in a pamphlet published in Victoria in June 1867 entitled Overland communication by land and water through British North America.
To promote this scheme Waddington left Victoria in September 1867 for London, where, he claimed, he had already been in touch with people who were "financially of the first class and men of means." On 9 March 1868 he described his plan in a lecture to the Royal Geographical Society. It aroused some interest and prompted Sir Harry Verney to move in the House of Commons for a commission to inquire into the settling of the Red River and Saskatchewan country. A debate followed on 9 June, but the motion was withdrawn in view of the negotiations with regard to the future of Rupert's Land that were then in progress. In September Waddington published a second pamphlet, Overland route through British North America; or, the shortest and speediest road to the east (London), which outlined his proposals and stressed their importance in relation to trade with the Orient. At this time he was still thinking in terms of a combined land and water route, which would reduce costs by taking advantage of navigable rivers and lakes whenever these were available, but his map also showed an all-rail route. In 1869, in a new version of his plea entitled Sketch of the proposed line of overland railroad through British North America (London) only the all-rail route was mentioned.
In 1870 Waddington was in Ottawa, seeking support and inquiring about the possibility of securing a charter for his railway. In December he had an interview with Sir John A. Macdonald*, who mentioned liberal land grants and possible subsidies, but pointed out that nothing could be done until British Columbia entered confederation. Waddington's English backers have not been identified; by the time he saw Macdonald again, in July 1871, his chief financial support was clearly from Americans, notably George W. McMullen and Charles M. Smith, of Chicago. Macdonald took shelter in the fact that he could make no commitment, as parliament had given him no authority to do so. Waddington evidently came away from the interview convinced that all was going well, and that all he had to do was wait for parliamentary approval. He seems still to have been in this optimistic mood when he was stricken with smallpox and died in Ottawa in February 1872. But in reality there was virtually no possibility that his bid for a charter to build the Pacific railway would have been accepted. Macdonald was determined at all costs to prevent the project from falling under American control, and he may already have sensed that McMullen was in this respect a power to be reckoned with.
When describing the interview with Waddington and his associates in July 1871 Macdonald remarked that "their movement was altogether premature, and was improperly hurried by that respectable old fool Waddington." The comment was cruel, but Waddington was undoubtedly an optimistic old man in a hurry. A friend who saw him in Ottawa in June 1870 wrote: "Alfred Waddington is here working up his railroad scheme. He is quite as sanguine of success as he ever was." Chartres Brew*, the shrewd head of the British Columbia police, described him as "one of the most sanguine imaginative men I have ever met; prompt to delude himself on any matter of which he makes a hobby." He has been called the original promoter of a transcontinental Canadian railway; this he was not. The idea was being discussed long before he became attracted to it. But his pamphlets and projects did much to popularize the project, and to create the atmosphere in which its construction came to be taken for granted.
Waddington was buried in St James Cemetery, on the outskirts of Hull, Quebec. Several geographical features bear his name, the most notable being Mount Waddington (13,260 feet), the highest peak in the British Columbia Coast Range, and Waddington Canyon on the Homathko River.
PAC, MG 26, A (Macdonald papers), 519. PRO, CO 60/22, 225. Colonist (Victoria), 1858–73. Creighton, Macdonald, old politician, 106–7. Ormsby, British Columbia, 205–6. J. P. Waddington, Who's who in the family of Waddington (London, 1934), 152–53, 217–29, 474. R. L. Reid, "Alfred Waddington," RSCT, 3rd ser., XXVI (1932), sect. ii, 13–27.
© 1972–2023 University of Toronto/Université Laval
Image Gallery

Cite This Article
W. Kaye Lamb, "WADDINGTON, ALFRED PENDERELL," in Dictionary of Canadian Biography, vol. 10, University of Toronto/Université Laval, 2003–, accessed June 1, 2023, http://www.biographi.ca/en/bio/waddington_alfred_penderell_10E.html.
The citation above shows the format for footnotes and endnotes according to the Chicago manual of style (16th edition). Information to be used in other citation formats:
| | |
| --- | --- |
| Permalink: | http://www.biographi.ca/en/bio/waddington_alfred_penderell_10E.html |
| Author of Article: | W. Kaye Lamb |
| Title of Article: | WADDINGTON, ALFRED PENDERELL |
| Publication Name: | Dictionary of Canadian Biography, vol. 10 |
| Publisher: | University of Toronto/Université Laval |
| Year of publication: | 1972 |
| Year of revision: | 1972 |
| Access Date: | June 1, 2023 |