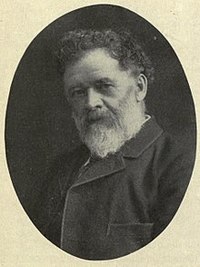 Source: Courtesy of Wikimedia Commons
FANNIN, JOHN, shoemaker, office holder, guide, taxidermist, natural historian, and museum curator; b. 27 July 1837 in Kemptville, Upper Canada, son of William Fannin, a tailor, and Eliza —, both of Irish extraction; d. unmarried 20 June 1904 in Victoria.
The only certainty about Jack Fannin's early life is that he was born and lived in modest circumstances, one of eight children in 1851. After his death he was said to have been a schoolteacher in his early adulthood but no documentary evidence of such employment exists. In 1861 he was listed in census returns as a shoemaker.
The following year, like many young men of the time, he felt the lure of the gold-fields of British Columbia. Rather than taking the more common sea route, he joined a group of men planning to get there by land. Led by Thomas McMicking*, this group departed from Queenston, Upper Canada, on 23 April 1862, met up with other overlanders west of Upper Fort Garry (Winnipeg), and arrived at Fort Edmonton (Edmonton) on 21 July. Continuing west, the combined party split at Tête Jaune Cache, B.C., and Fannin joined the group which set out for the headwaters of the North Thompson River. They reached Thompson's River Post (Kamloops) on 11 Oct. 1862, after one of their rafts had capsized and all Fannin's goods had been lost. Both the overland parties had suffered great hardships and several men had died along the way. It is in accounts of the journey that the first reliable portrait of Fannin emerges. He had obviously spent considerable time in the comparative wilderness that eastern Upper Canada could still afford, for he was an expert woodsman, hunter, fisherman, and trapper. He was also a fine shot and a man possessed of great physical strength and endurance.
Fannin spent the next eight years prospecting and mining in the Cariboo and Columbia River areas as well as doing a little ranching in the Kamloops region. This rootless life brought him no prosperity and he left the interior in 1870 to set up as a shoemaker in New Westminster. Being a man of many talents, he learned the art of taxidermy and also briefly published a humorous journal, the Comet (Victoria), which appeared (and disappeared) in early 1873.
In those days most surveying for the British Columbia government was done on a contract basis. Accordingly, in 1873 Fannin was engaged to undertake a reconnaissance of the farming, mining, logging, and settlement potential of the lower Fraser valley. His report appeared in the Journals of the Legislative Assembly for 1873–74 and proved prophetic, in that much of the development he predicted has since appeared. In October 1874 he was dispatched by the government to explore the headwaters of the Stikine River for gold and other mineral resources. Having started their journey at the outset of winter, he and his party were soon forced back to Wrangell, Alas., their starting-point. Undaunted, Fannin set out again with one companion. Once more they were repelled by the elements, and with much greater hardships. They were rescued, but only when at the end of their meagre supplies and their endurance. Fannin wisely waited until June 1875 to complete the mission.
He remained in government service until 1877 when he again took up shoemaking, this time at Hastings (Vancouver). He was now making use of his experiences by writing hunting and fishing articles for Forest and Stream (New York), and this exposure put his services as a hunting guide in high demand. Indeed, he became one of the first internationally noted guides in Canada, with wealthy and influential clients coming from Europe and the United States. A good part of his shoemaking business was given over to a taxidermy shop for the preservation of his clients' trophies.
According to the ideas of the time, Fannin's shoemaking career should have forever consigned him to an inferior social standing. In point of fact, having a trade was quite acceptable in a rough frontier society. For Fannin it was a necessity, given the sporadic nature of his guiding and other exploits. His growing prominence may be seen in his appointments as postmaster for Burrard Inlet (Vancouver) in 1882 and as a justice of the peace for the New Westminster electoral district in 1884.
His wide renown and obvious abilities as a naturalist as well as his previous government service made Fannin the prime candidate in 1886 for the post of first curator of the newly founded provincial museum in Victoria, which was to be devoted to natural history and anthropology. His first act after taking charge in August was to donate to it his entire collection of preserved birds and animals. This gift formed the core of the museum's natural history collection for many years. Five years later Fannin published his Check list of British Columbia birds.
Fannin was an enthusiastic curator and between his energies and those of the Natural History Society of British Columbia, which he had helped to found in 1890, the museum twice outgrew its quarters by 1898. He had been to many museums in Europe and the United States on an official tour in 1896; as a result the collection had become far more than a mere agglomeration of preserved specimens. In particular it had expanded its anthropological holdings.
Fannin retired because of a long-standing illness in February 1904, and died on 20 June of the same year. Widely mourned, he was later memorialized in the naming of the Fannin Range, Fannin Lake, and Fannin Creek, all near Vancouver. His name also appeared in the scientific name of the Saddlebacked sheep, Ovis fannini. This sheep is, however, no longer recognized as a separate species, being now thought of as a colour phase of the Dall sheep, O. dalli.
A man of phenomenal resource, courage, and endurance, Fannin was also of a contemplative cast of mind; he made great contributions in both physical and intellectual pursuits. Yet he was universally remembered at his death as being unpretentious and outgoing. Although he never married, he always had time for children and went out of his way to entertain them and treat them as his equals. It was his kindness, cheerful hardiness, and innocent nature that most impressed those who knew him. However, his enduring memorial remains the Royal British Columbia Museum, the institution he helped to establish.
[The author would like to thank Mr David Spalding, of Pender Island, B.C., whose copious references and generous encouragement were of great help.
Fannin's report on the lower Fraser valley appears in John Fannin et al., "Reports of exploration of a portion of the New Westminster district, the east coast of Vancouver Island, from Menzies Bay to Fort Rupert, and of the Cassiar district," B.C., Legislative Assembly, Journals, 1873–74, "Sessional papers." His Check list of British Columbia birds was published in Victoria, as was Game of British Columbia with a list of birds and mammals (1903). He contributed the chapter on "The Rocky Mountain goat" in J. D. Caton et al., The big game of North America . . . , ed. G. O. Shields (Chicago and New York, 1890), and supplied information for Montague Chamberlain*'s Catalogue of Canadian birds, with notes on the distribution of the species (Saint John, N.B., 1887). Fannin wrote for a variety of journals in addition to Forest and Stream; his "Preliminary list of the mammals of British Columbia" appears in Natural Hist. Soc. of British Columbia, Bull. (Victoria), [no.1] (1893): 3–8.
The most useful sources for Fannin's life are Peter Corley-Smith, White bears and other curiosities . . . : the first 100 years of the Royal British Columbia Museum (Victoria, 1989), and a pamphlet drawn from it, John Fannin: first curator, Royal British Columbia Museum, 1837–1904 ([Victoria?, 1989?]). There are several excellent photographs of Fannin and his work in both publications. Information on the Fannin family in Ontario appears in census returns at NA, RG 31, C1, 1851, Oxford Township, Grenville County, [Ont.], dist.1: 5, and 1861, Kemptville, [Ont.]: 18. Obituaries of Fannin contain many fictions and these have been perpetuated, however unknowingly, in T. W. Paterson, British Columbia: the pioneer years (Langley, B.C., 1977). Later press accounts, written with decreasing frequency well into the 1960s, include even more fanciful notions of his achievements and of the chronology of his life. Of the two versions of M. S. Wade, Overlanders of '62, the more useful is the first (Victoria, 1931), edited by John Hosie and published as Memoir no.9 of the Archives of British Columbia (now the BCARS). t.n.]
© 1994–2023 University of Toronto/Université Laval
Image Gallery

Cite This Article
Thomas Norris, "FANNIN, JOHN," in Dictionary of Canadian Biography, vol. 13, University of Toronto/Université Laval, 2003–, accessed June 8, 2023, http://www.biographi.ca/en/bio/fannin_john_13E.html.
The citation above shows the format for footnotes and endnotes according to the Chicago manual of style (16th edition). Information to be used in other citation formats:
| | |
| --- | --- |
| Permalink: | http://www.biographi.ca/en/bio/fannin_john_13E.html |
| Author of Article: | Thomas Norris |
| Title of Article: | FANNIN, JOHN |
| Publication Name: | Dictionary of Canadian Biography, vol. 13 |
| Publisher: | University of Toronto/Université Laval |
| Year of publication: | 1994 |
| Year of revision: | 1994 |
| Access Date: | June 8, 2023 |