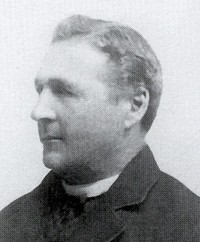 Source: Courtesy of Wikimedia Commons
FISET, PIERRE, Roman Catholic priest, businessman, and farmer; b. 27 May 1840 in L'Ancienne-Lorette, Lower Canada, son of Joseph Fiset and Adélaïde de Varennes; d. 18 April 1909 in Chéticamp, N.S., and was buried there.
The son of a prosperous farmer, Pierre Fiset attended the Petit Séminaire de Québec from 1851 to 1860. Having decided to enter the priesthood, he began studies at the Grand Séminaire in 1861. There he heard the appeal of Bishop Colin Francis MacKinnon* of Arichat, N.S., for French Canadian priests to minister to the Acadians of his diocese. By September 1863 Fiset was teaching French and higher classics at St Francis Xavier College in Antigonish, N.S., while completing his theological studies. Ordained on 3 Dec. 1864, he continued at the college until the next summer. He received his first appointment on 10 Sept. 1865 as pastor of nearby Havre Boucher.
During his nine and a half years at Havre Boucher, Fiset demonstrated the energy and administrative abilities that would characterize his entire career. He undertook extensive improvements to parish buildings: a gallery was constructed in the church in 1867; major repairs to the presbytery were begun the following year; church pews were purchased in 1869; the church roof was reshingled in 1870; and two years later the renovation of the interior of the church was completed – impressive achievements for the pastor of a small community. Fiset's prominence in the region was recognized by his appointment in 1868 as a commissioner for the relief of distressed fishermen.
In 1875 he was transferred to the parish of St Pierre in Chéticamp, exchanging parishes with Hubert Girroir*. The village had been settled in the 1780s, mainly by Acadians attracted to the region by its relative isolation and the presence of a fishing station operated by employees of Charles Robin*, an important Jersey merchant. Although Fiset became known as a dedicated priest, he is chiefly remembered for his efforts to improve the standard of living of the people of Chéticamp by liberating them from their indebtedness to the Jersey merchants and by attempting to provide them with sources of employment other than fishing.
Fiset began by purchasing a general store in 1883. Initially he hired someone to keep it open just during summer, but by 1890 it was open all year, providing local fishermen with an alternative to the company store. In 1884 he requested a provincial government subsidy for a ferry service between Pictou and Chéticamp which would link the community to a railway and better markets. Regular service was established two years later. To provide better facilities for local fishermen, he had a large wharf built at the harbour in 1888 and another elsewhere in 1904. From the Jersey merchants he purchased in 1896 a lobster cannery on Chéticamp Island, and sometime later he acquired the island itself for $10,000. As an example to his parishioners, many of whom were also subsistence farmers, Fiset operated a large farm, with five barns, eight horses, and over 100 head of cattle. The grist-mill he acquired also became a profitable venture.
Fiset's last major attempt to find alternatives to the fishery as a source of employment and revenue for his parishioners was the opening of a mine in the mountains southeast of Chéticamp. Having been told by a prospector about the location of substantial gypsum deposits, in 1907 he established the Great Northern Mining Company Limited, of which he became president. Shares worth five cents were sold locally and in Quebec. By the following year the company had enough capital to purchase a crusher and begin operations. To ship the gypsum Fiset purchased the 5,000-ton Amethyst. The mine suspended operations in 1913, but reopened several times during the following years. It finally closed in 1939. It is not certain how Fiset obtained some of the capital for these costly undertakings. Members of his family, including two brothers who were doctors, may have helped, but undoubtedly his own notable abilities as a businesssman contributed much to his success.
One of Fiset's outstanding achievements in Chéticamp was the building of an impressive stone church. The structure was designed by David Ouellet* of Quebec and built by contractor Hubert Morin of Trois-Pistoles, Que., but the mortar, wood, and much of the labour, including the hauling of stone across the ice from Chéticamp Island, were provided by local inhabitants. Construction was started early in 1892 and the first mass was celebrated on 18 Dec. 1893; work on the interior continued until about 1900. Still in use, the church is considered one of the finest Roman Catholic churches in the Maritimes. In 1888 Fiset had had a spacious presbytery built, and in 1900 he began construction of a large convent for the Sisters of Charity of Providence, three of whom arrived that year at his request in order to look after schools in the parish. For unknown reasons, a misunderstanding occurred between Fiset and the sisters, who left in 1902. They were replaced the next year by the Daughters of Jesus, whose outstanding work in education would do much to help preserve the French language in the region.
A large man, strong and hardy until a few months before his death, Fiset was more often found working in his fields than in his presbytery. Although he presented "a rough, even repellent exterior," the Daughters of Jesus soon learned that it hid "a noble heart." Fiset's estate included a farm, store, boat, wharves, various properties, $60,000 in cash, and shares in several mining companies. He had made several charitable donations, and left the remainder to members of his family.
Little of Fiset's religious views or his theology survives. His seems to have been a practical Christianity, concerned with improving the temporal welfare of his parishioners as well as attending to their spiritual needs. According to his obituaries, he was successful in both, and the people of Chéticamp region still hold his memory in esteem.
[Genealogical details and other family information were provided by members of the Fiset family of Quebec City. The author would like to thank them and Professor Raymond A. MacLean of Antigonish, N.S., for their assistance. p.m.c.]
ANQ-Q, CE1-2, 28 mai 1840. Arch. of the Diocese of Antigonish, A. A. Johnston file, ms sketches. ASQ, Fichier des anciens. PANS, RG 3, 2, no.291; RG 5, P, 61, no.88; RG 7, 393, no.285/39; RG 21, B, 8–9; RG 73, 19: 363. L'Évangéline, 23 avril, 18, 20 mai 1909. Le Moniteur acadien, 22 avril, 13 mai 1909. Anselme Chiasson, Chéticamp: histoire et traditions acadiennes (Moncton, N.-B., 1961). A. A. Johnston, A history of the Catholic Church in eastern Nova Scotia (2v., Antigonish, 1960–71). [A. A. MacDonald], Centenary, Saint Paul's parish, Havre Boucher, N.S., 1858–1958 ([Antigonish, 1958]; copy in St Francis Xavier Univ. Arch., Antigonish). Alice Trottier et Juliette Fournier, Les Filles de Jésus en Amérique ([Trois-Rivières, Qué.], 1986).
© 1994–2023 University of Toronto/Université Laval
Image Gallery

Cite This Article
Paulette M. Chiasson, "FISET, PIERRE," in Dictionary of Canadian Biography, vol. 13, University of Toronto/Université Laval, 2003–, accessed September 23, 2023, http://www.biographi.ca/en/bio/fiset_pierre_13E.html.
The citation above shows the format for footnotes and endnotes according to the Chicago manual of style (16th edition). Information to be used in other citation formats:
| | |
| --- | --- |
| Permalink: | http://www.biographi.ca/en/bio/fiset_pierre_13E.html |
| Author of Article: | Paulette M. Chiasson |
| Title of Article: | FISET, PIERRE |
| Publication Name: | Dictionary of Canadian Biography, vol. 13 |
| Publisher: | University of Toronto/Université Laval |
| Year of publication: | 1994 |
| Year of revision: | 1994 |
| Access Date: | September 23, 2023 |