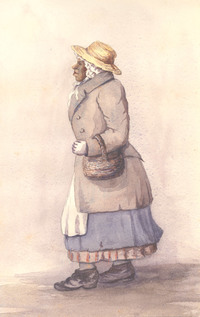 Source: Link
FORTUNE, ROSE, porter and informal law-enforcement officer; b. c. 1774 in Pennsylvania; d. 1864 in Annapolis Royal, N.S., where she was buried on 20 February.
Rose Fortune was almost certainly the child of Fortune, an African man who arrived in Nova Scotia in 1783 or 1784. Family tradition relates that she was born near Philadelphia, shortly before the American War of Independence. Her father may have been the Fortune who with another slave, Aminta, presumably his wife, had escaped from a Virginia plantation owner named William Bradley in April 1773. This couple could have made their way to neighbouring Pennsylvania, where slavery still existed but where a large proportion of African people lived freely, many of them having been granted manumission. Whatever the status of Rose's father, whether enslaved, formerly enslaved, or born free, he perhaps decided to render his position more secure by responding to a British offer of liberty to "indented Servants, Negroes, or others (appertaining to Rebels,)" who joined the loyalist cause during the war. No man by the name of Fortune appears on any musters of Black soldiers, but he may have served the British forces in other ways.
Although Fortune and his family are not recorded in the "Book of Negroes," which lists some 3,000 Black people who sailed from New York to Nova Scotia at the end of the war in 1783 [see Boston King*], they appear on a muster roll of discharged officers, disbanded soldiers, and loyalists in Annapolis County that was drawn up in the summer of 1784. "Fortune … A Free negro" had travelled to the colony with a wife and a child over the age of 10. The oral tradition of his descendants has it that he died shortly after the family's arrival. His wife also disappears from historical records at this point.
It is uncertain when Rose Fortune settled permanently in Annapolis Royal. There is some evidence that she may have lived early on in Brinley (Brindley) Town, a Black settlement near Digby that became a shadow of itself when 75 per cent of the residents left in 1792 for Sierra Leone [see Thomas Peters*]. By the late 1820s she was working in Annapolis Royal as an independent agent. Although domestic service was the only employment available to many Black women, she took a different route, becoming a porter (or baggage-smasher, as such workers were often termed). Having managed to save enough money to purchase a wooden wheelbarrow, perhaps through activities as a bootblack, she would go down to the wharves when ships came in, offering to take passengers and their belongings to their homes or to local inns. She was apparently not always gentle with the luggage, and her reputation for rough handling may also have made it into the account books of St Luke's Anglican Church, of which she was a faithful congregant. Someone recorded in 1828 the purchase of "a whisk broom – the other having been broken by Rose."
According to family lore, somewhere along her path Fortune made the acquaintance of the lawyer, author, and politician Thomas Chandler Haliburton, who lived in Annapolis Royal in the 1820s. After he was appointed to the bench in 1829 and left the area, he would sometimes return to hear cases in the western part of the province. Having developed a wake-up service for the Annapolis Royal community, alerting passengers who were in danger of missing departing ships or other appointments, Fortune would rouse Haliburton, urging him to catch the Maid of the Mist to Digby on the mornings when he was due in court there. A former mayor of the town, Dr Augustus Robinson, remembered her cajoling Haliburton, "Come along, Jedge, come along!" In another story that has come down, Haliburton is supposed to have given her a shilling, a healthy tip in those days.
In time, Fortune ran into a bit of legal trouble. Someone may have been upset with her for living in Annapolis Royal (rather than in nearby Lequille, where most local African Nova Scotians resided), for not being as subservient as many believed a Black woman should be, for having a successful business, or for a combination of these factors. Or possibly she was indeed hosting events at which illegal activities took place. In any case, in 1836 and again in 1839 she was accused of "keeping a disorderly house." She was acquitted on the first occasion; the records relating to her trial on the second charge have been lost. In the only other known document recording her full name, she was one of the "Colored People" to whom five pounds sent by Alfred Whitman, the assemblyman for Annapolis Township, was distributed in 1851. Fortune received two shillings and sixpence.
Though she was charged with misdemeanours, Fortune showed considerable respect for law and order. She became the self-appointed police constable for Annapolis Royal, keeping the peace by breaking up fist-fights and making young people observe the town curfew. She was known to wield her walking stick when there was trouble or when she needed to defend herself. She deployed it for other purposes as well: youths who tried to move in on her business understood to keep their distance.
Fortune was noted for wearing men's outer clothing. Local lawyer Frederick Wheelock Harris wrote in 1920, "Her distinctive mode of dressing made her as much an easy mark to locate when needed as the tinkling bell of the truckmen on the street today." Her manner of garb was deemed audacious by contemporaries, viewed as it was through the lenses of race, class, and gender, but the fact that she plied her business by the often-cold wharves of Annapolis Royal meant that she needed sturdy, utilitarian clothing. If she frequently donned a man's coat, it was likely because such a garment was more suitable for the weather and more practical with its deep pockets.
In 1852 Fortune was in her late seventies and still working. That year she assisted Lieutenant-Colonel Burrows Willcocks Arthur Sleigh in leaving an "abominable inn" in Annapolis Royal. "During the bustle attendant upon this rapid proceeding," he recorded, "I was aided … by a curious old Negro woman, rather stunted in growth, as black as the ace of spades, and dressed in a man's coat and felt hat: she had a small stick in her hand, which she applied lustily to the backs of all who did not instantly jump out of the way. Poor old dame! she was evidently a privileged character."
According to one account, Fortune lightened her daily tasks by going about them singing. It is also reported that she had a keen sense of humour. No evidence of a marriage has been found, but she had three children for whom records exist: Jane A., John, and Margaret. Jane married Isaac Godfrey and died childless. John married Hester (Esther) Godfrey and had one daughter who reached adulthood. Margaret married John Francis and had six children who survived infancy. From these offspring grew the legacy of Rose Fortune, with several of her descendants becoming well-known businesspeople, teachers, academics, performers, and politicians. One of them, Daurene Elaine Lewis*, would be the first Black mayor in Nova Scotia and the first Black female mayor in Canada when she was voted into office in Annapolis Royal in 1984. Fortune's cartage business was taken over by Albert Lewis, the husband of her granddaughter Charlotte Amazie (Amberzine) Francis. The enterprise remained in the family's hands until the death in 1960 of the Lewises' grandson, James Albert, the father of Daurene Lewis.
Many of Fortune's descendants still live in the Annapolis area. In 2019 three of them took DNA tests that revealed their origins in continental Africa, Madagascar, and South America. The South American lineage may corroborate a connection with the fugitive slaves Fortune and Aminta: the latter's mother was said by plantation owner William Bradley to have been brought to the American colonies "from the Spanish Main [the mainland coast of the Caribbean]." Rose Fortune, aged about 90, passed away in 1864 at the home of Amberzine and Albert Lewis. She is believed to be buried in the Garrison Graveyard in Annapolis Royal beside her daughter Jane.
The life of Rose Fortune has been recognized in several ways. She is one of the characters in Canadian-American actor and dramatist Leslie Lorraine McCurdy's one-woman production "Things my fore-sisters saw," and American author George Cameron Grant has written a play based on her experiences that has been performed on a number of occasions. In 1992 the Association of Black Law Enforcers established a scholarship for police training in Canada named after Fortune and Ontario officer Peter Butler*. The ferry between Digby and Saint John was christened the Fundy Rose in her memory in 2015. A marker for her supposed burial site was unveiled at the Garrison Graveyard in 2017, the year the federal government recognized her as a person of national historic significance. Two years later the Historic Sites and Monuments Board of Canada erected a plaque on the Annapolis Royal waterfront honouring a woman whose story "epitomizes the perseverance of Black Loyalists, who confronted prejudice and inequality to make a place for themselves in Canada."
A performance of L. L. McCurdy's play was filmed and shown on the Bravo television channel in 2006. An earlier docudrama, Rose Fortune: rhythm stick to freedom, written and directed by Robert Duncan (Edmonton and Toronto, 1998), was aired on History Television in 1998. G. C. Grant's play has been published as Fortune: a work for the stage inspired by the life of Miss Rose Fortune, a free person of character ([Freeport, N.Y., 2014]).
An unsigned watercolour of Rose Fortune painted in the 1830s, one of only two contemporary depictions of Black loyalists, is held in the Documentary art coll., N.S. Arch., in Halifax (acc. 1979-147/56), and can be seen at archives.novascotia.ca/africanns/archives/?ID=30.
Library and Arch. Can. (Ottawa), MG23-D1, ser.1, vol.24 (Ward Chipman (senior and junior) fonds, Lawrence coll., Muster master's office, Muster roll of disbanded officers, discharged and disbanded soldiers and loyalists taken in the county of Annapolis, betwixt the 18th and 24th of June 1784, p.48; mfm. copy available at heritage.canadiana.ca/view/oocihm.lac_reel_c9818, image 38). N.S. Arch., RG 34-301 (Annapolis County Court of General Sessions of the Peace), P.1 (Proc. of the grand jury, 1801–61), 1836, 1840. Virginia Gazette (Williamsburg), 29 April 1773. Annapolis Heritage Soc., "Rose Fortune – 'a privileged character'": annapolisheritagesociety.com/community-history/notable-personalities-past/rose-fortune-privileged-character (consulted 24 Aug. 2021). Annapolis Royal, "Rose Fortune monument unveiling and dedication": annapolisroyal.com/event/rose-fortune-monument-unveiling-dedication (consulted 24 Aug. 2021). I. A. Armstrong, "For she was a militant Rose! Annapolis Royal boasted first policewoman and feminine baggage smasher on continent," Listening Post (Montreal), May 1924: 24–25. Bay Ferries Limited and Northumberland Ferries Limited, "What's in a name? The story of the Fundy Rose": www.ferries.ca/whats-in-a-name-the-story-of-the-fundy-rose (consulted 25 Aug. 2021). G. E. Clarke, "White niggers, black slaves: slavery, race and class in T. C. Haliburton's The clockmaker," Nova Scotia Hist. Rev. (Halifax), 14 (1994), no.1: 13–40. F. W. Harris, "The Negro population of the county of Annapolis" (Annapolis Royal, N.S., 1920; typescript held in N.S. Arch.). A. M. Lane Jonah, "Rose Fortune (c. 1774–1864)" (n.p., [2015]; Parks Can., Hist. Sites and Monuments Board of Can., report no.2015-05). C. I. Perkins, The romance of old Annapolis Royal … (Annapolis Royal, 1988). J. R. Soderlund, "Black women in colonial Pennsylvania," Pennsylvania Magazine of Hist. and Biog. (Philadelphia), 107 (1983): 49–68. B. J. Thompson, Finding Fortune: documenting and imagining the life of Rose Fortune ([Halifax], 2019). J. W. St G. Walker, The black loyalists: the search for a promised land in Nova Scotia and Sierra Leone, 1783–1870 (London, 1976).
© 2022–2023 University of Toronto/Université Laval
Image Gallery

Cite This Article
Brenda J. Thompson, "FORTUNE, ROSE," in Dictionary of Canadian Biography, vol. 9, University of Toronto/Université Laval, 2003–, accessed June 6, 2023, http://www.biographi.ca/en/bio/fortune_rose_9E.html.
The citation above shows the format for footnotes and endnotes according to the Chicago manual of style (16th edition). Information to be used in other citation formats:
| | |
| --- | --- |
| Permalink: | http://www.biographi.ca/en/bio/fortune_rose_9E.html |
| Author of Article: | Brenda J. Thompson |
| Title of Article: | FORTUNE, ROSE |
| Publication Name: | Dictionary of Canadian Biography, vol. 9 |
| Publisher: | University of Toronto/Université Laval |
| Year of publication: | 2022 |
| Year of revision: | 2022 |
| Access Date: | June 6, 2023 |