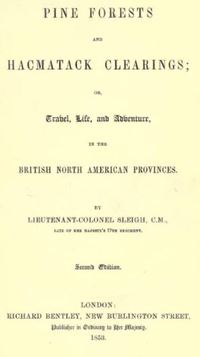 Source: Link
SLEIGH, BURROWS WILLCOCKS ARTHUR, soldier and author; b. in 1821 in Lower Canada, son of William Willcocks Sleigh md and Sarah Campbell; m. twice (his first wife was a Miss Franklin, daughter of a member of the Royal Academy in London) and there were children by both marriages; d. 22 March 1869 at Chelsea, England.
Burrows Willcocks Arthur Sleigh was educated first in England, to which his parents had returned, and after 1834 in Lower Canada. In 1842 he enrolled as ensign in the 2nd West India Regiment and he obtained his lieutenancy by purchase in Jamaica in November 1844. In 1845 the 77th Foot arrived in Jamaica and Sleigh transferred to this regiment by purchase. The 77th was moved to Halifax, N.S., in the spring of 1846 and a few months later to Quebec; on 25 June 1848 it was gazetted as having returned to England. Although Sleigh also returned to England he probably sold his lieutenant's commission at this time thus ending his connection with the army.
While in England Sleigh bought from an absentee proprietor 100,000 acres of land in Kings County, in eastern Prince Edward Island, for £20,000, and about 1850 he returned to North America as an independent gentleman. He soon acquired some of the usual appurtenances of a landed proprietor, becoming a justice of the peace and a lieutenant-colonel in one of the Island militia regiments. But he did not, apparently, live much in Prince Edward Island; he preferred Halifax, which, as he put it, "from its resident gentry, the general tone of its society, the delightful environs . . . is one of the pleasantest places of residence in the Lower Provinces." He spent some time in 1851 travelling in the United States, and although he had a poor opinion of that country he still preferred it to Prince Edward Island. Charlottetown's legal luminaries he designated "the forty thieves," and responsible government in the Island he considered a mockery stating that when the premier is seen "emerging from his tavern . . . the illusion vanishes," as it did also when "an Honourable Executive Councillor . . . descends from his bundles of dried cod-fish" to attend the council. Sleigh had equally caustic opinions about the Island tenants who, he believed, were animated largely by general knavery and animal cunning.
Sleigh tried in 1852 to establish a steamship service from New York to Quebec, via Halifax, Charlottetown, and Newcastle, N.B., using the 1,100-ton Albatross. The enterprise, which was greeted with some éclat by newspapers, received help from provincial legislatures, and had the possibility of commercial success. But owing to the lack of lighthouses and to the navigational difficulties in the Gulf of St Lawrence and on the river itself, the cost of marine insurance was ruinous; the scheme was abandoned and the Albatross sold probably in late 1852. It would seem to be at this point too that Sleigh returned to England and sold his Prince Edward Island estate.
In May 1853 Sleigh published in London his book, Pine forests and hacmatack clearings. About this time he also began to publish the British Army Dispatch, a newspaper which seems to have had some success and which he shortly afterwards sold for £900. He lived on this income for a time, then, with three partners, began the Daily Telegraph, the first of the two-penny dailies in London. The first issue appeared on 29 June 1855. Within a short time Sleigh, who had bought out his partners' interests for £450, was £2,400 in debt for machinery and paper, and he sold the Telegraph. He was no more successful in three attempts at election to the House of Commons. By 1857 he was in bankruptcy court, having been living by his own admission at the rate of £1,000 a year. His assets were not £50, and he owed £523. Nothing is known of his activities during the last 12 years of his life.
Ambitious, energetic, and improvident, Sleigh is one of the many examples of a man whose ideas outran his income. His connection with Canada is chiefly remembered in the book Pine forests which reflects his temperament in its vigorous, indeed exhilarating account of life in the North American colonies, with numerous salty and irreverent sketches of colonial politicians. His views about the seaminess of colonial politics have, alas, an air of verisimilitude. Joseph Howe*'s victory in Cumberland County, N.S., in the provincial election of 1851 was carried, according to Sleigh, mainly by rum. The day before the election Sleigh travelled to Amherst in the same stagecoach that carried barrels of rum, consigned to Howe.
[There are no known collections of Sleigh papers on this side of the Atlantic, and it has not been possible to investigate English sources, which might have filled in some of the gaps. There is a stern account of his financial affairs in the Law Times of London, Eng., for 26 Dec. 1857. Sleigh is also mentioned briefly in accounts of the history of British newspapers; for his connection with the Daily Telegraph in 1855 see [E. F. Lawson], Peterborough court; the story of the "Daily Telegraph" (London, 1955), 1, 4. An abridged version of his fascinating adventure by iceboat is presented by P. B. Waite in the Dal. Rev., XLII (1962–63), 55–67, as "Crossing Northumberland straits in March, 1852." p.b.w.]
B. W. A. Sleigh, Pine forests and hacmatack clearings; or, travel, life, and adventure, in the British North American provinces (London, 1853). Boase, Modern English biog., III, 604–5. Hart's army list, 1842–48.
© 1976–2023 University of Toronto/Université Laval
Image Gallery

Cite This Article
P. B. Waite, "SLEIGH, BURROWS WILLCOCKS ARTHUR," in Dictionary of Canadian Biography, vol. 9, University of Toronto/Université Laval, 2003–, accessed June 8, 2023, http://www.biographi.ca/en/bio/sleigh_burrows_willcocks_arthur_9E.html.
The citation above shows the format for footnotes and endnotes according to the Chicago manual of style (16th edition). Information to be used in other citation formats:
| | |
| --- | --- |
| Permalink: | http://www.biographi.ca/en/bio/sleigh_burrows_willcocks_arthur_9E.html |
| Author of Article: | P. B. Waite |
| Title of Article: | SLEIGH, BURROWS WILLCOCKS ARTHUR |
| Publication Name: | Dictionary of Canadian Biography, vol. 9 |
| Publisher: | University of Toronto/Université Laval |
| Year of publication: | 1976 |
| Year of revision: | 1976 |
| Access Date: | June 8, 2023 |