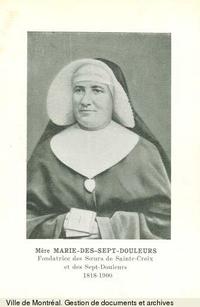 Source: Link
GASCOIN, LÉOCADIE (baptized Léocadie-Romaine), named Marie des Sept-Douleurs, founder and superior of the Marianite Sisters of Holy Cross; b. 1 March 1818 in Montenay, France, daughter of Michel-Jean Gascoin and Rosalie-Renée Chardon; d. 29 Jan. 1900 in Le Mans, France.
Eager to dedicate herself to the religious life, Léocadie Gascoin left her parents' home in 1841 to work with Father Basile Moreau in founding the Marianite Sisters of Holy Cross at Le Mans. Moreau made her the cornerstone of the congregation and gave her the name Marie des Sept-Douleurs. However, Bishop Jean-Baptiste Bouvier of Le Mans, who was sympathetic to the priests and brothers of the Congregation of Holy Cross, looked less kindly on the establishment of a community of women. He considered the Marianites nothing more than an association of pious spinsters serving the educational institutions of the Congregation of Holy Cross. Moreau took a broader view; he wanted to turn the Marianites into true nuns and gradually involve them directly in teaching. He did not hesitate to include them in the first group of Holy Cross missionaries sent to Indiana, in 1843, and to Lower Canada, in 1847.
The Marianites were accepted at once in North America, where the order began to expand rapidly. Nevertheless, the weakening of their link with the mother house in Le Mans endangered the community's solidarity. To remedy the situation, and at the same time to prepare Marie des Sept-Douleurs for an eventual appointment as superior general, Moreau decided to make her the superior of the Marianite Sisters in Lower Canada. He instructed her to take up residence at Saint-Laurent on Montreal Island. When the superior arrived in 1849, the community consisted of 19 sisters, 13 of whom were Canadian; when she left in 1863 there would be 70.
Highly regarded for her kindness and generosity, as well as for her firmness and faithful observance of the congregation's rule, Marie des Sept-Douleurs succeeded in shaping and consolidating the community according to the wishes and spirit of its founder. As a result of the orderly allocation of tasks and the introduction of sound discipline, for the benefit of nuns and pupils alike, the fledgling community attracted attention. Within ten years, four convents with boarding facilities were opened for children living in the countryside. Novices joined in large numbers and the establishments were well ordered. Marie des Sept-Douleurs let nothing escape her notice, accepting the risk of sometimes being accused of inflexibility, but she was always the first to lend a hand with the inevitable hard work attached to any new undertaking.
The legal status of the Marianite Sisters continued ill-defined. The approval granted by the Holy See to the Congregation of Holy Cross in 1857 did not include the female branch because of the reservations expressed by the bishop of Le Mans. Under the circumstances the bishops of other dioceses assumed oversight of local Marianite establishments and carried it out according to their own views, much to the distress of Father Moreau. Later in 1857, following the course of action personally recommended to him by Pope Pius IX, the founder decided that the time had come to exercise his authority and appoint Marie des Sept-Douleurs superior general of the entire congregation of Marianite Sisters of Holy Cross, in France, the United States, and Lower Canada. Remaining superior in Saint-Laurent, she also continued to perform the duties of provincial superior. She was recalled to the mother house at Le Mans in 1863.
The regulations that Moreau had drawn up long before for the Marianite Sisters finally received the approval of the Holy See in February 1867; the superior general's authority over the entire congregation was thereby ratified and officially confirmed. But by now it was too late. The sisters in Indiana had irrevocably distanced themselves from the mother house; in 1869 they asked for and obtained a papal brief of separation. The Canadian province, which Marie des Sept-Douleurs had personally been shaping for 14 years, seemed willing to remain faithful to its origins. But her zealous attempts to win love and respect for the congregation's rule no longer met with the same response as they had in the past. The administrative mechanism was weighed down by too frequent recourse to the superior general, especially in making appointments to positions of responsibility and in admitting novices. There was a general desire to do away with the practice. In addition, a few sisters, supported in their demands by Bishop Édouard-Charles Fabre of Montreal, insisted that the community cease to take on nursing duties and that a clear distinction be made between the sisters charged with teaching and those assigned to domestic tasks. However, Marie des Sept-Douleurs proved inflexible and refused to alter the rules. As a result, steps to separate the Canadian province were set in motion and the separation was effected on 3 Dec. 1882. The Canadian sisters then set up a new religious congregation of their own, calling themselves Sisters of Holy Cross and the Seven Dolours. Its first superior was Julie Bertrand, named Marie de Saint-Basile. Marie des Sept-Douleurs remained superior general of her community's houses in France and Louisiana until her death on 29 Jan. 1900.
The Arch. générales des Sœurs de Sainte-Croix (Saint-Laurent, Qué.) holds many items relating to Léocadie Gascoin, named Marie des Sept-Douleurs. The following are among the documents consulted: Annales de la congrégation des Sœurs de Sainte-Croix et des Sept-Douleurs; Annales de la congrégation des Sœurs marianites de Sainte-Croix; Chroniques de la fondation de l'établissement des Sœurs marianites de Sainte-Croix à Saint-Laurent, près de Montréal, Bas-Canada; and Notice biographique de la très honorée mère Marie des Sept-Douleurs.
AD, Mayenne (Laval), État civil, Montenay, 1er mars 1818. Arch. municipales, Le Mans, France, État civil, Le Mans, 30 janv. 1900. H.-P. Bergeron, Basile Moreau, fondateur des religieux et des religieuses de Sainte-Croix (Rome, 1979); Léocadie Gascoin, 1818–1900; fondatrice des religieuses de Sainte-Croix ([Montréal, 1980]). Étienne Catta, La très révérende mère Marie des Sept-Douleurs, 1818–1900, et les origines des Marianites de Sainte-Croix (Le Mans, [1958]).
© 1990–2023 University of Toronto/Université Laval
Image Gallery

Cite This Article
Marguerite Jean, "GASCOIN, LÉOCADIE, Marie des Sept-Douleurs," in Dictionary of Canadian Biography, vol. 12, University of Toronto/Université Laval, 2003–, accessed June 5, 2023, http://www.biographi.ca/en/bio/gascoin_leocadie_12E.html.
The citation above shows the format for footnotes and endnotes according to the Chicago manual of style (16th edition). Information to be used in other citation formats:
| | |
| --- | --- |
| Permalink: | http://www.biographi.ca/en/bio/gascoin_leocadie_12E.html |
| Author of Article: | Marguerite Jean |
| Title of Article: | GASCOIN, LÉOCADIE, Marie des Sept-Douleurs |
| Publication Name: | Dictionary of Canadian Biography, vol. 12 |
| Publisher: | University of Toronto/Université Laval |
| Year of publication: | 1990 |
| Year of revision: | 1990 |
| Access Date: | June 5, 2023 |