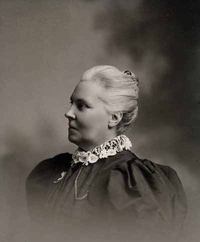 Source: Link
GOWANLOCK, JENNY KIDD (Trout), schoolteacher, physician, and mother; b. 21 April 1841 in Kelso, Scotland, daughter of Andrew Gowanlock and Elizabeth Kidd, farmers; m. 25 Aug. 1865 Edward Trout in Stratford, Upper Canada, and they had by adoption one son and one daughter; d. 10 Nov. 1921 in Hollywood (Los Angeles).
Jenny Kidd Gowanlock was one of the women who first challenged men's exclusive hold on the medical profession in Canada. To some Victorians, the field of medicine appeared particularly appropriate for the female personality as they defined it, and so in this area women made early gains despite staunch opposition from most male doctors. Jenny's participation in the struggle to open new doors for women in the profession was inspired by feminism and by her Christian faith. "I hope to live to see the day when each larger town (at least) in Ont. will have one good true lady physician working in His name," she would write in 1881.
Jenny was six when she immigrated with her family to Ellice Township, Upper Canada. They developed a thriving ten-acre farm and regularly worshipped at Knox Presbyterian Church in nearby Stratford. She attended school in the town and in 1860 was accepted as an adult member of the Free Church. One year later Miss Gowanlock finished her training at the Normal School in Toronto, in about half the usual time, and from 1861 to 1865 she taught public school in the Stratford area.
There she met Edward Trout, who sold advertising for the Toronto Leader in the region. After an extended courtship they married and settled in Toronto. Edward prospered and in 1867 he and his brother John Malcolm founded a highly respected financial weekly, the Monetary Times. Mrs Trout did not fare as well: nervous disorders that suddenly set in after her marriage left her a semi-invalid barely able to move. She sought treatment through the new science of electrotherapy, and good results caused her to revive her childhood dream of pursuing medicine as a career.
Always encouraged and financially supported by her husband, in 1871–72 she took a one-year qualifying course at the Toronto School of Medicine. Both she and her classmate Emily Howard Stowe [Jennings*] passed, despite the active hostility of some professors and male students. No medical college in Canada was prepared to accept a woman as a regular full-time student, however, and Jenny, like Charlotte Ross [Whitehead*] of Montreal, attended the Woman's Medical College in Philadelphia, an institution noted for its Christian orientation. She received her md in March 1875 and a month later passed with relative ease the licensing examinations of the College of Physicians and Surgeons of Ontario. She thus became the first woman doctor authorized to practise in Canada, and she would remain unique in that regard until 1880, when Emily Stowe was licensed.
At Toronto in July 1875 Dr Trout and her close personal friend Emily Amelia Tefft, another graduate of the Woman's Medical College, started their practice, which featured "special facilities for giving treatments to ladies by galvanic baths or electricity." Electrotherapy was highly regarded among late-Victorian physicians and in 1877 doctors Trout and Tefft launched the Medical and Electro-Therapeutic Institute in the three houses north of Jenny's home on Jarvis Street. Around 60 female patients lived at it and about 40 of them were treated each day. Eventually Trout and Tefft created branches in Hamilton and Brantford. The vast undertaking, although popular, proved to be a losing investment and its heavy personal demands wore down the always frail Dr Trout. Towards the end of 1882 she was forced to announce her retirement from the medical profession at the young age of 41.
This severe disappointment was mitigated by the rise of a new cause for her in 1883: the establishment of a women's medical college in Canada. Dr Michael Barrett* and five male colleagues at the Toronto School of Medicine had, on their own initiative, formed themselves into the faculty of a prospective institution in that city. Trout was willing to endorse the move with both her influence and her money, but only if women constituted a majority of the trustees and filled at least some of the positions on the faculty. Barrett, who was opposed to having any female trustees at all, rejected these demands and Trout then threw her support to a more obliging group in Kingston which was organizing a school in affiliation with Queen's College. After the founding of the Women's Medical College was approved at a public meeting in Kingston on 8 June 1883, Trout became not only one of its trustees but also its principal benefactor, promising $200 a year for the next five years.
She was stunned by the news on 12 June that Barrett and his associates, assisted by Emily Stowe and the Canadian Women's Suffrage Association, had created the Woman's Medical College in Toronto. Barrett, obviously afraid that his plans would be pre-empted by the Kingston group, was now willing to accept women on both the board of trustees and the faculty. Edward Trout, representing his wife's interests, denounced Barrett's "complete change of heart" and claimed the Toronto action was grossly unfair to the Kingston college. Neither side would yield, however, and in October two women's medical colleges were launched.
There were not enough students. Bitter rivalry between the Kingston and Toronto colleges deeply divided the small and struggling community which the Toronto Daily Mail called the "lady medicos," and the competition for students was heightened in the 1890s with the opening to women of several Canadian medical faculties, including that of Bishop's College [see Francis Wayland Campbell*]. Strife did not end until 1894 when the two female schools united to form the Ontario Medical College for Women in the provincial capital. Dr Trout had served on the Kingston body's board of trustees until the end and had remained one of its principal financial patrons.
Trout's interest in medical matters was gradually overshadowed by other concerns. She became increasingly involved in Bible study and foreign missions, which many late-Victorian women found a liberating experience. Moreover, after a family tragedy the Trouts adopted their orphaned great-nephew and great-niece. She was also active, at some point in her career, in the temperance movement and in the Association for the Advancement of Women.
In 1908 the family moved to Hollywood, where Dr Trout died 13 years later. She had been significant in Canada as the country's first licensed female doctor, as a promoter of women's medical education on firm feminist principles, and as a quintessential Christian feminist.
Jenny Kidd Gowanlock Trout's studies at the Woman's Medical College of Pennsylvania in Philadelphia included the preparation of a thesis on the medical uses of the opium poppy, "Papaver somniferum" (md thesis, 1875).
Univ. of Waterloo Library, Special Coll. Dept. (Waterloo, Ont.), WA 10 (Elizabeth Smith Shortt fonds). Victoria Univ. Arch. (Toronto), Fonds 2083 (Victoria Univ., Cobourg, Ont., Dept. of Medicine fonds), 87.144V, 1os-1 (Toronto School of Medicine, student reg., 1858–75). Daily British Whig (Kingston, Ont.), 9 June, 3 Oct. 1883. Globe, 24 July 1875; 12, 15 May, 13 June, 2 Oct. 1883. Mail (Toronto), 16 April 1875, continued as Toronto Daily Mail, 14 May, 2 Oct. 1883. World (Toronto), 5 April 1883. G. F. Alsop, History of the Woman's Medical College, Philadelphia, Pennsylvania, 1850–1950 (Philadelphia, 1950). P. E. P. Dembski, "Jenny Kidd Trout and the founding of the Women's Medical colleges at Kingston and Toronto," OH, 77 (1985): 183–206. V. [J.] Strong-Boag, "Canada's women doctors: feminism constrained," in A not unreasonable claim: women and reform in Canada, 1880s–1920s, ed. Linda Kealey (Toronto, 1979), 109–29; reissued in Medicine in Canadian society: historical perspectives, ed. S. E. D. Shortt (Montreal, 1981), 207–35. A. A. Travill, Medicine at Queen's, 1854–1920: a peculiarly happy relationship ([Kingston, 1988]). W. H. Trout, Trout family history (Milwaukee, Wis., 1916).
© 2005–2023 University of Toronto/Université Laval
Cite This Article
Peter E. Paul Dembski, "GOWANLOCK, JENNY KIDD (Trout)," in Dictionary of Canadian Biography, vol. 15, University of Toronto/Université Laval, 2003–, accessed September 21, 2023, http://www.biographi.ca/en/bio/gowanlock_jenny_kidd_15E.html.
The citation above shows the format for footnotes and endnotes according to the Chicago manual of style (16th edition). Information to be used in other citation formats:
| | |
| --- | --- |
| Permalink: | http://www.biographi.ca/en/bio/gowanlock_jenny_kidd_15E.html |
| Author of Article: | Peter E. Paul Dembski |
| Title of Article: | GOWANLOCK, JENNY KIDD (Trout) |
| Publication Name: | Dictionary of Canadian Biography, vol. 15 |
| Publisher: | University of Toronto/Université Laval |
| Year of publication: | 2005 |
| Year of revision: | 2005 |
| Access Date: | September 21, 2023 |