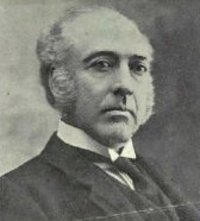 Source: Courtesy of Wikimedia Commons
HARTY, WILLIAM, businessman and politician; b. 8 March 1847 in Biddulph Township, Upper Canada, son of John Harty and Elizabeth Heenan; m. 1870 Catherine Mary Bermingham (d. 1889) of Ottawa, and they had two sons and a daughter; d. 1 April 1929 in Kingston, Ont.
The son of immigrants from Tipperary (Republic of Ireland), William Harty was educated in Kingston by the Roman Catholic Church, at first by the Brothers of the Christian Schools and then at Regiopolis College. While in his teens he joined the wholesale grocery firm there of his uncle James Harty and in 1868, after his uncle's death, he took it over. A member of the local Board of Trade, he rose to become its president in 1873. The following year he attended the meeting at Saint John of the Dominion Board of Trade, which rejected the proposals of George Brown*, a leading Reformer, for a reciprocity agreement with the United States. The experience nonetheless confirmed Harty's affiliation with the Liberal party.
Success in the grocery business led Harty into other enterprises. From 1875 to 1879 he was a director and executive member of the Kingston and Pembroke Railway. Perhaps because of his success in this venture, he left the grocery trade in 1881 and helped set up the Kingston Charcoal and Iron Company. With other Kingstonians, he also gained control of the Canadian Locomotive and Engine Company. This business, which had originated as a foundry on Kingston's waterfront [see James Morton*], had moved its offices to Montreal and fallen on hard times. Harty's group included mps George Airey Kirkpatrick* and Sir Richard John Cartwright* and two former mayors, John McKelvey and John Breden. They brought the offices back to Kingston, installed Harty as managing director, and operated the factory successfully for seven years before selling it to a Scottish firm, Dubs and Company. At this point Harty left and accepted a position as the general manager in Canada for the Equitable Life Assurance Society of the United States.
In his absence Canadian Locomotive again declined. The problems experienced by Dubs and Company eventually led the Bank of Montreal, its largest creditor, to have the courts appoint A. F. Riddell and Kennet William Blackwell as receivers. In 1900 they selected the offer of a group led by Harty, now an mla, to take control and reopen the works. He joined with his brother-in-law Cornelius Bermingham and Michael John Haney, a Toronto engineer and fellow Liberal, to purchase the company for $60,000. An important part of this agreement was their commitment to upgrade the factory, which had fallen behind the industry standard. The resulting technical improvements and Harty's political connections brought new contracts, notably from the Intercolonial Railway and rail barons Donald Mann* and William Mackenzie, and renewed the company's position as one of Kingston's largest employers. The partisan Daily British Whig trumpeted the news on 6 Nov. 1900 as a Liberal triumph: "Secured the works. Honourable William Harty is now in possession. Orders for 32 engines. Liberals only friend of working man after all." On 7 Feb. 1901 the firm was reincorporated as the Canadian Locomotive Company Limited. That year it faced a strike by the local machinists' union over the issue of ironworkers being assigned machinists' work. The dispute would drag on until 1905 but the use of replacement workers meant that production continued unabated.
Although Harty and his associates had great success in restoring the works to prominence, their relationship was strained by Harty's refusal as president to consider offers to participate by American investors and his determination to keep the company in Kingston. The friction between Harty and Bermingham was not resolved, and Harty never spoke to his brother-in-law again. In the aftermath, Haney and Bermingham opened a larger locomotive factory in Montreal, while retaining their positions in the Kingston firm. In 1911 Harty, though commercially well connected, lost control of Canadian Locomotive to a group of Toronto speculators led by Edward Æmilius Jarvis*, and shortly thereafter he resigned. His sons would remain with the firm, each becoming president, John Joseph (Jock) in 1917 and William in 1924.
In addition to his career as an industrialist, Harty was extremely active in Kingston's politics. He had been elected as an alderman in 1879 and sat on the city's finance committee. A president of the local Reform Association, in 1892 he was elected to the Ontario legislature. His defeat in 1894 by one vote was overturned and he won the subsequent by-election in 1895, thanks in part to the intervention of Premier Sir Oliver Mowat*. This election too was overturned but in October 1895 Harty was returned by acclamation. In May 1894, though not well known throughout Ontario, he had been appointed commissioner of public works, largely to replace Christopher Finlay Fraser* as the Roman Catholic representative in the cabinet. Although he gave up this post in October 1899, he continued as a minister without portfolio and retained his seat until January 1902, when he moved to the federal House of Commons following a by-election in Kingston. A member of the manufacturers' deputation that in January 1911 opposed the government's adoption of reciprocity, he did not run in the reciprocity election in September. His view of politics is best revealed in his correspondence with Prime Minister Sir Wilfrid Laurier*. Much of the exchange consists of requests from Harty for financial aid for his locomotive company and continued tariff protection, and appeals from Laurier for financial and political support.
Following Harty's retirement in 1911, he remained publicly active as a trustee of Queen's University in Kingston and as chairman of the board of its School of Mining and Agriculture. His interest in education had earlier been reflected by the active role he and his wife had taken in the creation of the Women's Medical College at Queen's in 1883 [see Jenny Kidd Gowanlock]. In 1892 Harty had also accepted appointment to the senate of the University of Toronto. His later years were darkened by the loss of his elder son, John, of pneumonia in 1919. William Jr and his sister, Kathleen, survived their father, who died in 1929, leaving an estate worth more than a million dollars.
William Harty's life had been wrapped up in Kingston. He told electoral supporters in 1908 that his desire to reacquire Canadian Locomotive had been both personal and altruistic. At the time of the purchase he telegraphed Kingston that "in endeavoring to help myself I rejoice in being able to do something for my old employees of the Locomotive Works and for Kingston." This sentiment neatly summarizes his approach to business and politics: the Limestone City brought him enormous success and he attempted to return the favour.
AO, RG 22-159, no.4215. LAC, MG 26, G, Harty to Laurier, 11 Dec. 1903; Laurier to Harty, 14 Dec. 1903. Daily British Whig (Kingston, Ont.), 6 Nov. 1900. Kingston Whig-Standard, 1 April 1929. Katherine Bermingham Macklem, The Berminghams of Kingston (Kingston, 1977). Canadian men and women of the time (Morgan; 1912). Cyclopædia of Canadian biog. (Rose and Charlesworth), vol.1. Fritz Lehmann, "The Canadian Locomotive Company's response to three crises in the post–World War II era" (paper presented at the annual CHA meeting, Kingston, 1991). D. R. McQueen and W. D. Thomson, Constructed in Kingston: a history of the Canadian Locomotive companies, 1854–1969 (Kingston, 2000). George Richardson, "The Canadian Locomotive Company," in To preserve & defend: essays on Kingston in the nineteenth century, ed. G. [J. J.] Tulchinsky (Montreal and London, 1976), 157–67. Standard dict. of Canadian biog. (Roberts and Tunnell). A. A. Travill, Medicine at Queen's, 1854–1920: a peculiarly happy relationship ([Kingston, 1988]).
© 2005–2023 University of Toronto/Université Laval
Image Gallery

Cite This Article
Andrew Thomson, "HARTY, WILLIAM," in Dictionary of Canadian Biography, vol. 15, University of Toronto/Université Laval, 2003–, accessed December 10, 2023, http://www.biographi.ca/en/bio/harty_william_15E.html.
The citation above shows the format for footnotes and endnotes according to the Chicago manual of style (16th edition). Information to be used in other citation formats:
| | |
| --- | --- |
| Permalink: | http://www.biographi.ca/en/bio/harty_william_15E.html |
| Author of Article: | Andrew Thomson |
| Title of Article: | HARTY, WILLIAM |
| Publication Name: | Dictionary of Canadian Biography, vol. 15 |
| Publisher: | University of Toronto/Université Laval |
| Year of publication: | 2005 |
| Year of revision: | 2005 |
| Access Date: | December 10, 2023 |