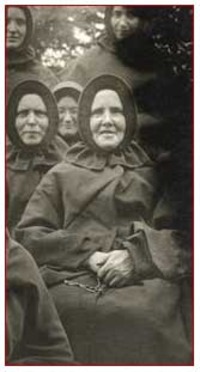 Source: Link
GREENE, MARY, member of the Sisters, Faithful Companions of Jesus, educator, and provincial for the order in Canada; b. 15 Aug. 1843 in Golden Bridge, County Tipperary (Republic of Ireland), daughter of Charles Greene and Margaret Hickey; d. 2 Oct. 1933 in Calgary.
Mary Greene was educated by the Faithful Companions of Jesus, a teaching congregation founded in France in 1820. She entered the congregation at St Mary's Convent in Bruff, south of Limerick (Republic of Ireland), on 25 Dec. 1860 and received her religious habit on 3 June 1861. She professed her vows on 19 March 1863 in Paris and returned to Ireland as mistress of class at Laurel Hill Convent in Limerick before being appointed superior at Bruff.
In 1882 Vital-Justin Grandin*, bishop of St Albert in the North-West Territories, wrote to the Faithful Companions' superior general in France to ask for sisters who could teach English and assist the Oblates of Mary Immaculate in transmitting Roman Catholic values and culture in his diocese. He admitted he lacked both money and personnel. "But there is a future," he claimed, "and I would not be surprised if this poor and precarious establishment which you will set up in my diocese [becomes] in time one of the finest of your congregation." Her earlier immersion in French language and culture, together with her teacher training in English-speaking colleges, made Greene an ideal candidate.
Escorted by an Oblate priest, Auguste Lecorre, Greene and seven other members of the congregation arrived in Quebec on 21 May 1883. The sisters were met by Grandin in Montreal and they travelled by train to St Boniface (Winnipeg) and then to Qu'Appelle (Sask.). The final stage of the journey, completed on 28 June, was made by oxcart to the Oblate mission at St Laurent (St‑Laurent–Grandin), where a small school had already been established. Greene and three sisters remained there while four others continued on to Prince Albert. "Our reception [at St Laurent] was cordial, but accompanied by so much austerity and destitution it was very painful to the nuns," recalled Greene, who had been appointed superior. Within days, she had opened Sacred Heart Convent and was teaching English and music to 17 girls and boys; most spoke Cree and a smattering of French. Attendance increased to around 50 during the winter of 1884–85.
The sisters "could not ignore great clouds that were gathering on the horizon of St. Laurent, formerly so peaceful." The mission was close to the headquarters of Louis Riel* in Batoche, and with the onset of the North-West rebellion, the community was in danger. Riel promised the nuns protection; Greene persuaded him that his house, "in the very midst of the tumult of his camp," was unsuitable, and he had them driven to the nearby Saint-Antoine-de-Padoue mission. On 9 May the forces of Major-General Frederick Dobson Middleton* fired on the refectory until the priests and nuns showed themselves.
After returning briefly to St Laurent, the nuns went to Prince Albert to await travelling instructions from Bishop Grandin, who, concerned about their safety, was seeking permission from the superior general to send them to Calgary, a railway junction and growing agricultural centre. Grandin told Greene that it was a place with a future and a school would assuredly attract boarding pupils. Having closed the St Laurent convent, the sisters left for Calgary in mid July.
They received a hearty welcome as they stepped from the railway coach on 26 July. Father Albert Lacombe* and all the ministers of local churches, with their congregants, had come to meet them. The Faithful Companions had endured both suspicion and indifference in Ireland because their order was controlled by a superior general rather than diocesan bishops and priests; in Calgary there was no such problem. Lacombe took the new arrivals to the nearby Our Lady of Peace mission, where they were given the use of an Oblate rectory for a day school and convent. Renovations allowed for a chapel, a parlour, a refectory, classrooms (including a separate space for boys), dormitories for boarders and the sisters, and a community room. A sister related: "We were determined to begin school in September even if it were necessary to give our lessons in the garden." Thirteen children, mostly Métis who spoke little English, appeared at St Mary's School on 1 September. Appointed superior of the Sacred Heart Convent as well as principal of the school, Greene qualified for a first-class certificate, which allowed her to teach in any school in the territories. In 1890 she would obtain a ba from the College of Ottawa.
With the assistance of Lacombe and magistrate Charles-Borromée Rouleau*, Greene took steps to secure government recognition. On 18 Dec. 1885 Lieutenant Governor Edgar Dewdney* issued the proclamation that established the Lacombe Roman Catholic Separate School District No.1, the first separate-school division in the Alberta district. In 1886 the school year began with 40 pupils in St Mary's, and by the end of October there were 82, half of them Protestants. In 1892 English would become the language of instruction by law; it had predominated in the school from the beginning, although the sisters ensured that the children learned French and spoke it fluently. Greene introduced advanced classes as needed, and the first Catholic high school in the Alberta district officially opened on 1 Oct. 1889. Secular, moral, and religious instruction made up the curriculum of all Faithful Companions' convents. Classes in subjects such as stenography and needlework were considered practical and morally beneficial.
By 1893 the original convent building had been replaced with a large sandstone structure that included an updated school. Classrooms were well lit and had modern maps and charts. There were seven pianos, two organs, and a collection of violins, guitars, and mandolins. Greene, who had a beautiful voice, played the organ, led the choir, and arranged student concerts and recitals. St Mary's gained an excellent reputation in the territories, and, according to Greene, both Catholics and Protestants were happy to have a good school in Calgary.
In the early 1890s the territories' lack of Catholic normal schools became a concern to Grandin and others. When the bishop tried to establish such a school, with Greene as principal, he learned that her certification did not meet the Board of Education standards. Grandin enlisted her help in negotiating for a Faithful Companion who had relevant experience, but the superior general replied that none was available. Greene continued as principal of St Mary's and worked amicably with ecclesiastical and civil authorities. Her diplomacy enabled the congregation to flourish in Calgary. In 1907 she arranged the sale of some convent property to the separate-school board for the establishment of St Mary's Girls' School, which opened in 1910. That year the community's annals reported: "The system of education in Alberta is liberal, reasonable and adaptive. So far, we have had no serious school trouble; our relations with inspectors and government officials have been extremely pleasant and satisfactory."
Assuming roles of authority within her community permitted Greene to attain a certain degree of independence. As provincial for the Faithful Companions' foundations in Canada, she was responsible for the operation of all convents, most of which she established. Congregation members had arrived in Brandon, Man., in 1883 and convents were set up in Edmonton (1888), Lethbridge (1890), Rat Portage (Kenora), Ont., in 1892, and, three years later, at Duck Lake (Sask.). They had hoped to work in Quebec in 1897 but were rejected by the province's bishops.
In 1913 Greene left Calgary to visit the Australian convents in the name of the superior general and she remained in Richmond, New South Wales, as superior until 1920. She returned to Alberta in 1921, was superior of the Lethbridge convent in 1925–26, and retired to Calgary in 1927. Throughout her working life, Mother Mary Greene was bound by the dictates of her religious superiors, though she was never directly subject to a bishop of a particular diocese. Yet her shrewdness, flexibility, and negotiating skill enabled her to manage her educational institutions as she thought best while remaining obedient to the church. She encouraged her subordinates to improve their own training, and remained aware of political and social developments despite belonging to a semi-enclosed order. Greatly respected as a teacher and superior, she became a trailblazer for Catholic education.
The author consulted several unpublished sources in the Sisters, Faithful Companions of Jesus Arch. in Calgary. Pictures of Mother Mary Greene can be found on various websites, including "Faithful Companions of Jesus": www.fcjsisters.org/fcj_english/index.html (consulted 29 April 2014) and "Mavericks: an incorrigible history of Alberta – uninvited guests": www.glenbow.org/mavericks/english/uninvited/index.html (consulted 29 April 2014).
Sisters, Faithful Companions of Jesus Arch., Acc. 86.1/7 (Annals), 1883–1933; File 86.6/252–58 (Dept. of Education certificates, M. Greene, 1886–1910). Calgary Herald, 15 Feb. 1900. Calgary Catholic schools: historical sketches; a centennial publication, comp. J. M. Stoeber (Calgary, [1985]). Caitriona Clear, Nuns in nineteenth-century Ireland (Dublin, 1987). Patricia Grogan, God's faithful instrument (Ramsgate, Eng., 1986). Sister Lucille Agatha Hochstein, "Roman Catholic separate and public schools in Alberta" (m.ed. thesis, Univ. of Alta, Edmonton, 1954). Barbara Hoffman, "Women of God," Alberta Hist. (Calgary), 43 (1995), no.4: 2–12. Journeying through a century: sister pioneers, 1883–1983, ed. Shirley Majeau (Edmonton, 1983). M. R. Lupul, The Roman Catholic Church and the North-West school question: a study in church–state relations in western Canada, 1875–1905 (Toronto, 1974). Father Stanislaus, Life of the Viscountess de Bonnault d'Houet, foundress of the Society of Faithful Companions of Jesus, 1781–1858, trans. "one of her daughters" (London, 1916).
© 2014–2023 University of Toronto/Université Laval
Cite This Article
Sheila Ross, "GREENE, MARY," in Dictionary of Canadian Biography, vol. 16, University of Toronto/Université Laval, 2003–, accessed December 3, 2023, http://www.biographi.ca/en/bio/greene_mary_16E.html.
The citation above shows the format for footnotes and endnotes according to the Chicago manual of style (16th edition). Information to be used in other citation formats:
| | |
| --- | --- |
| Permalink: | http://www.biographi.ca/en/bio/greene_mary_16E.html |
| Author of Article: | Sheila Ross |
| Title of Article: | GREENE, MARY |
| Publication Name: | Dictionary of Canadian Biography, vol. 16 |
| Publisher: | University of Toronto/Université Laval |
| Year of publication: | 2014 |
| Year of revision: | 2014 |
| Access Date: | December 3, 2023 |