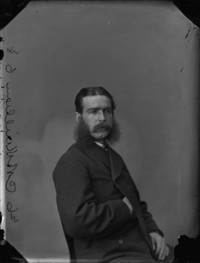 ROULEAU, CHARLES-BORROMÉE, school inspector, advocate, stipendiary magistrate, office holder, and judge; b. 13 Dec. 1840 in L'Isle-Verte, Lower Canada, son of Joseph Rouleau and Euphrosine (Euphrosie) Patouël (Patoine); m. there 11 April 1877 Elvina Dumouchel (d. 27 March 1901), and they had two daughters and a son; d. 25 Aug. 1901 in Montreal and was buried in Calgary.
Descendants of a Norman family, the Rouleaus lived in the picturesque village of L'Isle-Verte from at least 1822. After studying at the École Normale Laval at Quebec, Charles-Borromée Rouleau received his diplomas in 1859 and 1860 and taught in Aylmer. From 1861 to 1873 he was inspector of Catholic schools for the Ottawa district of Lower Canada (and Quebec), and apparently continued to reside in Aylmer. Meanwhile he undertook the study of law and in 1868 was called to the Quebec bar. In the provincial election of 1875 he ran as a Conservative for the Legislative Assembly in the riding of Ottawa. He came a rather distant last but the next year he was appointed a magistrate for the Ottawa district.
Rouleau found time to write on legal and educational matters for newspapers, including L'Ordre and La Minerve of Montreal. In 1880 he published a pamphlet, Notre système judiciaire, which called for the establishment of county courts in Quebec and various other reforms. His aim was "to get the organization of our courts modified in such a way as to make the dispensation of justice cheaper, faster, and more effective." The changes would also have the beneficial effect, he noted, of making the court structure more like that of the other provinces. Those provinces might in turn consider adopting Quebec's civil code. In his view, "The Canadian nation will only be truly one people when it is subject to the same laws."
In his early forties Rouleau took up a new challenge. He was named one of the three stipendiary magistrates of the North-West Territories in 1883, and he moved to Battleford (Sask.) the following year. His appointment had been made in order to fulfil a promise given by Ottawa to Bishop Vital-Justin Grandin of St Albert early in 1883. As a magistrate, Rouleau, a francophone and Catholic, had a seat on the Council of the North-West Territories. He soon had a role to play. The council was formulating an ordinance to establish a school system, and the Roman Catholic hierarchy became convinced that adequate provision was not being made for Catholic schools. After consultation with Grandin, Rouleau introduced amendments to create a system somewhat resembling the dual public school arrangement that existed in Manitoba. Thanks to his persuasive powers these changes were adopted as part of the 1884 school ordinance. Rouleau "was great help to me," reported Lieutenant Governor Edgar Dewdney* to Prime Minister Sir John A. Macdonald*. He "has plenty of pluck & sense." In 1885 Rouleau and Father Albert Lacombe* would be made the members of the Catholic section of the Board of Education that was set up under the legislation. Rouleau served until the board was replaced in 1892 by the Council of Public Instruction.
Asked by Ottawa on 5 Sept. 1884 to investigate reports of unrest among the Métis and Indians, Rouleau telegraphed that the stories were exaggerated, that land claims should be settled immediately, and that peace would prevail if the Indians were given sufficient supplies to meet the "great misery and starvation among them during this winter." During the uprising of the next spring he fled Battleford. From Swift Current he wired to Secretary of State Joseph-Adolphe Chapleau*, "Got here safe with family indians ransacked & plundered my house am left poor as a church mouse god save the Queen." On his return to Battleford, he tried the cases of Wandering Spirit [Kapapamahchakwew*] and the other Cree charged with the killings at Frog Lake.
In the territorial council and in the assembly which replaced it in 1888, Rouleau opposed attempts to achieve greater autonomy for the territories. He was particularly concerned that the local government should not have a freer hand with education. The federal North-West Territories Act of 1875 gave some protection to separate schools. Once the majority of the population was English-speaking and Protestant, Rouleau feared for the independence of Catholic schools and the status of French in the classroom. After 1891 he no longer had a seat in the assembly, but he continued to act on behalf of francophone Catholics. When an ordinance of 1892 put effective control of schools into the hands of the assembly and made English the preferred language of instruction, he was one of the first to demand federal disallowance. Disallowance, however, was not forthcoming.
In 1887 the stipendiary magistrates had been replaced by the Supreme Court of the North-West Territories, and Rouleau had become the judge for the Northern Alberta district. He would hold this appointment for the rest of his life. Legal scholarship was the hallmark of his judicial career. His library contained an outstanding collection of legal sources and texts. He had all of the major British, Canadian, and American treatises covering the full range of legal actions, a complete set of Canadian and territorial law reports, and all the Canadian statutes in both French and English editions. On the bench he revelled in the trial process. In an age lacking court reporters, he frequently took down the proceedings himself. Willing to sit for hours listening to legal arguments, he would often adjourn upon conclusion of the trial, research the case, work out the most relevant legal principle governing the major point at issue, and then give a masterfully penned judicial opinion. Contrary to the view of most historians, the case files demonstrate that Rouleau was not a harsh judge, but a thoughtful one whose decisions balanced equity and mercy and were given with bonhomie and common sense. His judgements also reveal an emphasis on jurisprudence instead of precedents. Seldom did a party win an appeal of his judgement in the Supreme Court of the territories or of Canada.
In Calgary, where the Rouleaus had settled by 1889, the family lived elegantly in a massive house described by contemporaries as sombre and having a seigneurial atmosphere. Dedicated to the Catholic Church, education, and the French language, Rouleau tried to establish a francophone community called Rouleauville, but the venture failed and the area became instead Calgary's Mission district. The family was a traditional one, close-knit, and Rouleau was a stout defender of Victorian values. Writing to his children on their summer holiday in Banff in 1896, he counselled hard work and high moral standards, "People have no confidence in those who don't stick to their promises." During the late 1890s he reduced his activities because of a weakening heart. He succumbed to heart failure in Montreal on his way to Europe with his daughter.
Rouleau died with an insolvent estate. Mme Rouleau's somewhat lavish entertainment was well known. Less known were the judge's purchase of land in Regina, Edmonton, and Calgary and his pursuit of his Edmonton Gold Mine, an unsuccessful dredging operation on the North Saskatchewan River. He owed money to almost every bank in Canada and to a long list of Calgary merchants from grocers to the undertaker. The failure of his aspirations to become rich was in marked contrast to his success in his profession, where he established a tradition of jurisprudence that was maintained in the Alberta courts down to the mid 20th century.
Charles-Borromée Rouleau's study Notre système judiciaire was published at Ottawa in 1880; a new edition appeared there in 1882. There is an 1891 sketch of him in the NA, Documentary Art and Photography Div., and he appears in two group photographs, dated 1886 and 1890, in its collections. Photographs of Rouleau are also found in the GA and the Provincial Arch. of Alberta (Edmonton).
The largest and most important body of manuscript material extant concerns the history of Rouleau's judgeship. The complete series of civil and criminal files for the Supreme Court of the North-West Territories, Dist. of Alberta, Northern Div., 1886–1901, is at Provincial Arch. of Alberta, 79.266. More directly pertinent is the collection of Rouleau's notebooks and judicial papers for the same years in 68.302. Many of his judgements have been summarized and published in the Territories Law Reports (Toronto), 1 (1885–93)–4 (1898–1901).
ANQ-BSLGIM, CE4-2, 13 déc. 1840. ANQ-Q, E 30/3, no.50. GA, M320: 1402–5, 2592; M546; M1938, files 1–3 (Short, Ross, et al. estate papers, including estate, business, and financial papers relating to Rouleau's insolvency and an inventory of his library); M2286, no.459. NA, MG 27, I, C4, 7. Saskatchewan Arch. Board (Saskatoon), S-A122 (James Clinkskill, Reminiscences), 28–29. D. [B.] Smith, "Bloody murder almost became miscarriage of justice," Calgary Herald Sunday Magazine, 23 July 1989: 12–15. Bob Beal and R. [C.] Macleod, Prairie fire: the North-West rebellion of 1885 (Edmonton, 1984). Can., Dept. of the Secretary of State, Epitome of parliamentary documents in connection with the North-West rebellion, 1885 (Ottawa, 1886; copy at ANQ-Q). Canadian album (Cochrane and Hopkins), vol.3. CPG, 1876. Max Foran with Edward Cavell, Calgary: an illustrated history (Toronto, 1978). L. A. Knafla, "Advocates, judges and courts: a judicial history of southern Alberta in the North-West Territories, 1883–1907" (paper prepared for Alberta Culture and Multiculturalism, Edmonton, 1985); "From oral to written memory: the common law tradition in western Canada," Law & justice in a new land: essays in western Canadian legal history, ed. L. A. Knafla (Toronto, 1986), 56–57, 65–66. M. R. Lupul, The Roman Catholic Church and the North-West school question: a study in church-state relations in western Canada (Toronto and Buffalo, N.Y., 1974). C. C. McCaul, "Precursors of the bench and bar in the western provinces," Canadian Bar Rev. (Toronto), 3 (1925): 38–39. North-West Territories Gazette (Regina), 1886–1901. Thomas, Struggle for responsible government in N.W.T. (1956).
© 1994–2023 University of Toronto/Université Laval
Cite This Article
Louis A. Knafla, "ROULEAU, CHARLES-BORROMÉE," in Dictionary of Canadian Biography, vol. 13, University of Toronto/Université Laval, 2003–, accessed June 6, 2023, http://www.biographi.ca/en/bio/rouleau_charles_borromee_13E.html.
The citation above shows the format for footnotes and endnotes according to the Chicago manual of style (16th edition). Information to be used in other citation formats:
| | |
| --- | --- |
| Permalink: | http://www.biographi.ca/en/bio/rouleau_charles_borromee_13E.html |
| Author of Article: | Louis A. Knafla |
| Title of Article: | ROULEAU, CHARLES-BORROMÉE |
| Publication Name: | Dictionary of Canadian Biography, vol. 13 |
| Publisher: | University of Toronto/Université Laval |
| Year of publication: | 1994 |
| Year of revision: | 1994 |
| Access Date: | June 6, 2023 |