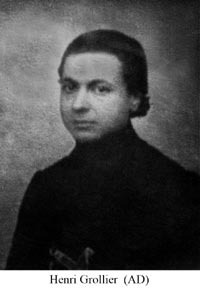 Source: Link
GROLLIER, PIERRE-HENRI, priest, Oblate of Mary Immaculate, and missionary; b. 30 March 1826 at Montpellier (dept of Hérault), France, son of Jean-Jacques Grollier, baker, and Thérèse-Catherine-Rose Giniès; d. 4 June 1864 at Fort Good Hope (Northwest Territories).
In October 1847, Pierre Grollier, a student at the Grand Séminaire of Montpellier, decided, as a result of a lecture given by Father Jean-Claude-Léonard Baveux, to enter the noviciate of the Oblates at Notre-Dame de l'Osier (dept of Isère). He made his profession on 15 Oct. 1848. After completing his studies at Marseilles, he was ordained priest on 29 June 1851 by Charles-Joseph-Eugène de Mazenod, bishop of Marseilles and founder of the Oblates.
Grollier worked at the sanctuary of Notre-Dame-de-la-Garde at Marseilles (1851–52) before embarking for America in the spring of 1852. Bound for the missions of the northwest, he reached Saint-Boniface on 27 June. He left there on 8 July to go to the Lake Athabasca mission at Fort Chipewyan, where he lived from 1852 to 1856 and from 1857 to 1858. In 1853 he founded a mission at the Fond-du-Lac trading-post, which had been re-established recently by the Hudson's Bay Company on Lake Athabasca among the Caribou Eaters. He stayed for fairly long periods among these Indians during the years 1853 to 1856 and in 1858. He was called to the Île-à-la-Crosse mission (Saskatchewan) in 1856 and remained a year there, ministering to the Montagnais. From 1858 to 1859 he stayed at Fort Resolution.
His zeal increased by the arrival of an Anglican missionary in the north in 1858, Grollier, already a seasoned traveller, set forth on lengthy apostolic expeditions to beyond the Arctic circle. He founded and visited missions at Fort Simpson (1858–60), Fort Providence (1858–59), Fort Rae (1859), and Fort Norman (1859–60). In 1859 he was given the task of setting up and directing the mission at Fort Good Hope, where he spent the last years of his life, although continuing to visit the numerous missions he had founded. In 1860 he went to Fort McPherson on the Peel River, where he met Loucheux Indians for the first time. He also visited the Inuit (Eskimos) there, and on 14 September assembled the two groups and made them promise to live in peace.
A victim of severe asthma in 1861, Grollier found his journeying arduous. His superiors therefore gave him some associates and offered to send him to a less demanding post, but he refused to leave his neophytes. He stated that he would not become a burden on the mission, since "missionaries do not have long illnesses." The poverty and lack of comfort of these missions imposed great privations. At Fort Good Hope Father Grollier lived in a house measuring 22 by 18 ft, which served as church, parlour, dining room, kitchen, and sleeping quarters.
In the Mackenzie River region the HBC agents did not look favourably on Catholics, but they were usually courteous and hospitable. However, Grollier, a man of great energy, severe on himself, and little inclined to moderation, was given a cold reception by certain company agents at Peel River in September 1860: they refused to give him lodging and food. In Grollier's eyes, it was the Anglican missionaries who were the enemy, from whom the Indians, pagan or Catholic, should be protected. Yet, in a way typical of religious attitudes in the 19th century, the Anglicans were scarcely better disposed towards him.
As the first Catholic missionary to meet the Inuit of the northwest, Grollier was delighted to learn, in 1862, that his demands had resulted in the creation of the apostolic vicariate of Athabasca, of which Bishop Henri Faraud* became the incumbent. Two years later Grollier died and in accordance with his wishes was buried between two Indians in the cemetery of the Fort Good Hope mission.
Archives de l'archevêché de Saint-Boniface (Man.), Correspondance de l'archevêché (mfm. at AHO); Alexandre Taché, Notes sur l'établissement de la mission d'Athabaska (mfm. at AHO). Archives départementales de l'Hérault (Montpellier), État civil, Montpellier, 30 mars 1826. Archives générales O.M.I. (Rome), Dossier Pierre-Henri Grollier (mfm. at AHO); histoire de la mission de Notre-Dame-des-Sept-Douleurs établie au fond du lac Athabasca (mfm. at AHO). Archives provinciales O.M.I. (Edmonton), Dossier Grollier (mfm. at AHO). Notices nécrologiques des O.M.I., I, 169–76. P.-J.-B. Duchaussois, Aux glaces polaires; Indiens et Esquimaux (Lyon, France, [1921]), 384–95. Herman Klingler, Conquérants sans terre, l'aventure des missionnaires, Pierre Chambard, trad. (Tours, France, 1956), 189–203. Morice, Hist. de l'Église catholique, II, 29, 50, 55, 66, 98, 103, 116, 118, 156, 172, 179, 184; III, 258. Gaston Carrière, "Fondation et développement des missions catholiques dans la Terre de Rupert et les Territoires du Nord-Ouest (1845–1861)," Revue de l'université d'Ottawa, XLI (1971), 397–127; "Glorieux centenaire d'un grand missionnaire, le père Henri Grollier, o.m.i.," La Bannière de Marie-Immaculée (Ottawa), LXXII (1964), 40–44.
© 1976–2023 University of Toronto/Université Laval
Image Gallery

Cite This Article
Gaston Carrière, "GROLLIER, PIERRE-HENRI," in Dictionary of Canadian Biography, vol. 9, University of Toronto/Université Laval, 2003–, accessed June 4, 2023, http://www.biographi.ca/en/bio/grollier_pierre_henri_9E.html.
The citation above shows the format for footnotes and endnotes according to the Chicago manual of style (16th edition). Information to be used in other citation formats:
| | |
| --- | --- |
| Permalink: | http://www.biographi.ca/en/bio/grollier_pierre_henri_9E.html |
| Author of Article: | Gaston Carrière |
| Title of Article: | GROLLIER, PIERRE-HENRI |
| Publication Name: | Dictionary of Canadian Biography, vol. 9 |
| Publisher: | University of Toronto/Université Laval |
| Year of publication: | 1976 |
| Year of revision: | 1976 |
| Access Date: | June 4, 2023 |