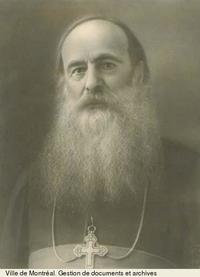 Source: Link
GROUARD, ÉMILE (named at birth Émile-Jean-Marie), Roman Catholic priest, Oblate of Mary Immaculate, missionary, bishop, publisher, artist, and author; b. 1 Feb. 1840 in Brûlon, France, son of André Grouard, a gendarme, and Anne Ménard; d. 7 March 1931 in Grouard, Alta.
Émile Grouard started his theological studies in France prior to emigrating in 1860 to the Canadas, where he finished his preparations at the Grand Séminaire de Québec. Ordained priest at Boucherville on 3 May 1862 by Bishop Alexandre-Antonin Taché*, he went to St Boniface (Winnipeg) to begin his noviciate with the Oblates, which he completed at Fort Chipewyan (Alta). He made his final vows at Providence mission (Fort Providence, N.W.T.) on 21 Nov. 1863 before his cousin Bishop Vital-Justin Grandin*.
Adapting rapidly to his new environment on the missionary frontier, Grouard learned the intricacies of relationships between whites and aboriginal populations. He grew a beard because it made him look older and wiser to the Indians, and discovered their admiration of music and hymns. He quickly gained a reputation as a skilled linguist; during Holy Week services in 1863, Father Isidore Clut* told Taché, Grouard preached his first sermon in Montagnais without an interpreter. He established long-lasting connections with members of the Hudson's Bay Company, and these friendships facilitated his missionary efforts. While stationed at Providence mission, he visited Fond du Lac (Sask.), Hay River and forts Liard and Simpson (N.W.T.), and Fort Nelson (B.C.). When he temporarily lost his voice, he returned to France in 1874 for treatment; he also took painting lessons and printed a Bible that had been translated into Montagnais.
Upon returning to Canada in 1876, Grouard was sent to Lac la Biche (Alta), the centre of trans-shipment and supply for the Mackenzie basin missions. At Lac la Biche he installed the first printing press in the present province of Alberta and, utilizing his philological skills and employing syllabic type, he published works in Cree, Montagnais, Beaver, and Loucheux. In 1883 Grouard was sent to Fort Dunvegan (Dunvegan, Alta), where he ministered to the Beaver and Iroquois-Métis of the Peace River region. Five years later he was made superior of La Nativité mission (Fort Chipewyan) and instructed to undertake visitations on behalf of his bishop, Henri Faraud*. On the Peel River, he came into contact with some Inuit. He remained in their midst for four weeks and amazed them by composing hymns in their language. On 18 Oct. 1890 Grouard was appointed titular bishop of Ibora and, in succession to Faraud, vicar apostolic of Athabasca-Mackenzie, based at La Nativité. He was consecrated in St Boniface on 1 Aug. 1891.
As soon as he had been sent to Lac la Biche, Grouard had become aware of the difficulties of provisioning the northern missions. To ensure that they would receive adequate supplies at reasonable cost, and to reduce dependence on the HBC, Grouard assembled the necessary materials to construct a sawmill at Lake Athabasca in 1892 to build a steamboat, the Saint-Joseph, which would navigate the Athabasca River between Fort McMurray (Alta) and Fort Smith (N.W.T.). Two years later he constructed the Saint-Alphonse to ply between Fort Smith and the Arctic Ocean, and in 1903 he had a boat built for the Peace River, the major waterway in his vicariate. The resulting savings were used to better maintain his missions, establish new ones, and erect convents. Grouard readily admitted that all these achievements had been made possible by the labour of the Oblate brothers who made and operated the steamboats. His own contributions, however, in addition to fulfilling administrative needs, were considerable. In 1906 he resumed the printer's trade by publishing a life of Jesus in Cree syllabics and later he put out a Montagnais dictionary. A talented artist, he decorated the interior of the churches at Lac la Biche, Fort Chipewyan, and Fort Dunvegan with religious paintings.
As a missionary, Grouard was concerned with the disruption brought about by the arrival of whites. The presence of survey parties and land speculation in Dunvegan in 1883 and Fort Vermilion the following year troubled him, and he feared the Peace River district would be settled in the near future. The growing number of whites in Grouard's vicariate eventually necessitated a treaty with the natives [see James Andrew Joseph McKenna*; Mostos*]. In 1899 federal Indian commissioner David Laird* invited Grouard to participate in its negotiation. He was not optimistic about the outcome and suspected the true motive of the government was colonization. The Peace River country had already attracted particular attention because of its location on an overland route to the Yukon goldfields. Given recent developments in Manitoba and the North-West Territories, where French linguistic rights and Catholic school privileges had been abrogated [see Adélard Langevin*], Grouard worried too about the schools that would be opened in the region of Treaty No.8.
After its conclusion, he recommended that the government establish Catholic boarding schools for Indians in the Athabasca district. As a result, Ottawa funded three schools in Grouard's vicariate and in 1900 he pressed for three more. By 1927 the vicariate had five government-funded residential schools and two others. Grouard also maintained the schools as orphanages, thereby adding to the administrative demands he faced.
In 1898 the Oblates had begun sending priests, among them Edmond Gendreau*, into the Yukon, which was part of Grouard's vicariate but was largely a Church of England preserve. On account of the vast expanse of his vicariate and the difficulties associated with reaching distant missions, Grouard asked that it be divided. In 1901 the Vatican responded by creating the separate vicariates of Mackenzie and Athabasca and removing the Mackenzie and Yukon basins from his jurisdiction. The Mackenzie vicariate was assigned to Gabriel-Joseph-Élie Breynat. Grouard's home base was now Saint-Bernard mission in a small settlement at the west end of Lesser Slave Lake. The most concentrated part of the community was named after the bishop in 1909, and two years later it was incorporated as a village.
A gifted missionary and administrator, Émile Grouard found time, in 1923, to publish his memoirs, Souvenirs de mes soixante ans d'apostolat dans l'Athabaska-Mackenzie (Winnipeg and Lyon, France). The following year the French government made him a chevalier of the Legion of Honour. The Athabasca vicariate was renamed for him in 1927, and he resigned in October 1929. Appointed titular archbishop of Aegina on 28 Feb. 1930, he died a year later in the hospital at Grouard.
Émile Grouard wrote several articles for Missions de la Congrégation des missionnaires oblats de Marie Immaculée. These include: "Rapport sur le vicariat d'Athabaska-Mackenzie" (Paris), 31 (1893): 365–84; "Rapport du vicariat d'Athabaska-Mackenzie" (Paris), 36 (1898): 177–92; "Quelques courses apostoliques dans l'Athabasca" (Rome et Bar-le-Duc, France), 46 (1908): 186–235; and "Rapport sur le vicariat d'Athabaska" (Rome), 61 (1927): 414–21.
Some of Grouard's letters are held at Arch. Deschâtelets, Oblats de Marie-Immaculée (Ottawa): HE 1861.G87C, no.11 (to "Bien chers parents"), 5 août 1878; 18 (to "Ma chère filleule"), 29 déc. 1894; 37 (to "Ma chère Marie"), 16 mai 1906; 78 (to "Ma bien chère enfant"), 25 août 1890; HE 1864.G87L, no.8 (to Roderick MacFarlane), 2 Dec. 1874; 46 (to MacFarlane), 11 Sept. 1883; 48 (to MacFarlane), 29 June 1884; HE 2221.T12Z, no.103 (to A.‑A. Taché), 22 juill. 1862; 105 (to Taché), 14 sept. 1862; 107 (to Taché), 24 mai 1863.
Arch. Départementales, Sarthe (Le Mans, France), État civil, Brûlon, 2 févr. 1840. LAC, R216-245-8, file 134858. Gaston Carrière, Dictionnaire biographique des oblats de Marie-Immaculée au Canada (4v., Ottawa, 1976–89), 2. Robert Choquette, The Oblate assault on Canada's northwest (Ottawa, 1995). R. J. A. Huel, Proclaiming the Gospel to the Indians and the Métis (Edmonton, 1996). G. A. Johnson, "Bishop Emile Grouard and Treaty 8," Lobstick (Grande Prairie, Alta), 1 (2000). A.‑G. Morice, History of the Catholic Church in western Canada from Lake Superior to the Pacific (1659–1895) (2v., Toronto, 1910).
© 2015–2023 University of Toronto/Université Laval
Cite This Article
Raymond Huel, "GROUARD, ÉMILE (Émile-Jean-Marie)," in Dictionary of Canadian Biography, vol. 16, University of Toronto/Université Laval, 2003–, accessed September 26, 2023, http://www.biographi.ca/en/bio/grouard_emile_16E.html.
The citation above shows the format for footnotes and endnotes according to the Chicago manual of style (16th edition). Information to be used in other citation formats:
| | |
| --- | --- |
| Permalink: | http://www.biographi.ca/en/bio/grouard_emile_16E.html |
| Author of Article: | Raymond Huel |
| Title of Article: | GROUARD, ÉMILE (Émile-Jean-Marie) |
| Publication Name: | Dictionary of Canadian Biography, vol. 16 |
| Publisher: | University of Toronto/Université Laval |
| Year of publication: | 2015 |
| Year of revision: | 2015 |
| Access Date: | September 26, 2023 |